This recipe for a sweet, nutty and slightly fruity Peanut Butter and Jelly Milkshake can be adapted to suit your mood. Keep it relatively healthy & simple or indulge to make a thick, creamy and extravagant ice cream shake.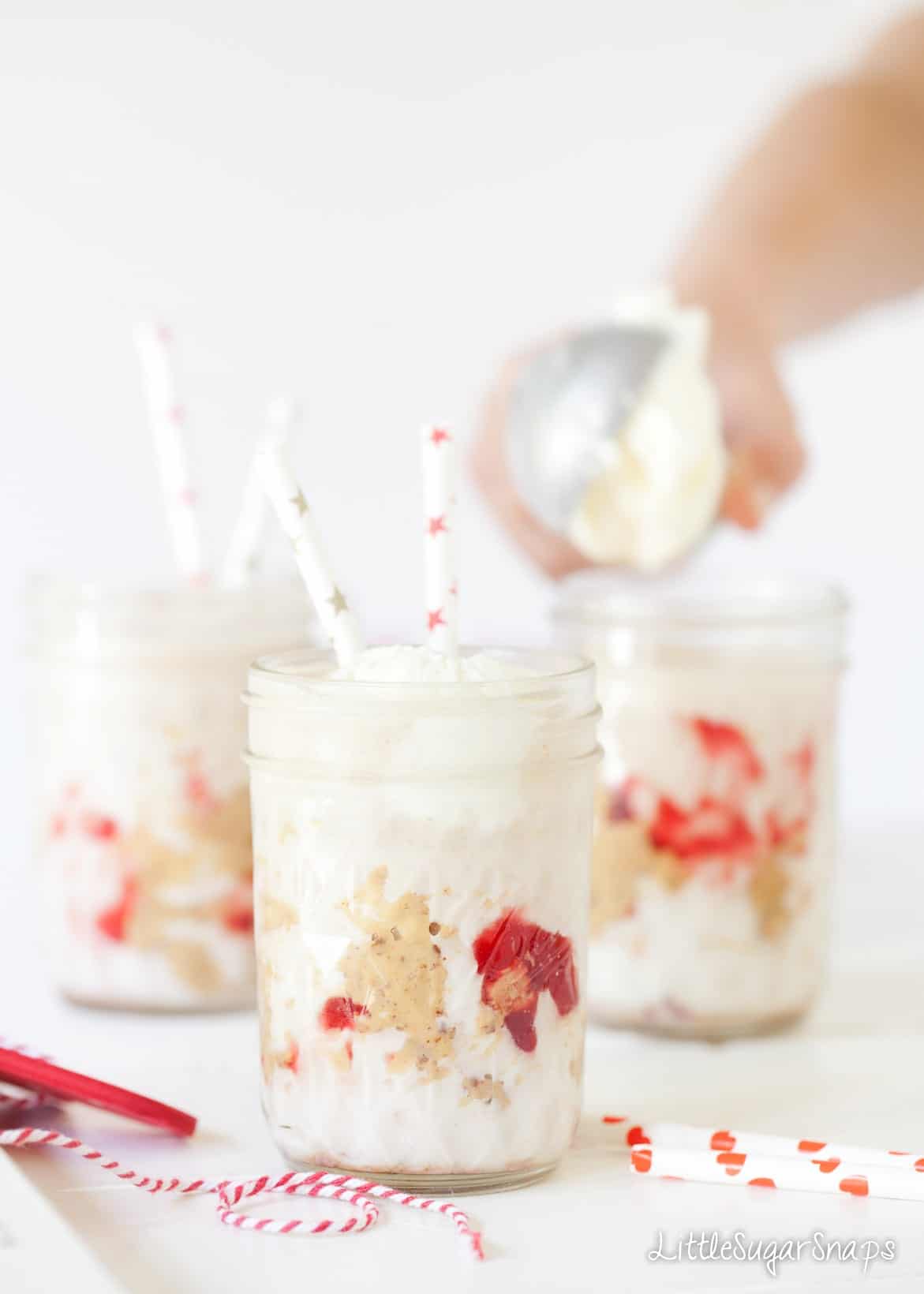 Last week I was battling transatlantic terminology for my courgette cake. This week, I'm pleased to report, I have no such qualms. Peanut butter and jelly sandwiches are as American as it gets, so I'm turning American-English for one week only. It's out with the jam and in with the jelly for this PB&J creation. That's just as well, since the inspiration for this Peanut Butter and Jelly Milkshake came whilst on holiday in Florida recently.
It goes without saying that peanut butter & jelly sandwiches are a definite American childhood classic. But, I have to be honest; it's not a sandwich filling that naturally wins favour here in the UK. In fact, I'm sitting here with my fingers double-crossed hoping that my lovely UK readers do not tune out at the mere mention of peanut butter and jelly. (Please don't – you'll miss out.)
I'm also sitting here about to make a confession many die-hard Peanut Butter & Jelly enthusiasts the world over may not forgive me for… ever.
Confession: I'm not hugely into Peanut Butter & Jelly sandwiches. Nor is my family. Sorry.
I know, I know. This revelation is verging on criminal for die-hards, but I do have good news: we do like the combination of PB&J in many other forms. Just not sandwiches. I even have age-old proof – have you seen my PB&J flapjack?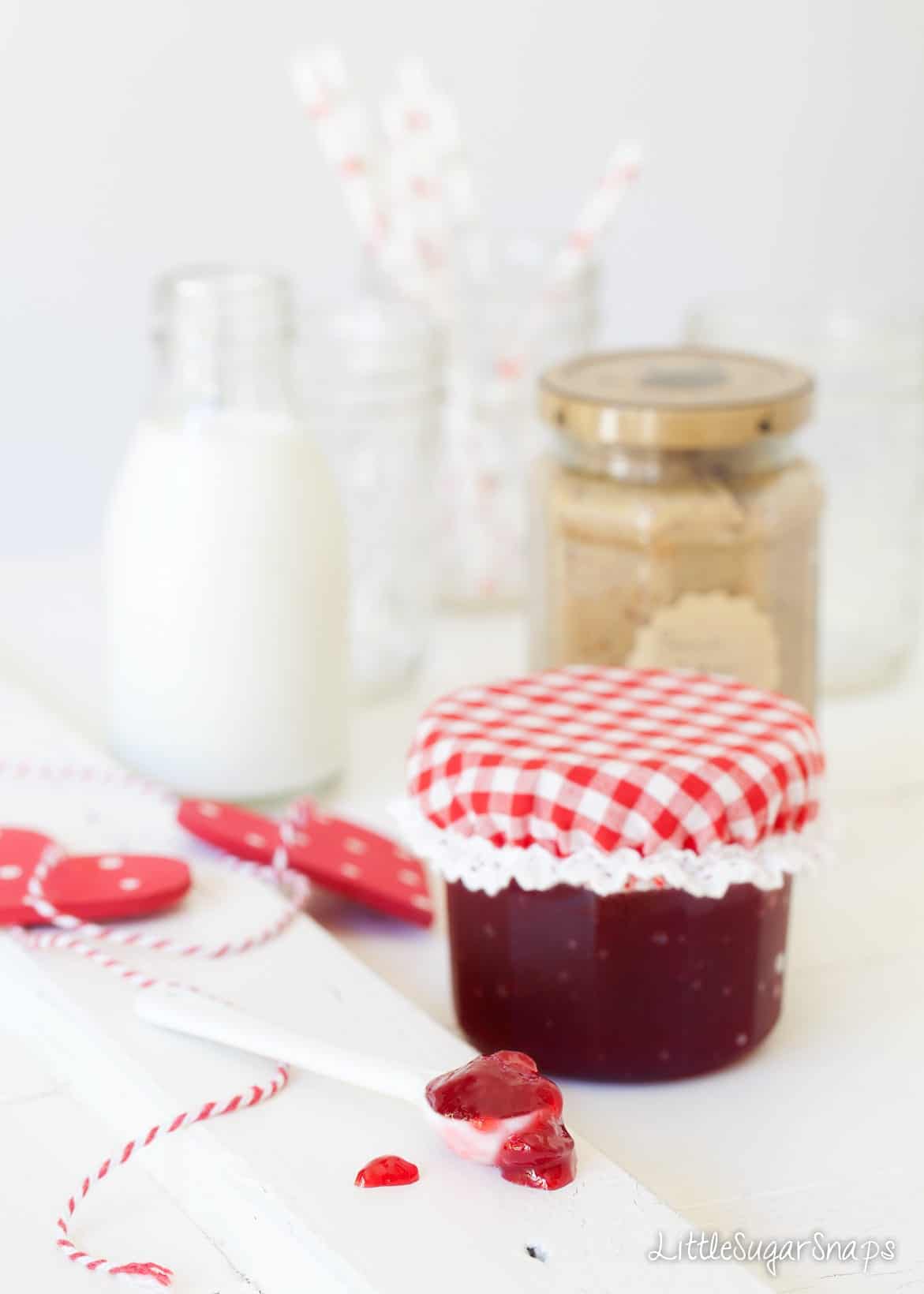 However, our favourite way to eat PB&J is blended into a milkshake. We first tried this combination whilst in DisneyWorld 3 years ago and it was just as good this year when we went back. If you've been reading LittleSugarSnaps for long, you'll no doubt have spotted my habit of recreating tasty holiday finds. The Peanut Butter and Jelly Milkshake was one such discovery we couldn't quite leave behind us.
The shakes we had on holiday were extremely thick and decadent. But, being me (sensible Mother type) I wanted to create a drink that was less extravagant. But one that could be pimped on those occasions when it's ok outrageously splash out.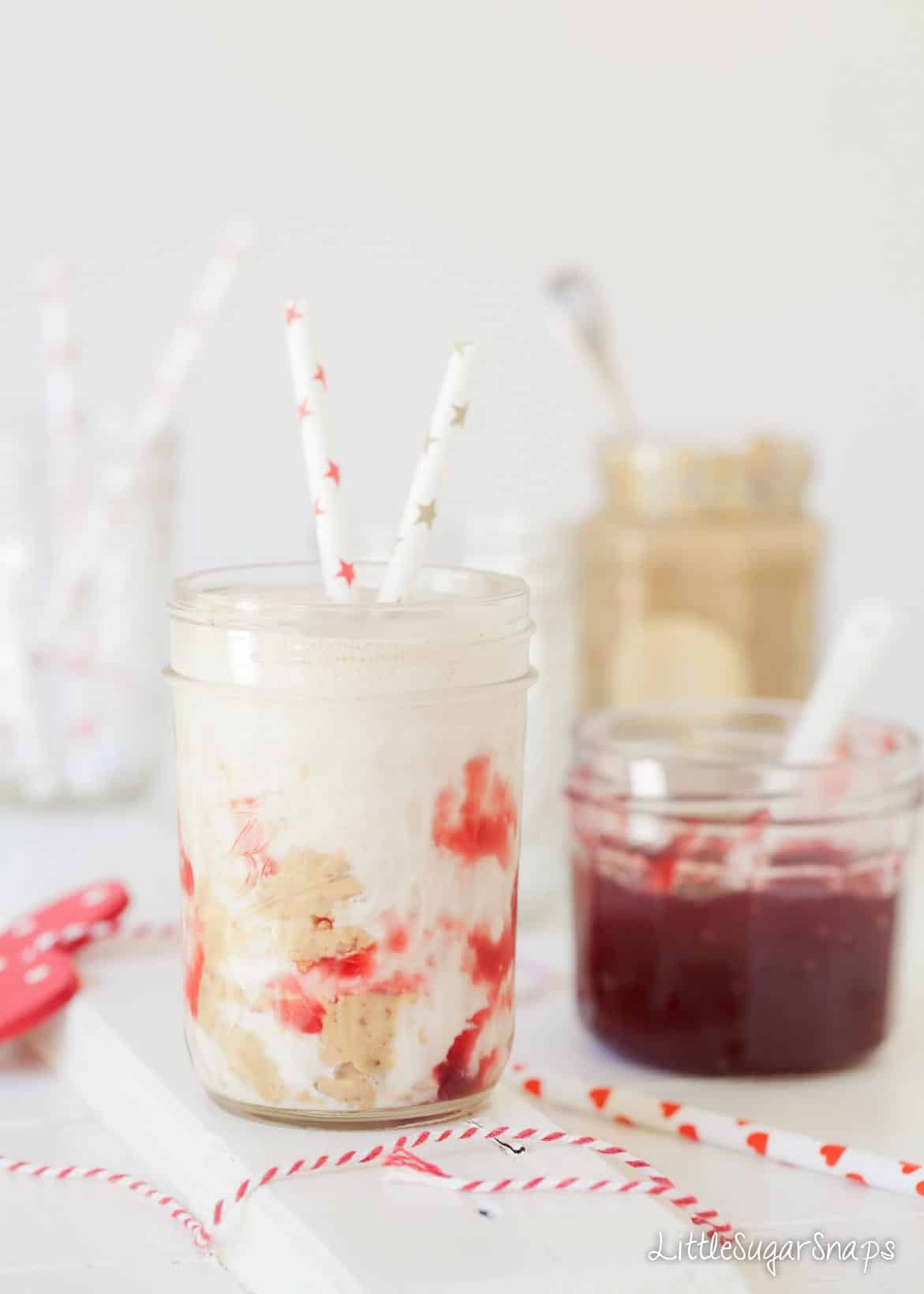 The recipe listed below uses reduced sugar jelly and a few dates. I've also kept the ice cream out of the blender and it's entirely optional whether or not to top each glass with a scoop of ice cream. Either way, it's delicious. This Peanut Butter and Jelly Milkshake delivers a sweet, nutty flavour with just a hint of fruity jelly.
I'm not sure my choices make this an entirely virtuous drink, but it is a relatively healthy version of the Peanut Butter and Jelly Milkshake we developed a crush on in DisneyWorld.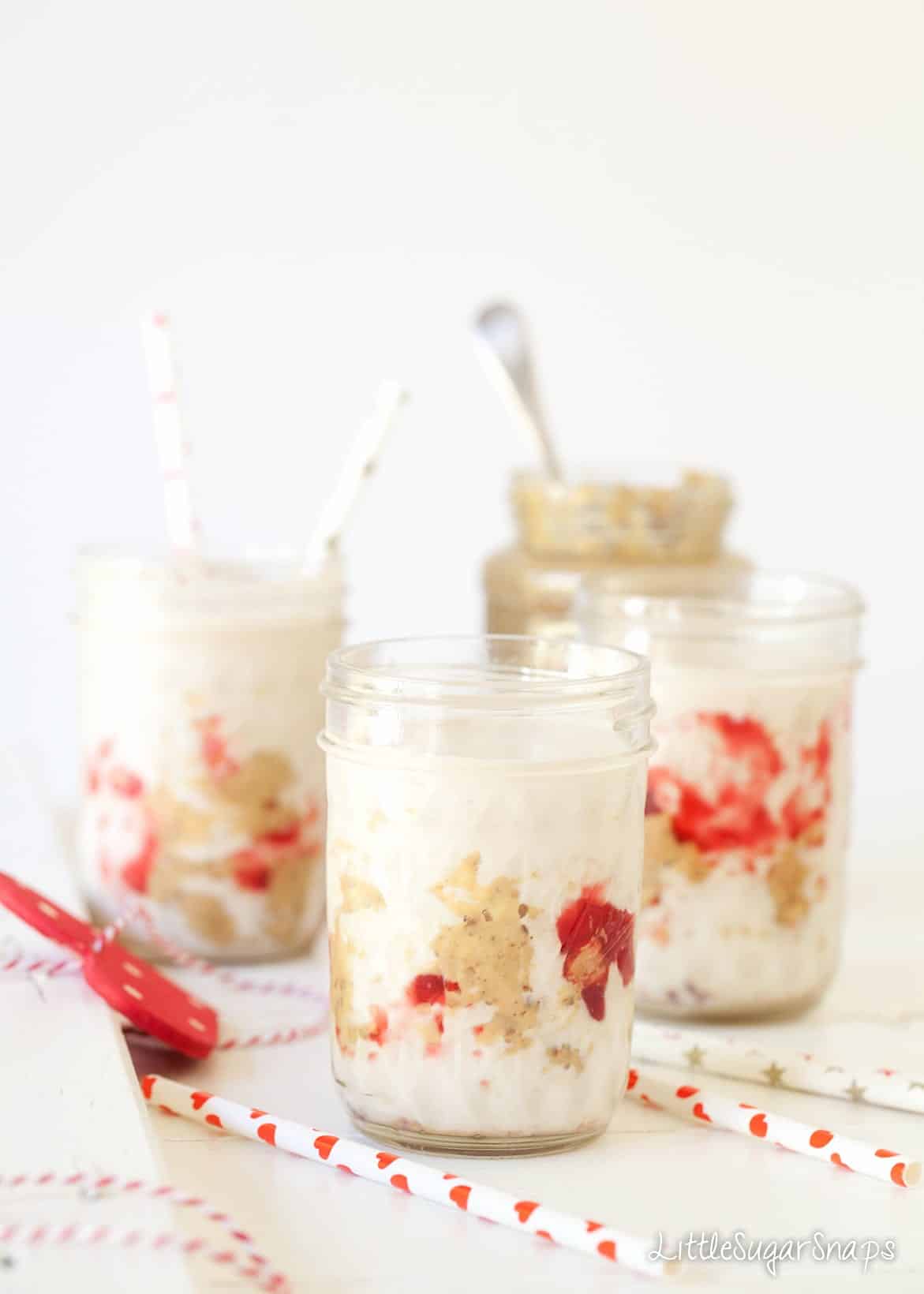 The base recipe can be easily adapted to suit your tastes, what you have in your store cupboard or your desire to indulge:
It works well with regular jelly instead of reduced-sugar
Choose grape, raspberry or strawberry jelly (and use more or less depending how sweet you like your shakes)
The dates are optional (leave them out for a less sweet drink)
Blend a couple of scoops of ice cream directly into the shake
Go dairy free by using milk & ice cream substitutes
It's really up to you to decide how indulgent you'd like this shake to be. This shake is lovely without any ice cream, but a thicker, creamier and altogether more wicked shake can be crafted by adding a few scoops to the blender. Just saying.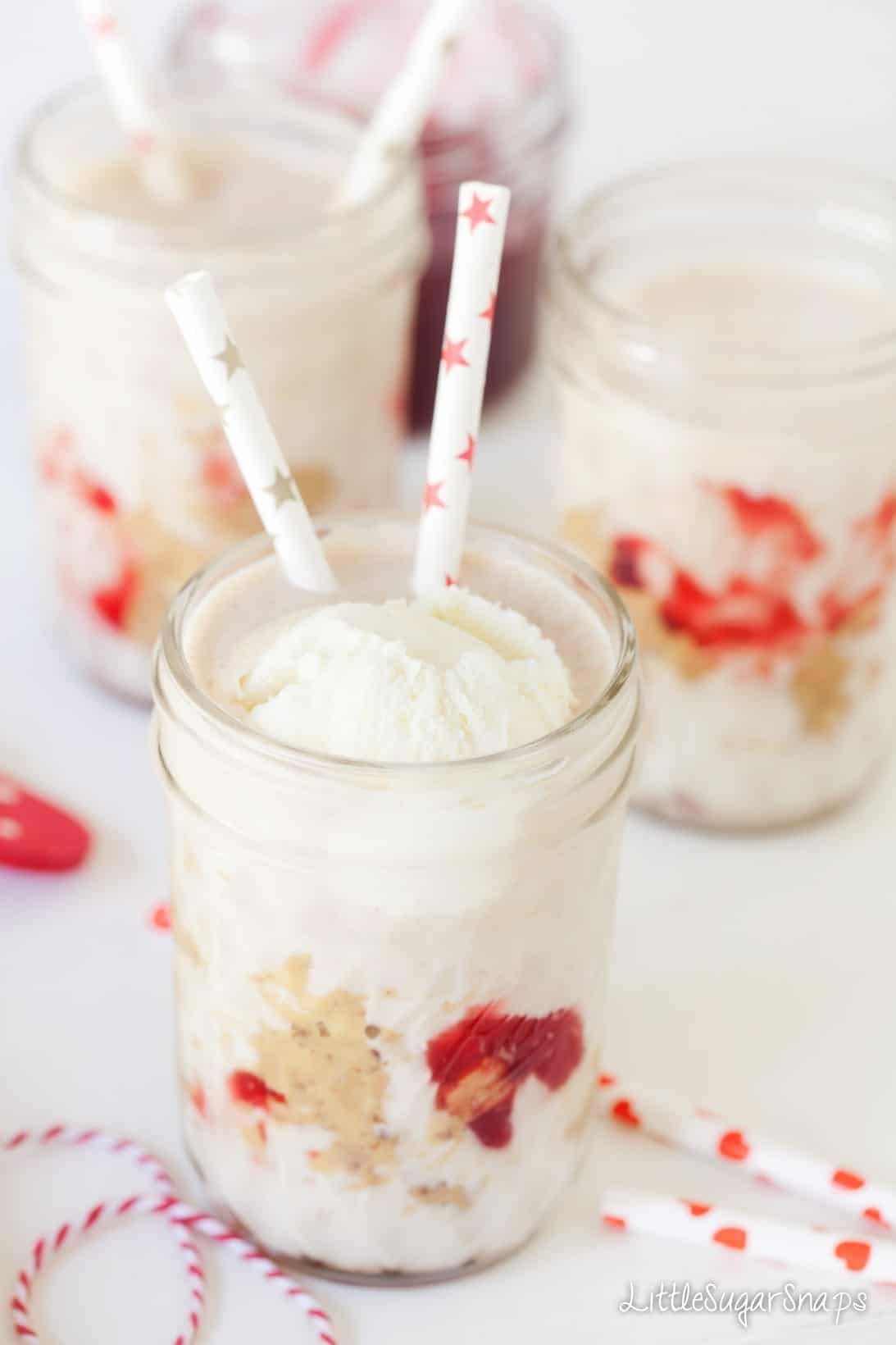 Peanut Butter & Jelly Milkshake
Ingredients
360ml/ 1 1/2 cups

Whole (Full fat) Milk

3

Dates - pitted

2 tbsp

Peanut butter (crunchy or smooth)

2 tbsp

Reduced Sugar Jelly (grape, raspberry or strawberry)

seedless

Handful

ice

3 scoops

Vanilla ice cream

optional
Garnish
1 tbsp

peanut butter

optional

1 tbsp

Reduced Sugar Jelly

optional

2 scoops

vanilla ice cream

optional
Instructions
Put the milk, dates, peanut butter, jelly, ice and ice cream (if using) into a blender and blitz until smooth

Wipe the additional peanut butter and jelly around the side of the serving glasses (if using)

Pour the shake into the glasses

Top with a scoop of ice cream (if using)
Recipe Notes
The peanut butter can be smooth or crunchy, store bought or homemade.
The Jelly can be reduced sugar or regular and can be grape, raspberry or strawberry flavoured
Leave out the dates for a less sweet drink
Experiment with non-dairy milk.
Pin this recipe:
(Visited 119 times, 1 visits today)