If you're looking for ways to cut down on the sugar in your diet, a good place to start is breakfast time. Try these reduced sugar Flavoured Yoghurts. They are thick & creamy, easy to prepare and available in 6 different flavours. They contain significantly less added sugar than typical supermarket brands. Give your body some love.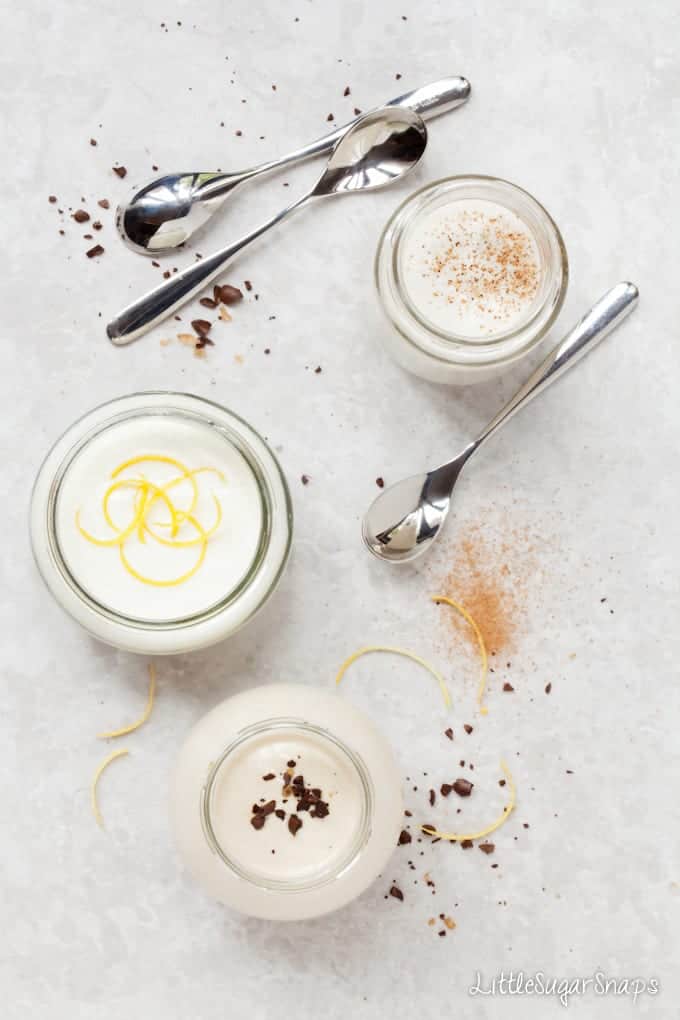 I'm going completely off my normal track this week and talking about something I've come to feel quite passionate about. Sugar. Too much sugar, to be precise. Bear with me, I've a lot of information to get through, but at the end of my ramblings, I've got a trick to help you cut a little bit of unnecessary sugar from your diet: 6 recipes for easy ways to flavour plain yoghurt at home. These Flavoured Yoghurts contain less sugar than typical store-bought yoghurt and are just as delicious, if not more so.
Are you ready for the background behind my decision to abandon the flavoured yoghurt section in the supermarket? For once, I'm about to get all serious on you.
It all began one sunny afternoon last September at school pick-up. I was chatting to my lovely and very wise friend, Sarah (Hi Sarah – are you blushing?). She asked me if I'd seen Jamie Oliver's program Sugar Rush, which had been on television a few days earlier. She told me it was a real eye-opener. I would be shocked. In fact, she told me I'd be appalled at what I discovered. She told me I really should watch it.
So I did watch it. And I was shocked. And appalled.
In this one-hour program, Jamie Oliver covers a lot of ground. He begins by identifying current UK Government guidelines for sugar intake:
Adults should be consuming a maximum of 7 teaspoons of free (added) sugar a day – less for children under 11 years of age.
To help put this figure into perspective, here's an interesting fact:
A typical 330ml can of fizzy drink can contain up to 35g or 9 teaspoons of free sugar.
That's well over the recommended level for adults, let alone a child. In just 1 drink.
Jamie goes on to identify numerous everyday food items that are generally considered healthy but are actually loaded with hidden sugar. The big culprits are processed foods, such as breakfast cereal & yoghurts and convenience foods, such as jars of sauces and soups. To demonstration the problem, he sets out a typical breakfast for somebody living a relatively normal & healthy lifestyle:
fruit juice
bran flakes
flavoured low-fat yoghurt
fruit
Anybody would be forgiven for assuming that this breakfast is healthy. Yes, it is low-fat. Yes, it gives a portion of your five a day and a beautiful kick of calcium. But it also serves up a massive portion of free sugar – racking up 56g (14 teaspoons).
What a killer. I think those 'healthy' bran flakes and the low-fat yoghurt have a lot to answer for.
Jamie gets the message across loud and clear: it's easy to overdo the sugar without even intending to. But he goes on to tackle why regularly consuming too much sugar is a bad idea:
Tooth extraction: each year 26,000 UK primary school-age kids go to hospital because of rotten teeth. Tooth decay is the number 1 reason 5-9 year olds in the UK are admitted to hospital and pulling out rotten teeth costs the NHS £30m a year
Obesity – sugar provides the body with empty calories. Those empty calories give us short-term energy but without any nutrients, so we eat more without feeling satisfied. The bottom line is that we have an increased risk of unhealthy weight gain and disease if we regularly overload on sugar
Type-2 Diabetes – levels of this disease have risen dramatically in recent years. Being overweight or obese increases your risk of developing this disease. Diabetes UK reports that there are now 3.3 million people in the UK living with diabetes, and many of these cases are type-2. Even more worrying is that the UK is seeing a small but noteworthy rise in the number of children developing type-2 diabetes
Leg or foot amputation – in 2015 over 7000 diabetes sufferers underwent lower limb amputations – that's 130 a week. Compare that to just 300 in the last 13 years resulting from military combat
That's a dismal set consequences.
Jamie's' ultimate aim was to get the UK Government to introduce a tax on sugary drinks and to use the revenue to help combat childhood obesity through numerous initiatives, including better education, better labeling of food, banning junk food advertisements aimed at kids and imposing mandatory targets for food and drink companies to cut the level of sugar in their products.
The UK Government has recently announced the introduction of this tax effect with effect from 2018.
Well-done Jamie.
Jamie is a passionate campaigner when it comes to promoting better food education and choices for our kids. He has been for years. Sadly, over those years, I've heard many people knock his campaigns, simply because he's a celebrity – claiming he's doing it purely for publicity. I disagree. He's a Dad. He's a Dad with a bit of swagger and the sway to make a difference and by golly, he's working hard to make that count.
So that's really the story behind my decision to flavour plain yoghurt at home. I generally cook meals from scratch and very rarely tip a jar of sauce into my pasta or stir-fry, so my main concern, after watching Sugar Rush, was breakfast time. I don't want my kids going off to school everyday loaded up with more sugar than their bodies can handle. I looked at the flavoured yoghurt in my fridge and the cereal boxes in my cupboard (along the lines of Rice Krispies, Cheerio's and Bran Flakes) and decided things had to change. All of them contained far too much sugar to be serving up on a daily basis.
Adjusting to lower sugar cereal has been hard, I won't deny that. But we have some winners – Weetabix and homemade muesli. (Incidentally – does anybody born pre-1980 recall sprinkling teaspoons of sugar onto their Rice Krispies? Oh the shame…. )
Switching to home Flavoured Yoghurt has been a much easier transition for my family to make. In fact, I think we have a rotation of more flavours now than previously. The base for all of my Flavoured Yoghurts is plain Greek Style Yoghurt. It is thick and creamy and stands up well to the ingredients I add to flavour it. On offer for you are the following Flavoured Yoghurts:
Vanilla
Coffee
Chocolate
Lemon
Maple & Cinnamon
Mango & Lime
All of them are super quick to make and they last just as well as regular flavoured yoghurt. They taste creamy and fresh and you can jazz them up with a few healthy extras if you wish to:
add a few hazelnuts in the chocolate yoghurt
crush a couple of coffee beans in the coffee yoghurt
stir a little finely grated zest through the lemon yoghurt
Get creative, make these Flavoured Yoghurts your own.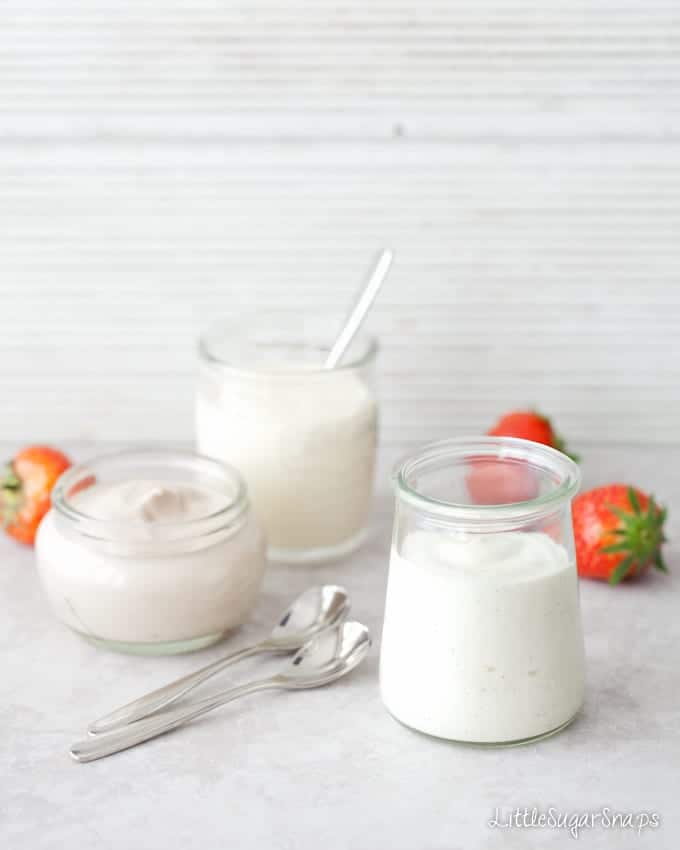 To back up why you should consider switching your yoghurt eating habits, here are some figures
I conducted a quick survey of 10 popular UK flavoured yoghurts (big brands, supermarket labels, various flavours, low fat, full fat). On average each dolloped up 14g of sugar per 100g of yoghurt
That's about 16.8g of sugar (over 4 teaspoons/ cubes) per single serving pot of around 120g
And that equates to 63g or 16 teaspoons/ cubes of sugar per 450g pot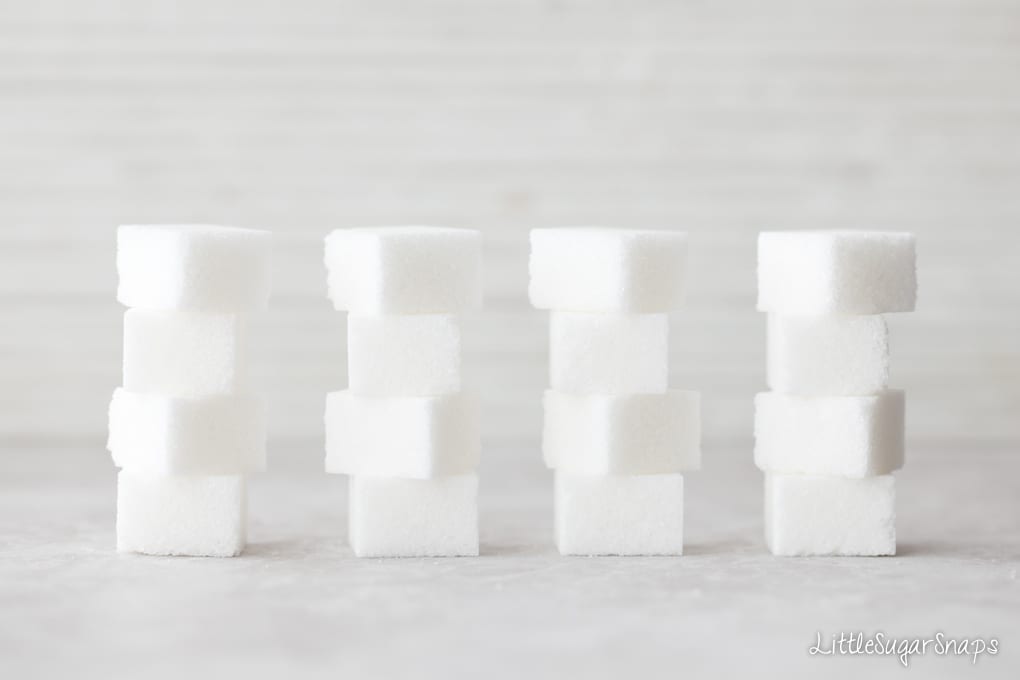 There's no denying it. That's a lot of sugar in your so-called healthy yoghurt.
About a quarter* of this sugar is naturally occurring (5g per 100g). That leaves approximately* 12 teaspoons or cubes of sugar left in those big pots that is added (free). After watching Sugar Rush, I set myself a challenge to see if I could drastically cut the free sugar in the yoghurt I serve up to my family, whilst maintaining a product and flavour they enjoy.
On average, my Flavoured Yoghurt contain approximately* 8.4g of sugar per 100g. That's around 37.8g per 450ml compared to total sugar of 63g per 450ml pot of standard shop-bought flavoured yoghurt.
That's a massive cut-back.
And let's not forget that some of this sugar is naturally occurring. Every 100g of plain Yoghurt contains around* 5g of naturally occurring sugar. Taking this naturally occurring sugar into account, my Flavoured Yoghurt contains just 3.4g of free sugar per 100g. That's less than 1 teaspoon. I consider that a win.
I also fail to see the need to serve such large portions of yoghurt, so I serve my Flavoured Yoghurt in 75g portions. Less sugar. Great flavour. Longer lasting. Cheaper. An all round win.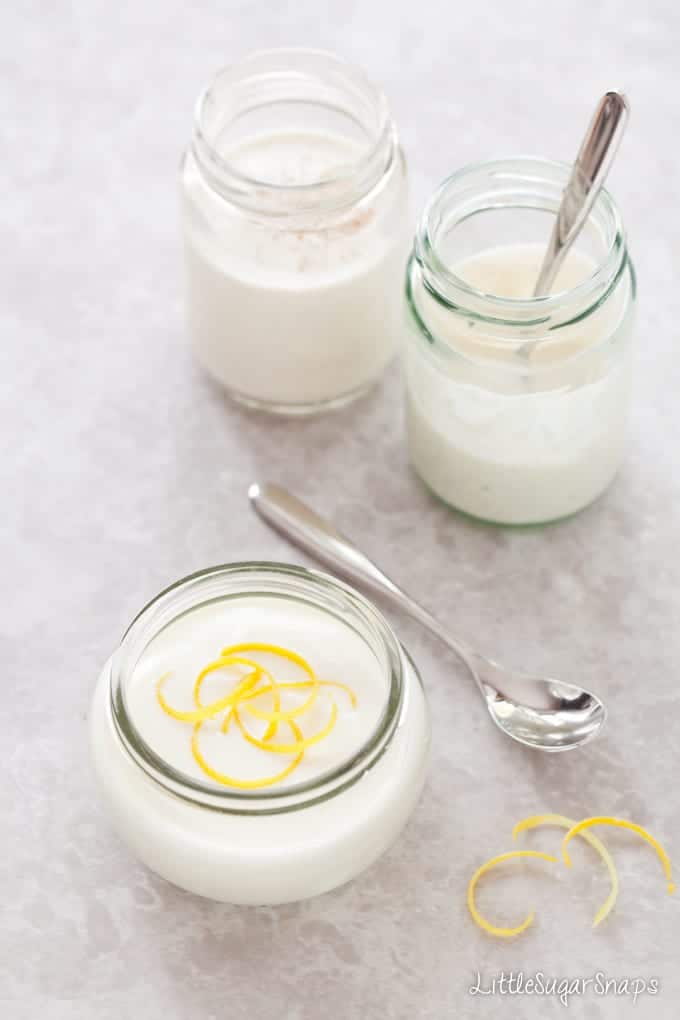 If you're still here, congratulations, you made it. It's rare I get so carried away. I'm not a particularly political person, but I care about my family immensely. I'd like to thank my friend, Sarah, along with Jamie Oliver for opening my bleary breakfast eyes and getting me to sniff out the sugar overload. The result is this set recipes for lower sugar Flavoured Yoghurt which will smarten up your breakfast time. It's a small step, but it's in the right direction.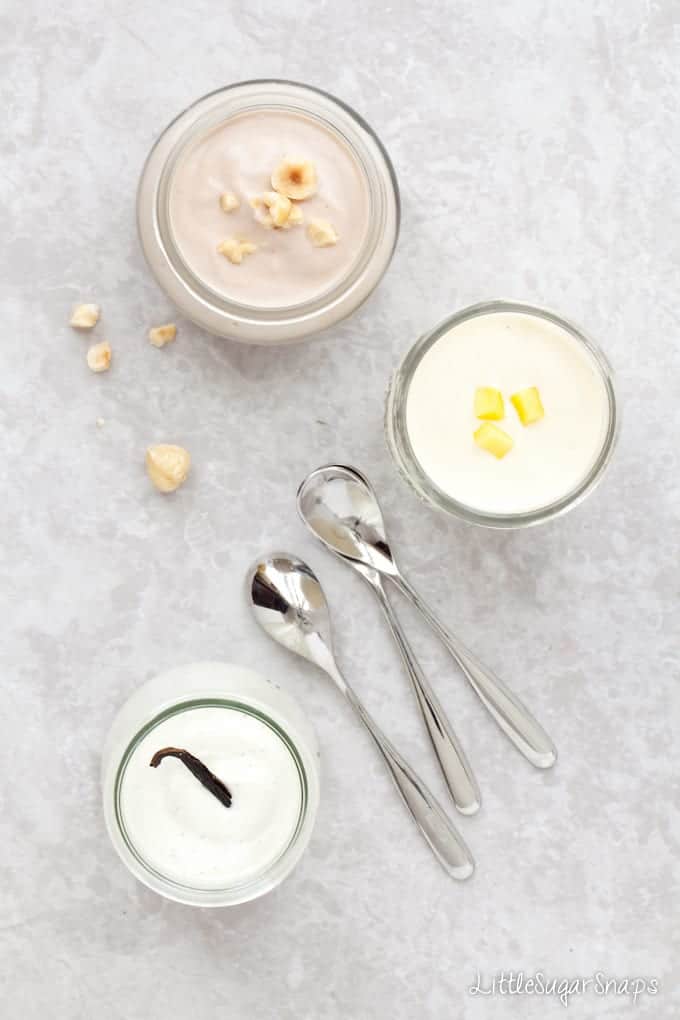 *All figures stated in this post are approximate, since different brands of products will offer different nutritional content.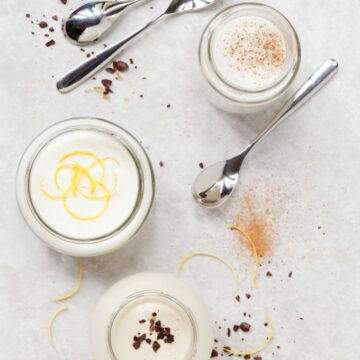 Reduced Sugar Flavoured Yoghurt
If you're looking for ways to cut down on the sugar in your diet, a good place to start is breakfast time. Try these reduced sugar Flavoured Yoghurts. They are thick & creamy, easy to prepare and available in 6 different flavours. They contain significantly less added sugar than typical supermarket brands. Give your body some love.
I recommend using plain, Greek Style yoghurt as it is thicker than natural yoghurt. The ingredients added do generally thin the yoghurt, so starting with a runnier base is not ideal.
Print
Pin
Rate
Ingredients
All recipes require 1 x 450g pot plain Greek Style Yoghurt
For the Vanilla Yoghurt
1

Vanilla pod

4

teaspoon

Agave syrup
For the Coffee Yoghurt
1

teaspoon

Vanilla extract

4

teaspoon

Strong coffee

(cold)

3

teaspoon

Agave syrup
For the Chocolate Yoghurt
40

g

Chocolate Spread

(such as Nutella)

1

teaspoon

Chocolate extract

2

tablespoon

Chopped hazelnuts

(optional)
For the Lemon Yoghurt
2

teaspoon

Lemon juice

30

g

Lemon curd

2

teaspoon

Finely grated lemon zest

(optional)
For the Maple Cinnamon Yoghurt
½

teaspoon

Ground cinnamon

4

teaspoon

Maple syrup
For the Mango Lime Yoghurt
100

g

Fresh mango

2

teaspoon

Lime juice
Instructions
For the Vanillla Yoghurt
Split the vanilla pod with a sharp knife and scrape the seeds into the yoghurt

Add the agave syrup and mix well
For the Coffee Yoghurt
Mix all of the ingredients into the yoghurt until well combined
For the Chocolate Yoghurt
Mix all of the ingredients into the yoghurt until well combined
For the Lemon Yoghurt
Mix all of the ingredients into the yoghurt until well combined
For the Maple Cinnamon Yoghurt
Mix all of the ingredients into the yoghurt until well combined
For the Mango Lime Yoghurt
Puree the mango with a stick blender

Stir into the yoghurt along with the lime juice
(Visited 58 times, 1 visits today)