This classic almond frangipane tart comes studded with zesty blackberries to add a pop of fruity flavour & visual interest. True to tradition, this sweet pastry tart filled with baked almond cream is a simple, understated yet stunning dessert to serve.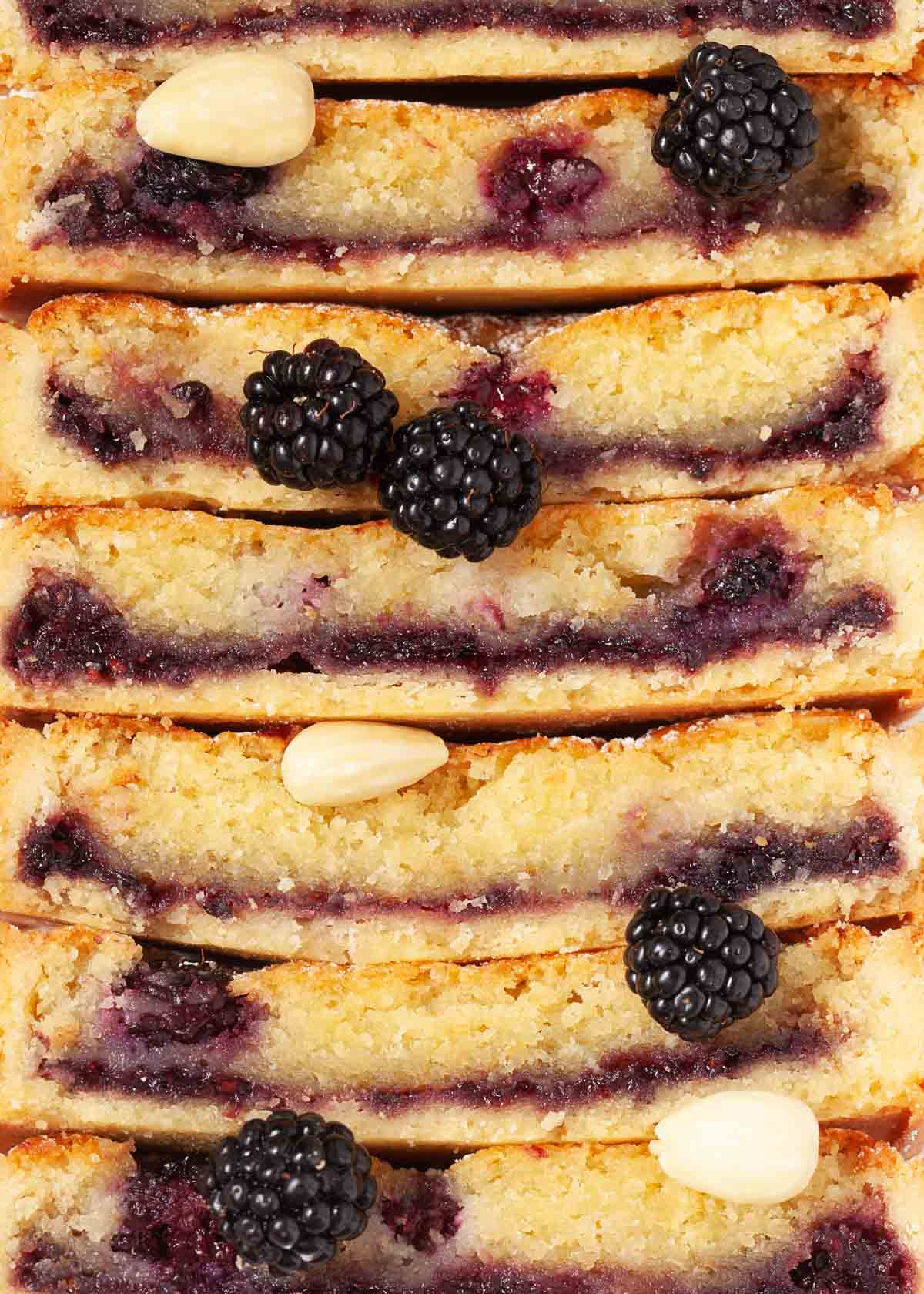 THIS POST HAS BEEN SPONSORED BY KERRYGOLD. ALL THOUGHTS & OPINIONS ARE MY OWN
As far as crowd-pleasing desserts go, a blackberry and almond frangipane tart is hard to beat. Even the kids don't seem to mind the presence of nuts here.
This almond frangipane tart comprises a crisp and buttery sweet pastry that is baked blind and then filled with an almond cream and fresh blackberries before being baked further. My version is rather reminiscent of a classic Bakewell tart, since I've included jam in the base too.
Although frangipane sounds quite grand and fancy it's a very simple tart to pull together. In fact, I first made this recipe with my youngest daughter in preparation for a family BBQ.
Rather disappointingly, there were no leftovers for us the next day. The combination of crisp pastry, the intoxicatingly light almond centre and the fruity buzz of in-season fruit was enough to win all diners' hearts.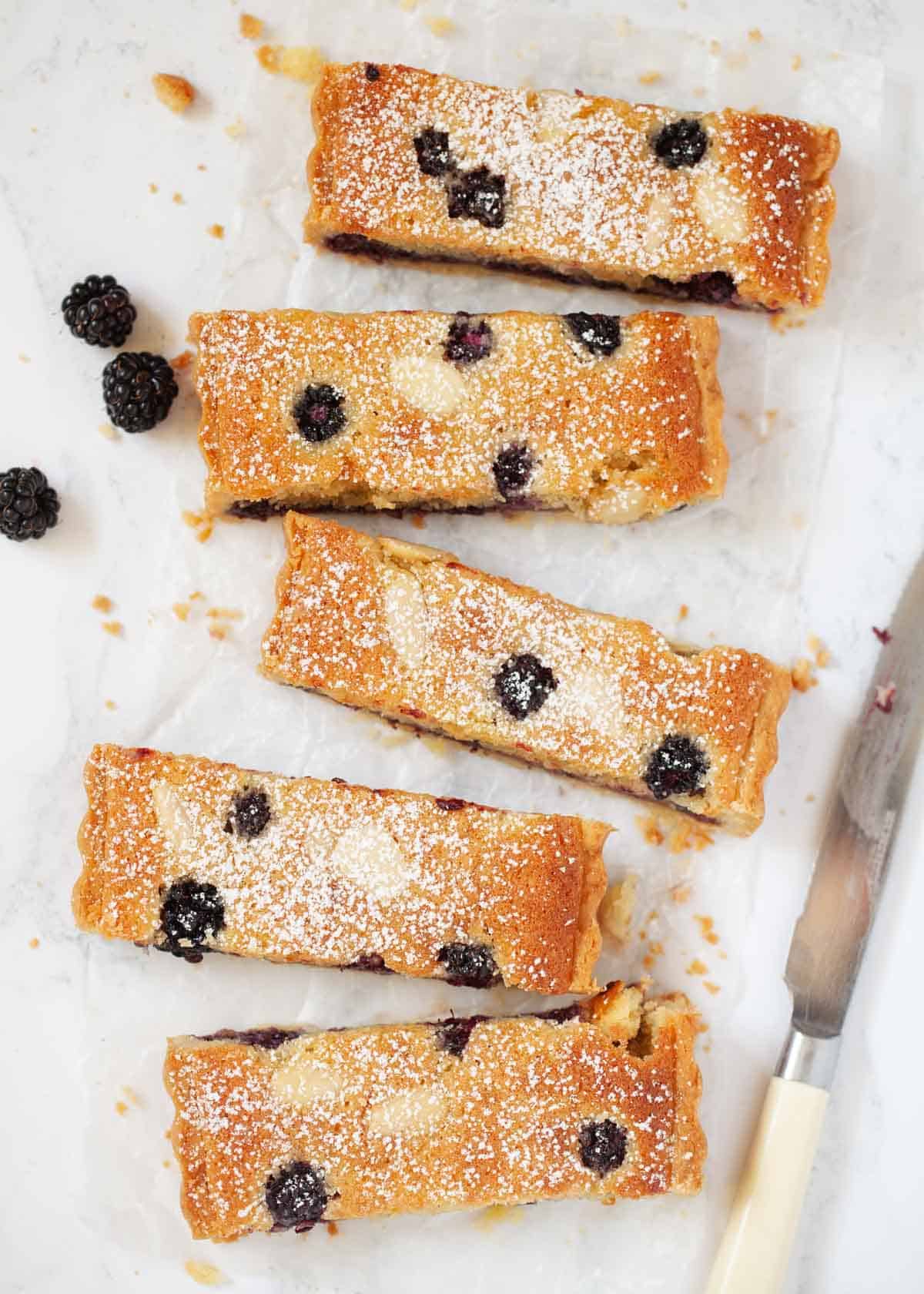 What is Frangipane?
Frangipane is a baked almond cream that can be used as a filling for tarts, croissants, pithivier and cakes.
Frangipane batter is made from butter, almonds, sugar and eggs. Once baked, the filling is light, moist, creamy and beautifully scented with almonds.
The aroma will remind you of marzipan, but the two confections are not interchangeable. Frangipane is a filling, whereas marzipan is generally used as a covering.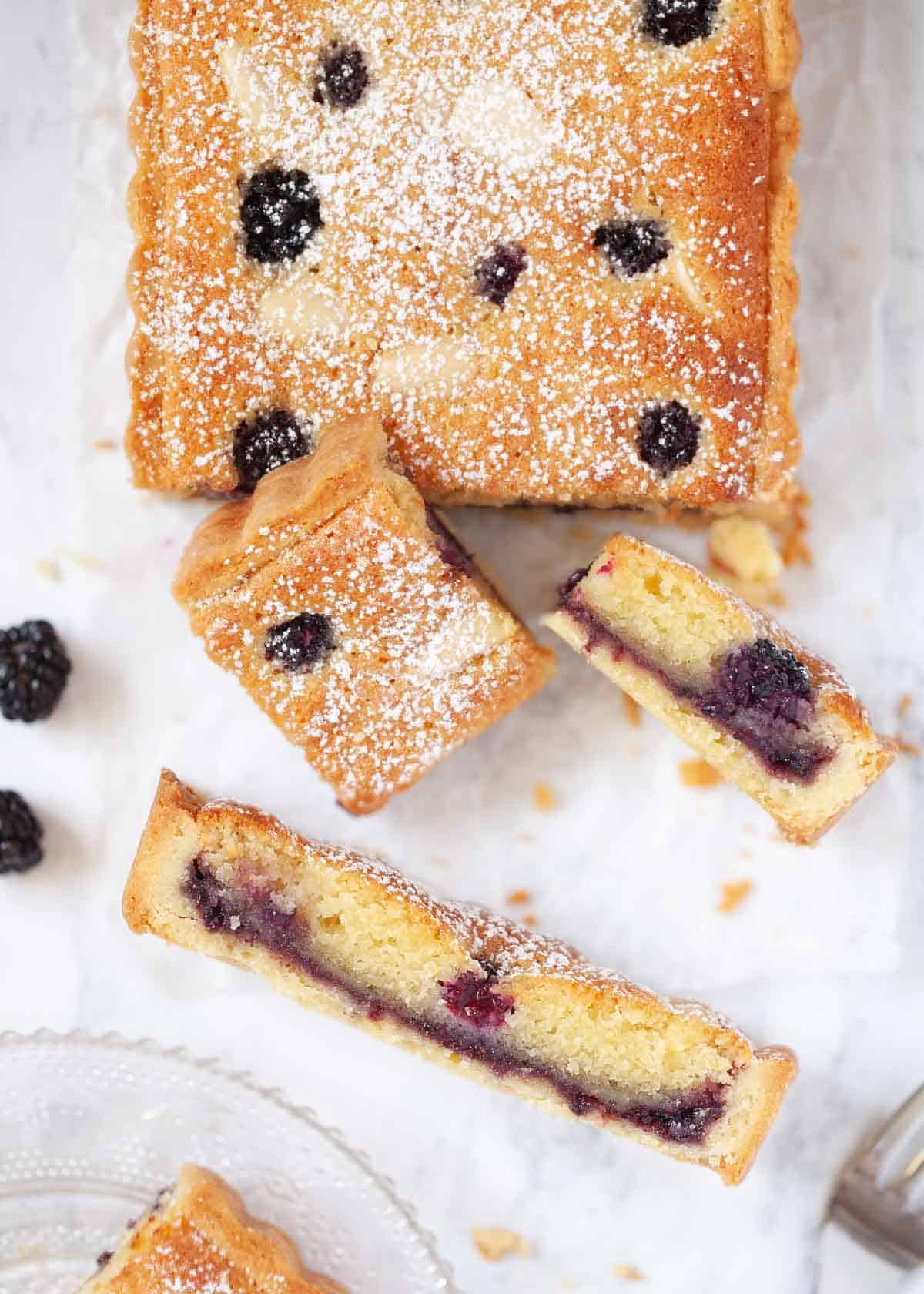 Ingredients Needed
The list of ingredients for this impressive blackberry and almond frangipane tart is impressively short:
Flour
Eggs
Sugar
Almonds (ground and blanched)
Vanilla extract (optional)
Blackberries
Since butter is a key component of both the pastry case and filling, I insist on using a quality brand that can be relied upon to deliver outstanding results.
Kerrygold butter is a fantastic option for this frangipane tart. It has a rich, superior taste that works wonders in pastry baking generally, but especially in this blackberry and almond frangipane tart due to the richness required in the filling too.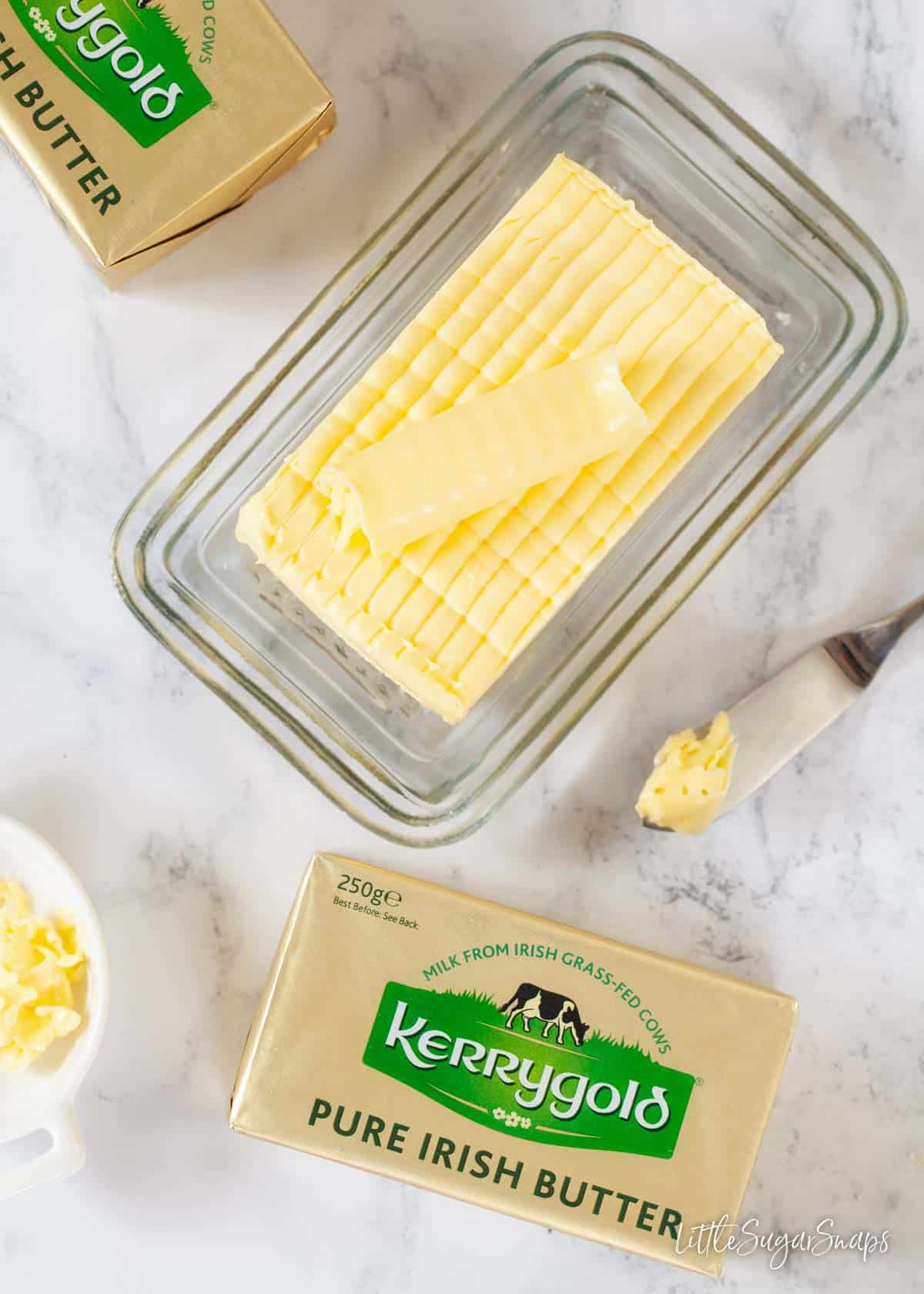 Kerrygold butter has a distinctive golden yellow appearance that enhances homebakes because of its excellent creamy taste. The #Kerrygold cows are reared in the beautiful Irish countryside and fed for the majority of the year on lush green grass. It is the milk from these #grassfed cows that gives Kerrygold butter its distinctive taste superiority.
Of course, this top-notch butter is not just for baking. Kerrygold is a great addition to the fridge generally, for simple pleasures such as a speedy round of toast with the family after a long hike.
Find it in most mainstream UK supermarkets and, for a limited time, it is available to try for 50p via the Shopmium app. Just log in and search "Kerrygold" to find full details of their cashback offer.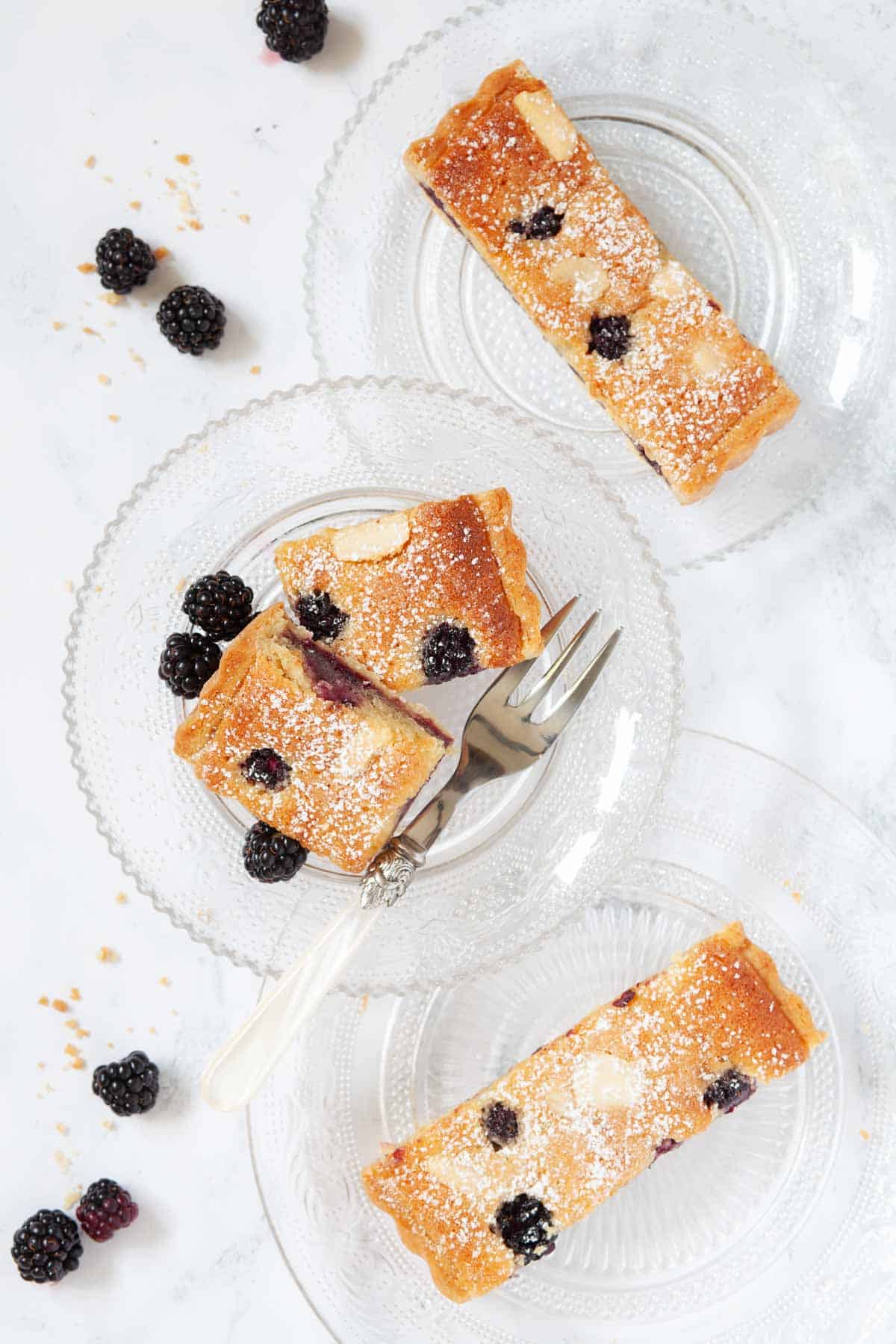 Step by Step Instructions
How to Make Sweet Pastry
The first stage in making this blackberry and almond frangipane tart is to make the sweet pastry.
Before starting to make it, be aware that this sweet shortcrust pastry has a high butter content, so it is very important to keep it well chilled to ensure it is easy to roll out:
Use butter straight from the fridge
Try not to over-handle the pastry once make, since this will raise its temperature and make it too soft to roll out
Ensure you follow the instructions to chill the pastry before rolling it out and again before the blind bake
On very hot days, you will need to work quickly in order to use this dough easily. If it gets too soft to roll out successfully, just put back in the fridge (or even the freezer) to firm up enough to handle again
This shortcrust pastry is made using the rubbing in method:
Put the flour into a medium sized bowl and sieve in the icing sugar
Add the salt
Cube the butter, then add to the bowl. Toss all ingredients together briefly using your hands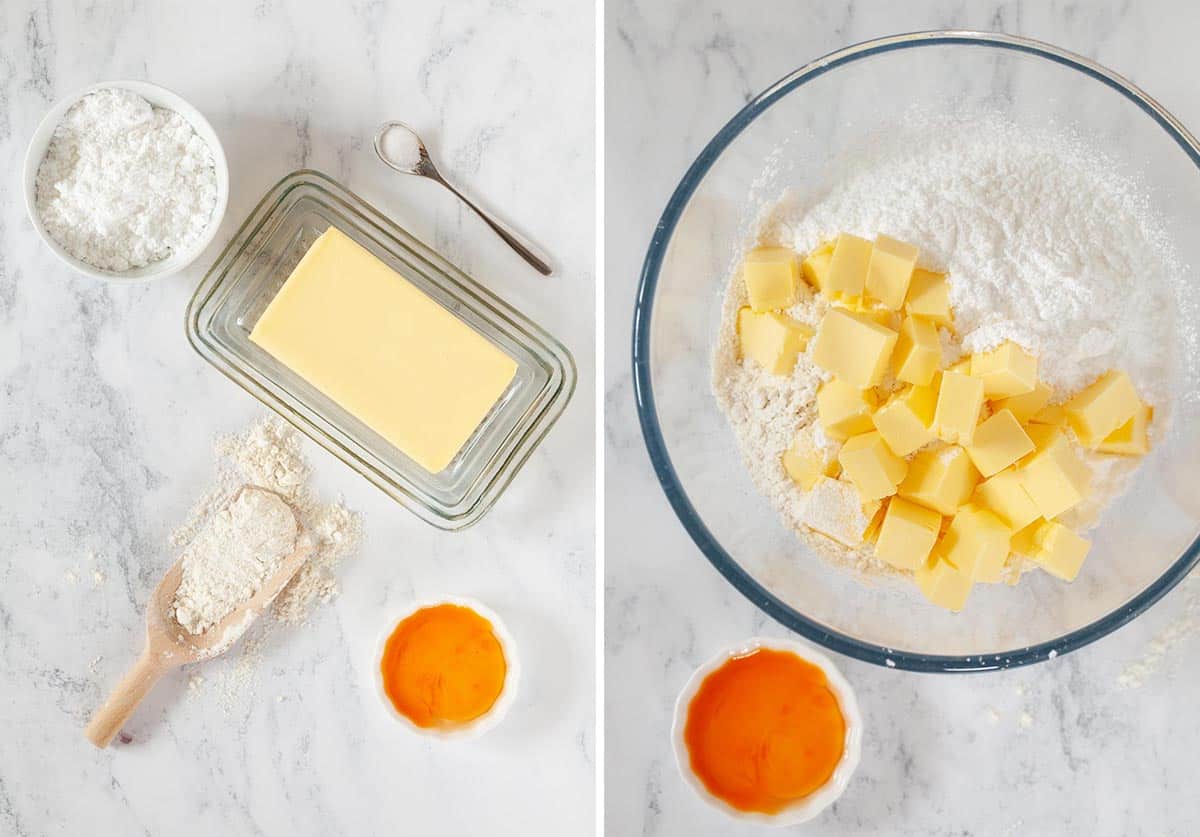 Use your fingertips to rub the butter into the other ingredients until the mix resembles fine breadcrumbs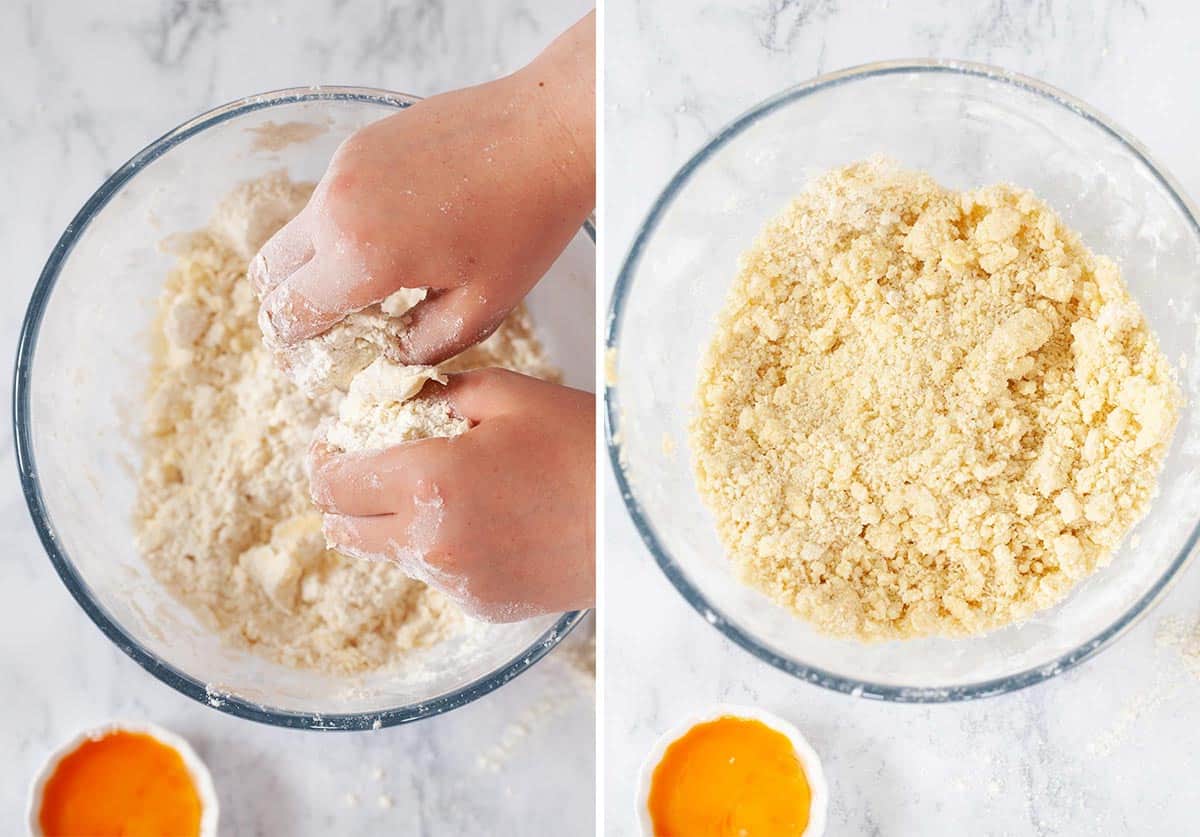 Tip the egg yolk into the bowl along with 1 tablespoon of ice-cold water
Use a blunt knife to chop and mix the dough until it comes together. Add a little more water only if absolutely necessary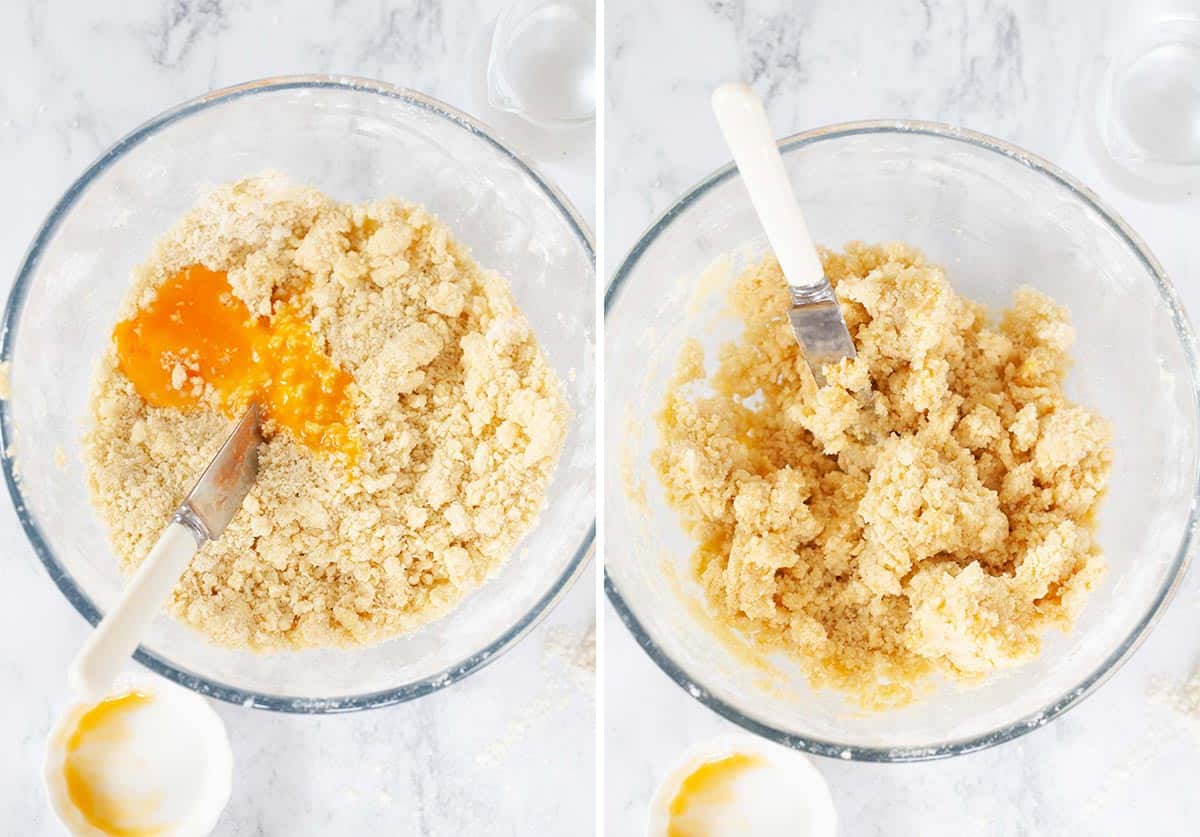 The dough should easily come together to form a soft ball. Adding too much water will make the dough sticky and difficult to handle
Turn onto a lightly floured worktop and knead gently and briefly until it is smooth. Flatten the dough slightly, wrap in clingfilm and chill for 45 minutes before using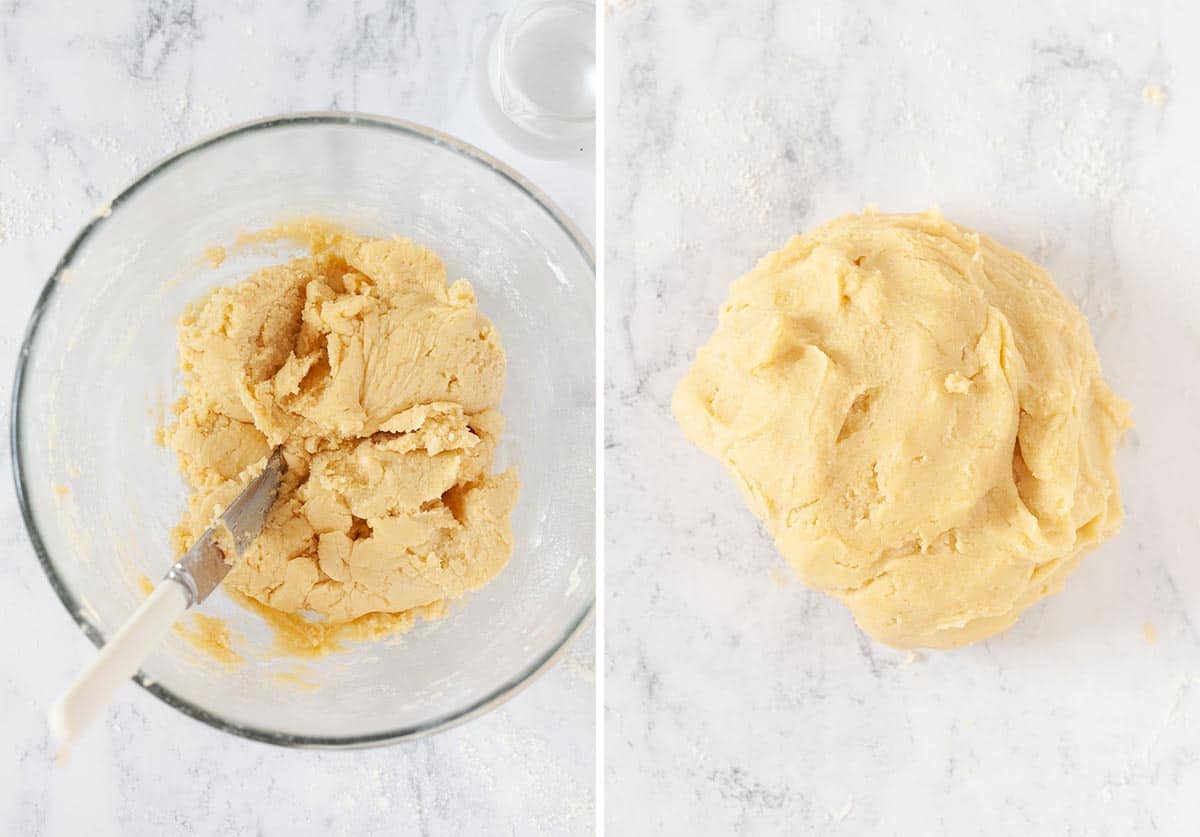 How to Blind Bake Sweet Pastry
Whatever you do, don't be tempted to skip blind baking the pastry for this tart case. Yes, it's an additional step, but it is an essential step.
Blind baking ensures that the pastry is cooked through completely and it's the only way to ensure that the dreaded soggy-bottom is avoided. This process helps the pastry attain a deep golden colour, boosts its buttery flavour and ensures a crisp texture.
There are numerous techniques around to blind bake pastry. For this particular sweet pastry, I advocate the following method:
On a floured work surface, roll the pastry out to around 2mm thickness and use to line your tart tin. Ensure it reaches the corners of the tin well
Use a sharp knife to trim (or knock off) any pastry that overhangs the tin and use the off-cuts to patch up any tears in the pastry as required
Cover and chill in the fridge for at least 30 minutes
Meanwhile, preheat the oven to 180C/ 350F/ GM 4
When the pastry has chilled, remove the cover and prick the base all over with a fork
Next, cut a sheet of baking parchment large enough to cover the base and sides of the tin. Scrunch it up, then unroll it – this makes it easier to lay inside of the tin
Fit the parchment in the tin and fill with baking beans, spreading them out to ensure they cover the entire base, especially the corners, where the pastry is prone to rising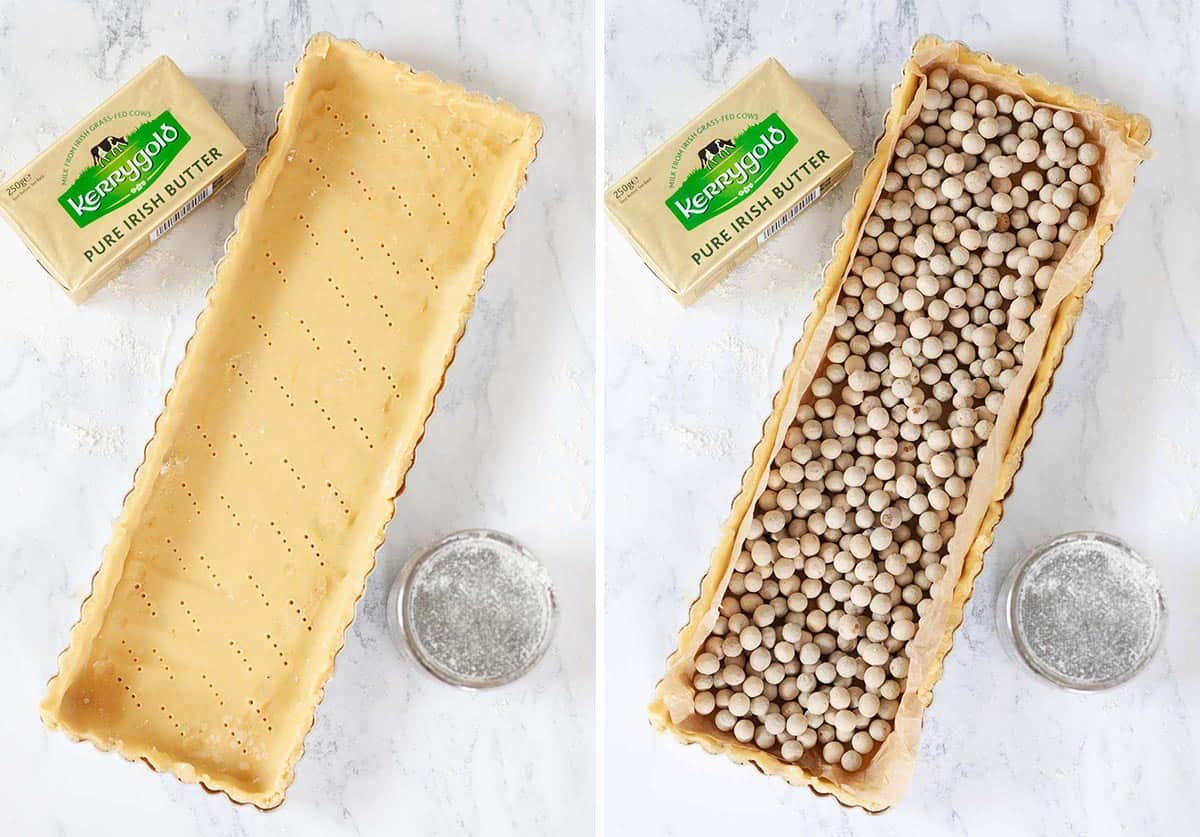 Transfer the tin to the oven and bake for 15 minutes, then remove the beans and parchment (careful – they will be hot) and bake for a further 5 minutes
Your sweet pastry is now blind-baked and ready to fill.
How to Make the Filling
The filling for this almond frangipane tart is quick and easy to prepare. Start making it when the pastry is half way through the blind baking cooking time:
Cream the butter (softened) and sugar in a bowl using electric beaters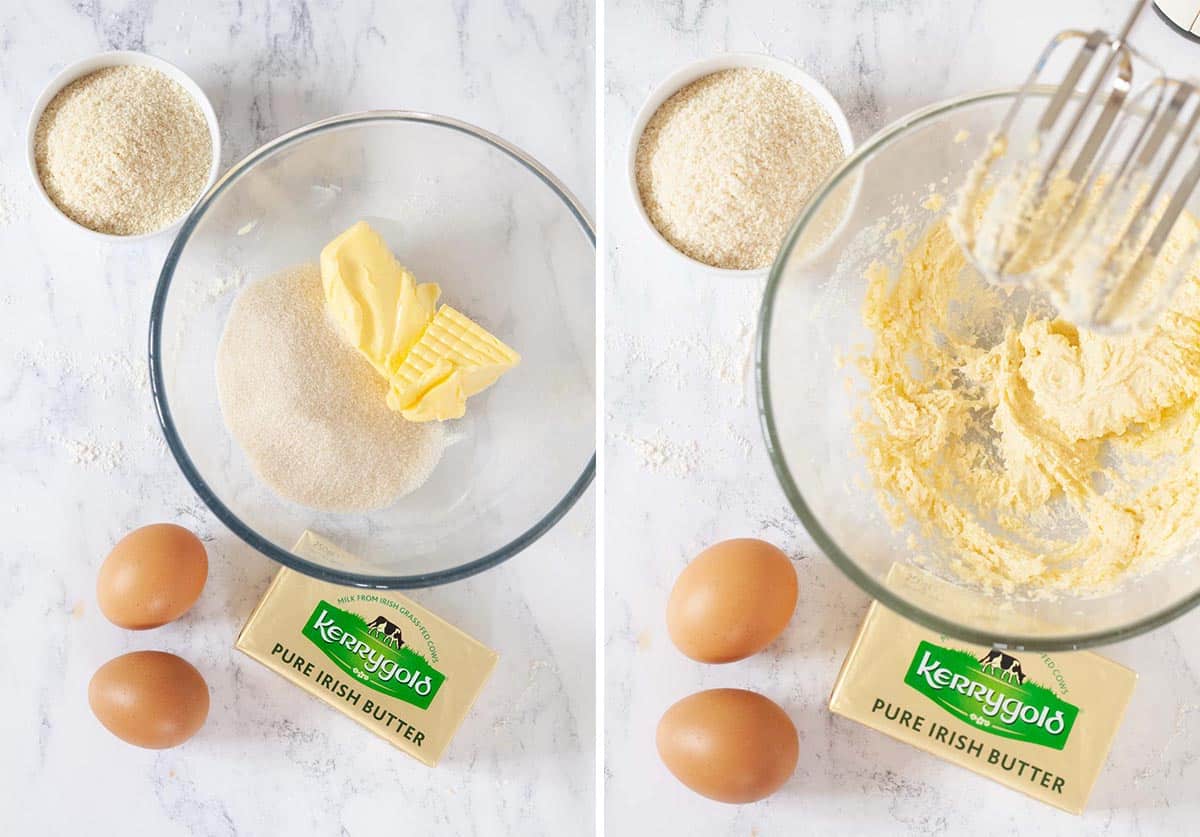 Add the eggs, one at a time, beating well between each addition
Mix in the ground almonds

When the pastry case has cooked, it can be filled as follows:
Spoon jam onto the base and use a blunt knife to spread it out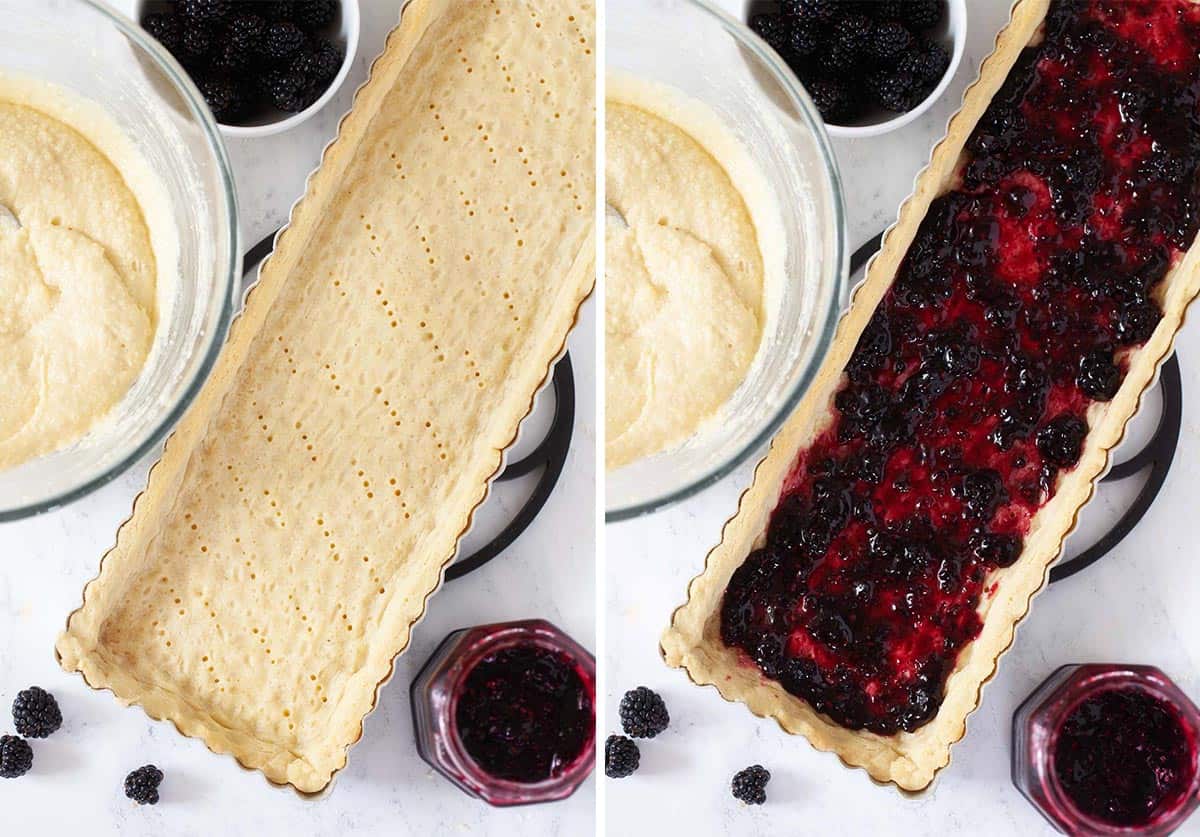 Carefully spoon the frangipane batter over the top and again, spread it out carefully using a blunt knife. Aim to take the batter to the very edge of the tart, covering the jam entirely, so it is less likely to bubble through the frangipane as it bakes
Top the frangipane with fresh blackberries and halved almonds. There is no need to press them down, the batter will rise up as it bakes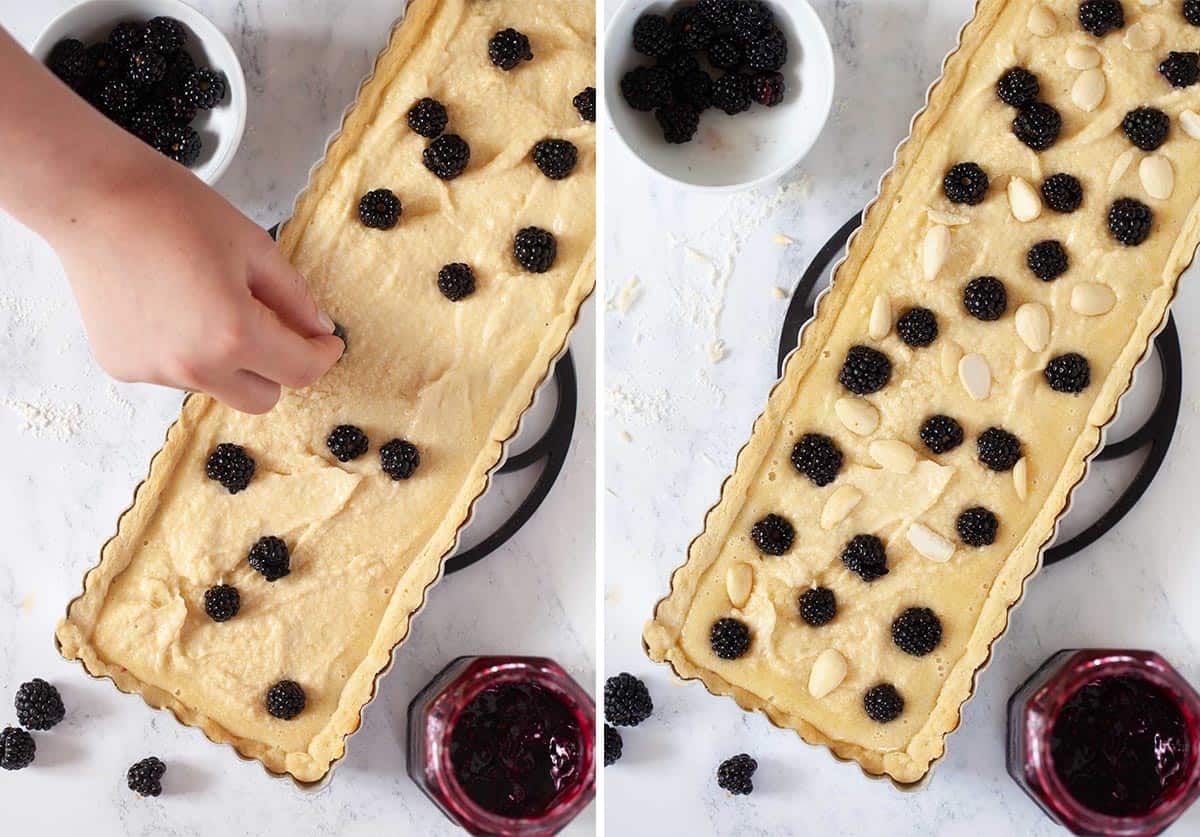 Return the tart to the oven and cook for 18-23 minutes. This tart is easy to burn if left too long in the oven, so do keep a close eye on it as it cooks. Better still, set a timer.
Let cool in the tin, then transfer to a serving plate and dust with icing sugar if desired.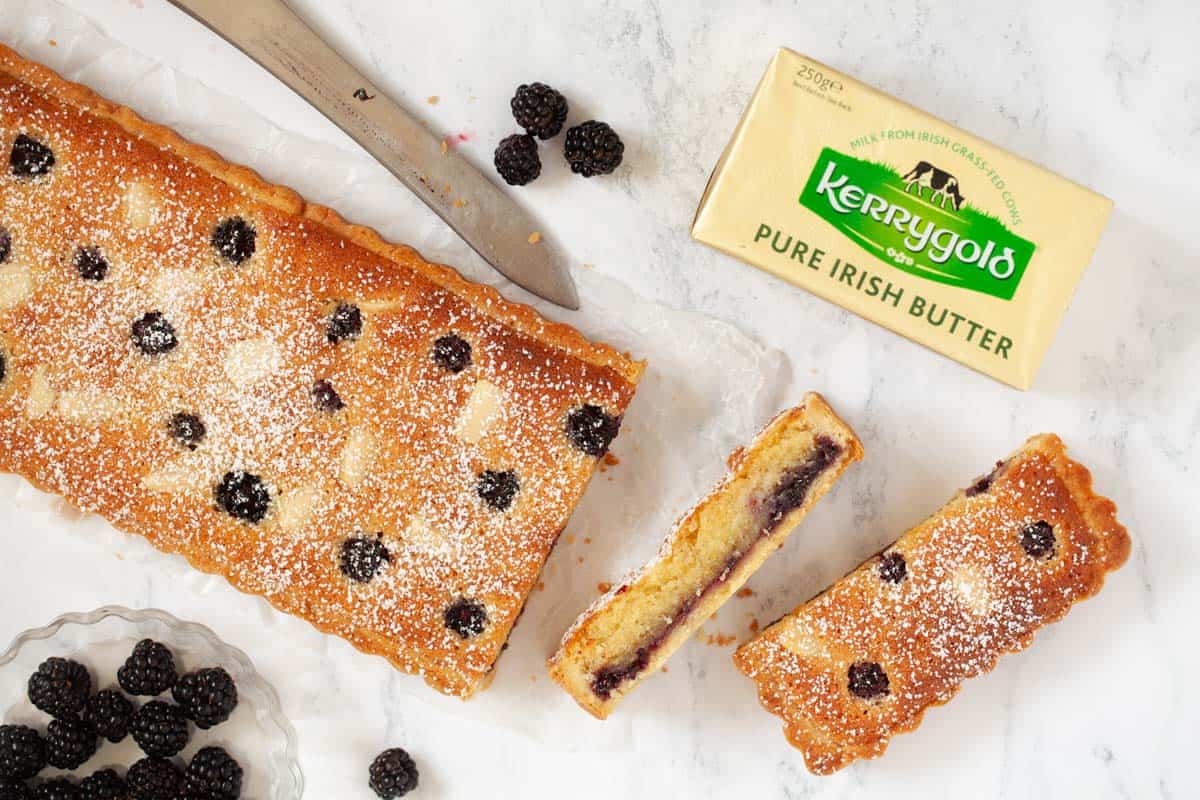 Frequently Asked Questions
How do I know when frangipane is cooked?
Frangipane is cooked when it has turned a deep golden colour and looks light and puffy. When pressed with a finger it should bounce back and there should be no evidence of loose, wobbly batter.
Can I use Baking Margarine instead of Butter?
Though I always stock baking margarine in my fridge, for this recipe, I can honestly say that only butter will do.

You will find it so much easier to make the pastry if you use quality butter, such as Kerrygold. Always use it straight from the fridge when making pastry.

And, of course, the rich, creamy taste of premium butter is an integral component of this almond frangipane tart.
What can I use instead of blackberries?
First time around, I made this almond frangipane tart with fresh cherries as they were in prime season. Amazing, doesn't cover it.

This tart is equally delicious with blackberries, but would also partner well with raspberries or peaches. Just remember to match the jam with the fruit you select.

Whatever fruit you plump for, you'll find that this buttery almond frangipane tart needs very little in the way of toppings. A little lightly whipped or runny cream is really plenty.
Can I freeze this tart?
This tart does freeze well. Either freeze the entire tart or just the leftovers.

To freeze the entire tart, let cool completely but do not dust with icing sugar. Wrap in clingfilm and freeze for up to 3 months. Defrost fully at room temperature and proceed to dust with icing sugar just before serving.

Similarly, leftovers can be wrapped, frozen and, when required, defrosted at room temperature. They will need an additional dusting of icing sugar when ready to serve, as the previously added coating will not be visible after freezing.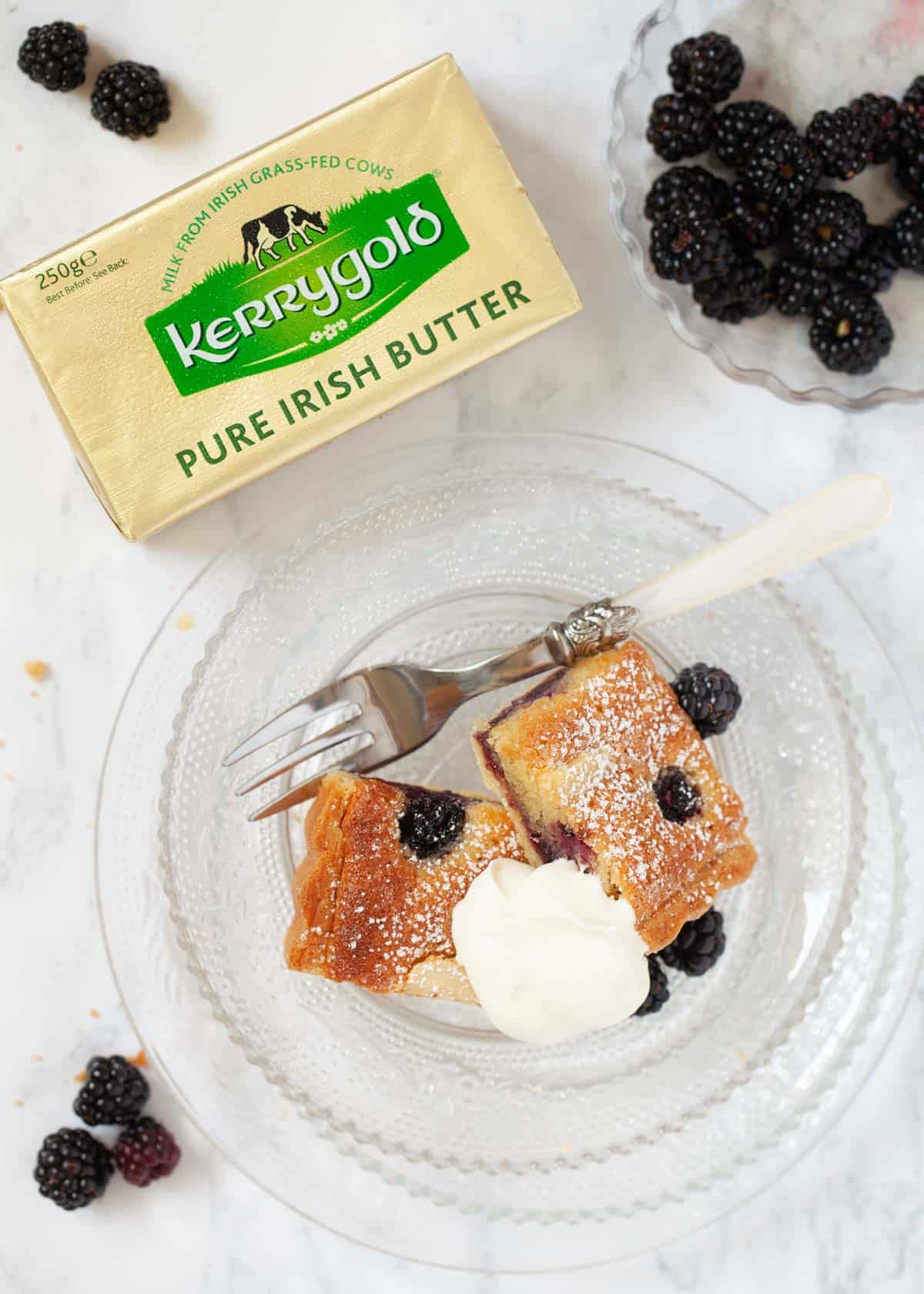 More Dessert Recipes Featuring Berries to get Tempted By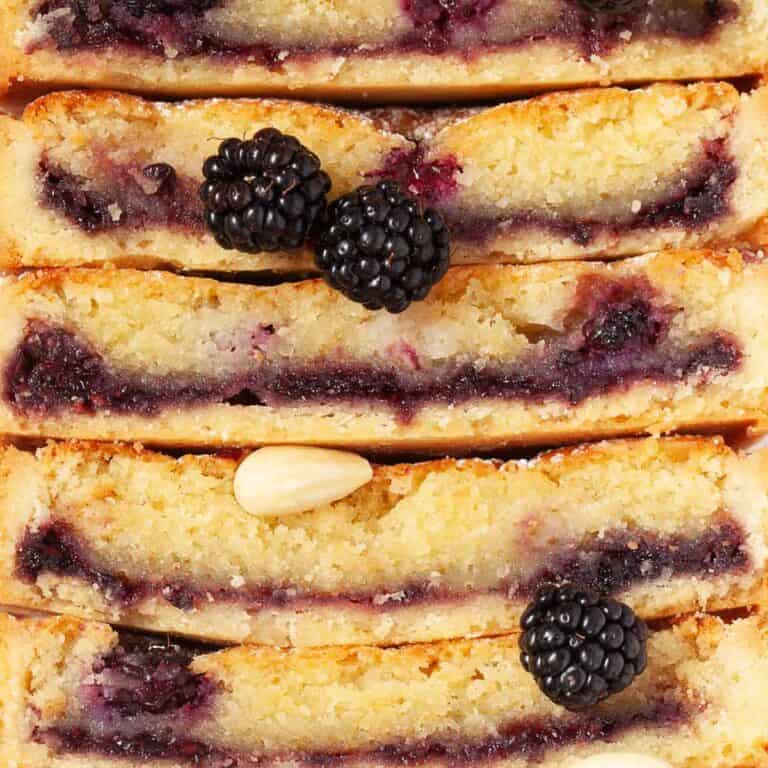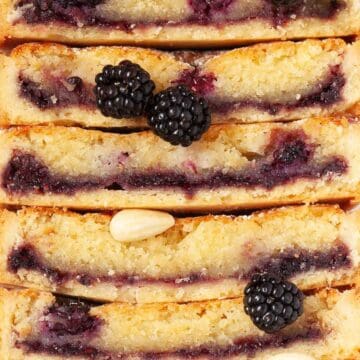 Blackberry and Almond Frangipane Tart
This classic almond frangipane tart comes studded with zesty blackberries to add a pop of fruity flavour & visual interest. True to tradition, this sweet pastry tart filled with baked almond cream is a simple, understated yet stunning dessert to serve.
Print
Pin
Rate
Equipment
1 x 35x12cm loose bottomed tart tin
Ingredients
For the Pastry
200

g

Plain (all purpose) flour

85

g

Icing sugar

150

g

Kerrygold Butter

straight from the fridge

⅛

teaspoon

Salt

1

Egg yolk

from a large, free range egg

1-2

tablespoon

Water

ice cold
For the Filling
100

g

Kerrygold Butter

room temperature

100

g

Caster sugar

white or golden is fine

2

Eggs

large, free-range

100

g

Ground almonds

3

tablespoon

Blackberry jam

50

g

Blackberries

12

Blanched almonds
Instructions
Make the Sweet Pastry
Put the flour into a medium-sized bowl and sieve in the icing sugar

Cube the butter, then add to the bowl

Toss all ingredients together briefly using your hands than use your fingertips to rub the butter into the other ingredients until the mix resembles fine breadcrumbs

Tip the egg yolk into the bowl along with 1 tablespoon of ice-cold water

Use a blunt knife to chop and mix the dough until it comes together. Add a little more water only if absolutely necessary. The dough should easily come together to form a soft ball. Adding too much water will make the dough sticky and difficult to handle

Turn onto a lightly floured worktop and knead gently and briefly until it is smooth

Flatten the dough slightly, wrap in clingfilm and chill for 45 minutes before using
Blind Bake the Pastry
On a floured work surface, roll the pastry out to around 2mm thickness and use to line your tart tin. Ensure it reaches the corners of the tin well

Use a sharp knife to trim (or knock off) any pastry that overhangs the tin and use the off-cuts to patch up any tears in the pastry as required

Cover and chill in the fridge for at least 30 minutes – this helps the dough firm up again, and reduces the chances of the edges falling down or shrinking excessively during the bake

Meanwhile, preheat the oven to 180C/ 350F/ GM 4

When the pastry has chilled, remove the cover and prick the base all over with a fork

Next, cut a sheet of baking parchment large enough to cover the base and sides of the tin. Scrunch it up, then unroll it – this makes it easier to lay inside of the tin. Fit the parchment in the tin and fill with baking beans, spreading them out to ensure they cover the entire base, especially the corners, where the pastry is prone to rising

Transfer the tin to the oven and bake for 15 minutes, then remove the beans and parchment (careful – they will be hot) and bake for a further 5 minutes, then take out of the oven and set aside
Make the Filling
In a medium bowl cream the softened butter with the sugar using electric beaters

Add the eggs, one at a time, beating well between each addition

Mix in the ground almonds
Assemble and Bake
Spoon the jam onto the base of the tart case and use a blunt knife to spread it out

Carefully spoon the frangipane batter over the top and again, spread it out carefully using a blunt knife. Aim to take the batter to the very edge of the tart, covering the jam entirely, so it is less likely to bubble through the frangipane as it bakes

Top the frangipane with fresh blackberries, chop the almonds in half and scater over the top too. There is no need to press them down, the batter will rise up as it bakes

Return the tart to the oven and cook for 18-23 minutes

Let cool in the tin, then transfer to a serving plate and dust with icing sugar if desired
Notes
Keep the Pastry Cold
It is very important to use chilled ingredients when making this sweet shortcrust pastry and to adhere to instructions to chill it at various stages throughout the recipe. This is the best way to ensure that this butter-rich pastry is easy to handle:
Use butter straight from the fridge
Try not to over-handle the pastry once make, since this will raise its temperature and make it too soft to roll out
Ensure you follow the instructions to chill the pastry before rolling it out and again before the blind bake
On very hot days, you will need to work quickly in order to use this dough easily. If it gets too soft to roll out successfully, just put back in the fridge (or even the freezer) to firm up enough to handle again
Nutrition Per Serving (Approximate)
Calories:
531
kcal
|
Carbohydrates:
51
g
|
Protein:
8
g
|
Fat:
34
g
|
Saturated Fat:
17
g
|
Cholesterol:
133
mg
|
Sodium:
280
mg
|
Potassium:
72
mg
|
Fiber:
3
g
|
Sugar:
27
g
|
Vitamin A:
886
IU
|
Vitamin C:
2
mg
|
Calcium:
53
mg
|
Iron:
2
mg
(Visited 2,230 times, 2 visits today)