This cheese savoury recipe makes a fantastic filling for afternoon tea sandwiches. A step up from basic cheese, this cheese savoury sandwich is easy to make and full of flavour.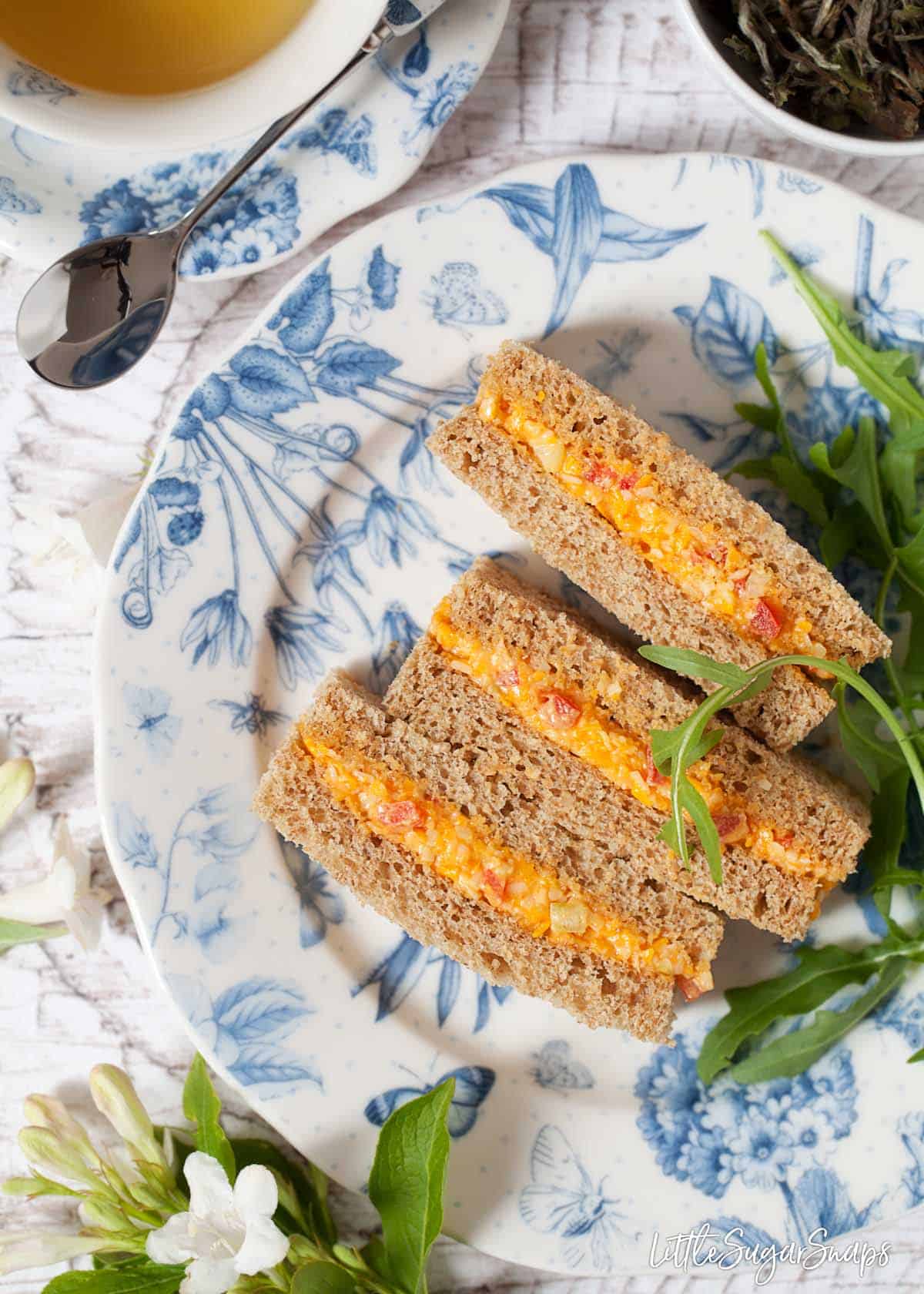 THIS POST IS WRITTEN IN COLLABORATION WITH PORTMEIRION. ALL THOUGHTS AND OPINIONS ARE MY OWN.
Not much can beat a good cheese sandwich for all round crowdpleasing and my recipe for a cheese savoury sandwich takes the basic offering to a new level entirely.
The humble cheese sandwich is loved in the UK by all ages. And little wonder – it's great on its own, but partners so admirably with ham, onion, pickle and even marmite. it seems that there's a cheese sandwich out there to please everybody.
But my cheese savoury recipe elevates the standard cheese sarnie in an entirely different way to all these well-known variations.
This cheese savoury sandwich is colourful, with a slight crunch and it is filled with creamy flavour. It can be eaten any time, but this offering is certainly special enough to be featured on a spread of afternoon tea sandwiches.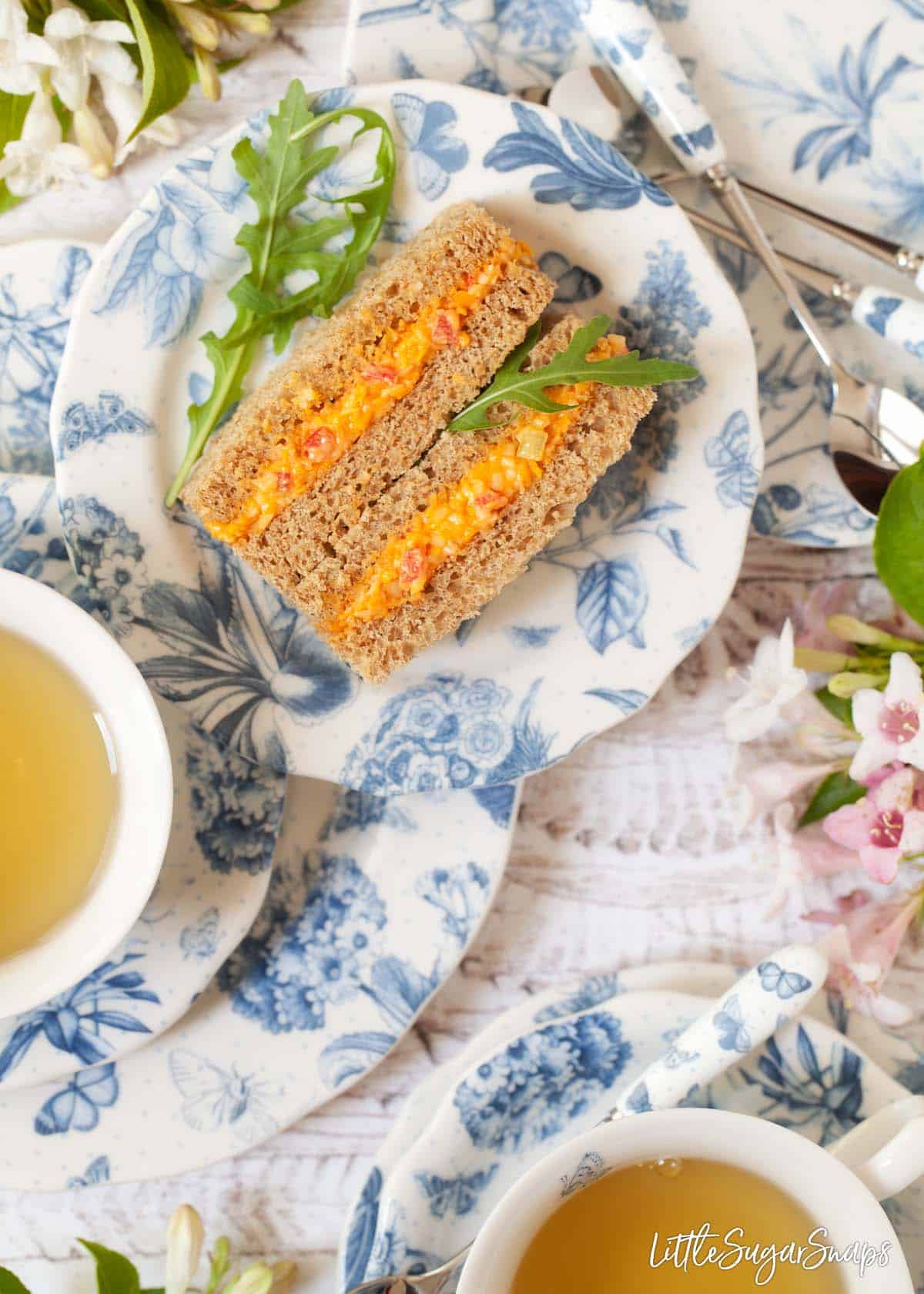 This post has two missions. Firstly to delivery this fantastic cheese savoury recipe. And secondly, to tell you more about the tradition of afternoon tea and how to host one yourself. Let's dig straight in.
Cheese Savoury Sandwich Ingredients
The cheese savoury sandwich originates in Northern England and usually comprises cheese, carrot, onion and salad cream.
My version however, is slightly different. I've put aside the carrot and salad cream and instead included red pepper and mayonnaise.
The mayonnaise in my cheese savoury recipe has been spiked with paprika and dijon mustard to create an altogether more modern take on this sandwich filling.
I've also included 2 types of cheese – strong cheddar and Red Leicester – in part for taste but also for a visual boost.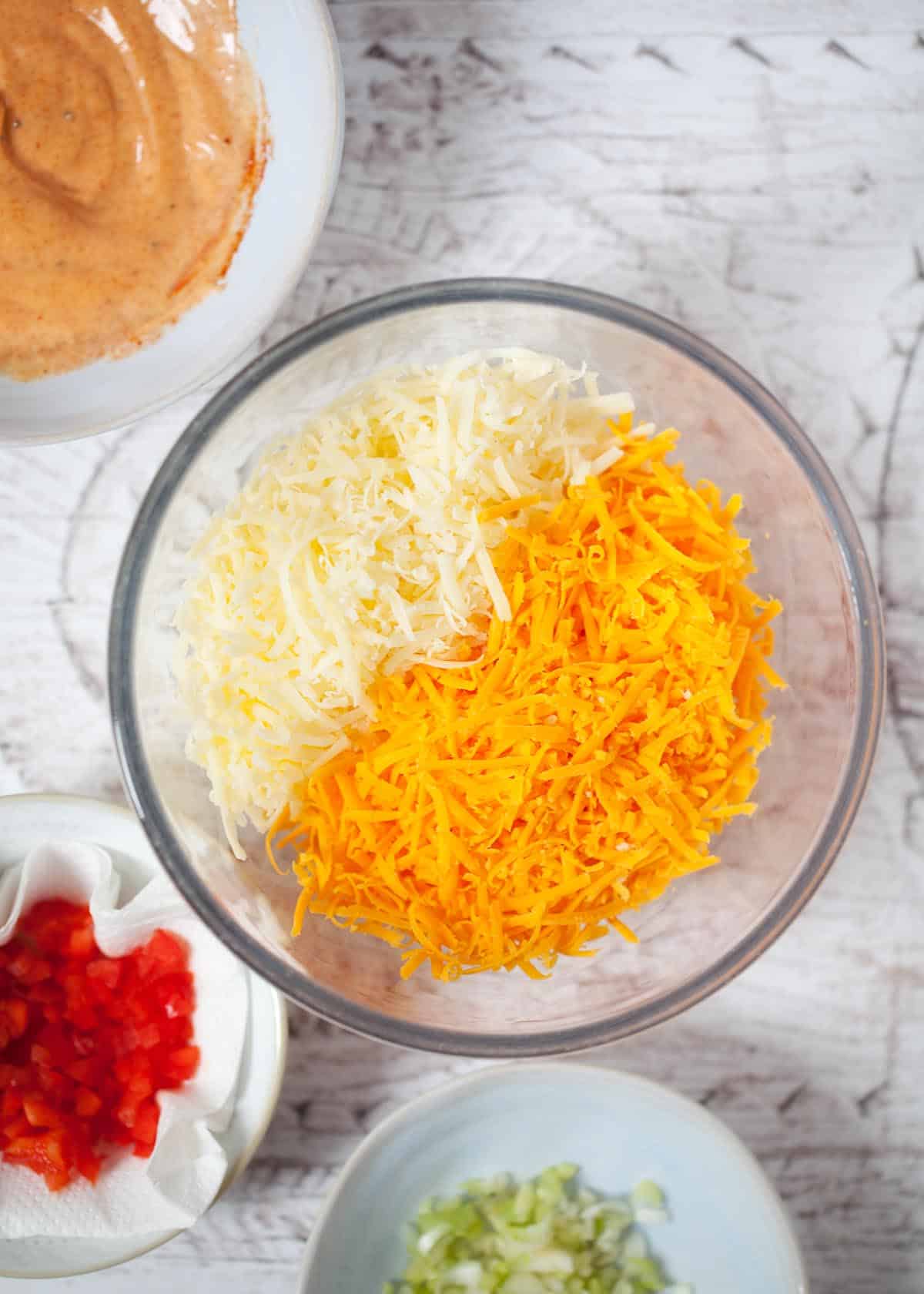 I'd say this cheese savoury recipe was inspired by the classic version which I have turned into a devilled sandwich filling with a creamier, less acidic taste.
How to make Cheese Savoury Filling
Making this cheese savoury sandwich recipe is very easy:
Begin by chopping the red pepper finely and leaving to drain on kitchen paper
Next, finely dice salad onion
Mix mayonnaise with paprika and dijon mustard
Grate cheddar cheese and Red Leicester cheese finely, then toss together in a bowl (use your hands)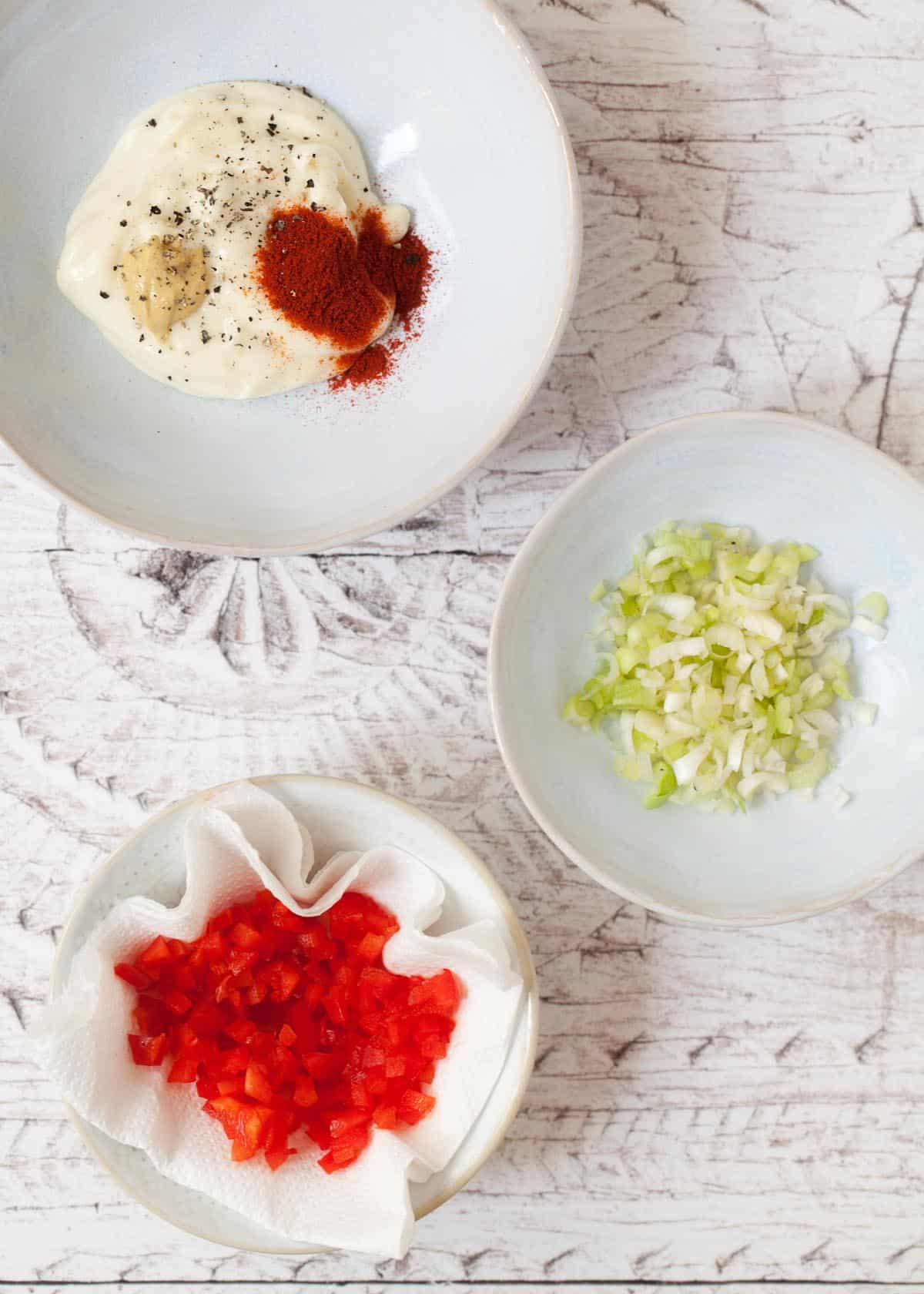 Add in the pepper & onion and mix again
Finally, stir in the mayonnaise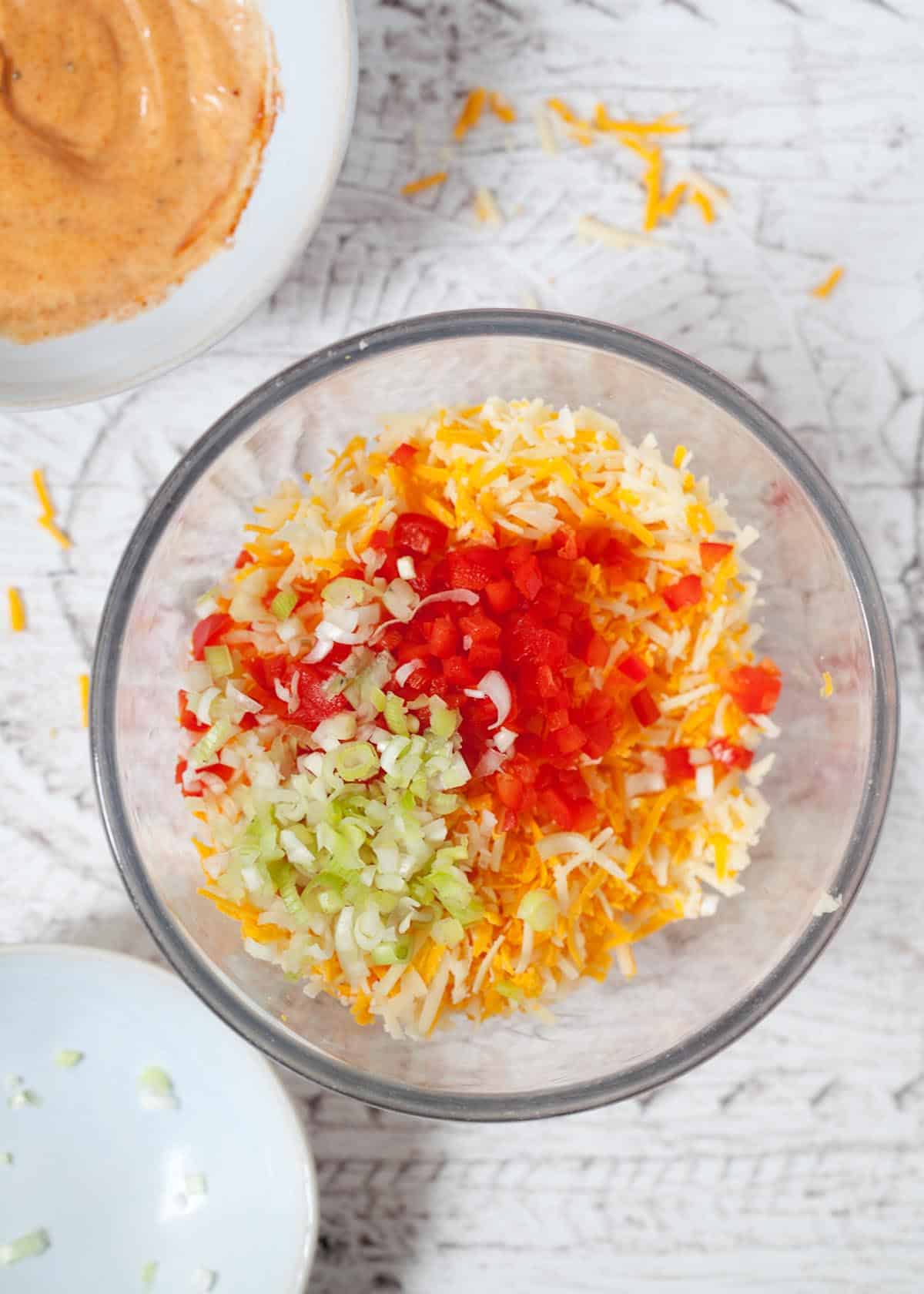 The filling can be made in advance. Simple store in the fridge (covered) until ready to use. Stir briefly before use.
When ready to assemble the sandwiches:
Cut the crusts from the bread
Lay a generous spoonful of the cheese savoury filling onto one slice of bread
Spread to the edges with a blunt knife
Top with another slice of bread
Cut into slices – my bread allowed 3 sandwiches to be cut from each slice
Repeat as necessary with more slices of bread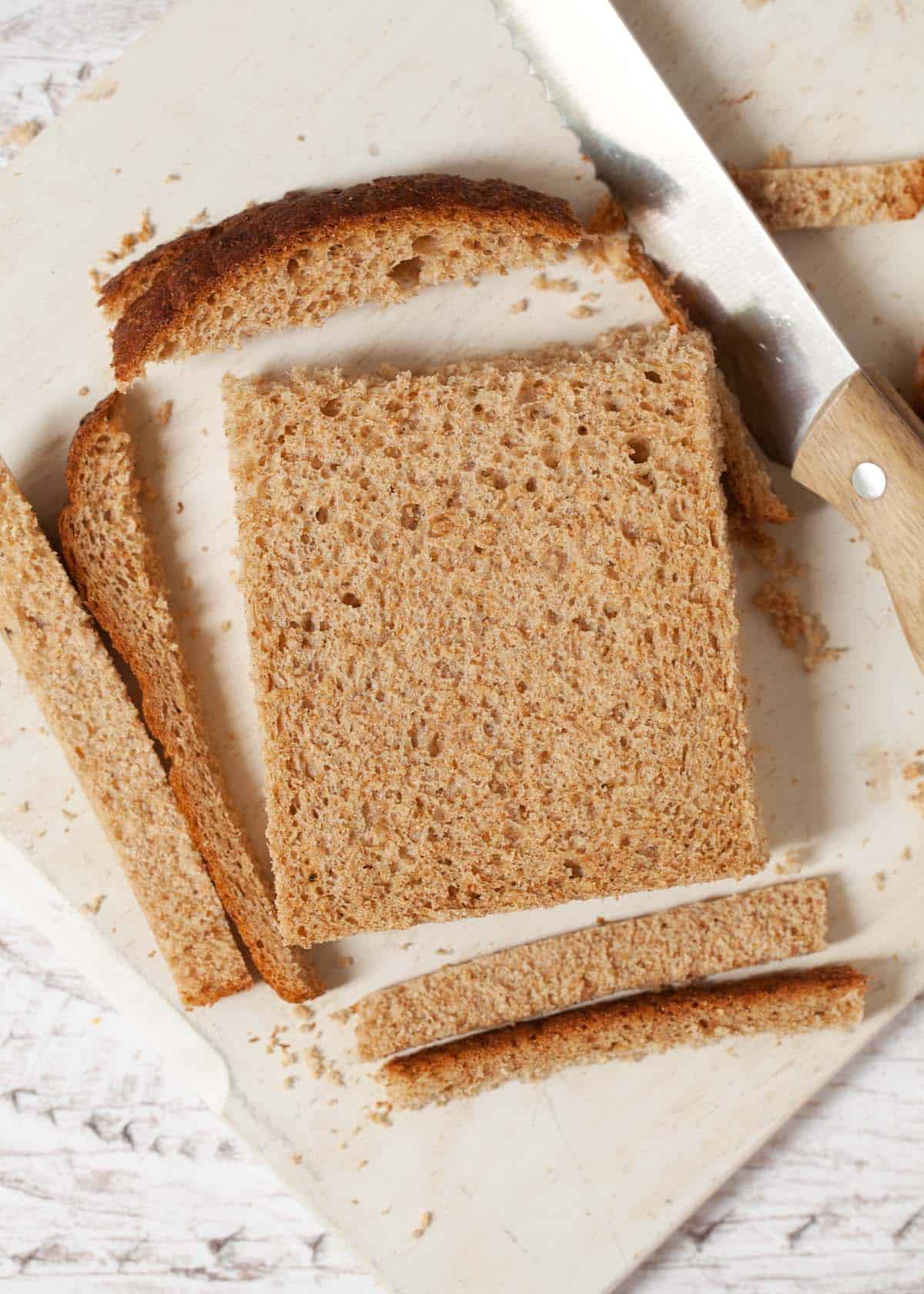 In total this recipe will make around 16 dainty sandwiches each measuring approximately 3cm wide by 8cm long.
I didn't butter the bread as I felt that the creamy filling didn't warrant it. But if you prefer to have buttered sandwiches, go ahead.
Now we've covered the cheese savoury sandwich recipe, let's talk more about afternoon tea.
What is Afternoon Tea?
Afternoon tea is a truly British tradition centred around a mid-afternoon 'snack' of sandwiches, scones and cake, all helped along with a plentiful amount of tea.
Yes – it really is quite a substantial 'snack'.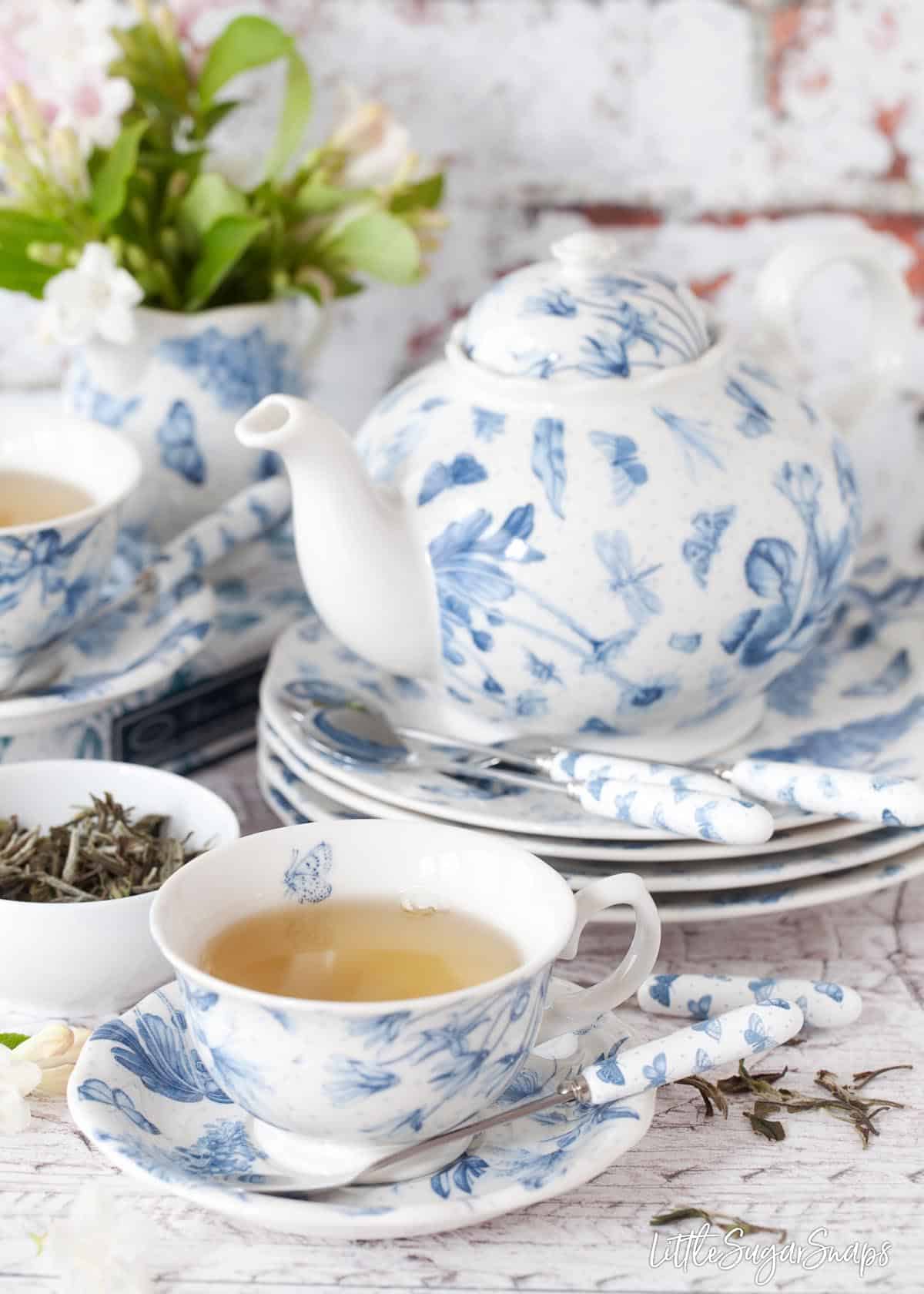 Afternoon tea originated in the 18th century, at a time when the well-to-do were in the habit of consuming just 2 main meals a day – breakfast and dinner. The latter was not served until around 8pm.
Needless to say, people got hungry in between meals. I daresay a few even swooned and possibly needed reviving with smelling salts. Ha ha.
At this time, Anna Russell, the 7th Duchess of Bedford, wasn't prepared to put up with a growling stomach. Instead, she took to ordering a few nibbles and a pot of tea in the afternoon to see her through to dinner.
So we have Anna to thank for the culinary adventure that is afternoon tea. She was clearly no fool and nor were those that followed her lead and helped make afternoon tea a popular meal for the well-heeled.
The tradition of afternoon tea is still alive and well throughout Britain, though these days it's not an everyday occurrence. Instead, it's a highly coveted treat reserved for special occasions and celebrations.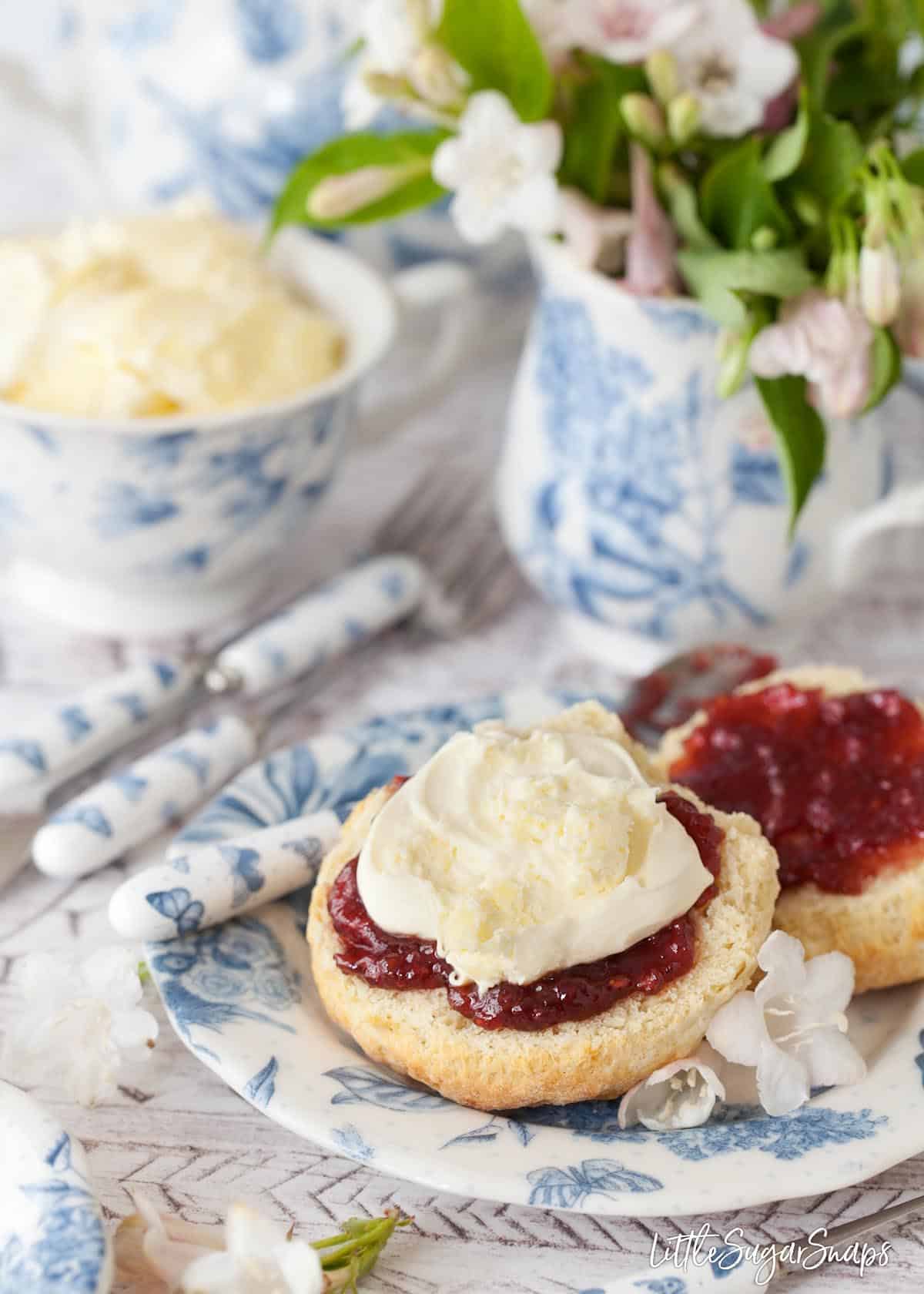 If you are treating yourself to the afternoon tea experience you have 2 options:
Find a suitable hotel or tea room offering a proper afternoon tea. Around London there are plenty of classic options including: Claridges, the Dorchester, the Ritz and the Savoy
Alternatively, go down the homemade route. This is without a doubt cheaper and you can merrily while away a few happy hours preparing the various components of afternoon tea
What follows is my guide on how to host afternoon tea yourself.
Things you Will Need for Afternoon Tea
If you are tempted to lay on your own afternoon tea for family or friends some beautiful crockery will go a long way to help create an elegant table worthy of all the goodies that afternoon tea entails.
Hotels and tea houses often present the sandwiches, scones and cakes on three-tiered stands, but few homes are likely to possess such equipment. Instead, dig out your prettiest crockery and go from there.
I adore using my Botanic Blue set from Portmeirion. It has a delicate & whimsical floral print reminiscent of a French antique toile fabric and sets the mood perfectly.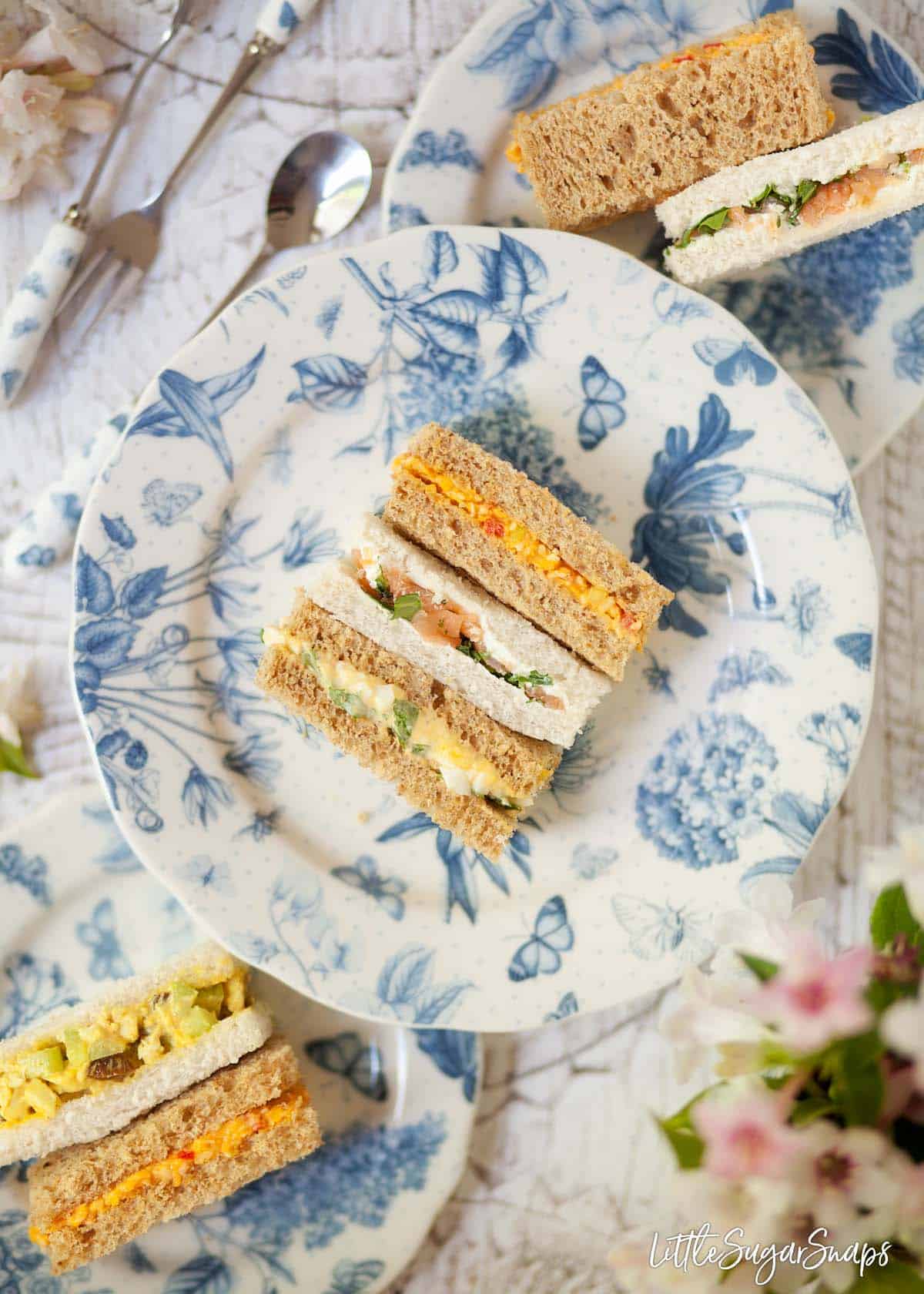 The essential items you'll need to carry off a stylish afternoon tea are:
a teapot – brimming with freshly brewed loose leaf tea of your preference
teacups, saucers and spoons – one per person
a sandwich tray and various large serving plates
2 side plates per person (one for savoury one for sweet)
Depending on your audience and menu, the following can also be useful too:
cake stand
milk jug
sugar bowl
dessert forks
Whilst this may seem like a lot of pottery for what is essentially finger food, laying out the table properly really does set the tone and helps add an elegant and polished feel to proceedings.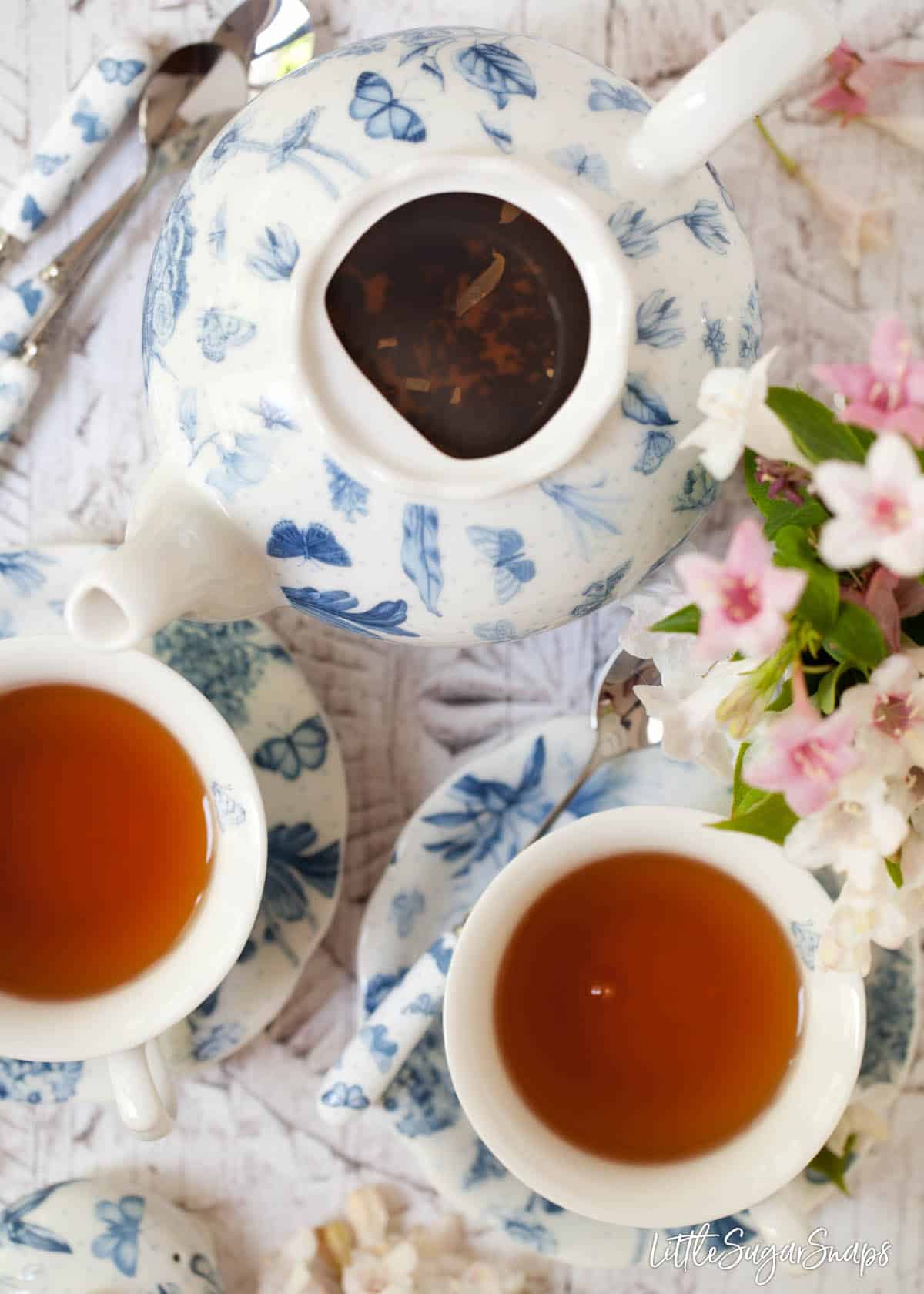 All of the listed items are available in Portmeirion's Botanic Blue range and the great news is that it is dishwasher safe, so clearing up the mountain of crockery that afternoon tea creates is a breeze.
If you are in the market for extending your crockery, Portmeirion do have quite a few designs that suit the occasion of afternoon tea perfectly. Another favourite of mine is the Chelsea collection for a modern, striking and vibrant look.
And don't forget to set your table with a freshly ironed tablecloth and a vase of fragrant flowers.
Now all that is left to arrange is the food. Let's talk about the savoury sandwiches, scones and sweet treats in more detail.
Afternoon Tea Sandwich Ideas
First of all, if you are intending to serve afternoon tea to children, it's a good idea to get them involved in selecting the sandwiches. This way they will feel confident that there will be at least one or two flavours they are comfortable with.
In fact, I drew up a shortlist of 10 different ideas for afternoon tea sandwiches and had each person in my family pick their favourite.
Allow for 4 sandwiches per person, ideally a different flavour each time, but ultimately, go with what will make your diners happy.
It's up to you whether to present them mixed on a platter or sandwich tray or to serve each variety on individual plates. Personally, I rather like the colour splash achieved by the mix and match approach.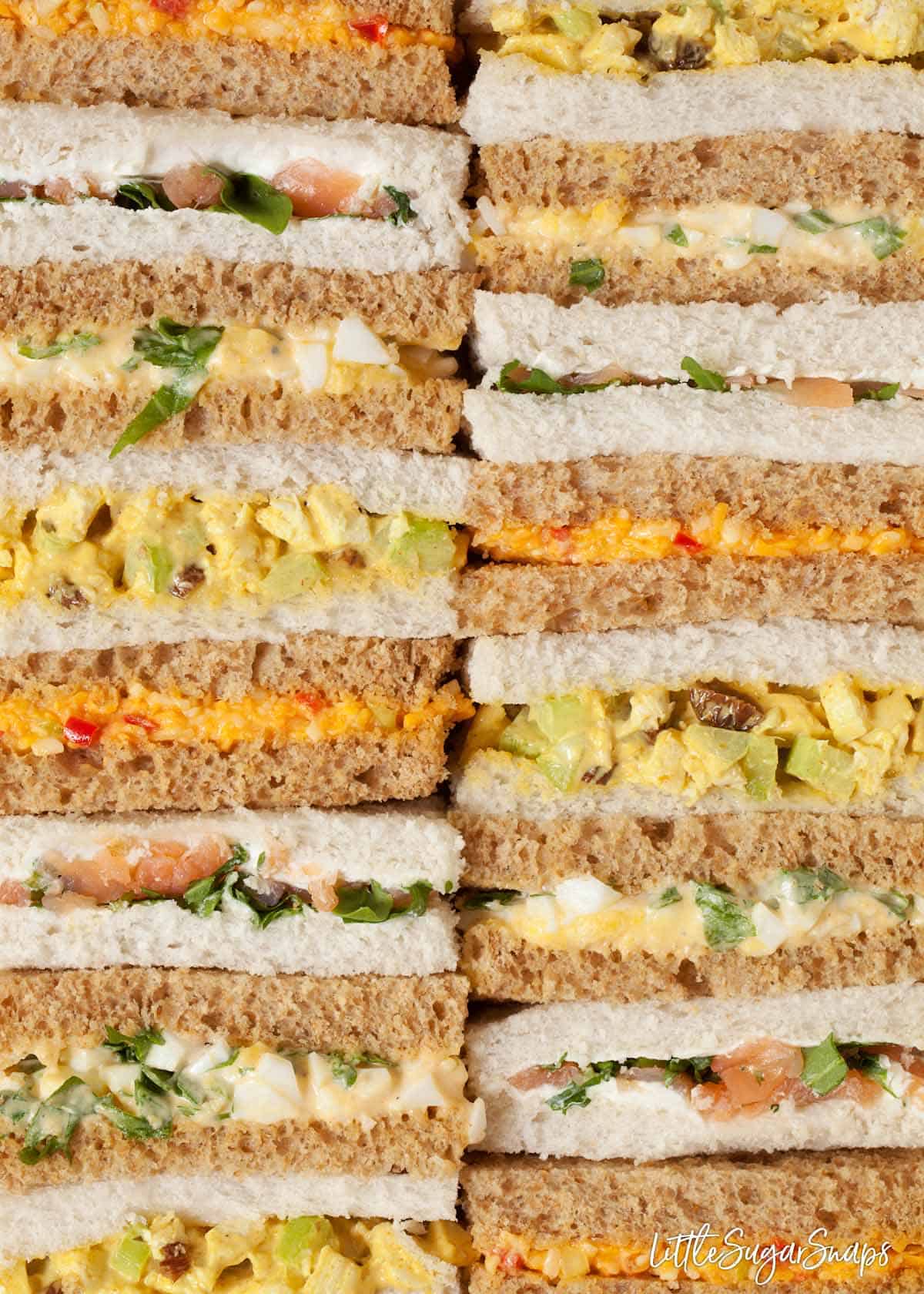 Here are a few other options to put alongside the cheese savoury sandwich recipe I'm presenting today:
smoked salmon and cream cheese – with rocket or watercress
roast beef and horseradish
cucumber – with lashings of butter, what could be more quintessentially English?
BLT
roasted red pepper & pesto
A mix of white and brown bread is ideal to create added visual interest.
And do take the time to prepare the sandwiches properly. That's crusted removed and cut into dainty rectangles or triangles.
My top tip when making afternoon tea sandwiches is to make them as near to serving time as feasible to ensure they are as fresh as they possibly can be.
How to Serve the Scones
Once the sandwiches have been polished off, scones commonly take the next starring role in afternoon tea.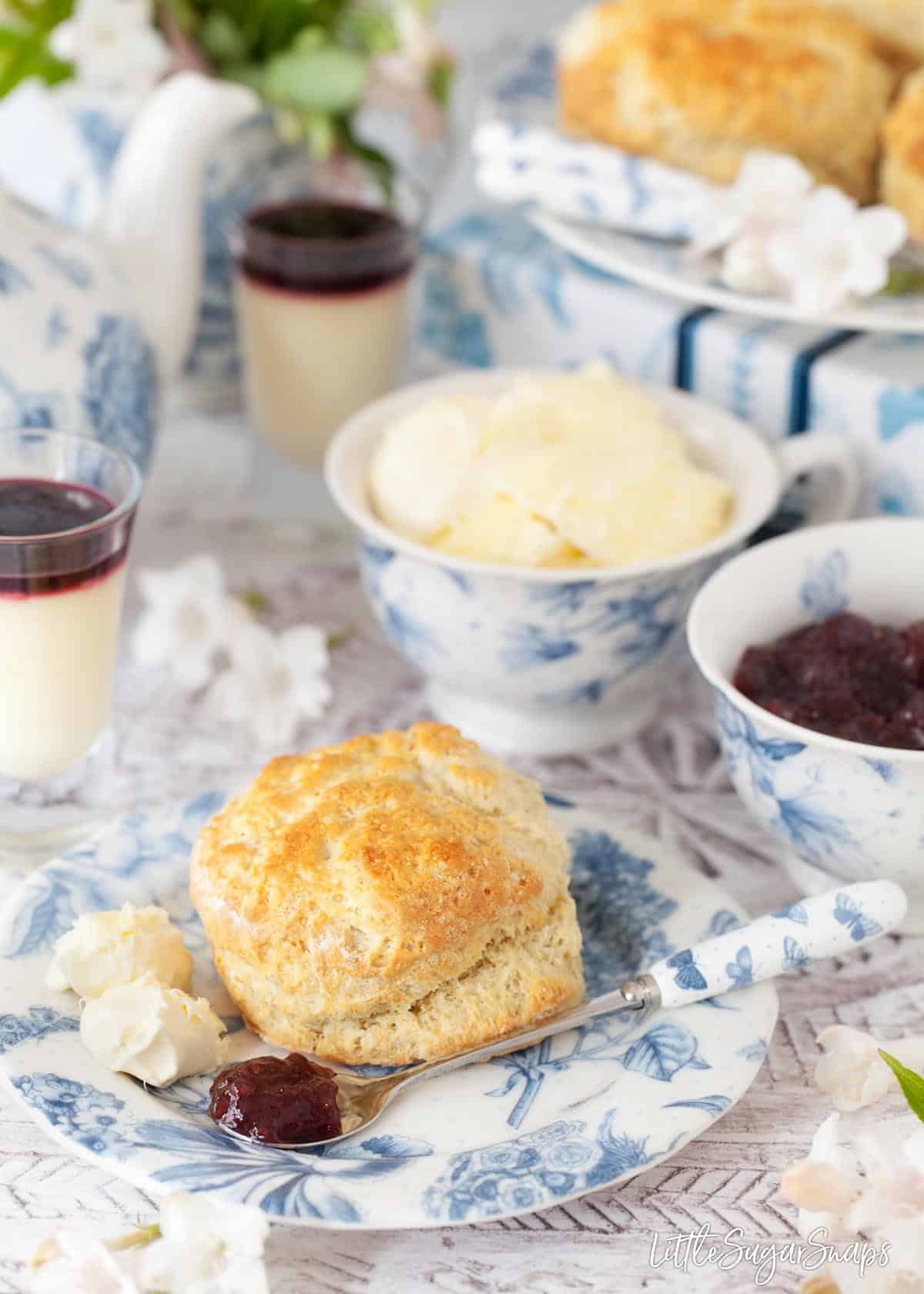 But it's not technically essential to serve scones. Instead a traditional afternoon tea can include any of the following in place of them:
tea cakes
English muffins
toasted bread
Basically, aim for something bready that is not too sweet, so that jam or honey can be served alongside to provide the sweetness.
For me though, scones belong on an afternoon tea. Ideally I prefer plain scones, but if they contain fruit, I can live with that too.
I used a Mary Berry recipe for the scones pictured here.
My personal view is that clotted cream and jam are non-negotiable. They have to be present and served in generous portions.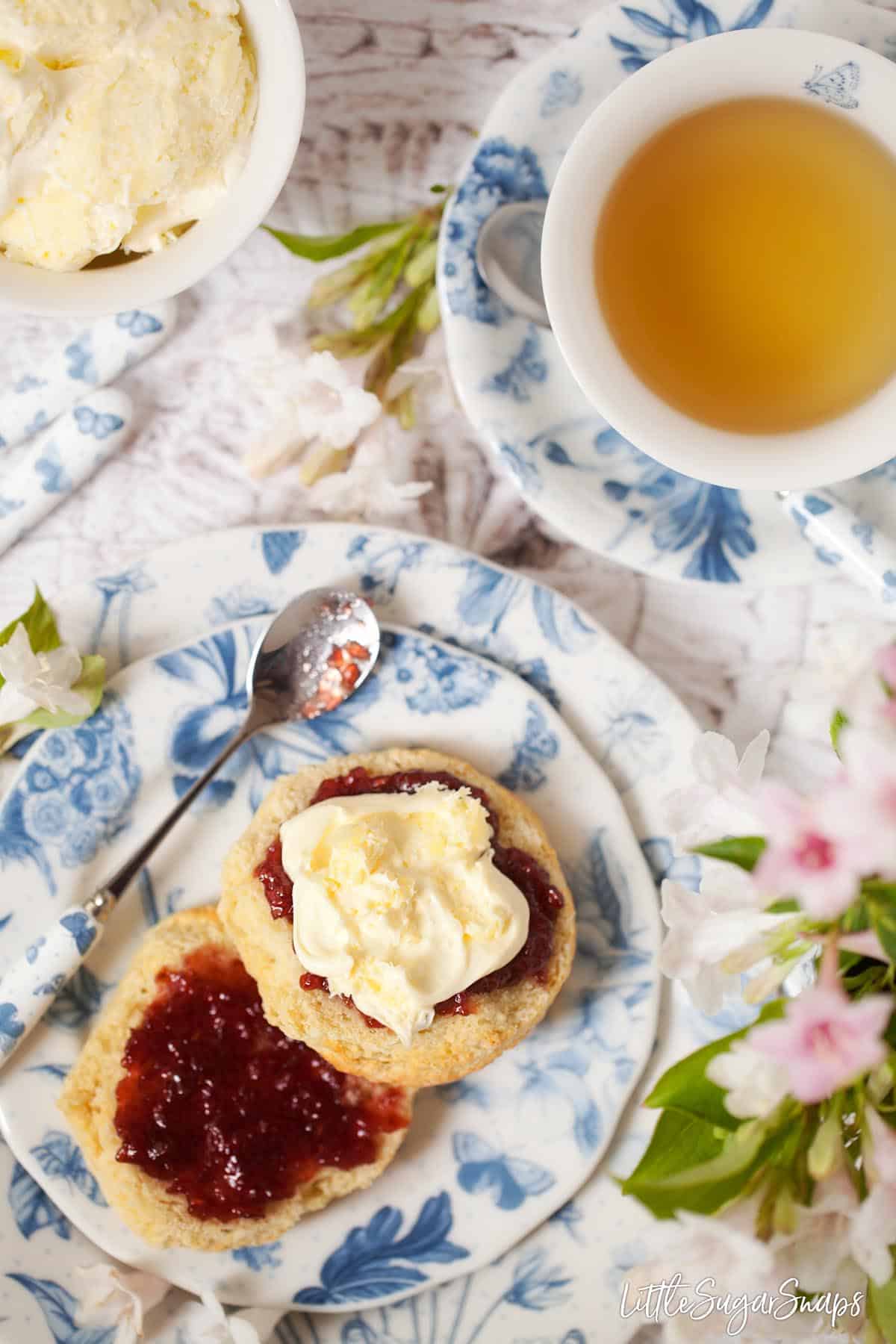 If you struggle to get hold of clotted cream, use whipped double cream instead. And if you really are not a fan of cream, butter and jam (or honey) will do just fine too.
As for the jam, though arguably strawberry and raspberry are traditional options, I don't mind what flavour accompanies my scones. Cherry is my absolute favourite, though the rest of my family always plump for blackcurrant.
What Sweet Desserts to Include
A big part of any afternoon tea is the selection of small cakes, pastries and desserts that are served after the savoury items and the scones. They are the finale, if you like.
Two or three dainty items are usually sufficient to ensure that diners wander away from the tea table with a full belly and a contented dreamy look in there eyes.
This time around I settled for 2 items – a modestly sized vanilla, raspberry and chocolate eclair topped with chopped pistachio nuts and a small glass of lemon posset topped with strained blackberry compote.
My advice is to pick one item that is quick and easy to prepare (the posset) and another that is a little more time consuming with a wow factor about it (the eclairs).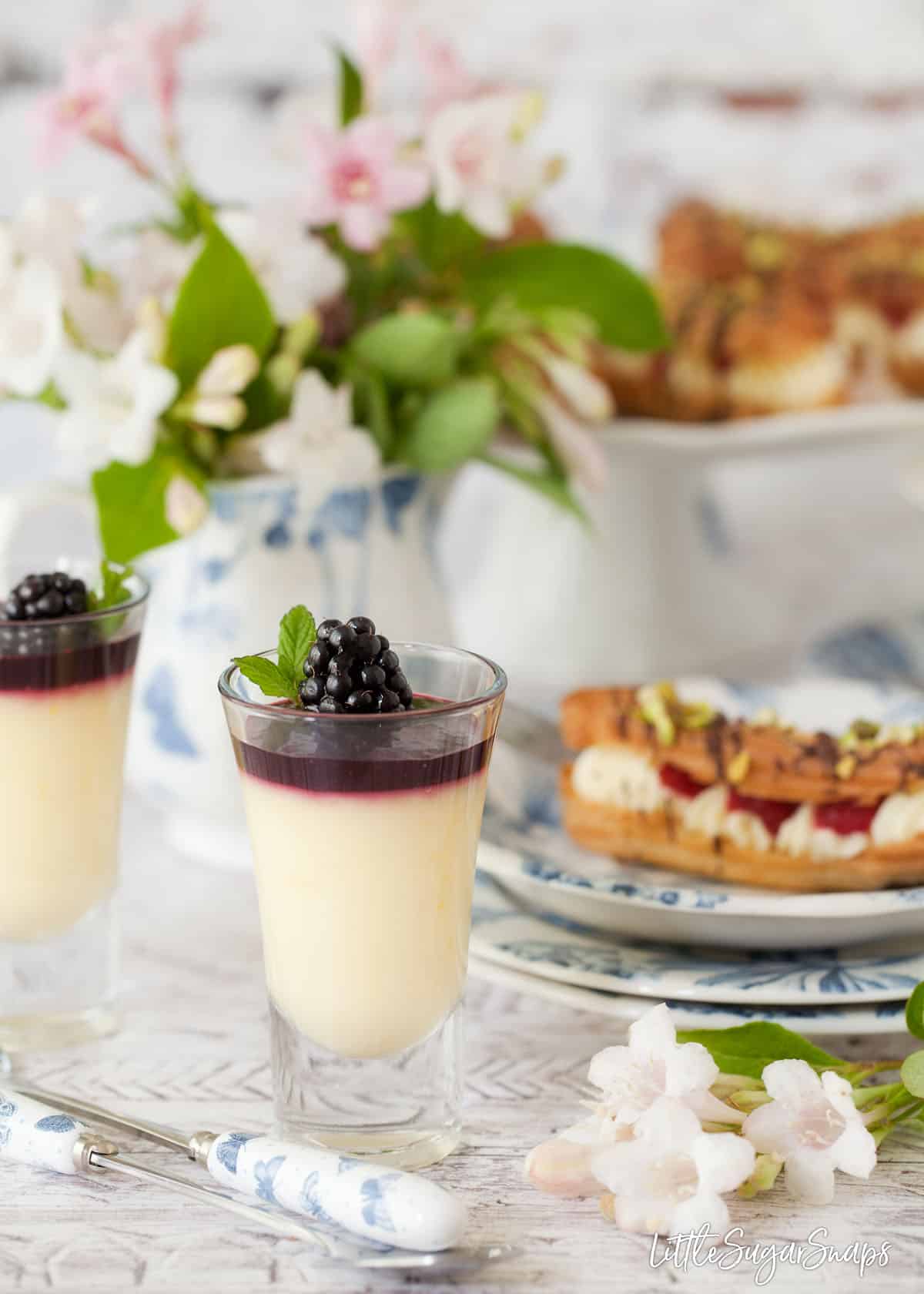 Other afternoon tea sweet recipes to consider are: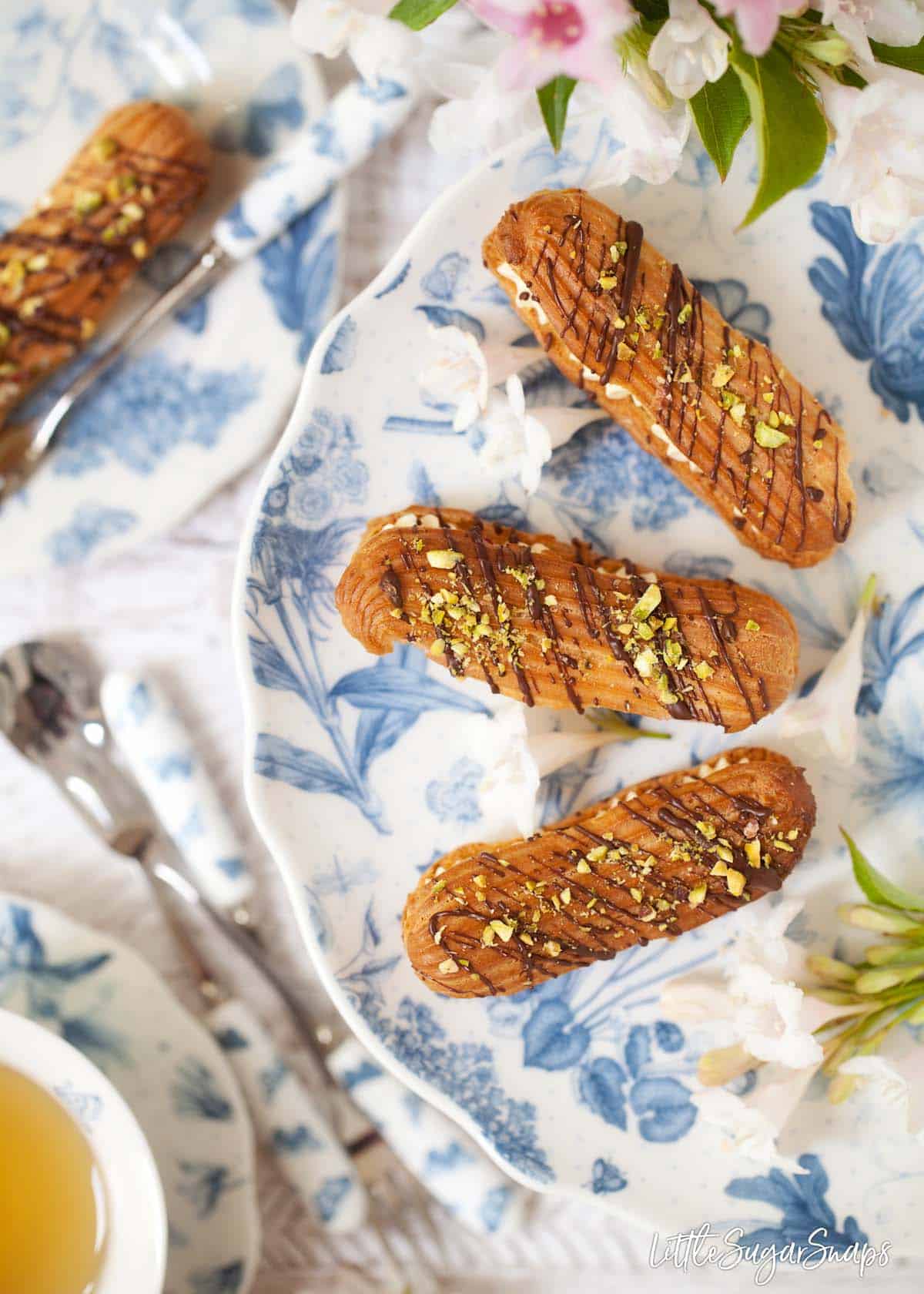 Have I tempted you to make your own afternoon tea? If you have children, get them involved in selecting the menu, the baking and setting the table. It's a lovely meal to create with people.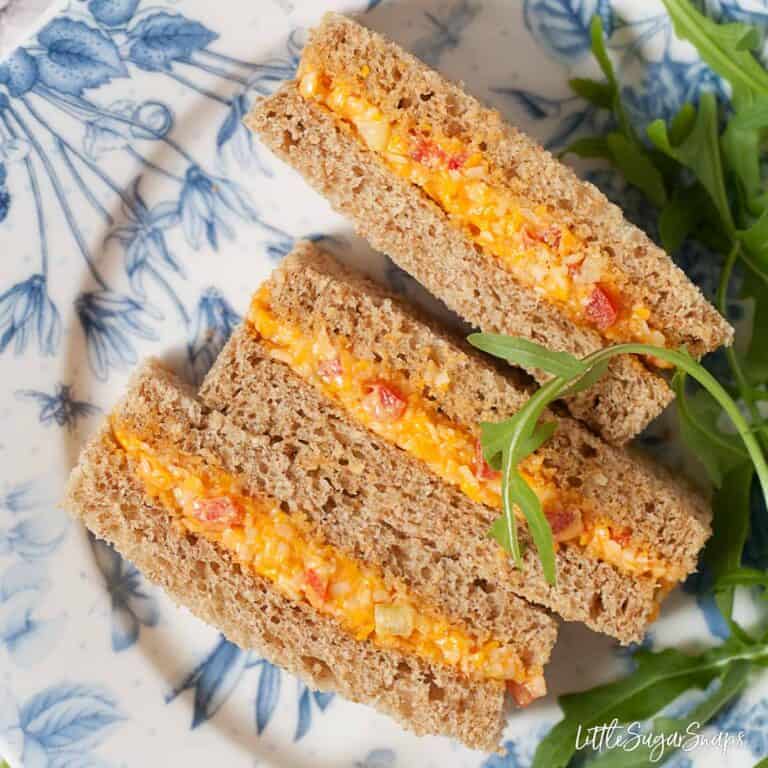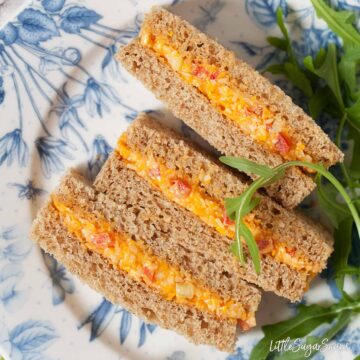 Cheese Savoury Sandwich Filling
This cheese savoury recipe makes a fantastic filling for afternoon tea sandwiches. A step up from basic cheese, this cheese savoury sandwich is easy to make and full of flavour.
This recipe makes sufficient filling for 16 dainty afternoon tea sandwiches approx 3 cm x 8 cm
Print
Pin
Rate
Ingredients
75

g

Red Leicester cheese

or other strong red cheese

75

g

Mature white cheddar cheese

5

tablespoon

Mayonnaise

¼

teaspoon

Paprika

sweet and mild

¼

teaspoon

Dijon mustard

⅛

teaspoon

Black pepper

ground

¼

Small red pepper

2

Salad onions

11

Slices Bread

White or Brown
Instructions
Make the Cheese Savoury Filling
Begin by chopping the red pepper finely and leaving to drain on kitchen paper

Next, finely dice salad onion

Mix mayonnaise with paprika and dijon mustard

Grate the cheddar cheese and Red Leicester cheese finely, then toss together in a bowl – use your hands, it's easy this way

Add in the pepper & onion and mix again with your hands

Finally, stir in the mayonnaise using a metal spoon

Cover and chill until ready to use
Make the Sandwiches
Cut the crusts from the bread

Cut one of the slices of bread in half – we will only cut 1 sandwich from this slice

Lay 5 of the full-sized slices out, along with one of the smaller pieces of bread

Stir the filling briefly and spoon a generous amount onto each slice of laid out bread, spreading it out using a blunt knife

Top each slice with another piece of bread of equal size

Cut into slices – my bread allowed 3 sandwiches to be cut from each large piece of bread and just one from the smaller sandwich. In total, you should cut 16 small sandwiches

Cover until ready to serve and consume as soon as possible (within the hour to avoid the bread drying out)
Notes
In total this recipe will make around 16 dainty sandwiches each measuring approximately 3cm wide by 8cm long. I used average-sized sliced bread. If you have small/ large slices be prepared to increase/ decrease the number of slices of bread needed to obtain this number of sandwiches
Alternatively, the filling can be used to make 4 regular sandwiches (crusts not cut off)
I didn't butter the bread as I felt that the creamy filling didn't warrant it. But if you prefer to have buttered sandwiches, go ahead
The filling can be made 24 hours in advance and stored in the fridge. Do give it a stir before using to mix in any liquid that has drained out of the peppers
Once made sandwiches do not have a long shelf life. They can be wrapped in clingfilm and stored for several hours (refrigerated) but are best eaten freshly made. Do not leave them sitting out, uncovered, for any length of time as the bread will soon dry out
Nutrition Per Serving (Approximate)
Calories:
441
kcal
|
Carbohydrates:
33
g
|
Protein:
16
g
|
Fat:
28
g
|
Saturated Fat:
10
g
|
Cholesterol:
46
mg
|
Sodium:
653
mg
|
Potassium:
183
mg
|
Fiber:
3
g
|
Sugar:
5
g
|
Vitamin A:
586
IU
|
Vitamin C:
11
mg
|
Calcium:
347
mg
|
Iron:
2
mg
(Visited 82,730 times, 252 visits today)