Ginger Spiced Rye Biscuits are guaranteed to put a smile on your face. These biscuits have a modest appearance that gives way to robust, spicy flavours. Bakeable from frozen – they are the perfect standby.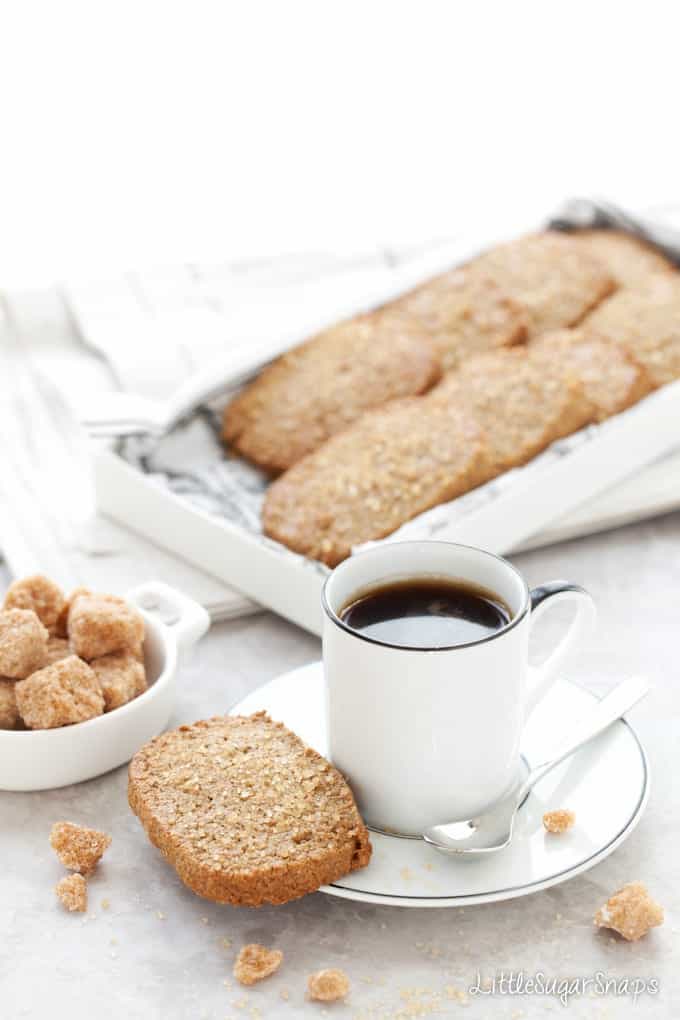 Apparently, around half of British people eat biscuits at least twice a week. And let's face it, there seems to be an ever-growing selection for us to choose from in cookbooks and in the supermarket. Today, I'm adding to that stockpile with these wonderfully crunchy, decidedly spicy and cheekily sugar-coated Ginger Spiced Rye Biscuits.
These biscuits are a marriage of 3 strong flavours
They are homely, robust & hearty. Sweet without being cloying.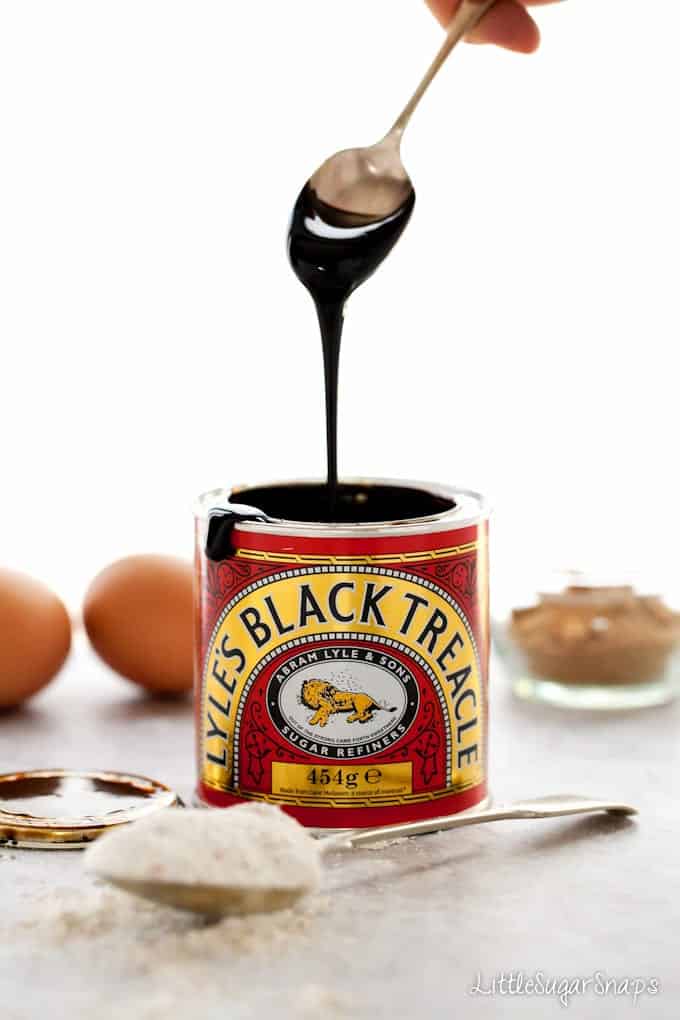 These biscuits look deceptively simple, but hidden within this modest appearance is a neat little punch of flavour. These Ginger Spiced Rye Biscuits are testament to the theory that you don't have to get dressed up to shine. They do that all by themselves thanks to those 3 feisty ingredients. The sparkle of sugar on the top is their only adornment and is there to add a little extra texture to each bite more than as a decoration.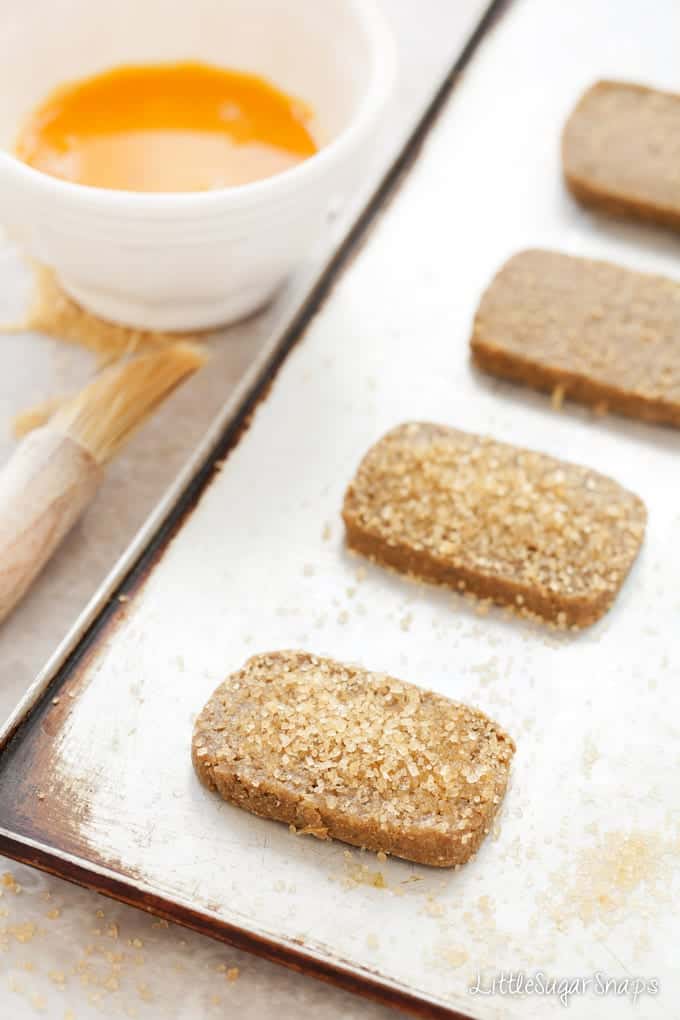 I've always enjoyed the taste of rye bread but somehow I've never got around to baking at home with rye. Until now. It's because of the rye flour that I'm more than a little bit in love with these biscuits. The rye lends a rustic taste and texture to them.
Bonus: In contrast to refined wheat flour, rye flour usually retains a large quantity of nutrients. It's also a good source of fibre.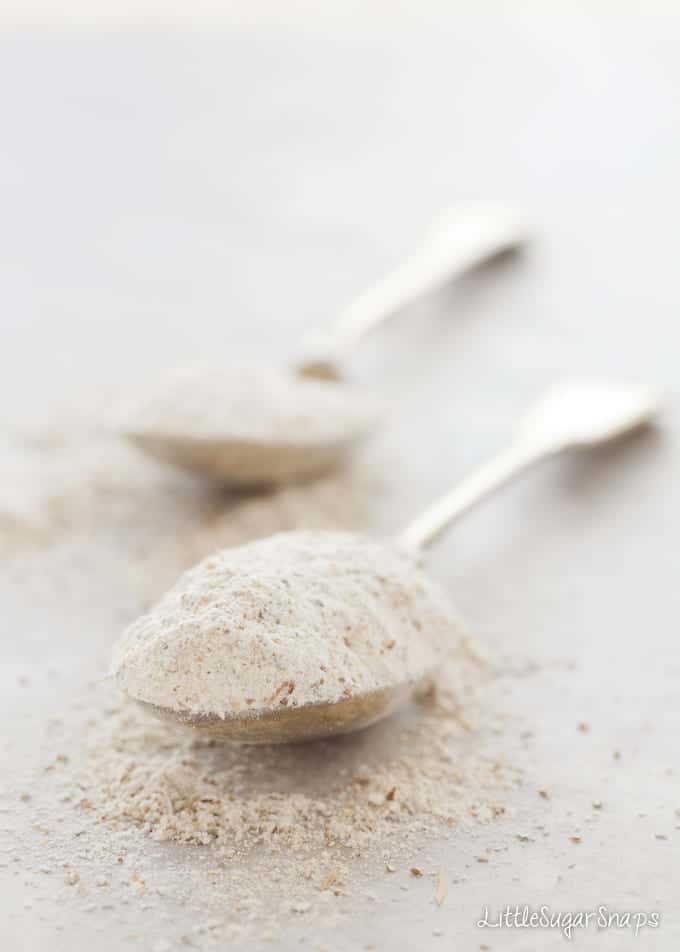 So, if you are feeling like a treat but fancy trying something a little different to normal, I suggest diving into this recipe. These Ginger Spiced Rye Biscuits go perfectly with coffee, tea or milk. Just sit back, enjoy the crunch and all of that wonderful satisfaction achieved from a home-bake.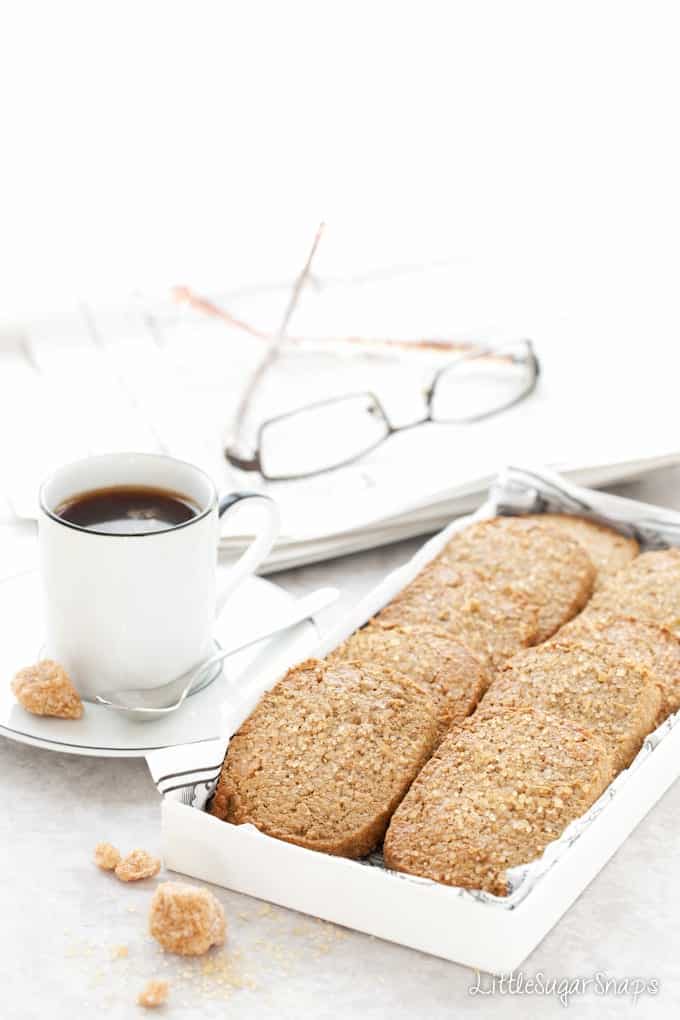 But wait…..
Another Bonus: once you have made, shaped and sliced the dough you can freeze them and pull just a few out of the freezer whenever you get the need for a mighty biscuit cuddle. This means they are great for having on standby for short notice visitors… or if you don't trust yourself not to eat your weight in biscuits if you bake the entire batch… Me? I'd never do such a thing.
I have to be honest, this week, I'm really pleased these biscuits are in my freezer. You see, I'm in the middle of my annual March cake-a-thon again – brought about by having 4 birthday cakes to make in the space of… um… 10 days. Eeeek.
Let's be clear: that's 2 children having their birthdays very close together with parties not on their birthdays. Bad planning. Very bad planning.
It's fair to say that a week ago something went spectacularly wrong in the preparation of cake number 1 this year. I'm still playing catch-up. Very soon I'll be sharing with you cake number 2 (pure heaven) and I'll let you in on my epic kitchen fail and how not to make a Piñata cake.
But for now, I live safe in the knowledge that if anything goes wrong with cakes 3 or 4 I can always lock myself away with a large stack of these biscuits and pretend all is well in my kitchen.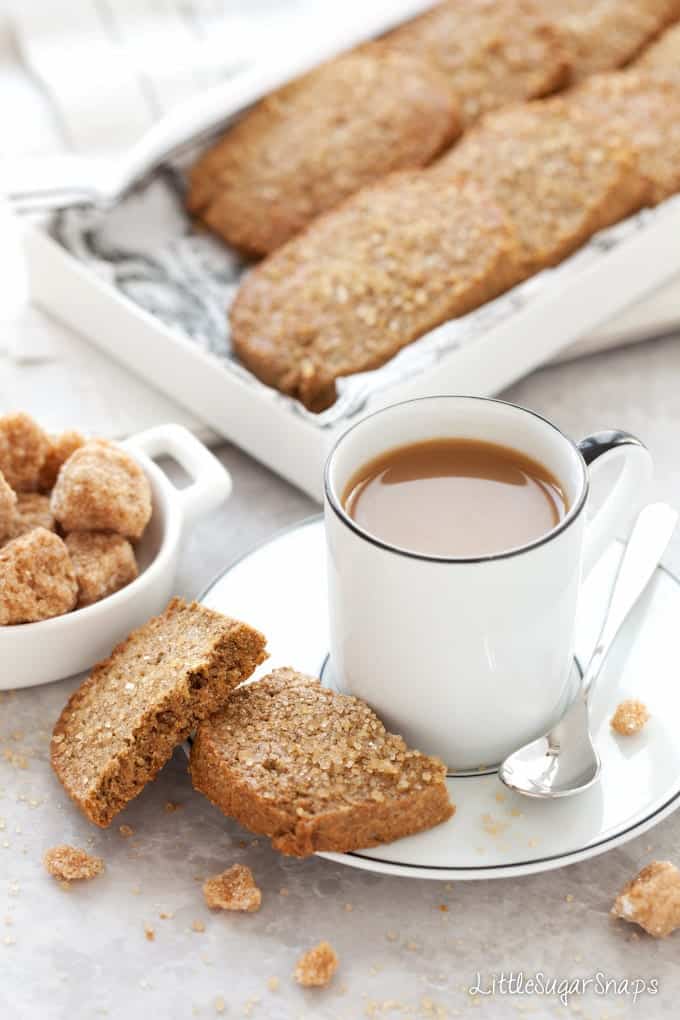 Do you love a sweet snack to go with your morning cuppa? Take a flick through my biscuit and cookie recipes to pick your next treat. You'll find homemade custard creams, malted milks and chai spiced shortbread to name a few.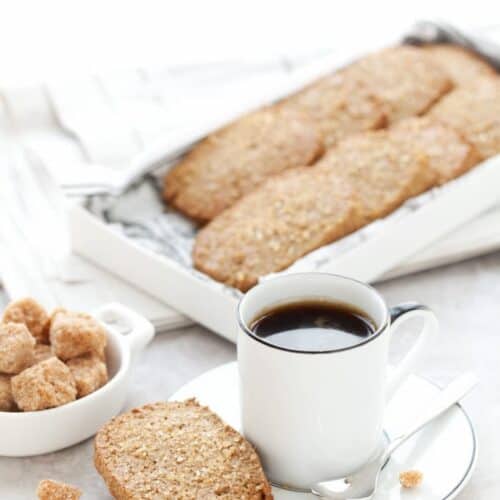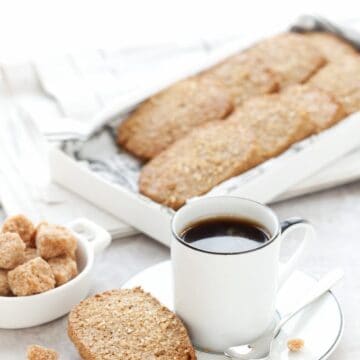 Ginger Spiced Rye Biscuits
Ginger Spiced Rye Biscuits are guaranteed to put a smile on your face. These biscuits have a modest appearance that gives way to robust, spicy flavours. Bakeable from frozen – they are the perfect standby.
Print
Pin
Rate
Ingredients
175

g/ ¾ cups

Unsalted butter – softened

125

g/ ⅔ cup

Light muscovado sugar

1

tablespoon

Black treacle

(molasses)

250

g/ 2 cups

Stoneground rye flour

(light)

¼

teaspoon

Salt

2 ½

teaspoon

Ground ginger

pinch

Chilli powder

1

Whole egg

(large)

1

Egg yolk + 2 teaspoon water – beaten

2-3

tablespoon

Demerara sugar

(for sprinkling)
Instructions
Begin by creaming the butter and muscovado sugar together with electric beaters until light and fluffy

Add the whole egg and the treacle (molasses) and beat until fully incorporated

Using a metal fork or spoon stir in the salt, flour and spices. It will get fairly stiff – use your hands to mix if necessary

Once the dough is evenly mixed, bring it together and roll it into a sausage shape approximately 15cm long

Wrap in baking parchment. At this point decide whether to leave as a cylinder or gently press the sides to squash the cylinder into a long rectangular shape – approximately 4 cm x 5cm x 15cm

Gently fold the ends of the baking parchment at the ends to stop the dough drying out. Leave in the fridge to chill for 2 hours

Preheat the oven to 170°C/ 325°F/ GM3

Line 2 baking sheets with baking parchment

Unwrap the biscuit dough and slice into biscuits each approx 5mm thick. Lay onto the baking sheets, brush with a little of the egg & water mixture and sprinkle generously with demerara sugar

Bake for 12-14 minutes until beginning to brown

Allow to cool for several minutes on the baking sheet then transfer to a wire rack to cool completely

Store in an airtight container for up to 5 days
Notes
These biscuits can be frozen prior to baking – once the dough has been sliced, wrap them in baking parchment and store in the freezer. Pull them out and continue from step 7. They may need a couple of extra minutes in the oven.
(Visited 684 times, 5 visits today)