Crisp and crunchy gluten free pastry encases festive mincemeat in these Gluten Free Mince Pies. Go for a full pastry lid, dainty stars or a mixture of the two.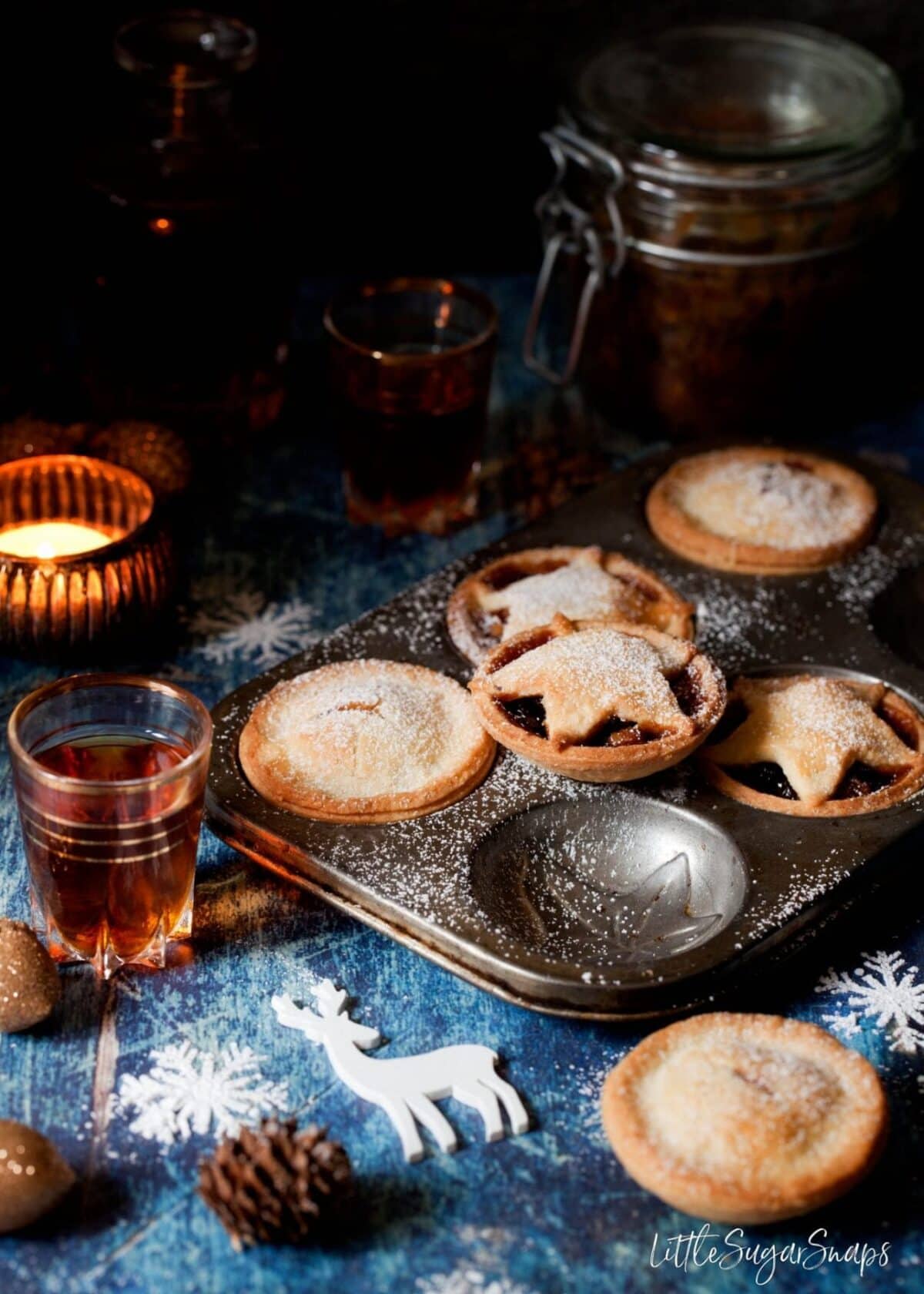 This post contains affiliate links. As an Amazon Associate, I earn from qualifying purchases.
I developed these delicious gluten free mince pies after somebody close to me was forced to switch to a gluten-free diet for health reasons just before Christmas.
I think that Christmas has to be the worst possible time of year to have to adopt a new diet under such circumstances. There are so many treats flying around to get tempted by. It's like rubbing salt into a wound to have to keep turning things down because they no longer agree with your body.
I did my best to cater for the new dietary requirements and managed to pull a gluten free Christmas Pudding, gingerbread cake, Christmas cake, mince pies and sausage rolls out of the bag. Albeit with variable degrees of success.
When it comes to mince pies, I have a recipe for the pastry that I always use. I've been using it for well over a decade. So last year I adapted that recipe to turn it into gluten free pastry and enable these gluten free mince pies to be made.
These were a very successful bake (the sausage rolls less so).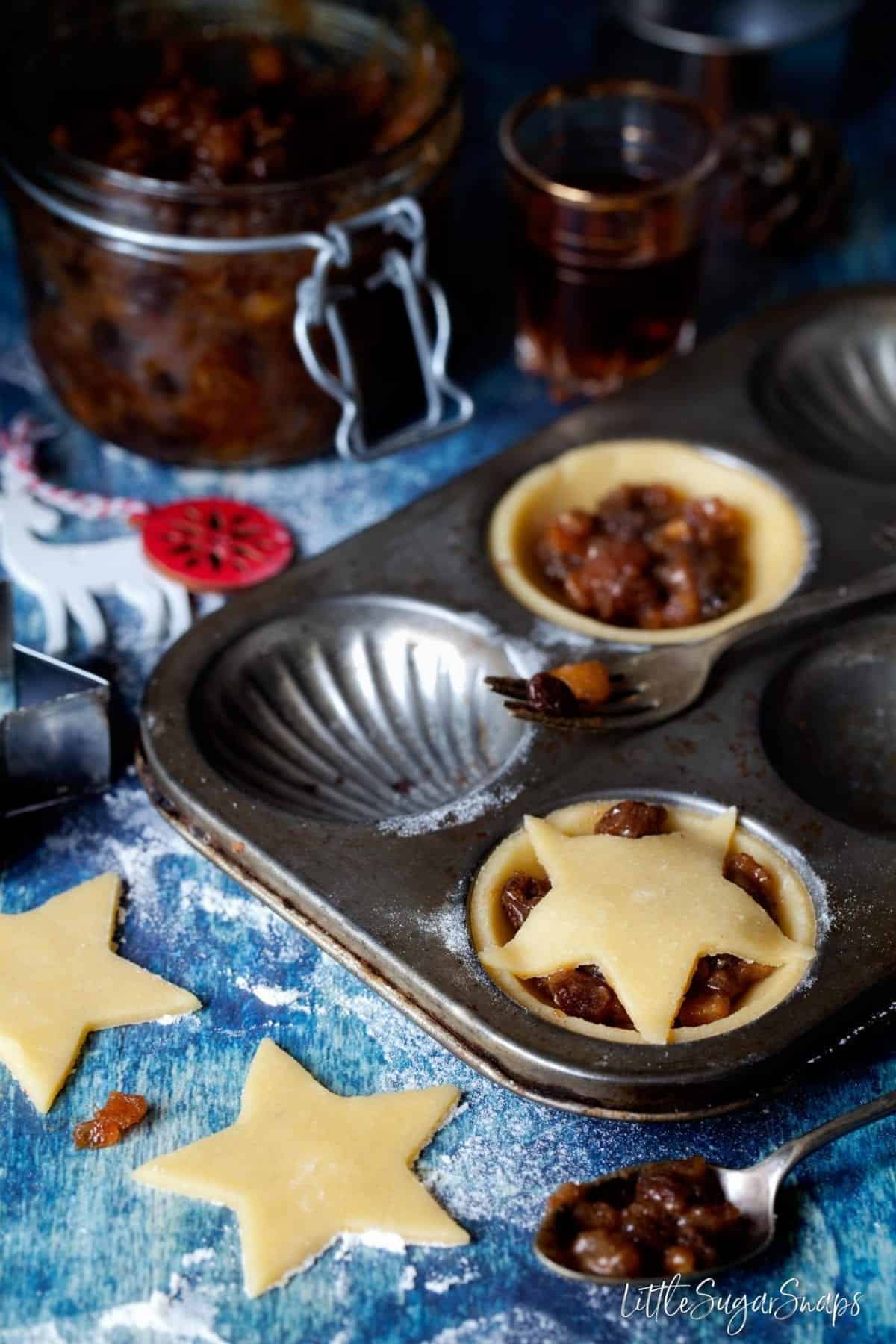 These Gluten Free Mince Pies encase juicy mincemeat in a sweet and nutty pastry that is crisp and crunchy. It also holds its form well and doesn't fall apart once bitten into.
I've despatched these Gluten Free Mince Pies to various friends just to be certain I'm not fooling myself. The word back?
it's hard to guess that these little dudes are gluten free
oh and hasn't gluten-free pastry come along way recently?
I'll take that as an A-okay for these little pies. And yes, the chance to scoff some modern-day gluten-free pastry is not to be passed up.
Tips for making gluten free mince pies
I'm no expert when it comes to gluten free baking, but I am a keen learner. And I will never publish a recipe that I feel compromises flavour, texture or any other accolade a mince pie might own.
I do have some advice and notes to share regarding these gluten free mince pies though:
do not expect the gluten free pastry dough to be the same as regular pastry dough
it is very soft and slightly sticky when mixed and it needs to be chilled thoroughly (2 hours) before rolling out
keep the work surface and rolling pin lightly dusted with flour and turn the pastry frequently as it is rolled out to prevent it from sticking to the work surface
the assembled pies need to be chilled again (30 minutes) prior to baking
do not miss out ingredients because they are not in your store cupboard. That ¼ teaspoon of Xantham Gum makes all the difference in this gluten free pastry and it is easy to pick up in most supermarkets or on Amazon.
Pile whatever mincemeat you favour into these gluten free mince pies. I use my vegan mincemeat recipe, but quality ready-made is perfectly fine too. Just ensure you check all mincemeat ingredients are gluten free too.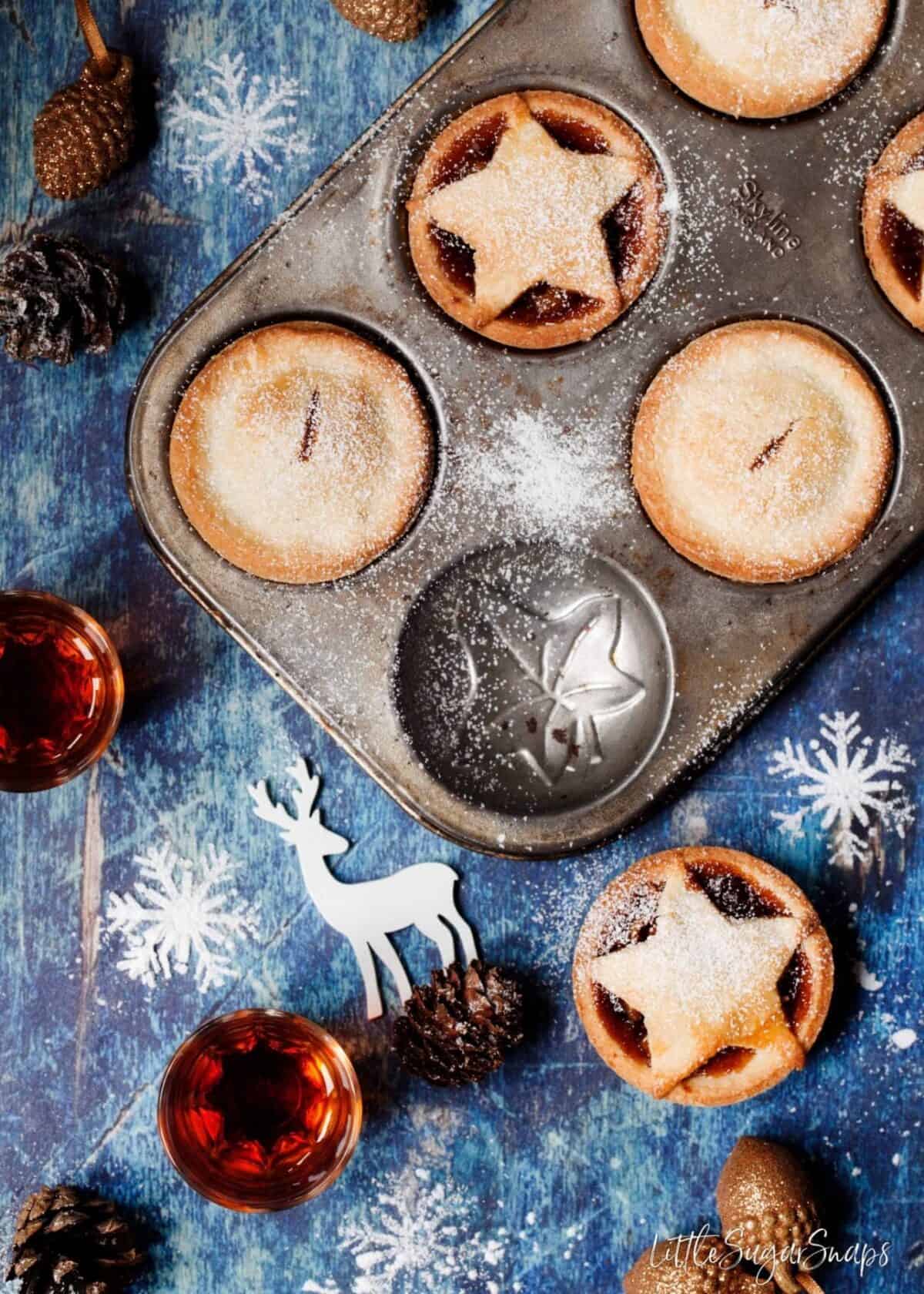 On a purely trivial note are you playing #Whamageddon? I have to say I am not. I grew up when Wham was the band for teenage girls to follow and not to have this song play throughout December is like denying my youth existed. Last Christmas is on my Christmas Playlist. If you feel the same, play it with abandon whilst making these Gluten Free Mince Pies and join me in Whamhalla.
Find more gluten free Christmas bakes: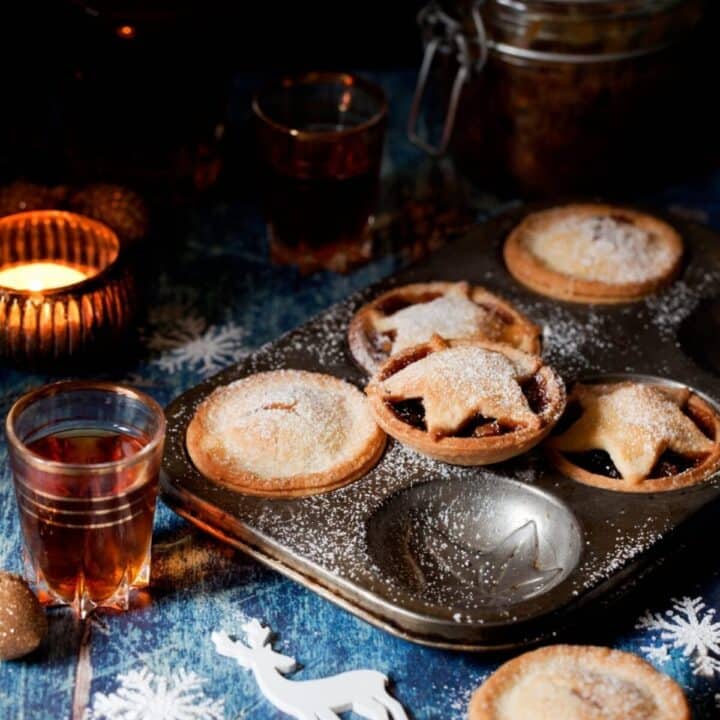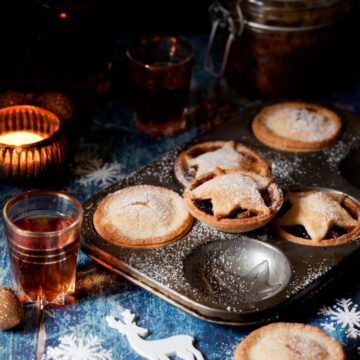 Gluten Free Mince Pies
Crisp and crunchy pastry encases festive mincemeat in these Gluten Free Mince Pies. Go for a full pastry lid, dainty stars or a mixture.
Print
Pin
Rate
Ingredients
140

g

Gluten free flour (plain, sieved)

Pinch salt

¼

teaspoon

Xantham gum

85

g

Icing (confectionary) sugar (sieved)

100

g

Ground almonds

150

g

Butter (hard)

2

Egg yolks (large, free range)

18

teaspoon

Mincemeat

Beaten egg
Instructions
Measure the flour, Xantham gum, salt, almonds and icing sugar into a medium sized mixing bowl

Cube the butter and add to the bowl then rub in with your fingertips. Reach to the bottom of the bowl to ensure all flour is incorporated and shake the bowl a few times so any large chunks of butter float to the top. Keep mixing until just combined and the mix starts to clump

Add the egg yolk and mix with a blunt knife. Tip the dough out and knead briefly. It will be sticky (see notes), so use a scraper to remove it from the work surface if necessary

When smooth shape into a ball and flatten to a disc approx 2 cm thick. Wrap in clingfilm and chill for 2 hours until very firm

Roll out to a thickness of 2mm on a floured work surface. It will be stiff for the first couple of rolls but soon softens. Keep your rolling pin lightly floured and turn the pastry a ¼ turn frequently to prevent it from sticking to the work surface

Cut out 12 circles to line your pie tins and press gently into the cavities

Fill each pastry shell with 1 ½ tsp mincemeat

Cut out 12 circles, stars or a mix and use to top the pies, using a little beaten egg to moisten the edges of the circles and tips of the stars. Press the tops gently onto the pastry case to seal the pastry tops and bases together

Cover with clingfilm and chill for 30 minutes. Meanwhile preheat the oven 175C/ 350F/ GM 4

Just before baking cut a slit into the fully covered pies to allow air to escape and brush the pastry tops with beaten egg

Bake for approx 20-23 minutes until crisp and golden. Allow to cool for 5 minutes in the tin, then transfer to a wire rack to cool completely

Dredge with sieved icing sugar before serving
Notes
I recommend making this recipe by hand. I have not tried it out in a food processor, but my feeling is that it would be easy to overmix this pastry.
(Visited 395 times, 2 visits today)