Treat yourself to a McMerry Martini this Christmas. Full of fig, almond and cherry flavours, it's a corker – and ready in just 5 minutes.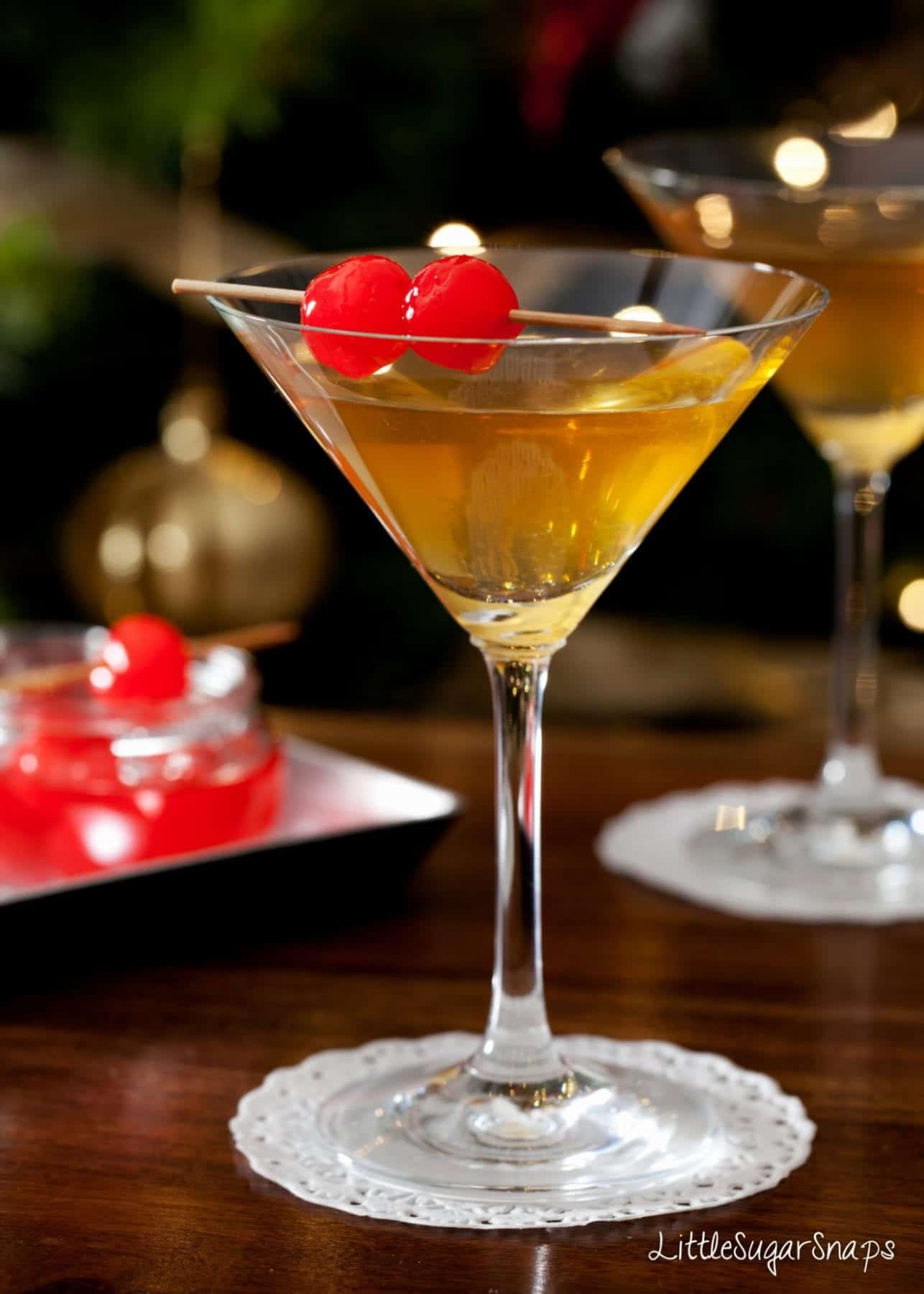 To celebrate Christmas, the holidays and my final post of the year I think that a cocktail is in order. This McMerry Martini is a corker as it's also got some festive flavour going on with some fig liqueur in the mix and the bright, juicy Maraschino cherries remind me of a certain reindeer's nose.
This cocktail will most likely fool you into believing it contains cherry liqueur. It does not. When I first served it to my hubby I did not add the cherry garnish. He's normally spot on when it comes to identifying flavours, but this time he was absolutely convinced there was cherry in there alongside the fig and almond. He was so convinced in fact, that I felt it would be too cruel not to add a Maraschino cherry to his drink to help soothe his battered ego. To be fair, I've been having a serious love affair with cocktail cherries ever since I can remember, so any excuse for me to whip a few of those little cherubs out of the jar and I'm there.
Once the cherry was added and Chris' ego soothed, he came up with the two part name:
Mc because of the m

o

c

k

cherry flavour
and Merry because of the welcome addition of the beautiful M

araschino ch

erry
I give you the McMerry Martini: bright, cheerful and, um, nothing to do with Scotch whisky, despite what the name might suggest.
Before I sign out for the remainder of 2014, I'd like to thank all my new followers for joining me, liking my posts and commenting so favourably. I'm new to the blogging word, so your support means a lot. I'll be back in the New Year no doubt regaling stories of the Christmas holidays & over-indulgence and I have plenty of new recipes to share with you in 2015.
Wishing you all a merry Christmas and a happy, healthy New Year. Cheers, I'm raising my glass to you all….
More Christmassy Cocktails to Serve:
(Visited 607 times, 4 visits today)