These saffron-infused Orange Thyme Macarons are crisp on the outside, soft and chewy on the inside and they come laden with a generous scoop of a rich, buttery filling in between the shells. They make a gorgeous & dainty edible gift.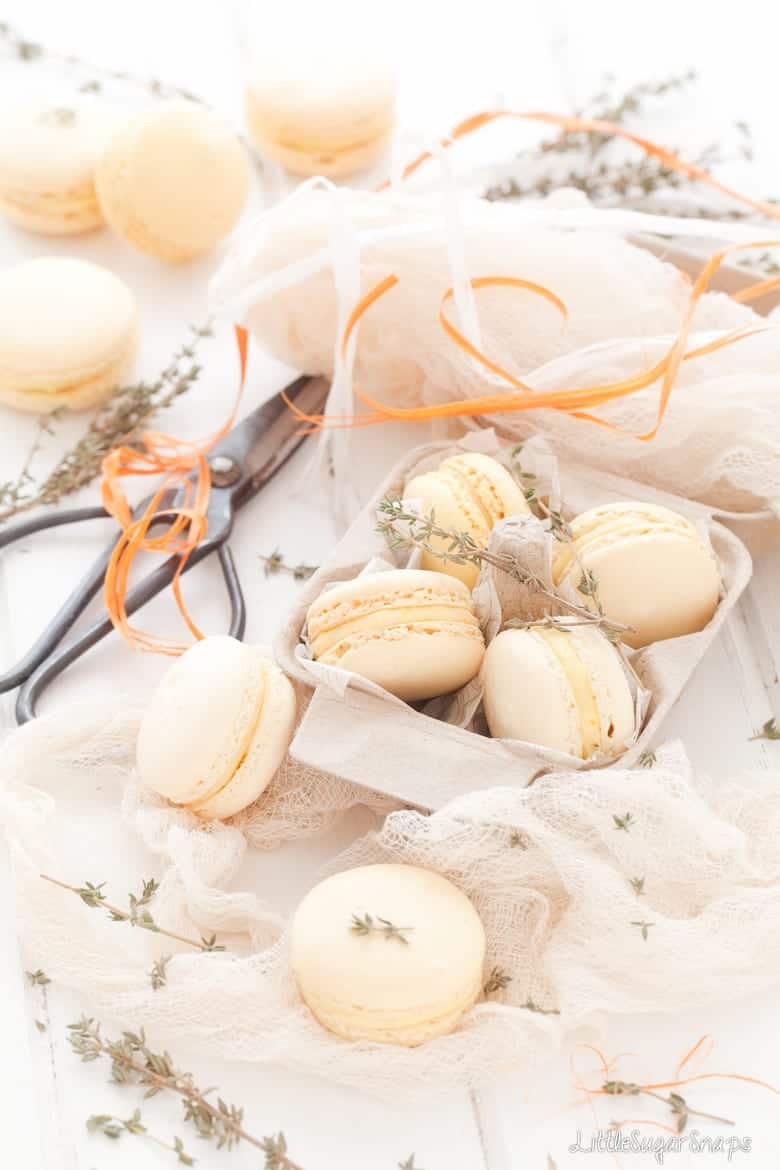 THIS POST CONTAINS AFFILIATE LINKS. AS A THERMAPEN & AMAZON ASSOCIATE I EARN FROM QUALIFYING PURCHASES.
Sometimes I just get the urge to bake and nothing is going to stop me. I love such days and last Sunday was one of them. I was tired from a late Saturday night, didn't fancy doing anything I should be doing (like ironing) and so I decided to head into the kitchen instead. These Orange Thyme Macarons are the result of my ironing diversion tactic and they are the perfect recipe for me to kick off my 2018 baking because macarons have always been a challenge for me.
Let me explain. Towards the back end of last year, I came to the conclusion that my baking recipes had got stuck in a rut. I have a soft spot for cupcakes and layer cakes and perhaps that was beginning to show here on LittleSugarSnaps. Madeleines, macarons, pies, tarts, creamy desserts, cheesecakes… I see you all trying to grab my attention. So I decided that the coming year would be all about expanding the recipes I'm offering up and making LittleSugarSnaps baking more inclusive to specialist diets such as gluten free and vegan.
I'm quite excited by this notion. For one thing, it means I've challenged myself to get more creative in the kitchen and perfect some of the recipes that have presented obstacles to me in the past. And that brings me neatly back around to the star of today, these Orange Thyme Macarons.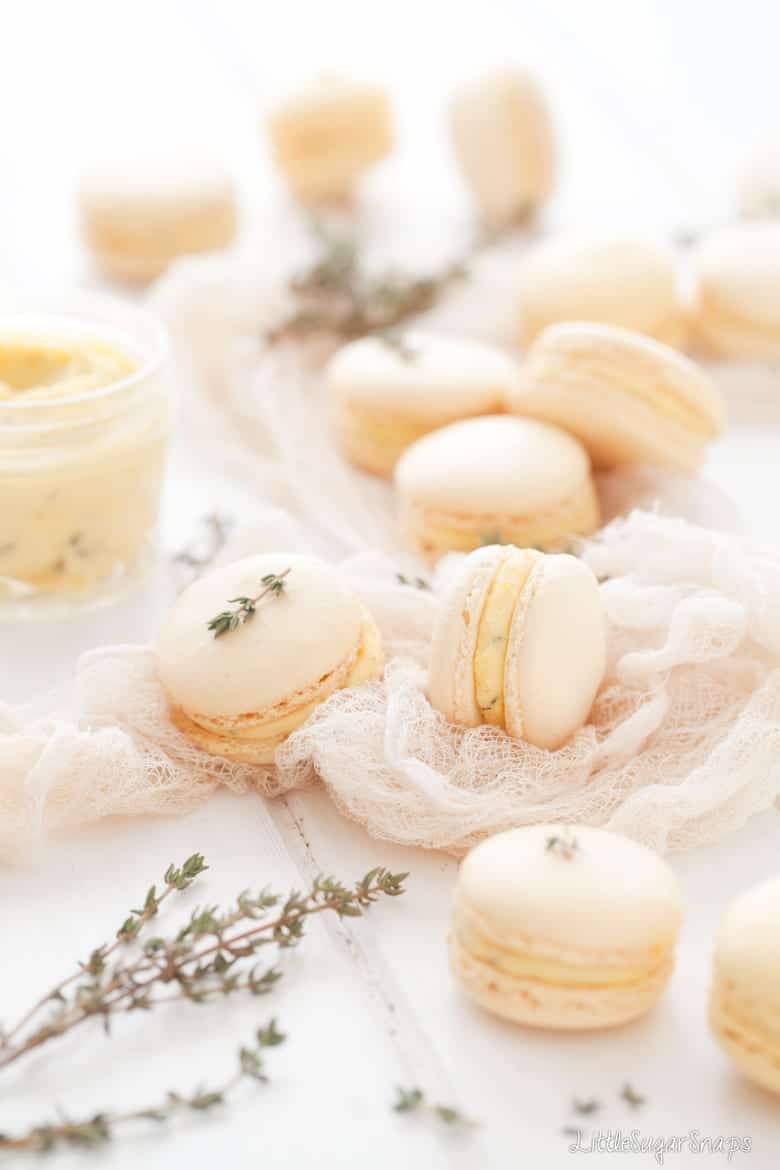 I've had a fixation about macarons that dates back to 2010. That's a long time. I used to just enjoy them whilst on holiday in France, but then my fixation grew and I started trying to bake them at home – macarons are expensive to buy, especially in the UK. But the draw of those delicate & crisp, multi-coloured shells and endless flavour combinations just kept pulling me back.
I've had so many failed attempts at baking macarons over the years. All of them tasted absolutely fine (wonderful, in fact) but I found achieving that smooth dome of a shell tricky. It had been well over a year since my last miserable attempt at macarons and last Sunday I decided it was time to slay this beast.
After some research, I finally worked out where I was going wrong. I had repeatedly been either under-mixing or over-mixing the macaron batter… for about 5 years. It was Michelle from Giraffes can Bake who finally put me straight. Here's her advice:
Mix gently but firmly – the aim is to knock some – but not all – of the air out of the meringue
Aim for a macaron batter that is similar to lava in texture. To test your batter, lift the spatula out of the mixture and allow the batter to fall in ribbons back into the bowl. If those ribbons blend back into the batter after about 20 seconds the batter is ready. If the mixture doesn't incorporate back in it is too thick and could do with a few more folds
But if the ribbons of mixture blend back in too quickly then the batter is over-mixed
This advice made perfect sense to me. I've varied between shells that would refuse to flatten out prior to baking (under-mixed) to shells that spread out on the baking sheet (over-mixed). It was only occasionally and accidentally that I'd hit up the perfect mix and end up with macarons that looked like macarons.
After reading Michelle's advice I set to work on my Orange Thyme Macarons. I went cautiously and stopped folding my mixture after 25 turns (count them as you go). I did the "ribbon test" and worked out I needed a few more turns of the mixture. From this point, I did 2 turns (folds) of the mixture at a time and retested until the ideal consistency was reached.
The result was perfectly formed macarons. These Orange Thyme Macarons have the classic macaron shape, a lovely crispy shell and a soft, chewy middle.
Now I've covered the technique, I can tell you more about the flavours in these macarons. I've chosen to include a touch of saffron into the shells of these macarons. This was partly for flavour but also to add a hint of natural colour. The saffron can be left out if you are not keen on its flavour and gel colouring can be used to boost the colour instead. I used egg yellow colouring to intensify the colour in half my macarons as I thought it would be a good way to visually display the lightness of the naturally coloured macarons.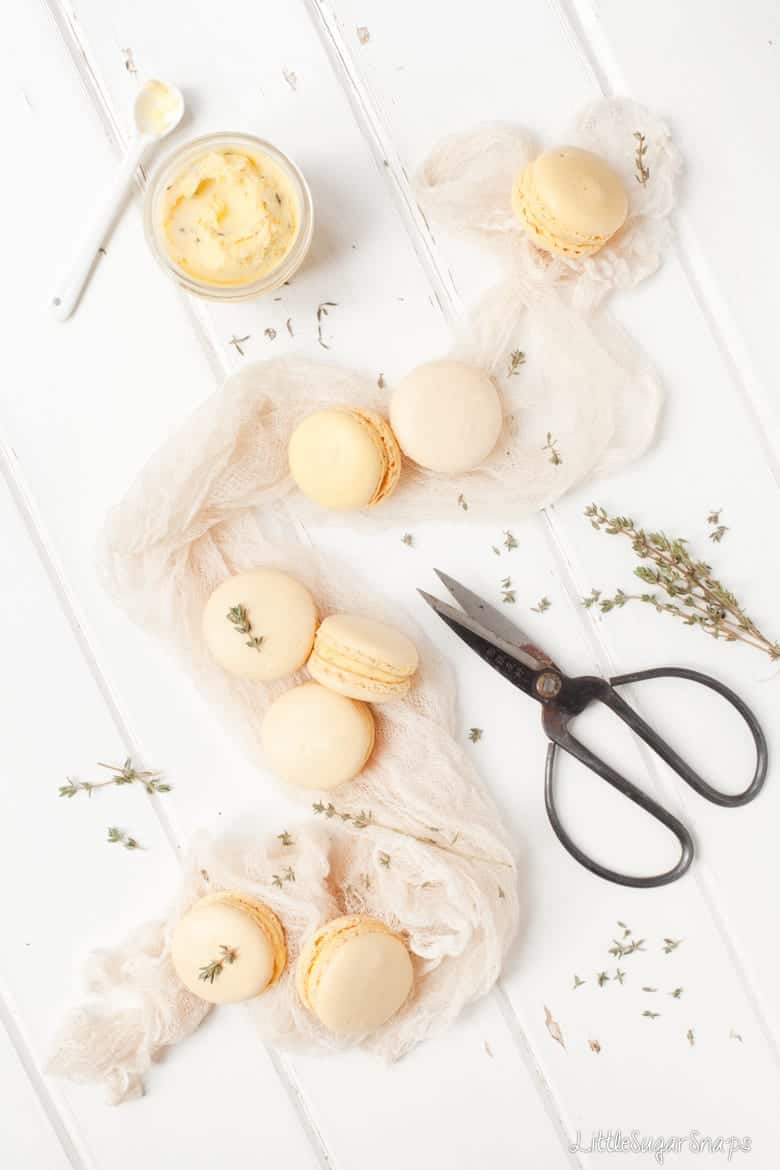 I made a sublime cream butter for the centre of the macarons that has been flavoured with freshly squeezed orange juice and fresh thyme leaves. The flavours are subtle, but that's exactly how I like my macarons. Note that I have deliberately called this centre a cream butter rather than buttercream. It is nothing like buttercream. It also does not contain cream. Instead, it is a blend of eggs, juice and sugar that is whisked whilst heated, until thick and creamy. Then the "cream" is allowed to cool slightly before a generous helping of butter is blended into it. This cream butter is just as good as it sounds and the subtle flavours of orange and thyme sit effortlessly well with it.
Phew, I've been talking for ages now, so I need to shut up. I suggest you trot off and bake these Orange Thyme Macarons using all of the tips from myself and Michelle. Your reward will be 36 pastel domed sweet, nutty sandwiches that are outwardly crisp, inwardly soft and gooey with a lusciously buttery centre. Bliss.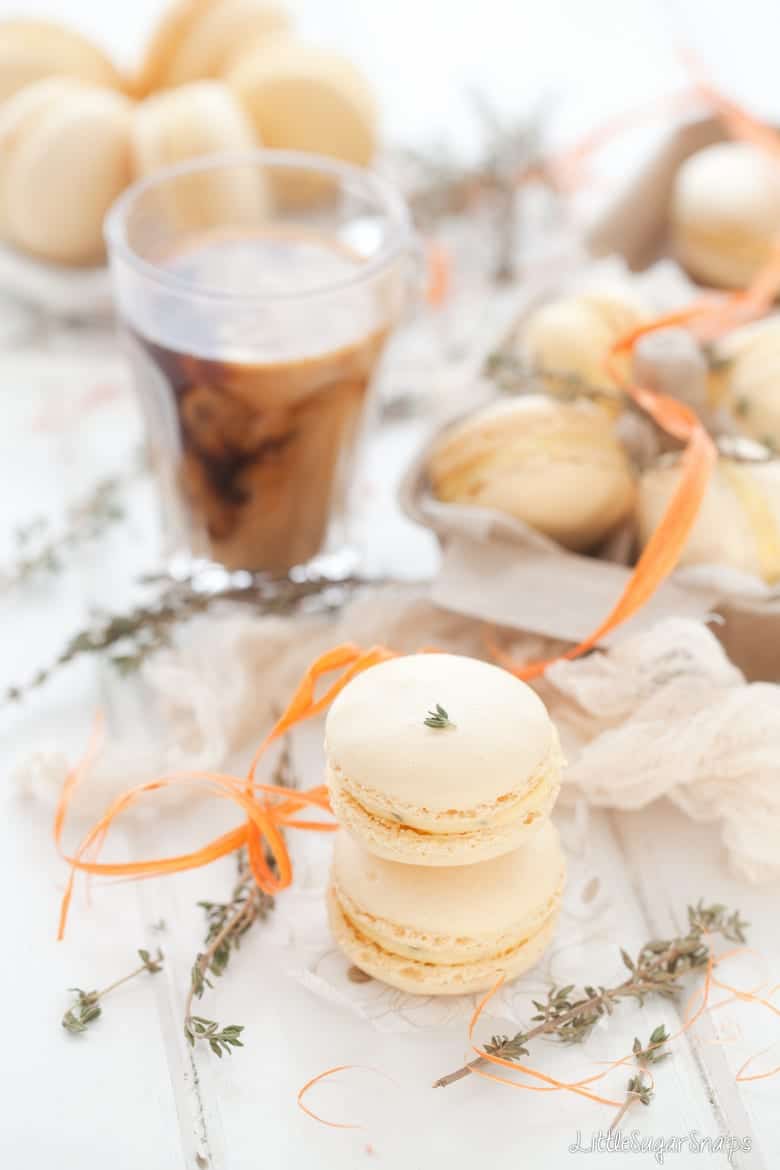 Find More Fancy Recipes: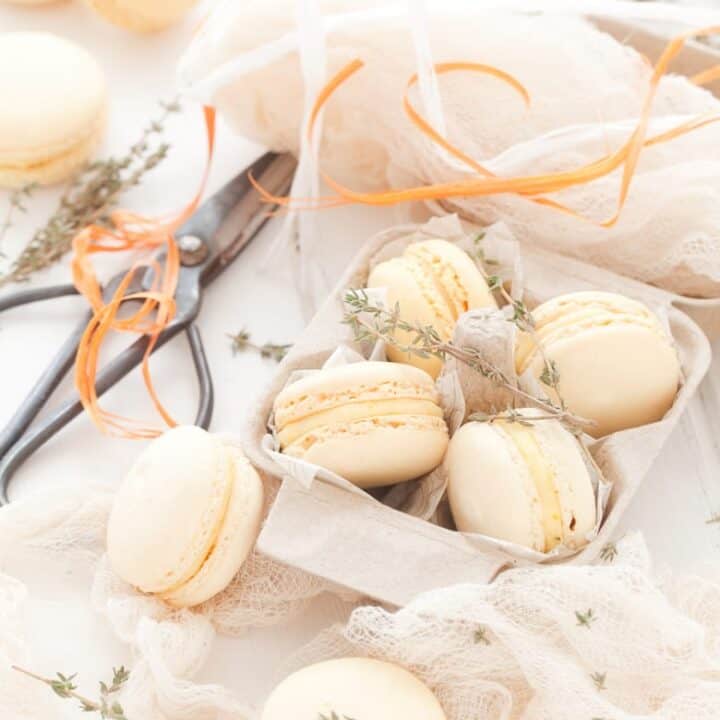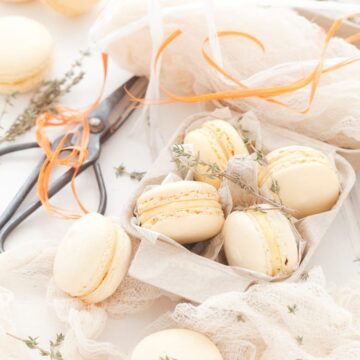 Saffron Orange Thyme Macarons
These saffron infused Orange Thyme Macarons are crisp on the outside, soft and chewy on the inside and they come laden with a generous scoop of a rich, buttery filling in between the shells. They make a gorgeous & dainty edible gift.
The orange & thyme cream butter was inspired by Pierre Hermé's lemon macarons.
Print
Pin
Rate
Ingredients
For the Orange Thyme Cream Butter
2

Fresh eggs (110g out of shell)

120g

Caster sugar (white)

80ml

Orange juice + zest 1 orange

175g

Butter

25g

Ground almonds

2tsp

Fresh thyme leaves – picked from stem
For the Saffron Macarons
160g

Egg whites (approx 4 large eggs)

Weigh them – precision is very important here

20

Strands saffron (optional)

235g

Icing (confectionary) sugar

165g

Ground almonds (see notes)

100g

Caster sugar (white)

Gel food colouring – egg yellow (optional)
Instructions
For the Orange Thyme Cream Butter
Fill sink with 3 inches cold water

Put the eggs, orange juice, sugar & zest and thyme into a medium heatproof bowl and place over a pan of barely simmering water

Use an electric whisk to beat the mixture until it reaches 70C/ 160F. It will take 15-20 minutes – keep checking the temperature every few minutes with a culinary thermometer (like Thermapen). Once the correct temperature is reached plunge the mixing bowl into the cold water to stop it cooking further and help it cool down to 55C/ 130F

Scrape any zest and thyme off the beaters and add to the mixing bowl

Cube the butter, drop into the mixing bowl and blitz using a hand blender until smooth

Stir in the ground almonds

Let cool completely, cover and refri

gerate for at least 4 hours
For the Saffron Macarons
Preheat oven 150C/ 300F/ GM2 and line 4 baking sheets with baking parchment (insert a template underneath if using or draw small circles (approx 3cm in diameter) onto the baking parchment and flip it over so the pencil/ ink is on the reverse). The macarons can be spaced 1.5 cm apart as they do not spread during cooking.

Measure the egg whites (it's really important to be precise on your weights in this recipe so I recommend using digital scales) into a medium mixing bowl and sprinkle over the saffron (if using). Let sit for 10 minutes

If using blanched almonds grind in a processor (or coffee grinder) until fine

Mix the ground almonds with the icing sugar and sieve into a medium sized mixing bowl. Set aside

Begin to whisk the egg whites, using electric beaters until at the soft peak stage

Add the caster sugar, a dessert spoon at a time, beating well between each addition

When the meringue is glossy and the egg white is fully incorporated add the gel (if using) a little at a time and beat well to ensure the colour is evenly distributed

Add the meringue to the icing sugar and almonds and fold it in using a rubber spatula, taking care to ensure ingredients from the sides and bottom are incorporated. The aim is to knock some air out of the mixture, but not too much – so go steady – not ultra gentle and not ultra rough

After 25 folds the batter will be approaching it's ideal state. Lift the spatula out and let a little mixture drop back into the bowl – it should fall in ribbons over the surface and blend back in after about 20 seconds. If it doesn't blend back in on it's own give the mix a couple more turns with the spatula and reassess. Keep doing this until the ideal state is reached – it should remind you of lava. If your mix is too thick your macaroons will not have a smooth top. If it is too runny, they will spread too far and be flat. Take your time and go steady with the folding until the batter blends back into itself after 20 seconds. If you go too fast and end up with runny batter it cannot be salvaged. Aim

Once the batter is ready spoon it into a piping bag fitted with a plain round tip approx 1cm in diameter (I used a Wilton 1A). Pipe circles approx 3cm in diameter onto the baking parchment (don't forget – a template or circles drawn on will help you achieve uniform sized macaron shells).

Pick up the baking tin and tap it lightly on your work surface to help eliminate any points that may have formed on the shells. Remove the templates (if used) by carefully lifting up an edge of baking parchment and sliding it out. Let the macaron shells rest for 30 minutes to form a tacky skin

Transfer to the oven and back for approx 18 minute. Open the oven door briefly after 5 minutes and again 5 minutes later to let out steam

After 18 minutes try to carefully lift one of the macarons off the baking sheet. If it comes off cleanly, the macarons are fully cooked and can be removed from the oven. If you feel resistance, return the macarons to the oven for a further 2 minutes and test again

When out of the oven, slide the macarons (on their parchment) off the baking sheets, to prevent further cooking and allow to cool on a work surface

Once completely cool, gently peel them off the baking parchment and sandwich the macarons together using the orange thyme butter. For a professional look pipe a large tespoonful (12-15g) into the centre of one shell, then top with another shell

Rest in the fridge overnight and allow to come back to room temperature before serving. The macarons must rest for 12 hours to ensure that the trademark macaron texture (crisp on the outside, yet soft in the middle) is achived

Store the macarons, refrigerated, for up to 1 week
Notes
I apologise that this recipe does not come with cup or ounce measurements as well as grams – the numbers just do not compute well in these measurements. I can wholeheartedly recommend a purchase of digital kitchen scales so that grams become an easy measurement regardless of where you are in the world.
(Visited 763 times, 1 visits today)