Flirtatious & fun. Red Velvet Cupcakes are wonderful eye candy and a joy to bite into. Hints of chocolate, vanilla & buttermilk crowned with thick cream cheese buttercream make these little treats irresistible.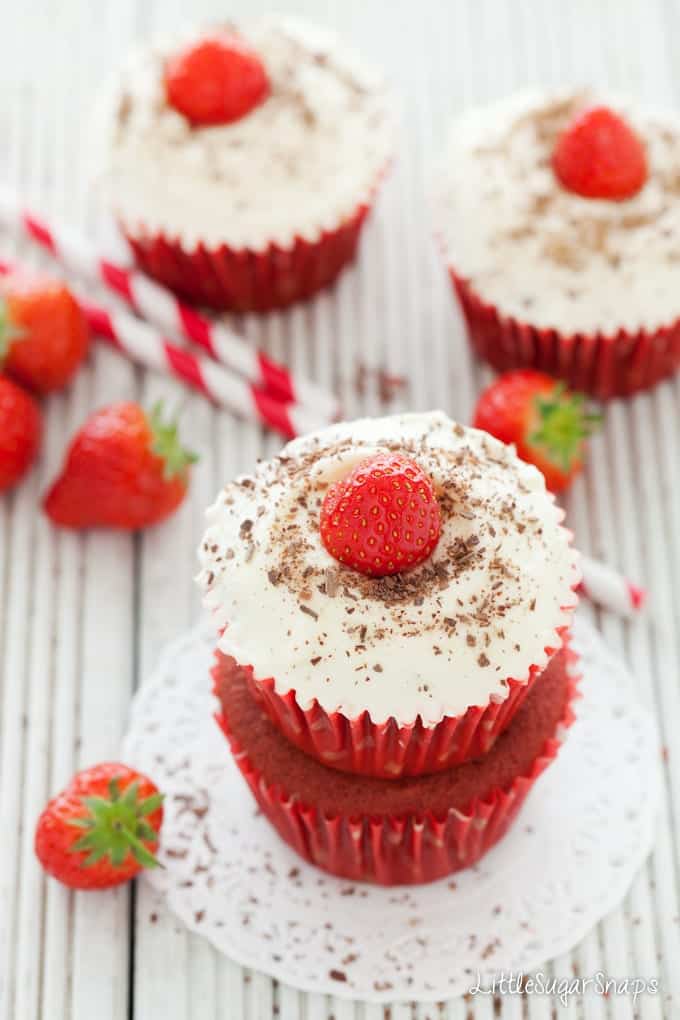 Fun. Colourful. Mysterious. Downright flirtatious. That's what I think when I see Red Velvet Cupcakes up for grabs. And I can never resist them.
When I saw some tiny 'imperfect' strawberries going for a song in the supermarket recently, I knew exactly what they were destined for. Armed with my punnet of strawberries and a carton of buttermilk I headed straight home to bake.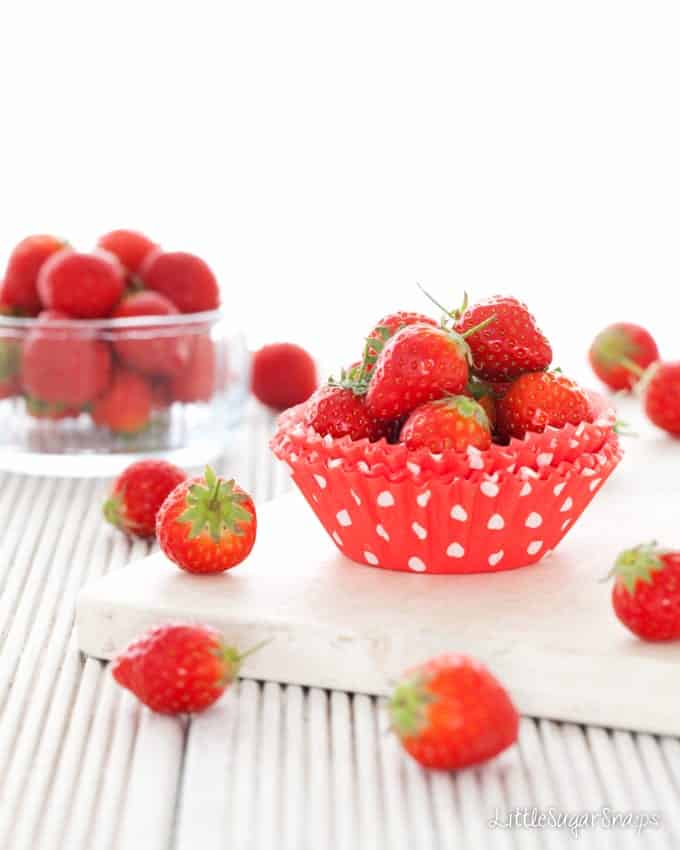 There are so many reasons I adore Red Velvet Cupcakes. Here's a few:
the hint of chocolate & vanilla with a little hit of sourness from the buttermilk
the striking ruby-red, light as air, yet creamy sponge
the decadent tangy cream cheese buttercream adorning the top of each cake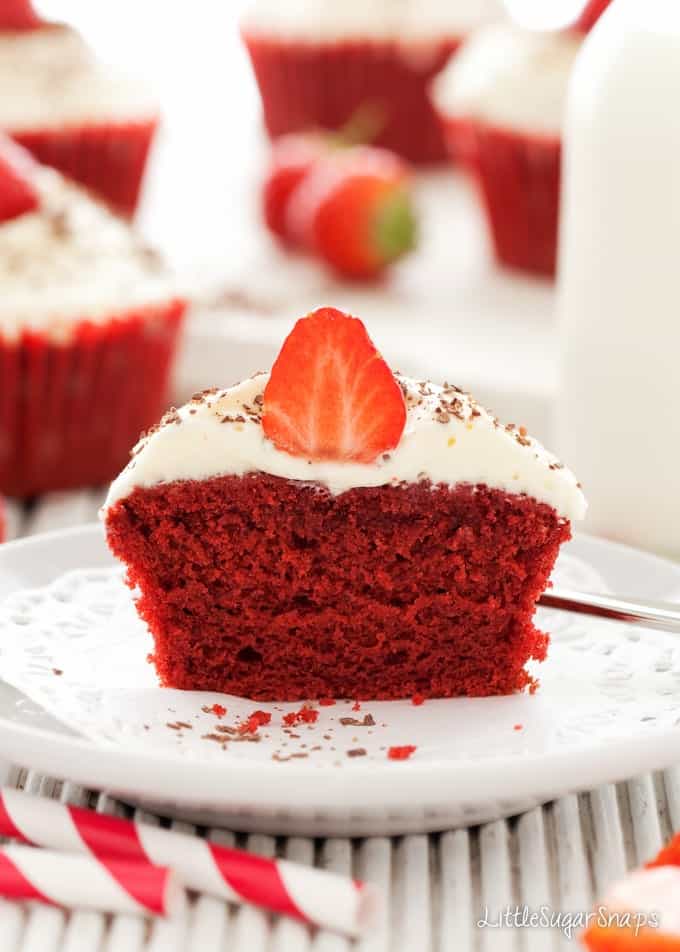 But I also love knowing that the original way that beautiful ruby-red colour was originally achieved is no longer so easily accomplished. Production methods for a key ingredient have changed and that, my friends, drastically alters the colouring of this eye-catching cupcake.
Are you ready for a domestic science history lesson?
Traditionally, incorporating cocoa powder, buttermilk, baking powder and vinegar into the cake mix created the luscious texture and colour that is the trademark of red velvet cupcakes. These ingredients allowed 2 reactions to take place:
Firstly, the buttermilk and vinegar, being acidic in nature, created a profusion of tiny bubbles when mixed with baking powder. This reaction helped create a light, airy & smooth (some might even say velvet) cake
Secondly, the vinegar and buttermilk reacted with the cocoa powder, which usually contained anthocyanin (natural compounds that are found in foods like cherries and red cabbage). When mixed with acid, anthocyanin changes colour. It gives off a red tone. That is precisely the reaction that caused the ruby red hue of red velvet cupcakes in years gone by (you don't say)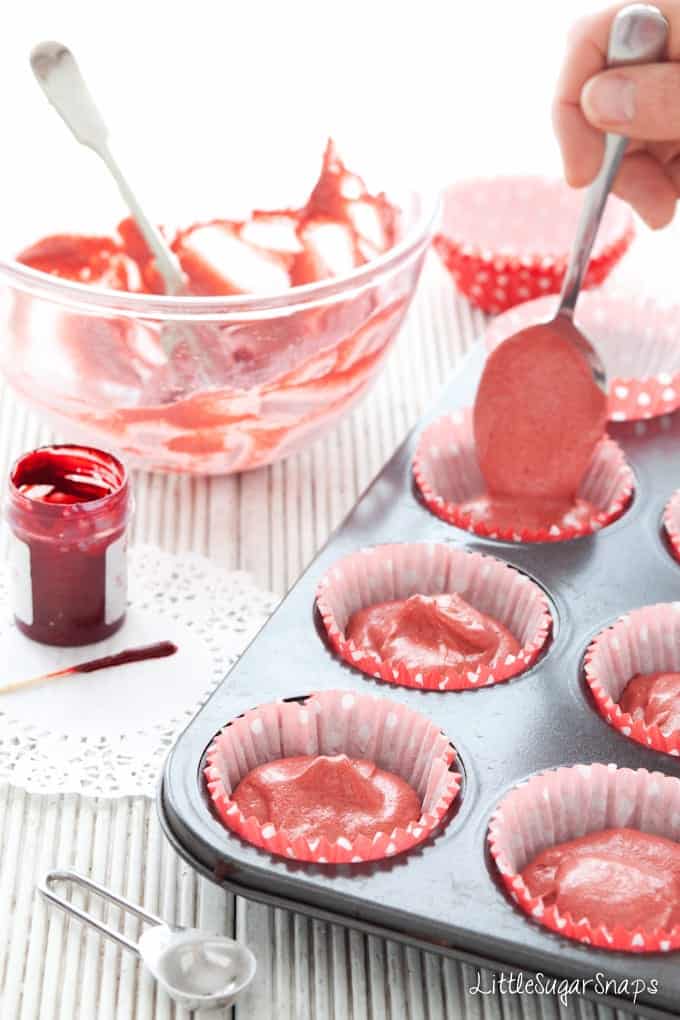 But let's fast forward to today. The majority of cocoa powder on the market now is processed with an alkalizing agent that neutralizes its acidity. This in turn means that the natural colour changing reaction between cocoa powder, buttermilk and vinegar no longer occurs. The red hue is lost.
Thanks goodness for food colouring.
Now, I'm all for tradition, but to be honest, I don't get much choice when it comes to the cocoa powder I can easily lay my hands on. For this reason, I've broken with tradition entirely, ditched the baking powder and vinegar and created a thoroughly modern red velvet cupcake totally reliant on red food colouring.
I have, however kept hold of the buttermilk since it adds an extra dimension to the overall taste of the cake and does still react with the acid present in the baking powder to enhance the texture of the cake as well. I've also ensured that the cakes are as buoyant as a bouncy castle by folding in whisked egg whites in the final stage of mixing (that's an old trick my Mother taught me, not a new one).
History/ Science over. The result is a Red Velvet Cupcake that is seriously pleasing. These daintily flavoured cupcakes are pillowy light, creamy & smooth (thanks, buttermilk). The rich & indulgent cream cheese buttercream finishes them off superbly. When crowned with the tiniest, cutest little reject strawberries you can lay your hands on they are killer eye candy too.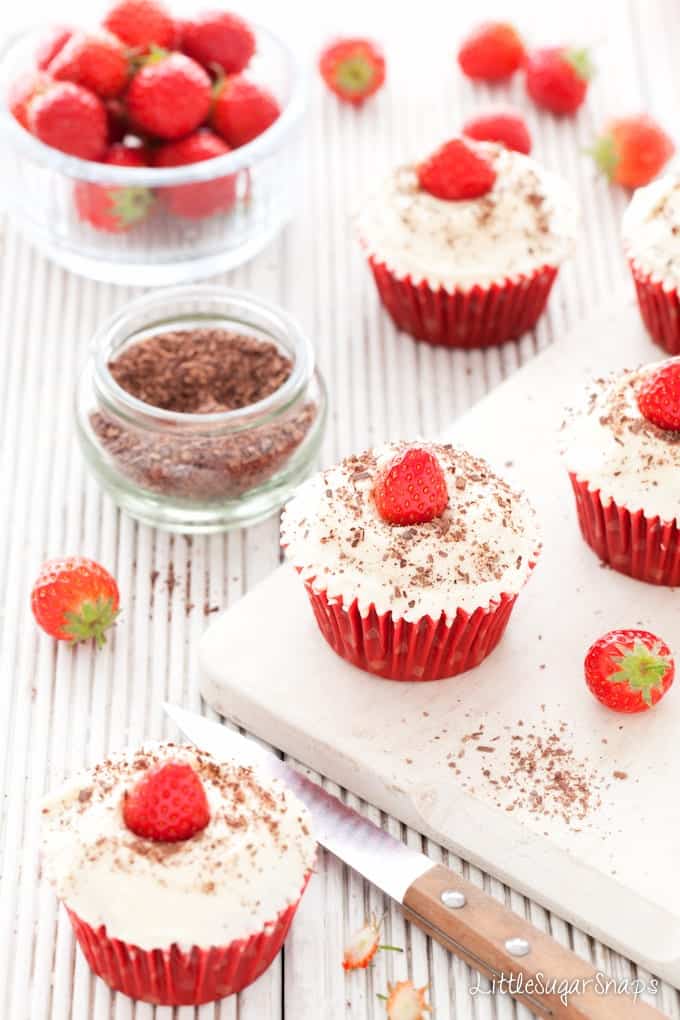 Crazy for Cupcakes? I have more: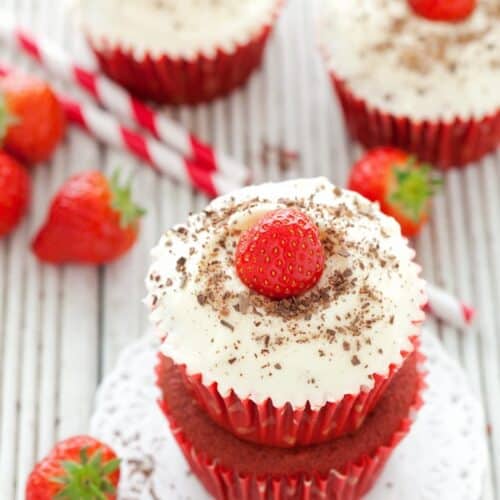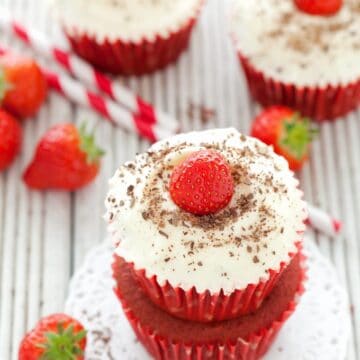 Red Velvet Cupcakes
Flirtatious & fun. Red Velvet Cupcakes are wonderful eye candy and a joy to bite into. Hints of chocolate, vanilla & buttermilk crowned with thick cream cheese buttercream make these little treats irresistible.
Print
Pin
Rate
Ingredients
For the Cupcakes
125

g/ 4oz

Unsalted butter – very soft

125

g/ 4oz

Caster sugar

125

g/ 4oz

Plain (all purpose) flour

¾

teaspoon

Baking powder

15

g/ 4 teaspoon (rounded)

Cocoa powder

¾

teaspoon

Vanilla extract

4

tablespoon

Buttermilk

2

Large eggs – separated

Red gel food colouring

(⅛- ¼ teaspoon – depending on strength)
For the buttercream
90

g/ 3 ½ oz

Unsalted butter

90

g/ 3 ½ oz

Cream cheese

180

g/ 7oz

Icing (confectionery sugar)

1

teaspoon

Vanilla extract
Garnish
Chocolate flakes

12-14

Fresh strawberries – small are best
Instructions
Make the cupcakes
Line a muffin tin with paper cases and preheat the oven to 170°C/ 325°F/ GM3

Beat the sugar and butter together until light and fluffy

Add the yolks to the butter & sugar mix. Beat well

Weight the flour, baking powder & cocoa into a bowl and sift into the cake batter

Beat until just combined

Add the buttermilk & the red food gel and mix in. (Don't go crazy with the colouring gel at first – add a little and see how strong it is. Add more as necessary & aim for the colour as depicted in my photograph above)

Whisk the egg whites to the firm peak stage. Add a third of the whites to the cake batter and fold in using a large metal spoon. Add the remaining egg whites and fold in, very gently, until just incorporated

Fill each cupcake case around ⅔ full with the batter and bake for 17-20 minutes until the cakes spring back when lightly pressed

Allow to cool completely
Make the buttercream
Beat the butter, vanilla extract and icing sugar together until smooth

Add the cream cheese and beat again

Put a generous spoonful of buttercream on top of each cupcake and spread out

Sprinkle with chocolate flakes

Just before serving, top with a fresh strawberry (stalk removed).
Notes
It is hard to specify exactly how much red colouring gel you will use, since brands vary. I used a cocktail stick to scoop out the gel – I plunged it in around 2cm and pulled it out, keeping as much gel on my stick as possible. I did this 4 times to reach the right colour (as shown in my photograph).
(Visited 27 times, 1 visits today)