This twist on the classic date shake brings in flavors of cinnamon, nutmeg & malt. This Spiced Malted Date Shake is thick & creamy yet healthy too.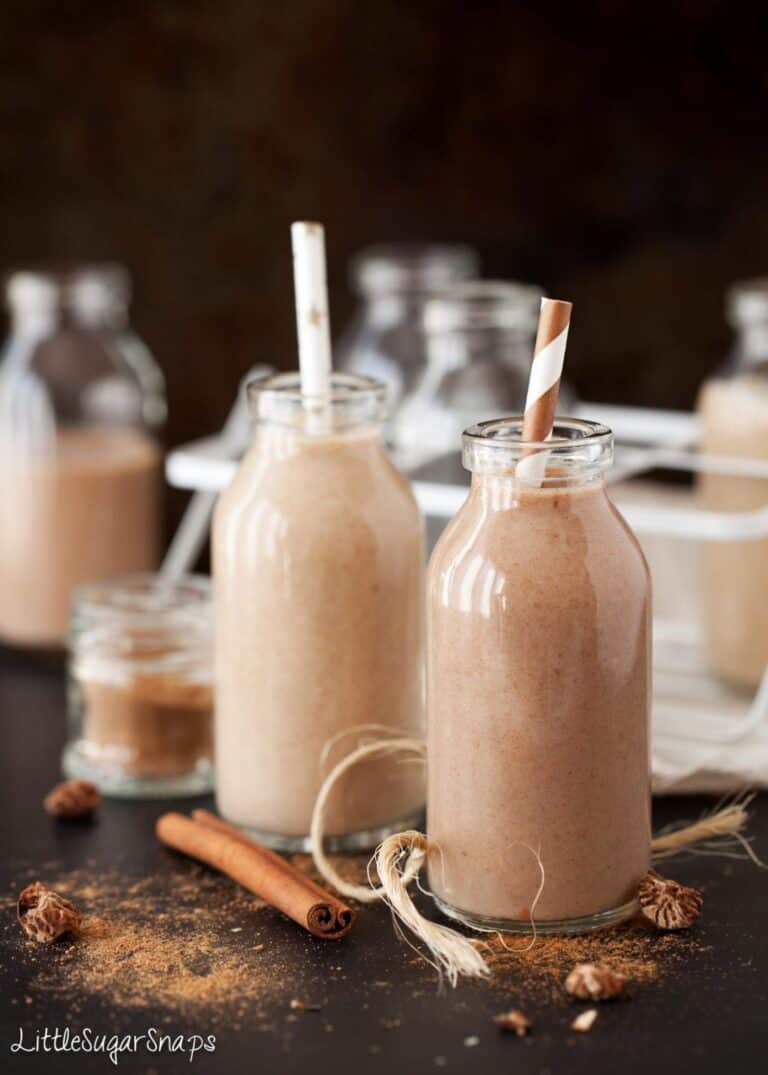 California, I have to hand it to you, the date shake is one of your most wonderful of creations. I've been enjoying a few of these recently, partly because they are a healthy treat but mainly because they are so utterly, fantastically, exceptionally delicious. I love them – a lot.
The classic date shake is simply a mix of dates and milk, whizzed up together to produce one awesome drink. Think sweet. Think creamy. Think addictive.
And while you're doing all that thinking, ponder for a moment the fact that this thick, sumptuous liquid that you are lapping up doesn't need any un-wholesome ingredients to make it taste that good. Dates are naturally very sweet and they also thicken the drink very nicely indeed. There really is no need for ice-cream.
What's more, dates are incredibly nutritious – are you ready for one of my nerdy lists of health benefits? Okay, here are just a few reasons to eat dates regularly:
Dates contain beta-glucan, a special kind of soluble fibre that aids the reduction of high cholesterol
The fibre in dates also makes them effective as a natural laxative for anybody suffering from constipation

🙁 🙂

Dates also contain numerous minerals – selenium, manganese, copper, and magnesium – that are key to healthy bone development and strength. Since bones generally weaken as the human body ages, regular consumption of dates can help promote better bone health in older age
On top of all these benefits, the date shake also gives you a dose of calcium from the milk and counts as a portion of your daily fruit & veg intake. I'm telling you, this is one amazing drink.
I've spiced up my version – literally – with some cinnamon and nutmeg. I just love these flavours and they pair with the dates so well. I've also added malt into the mix to turn this classic drink into a Spiced Malted Date Shake and lift it even further up my favourites ranking. ♥♥♥
Finally, for those in need of a chocolate fix, I've also made a version just for you. The Spiced Chocolate Malted Date Shake. Yup, that's classic date shake with cinnamon and nutmeg and malt and chocolate. This thought makes me so happy.
Anyway, forgetting the chocolate and the malt momentarily (sigh), I have to tell you one more reason I'm in love with this drink. This Spiced Malted Date Shake obliterates the midweek squabble between children, wishing for a treat drink, and the no fun parent (me) wanting to serve them up that healthy portion of milk that their young bodies need to grow strong. Obviously, dates do contain plenty of sugar, even if it is natural, so I wouldn't want to serve this up everyday. But as a once a week pleasure, I can think of no better drink to keep both camps happy.
Thankyou California.
If you've enjoyed this post, please share it – you would make me very happy. You can also follow along to get notified of my future blog posts by email.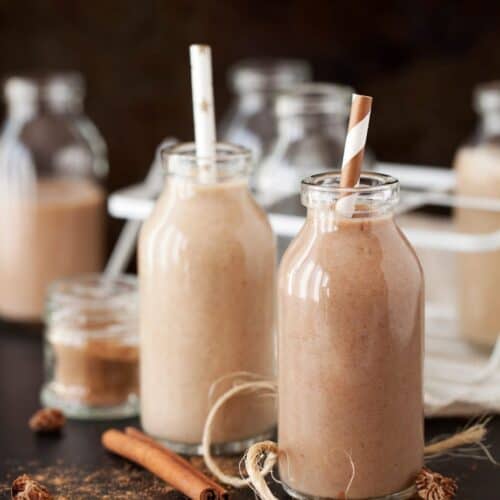 Spiced & Malted Date Shakes
This twist on the classic date shake brings in flavors of cinnamon, nutmeg & malt. This Spiced Malted Date Shake is thick & creamy yet healthy too.
Print
Pin
Rate
Ingredients
300

ml/ 11/4 cups

Milk (full fat)

80

g/ 2/3 cup

whole pitted dates (soft ones, such as Medjool blend well)

Ground cinnamon - a generous pinch

Ground nutmeg - a generous pinch

11/2

tsp

Malted milk powder

(see notes)

For the Spiced Chocolate Malted Date Shake add 1 level tbsp cocoa powder
Instructions
Place all ingredients into a blender with a few ice cubes and whizz together until the dates are finely blended

Serve immediately
Notes
1. If you cannot get hold of malted milk powder, you can substitute a malted milk drink such as Horlicks - at a pinch you could use malt extract but it does tend to stick to the base of the blender. 2.If you don't want to add the malt, this drink is delicious with the first 4 ingredients.
(Visited 23 times, 1 visits today)