If you like baked cheesecakes, you'll love this Italian Ricotta Cheesecake. Ricotta cheese blends with mascarpone, Amaretto soaked raisins and candied citrus peel to create a beautifully flavoured cheesecake. It's all piled onto an amaretti cookie crust to add an extra flavour dimension and bump up the luxury factor.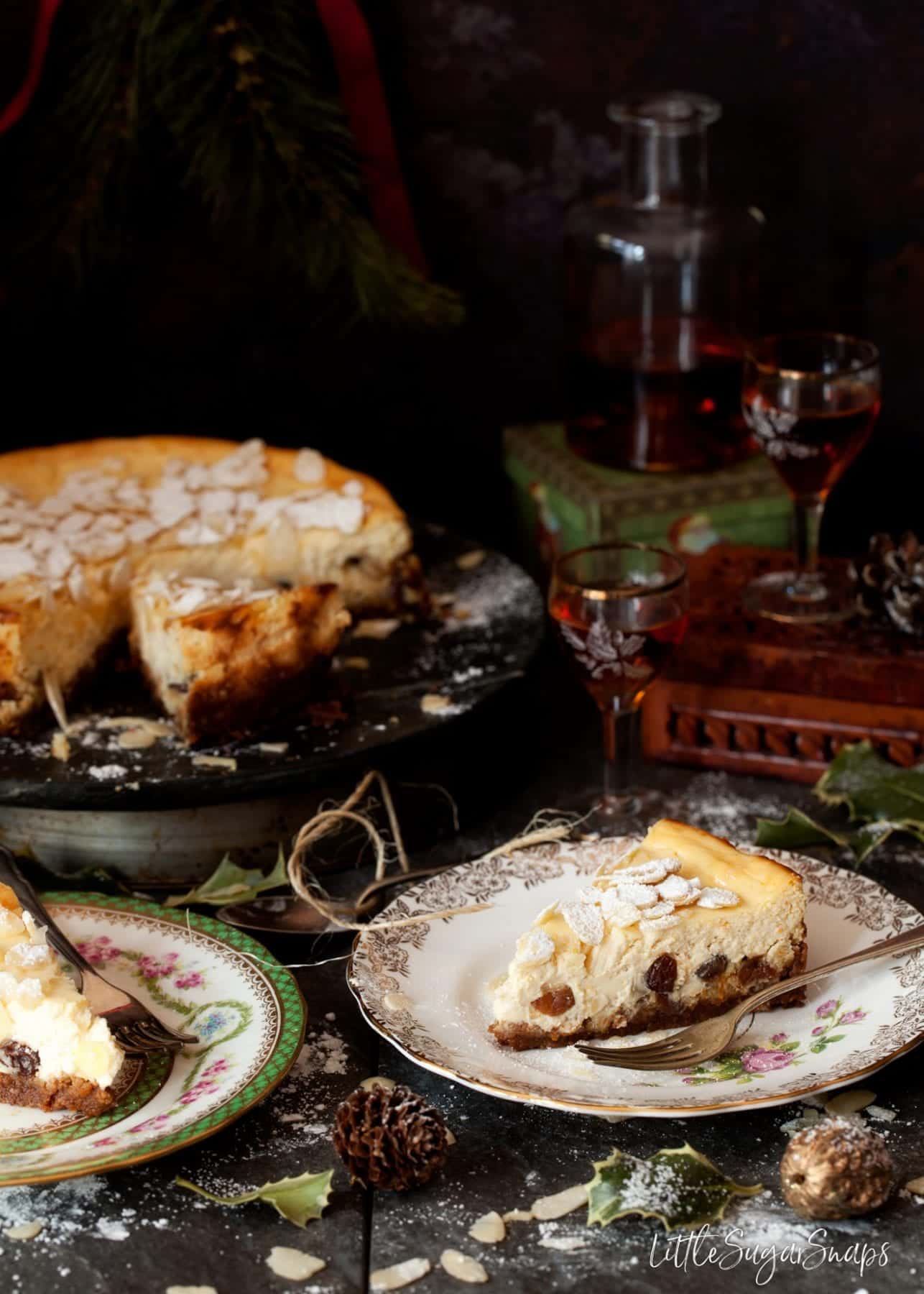 THIS POST IS SPONSORED BY THERMAPEN. ALL OPINIONS AND TEXT ARE MY OWN.
I have a real weakness for baked cheesecake. Sadly, my husband does not typically share the same love of cheesecake. He is, however, willing to make an exception when Italian cheesecake (aka Torta di Ricotta) is on offer. It must be something to do with the type of cheese involved. The Italian version uses mainly ricotta, so the resulting bake is fairly light in texture in comparison to a cream-cheese based cheesecake.
I recently made this thoroughly Italian Ricotta Cheesecake to keep us both (and my kids) happy. I call it thoroughly Italian because this cheesecake doesn't just rely on Ricotta cheese to qualify for its Italian name tag. I've thrown a couple of other Italian treats into the bargain.
First of all, I've included an amaretti crust. Amaretti cookies have an intense & sweet almond flavour, and when combined with butter, they make a decadent base for this Italian Ricotta Cheesecake. Just be sure to select crisp and crunchy Amaretti rather than the soft and chewy ones.
I've also soaked a scattering of raisins in the classic Italian almond liqueur, Amaretto. This adds an extra layer of flavour, tallies perfectly with the Amaretti crust and ramps up the luxurious edge this cheesecake has to offer.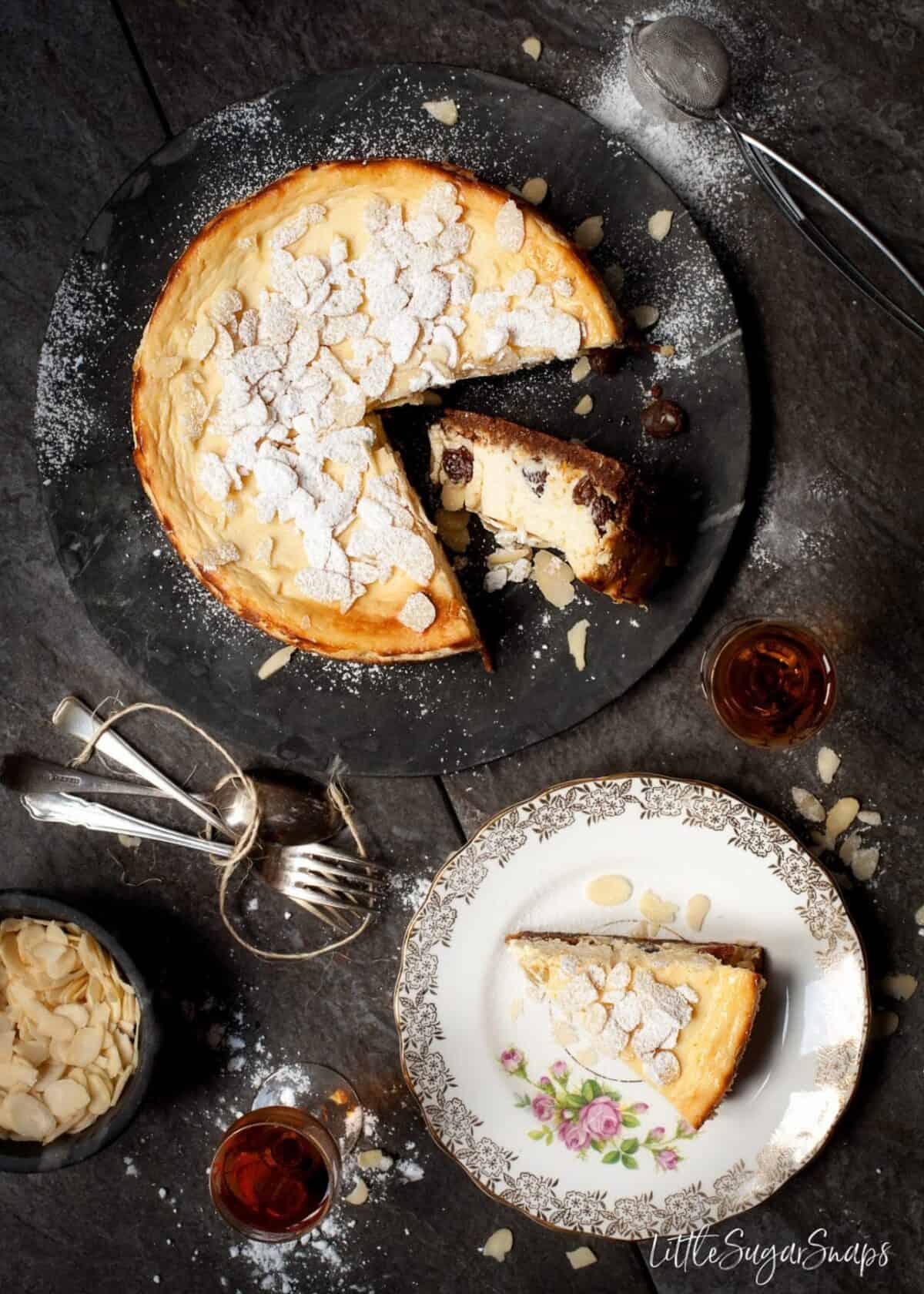 When I first started baking cheesecakes, one of the hardest parts was working out when I should take it out of the oven:
pull it out too early and there's is a risk that the cheesecake will be underbaked and will not set firmly
but leave it in the oven too long and there's the prospect of overbaking the cheesecake, leading it to crack and become dry & crumbly rather than remaining smooth and creamy
I've just about mastered finding the ideal wobble to pull my cheesecakes out now. But if I'm ever unsure, I tend to check the internal temperature with my Thermapen digital food thermometer. Cheesecake should be cooked to 65C/ 150F for it to set once cooled. Granted, sticking a probe in will leave a mark on top of the cheesecake, but since this one is decorated with flaked almonds, any imperfections will be completely hidden.
Christmas is not far away now. I don't have a full gift guide to put up this year, but I can heartily recommend a Thermapen. It's the perfect gift for an enthusiastic cook. It is fast and accurate – reading temperatures in just 3 seconds. It really does help to take the guesswork out of cooking.
The latest model, the Thermapen Professional, has an auto-rotating display. This means it can be used in any position and in either hand so it's great for left and right-handed people. It also has a motion-sensing sleep mode which automatically turns the Thermapen on/off when set down/ picked up, helping to conserve battery life.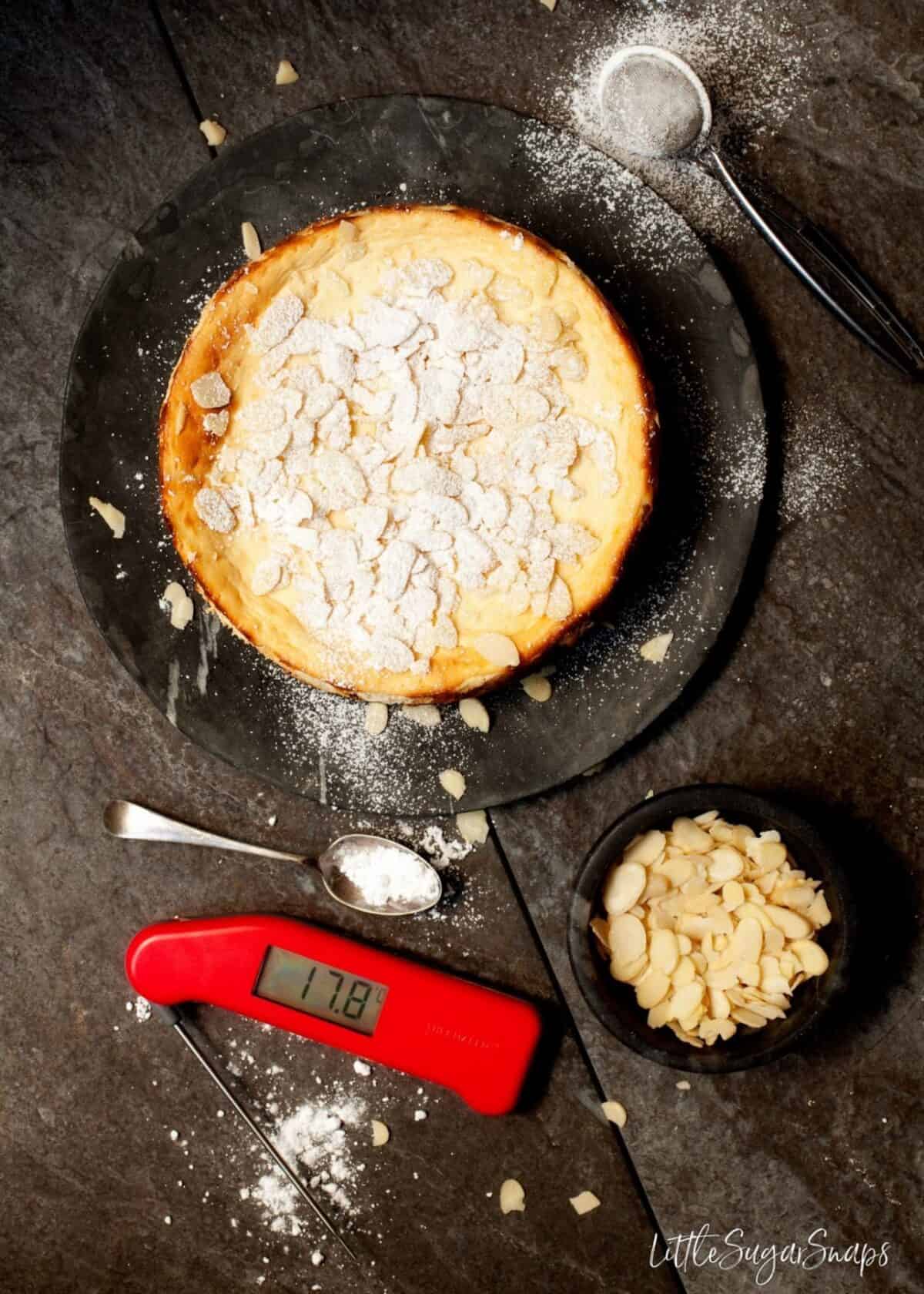 Once baked this cheesecake has a decidedly rustic look. However, when adorned with flaked almonds and a dusting of icing sugar it transforms into a centrepiece worthy dessert. Each slice reveals the treats hidden inside of the creamy bake.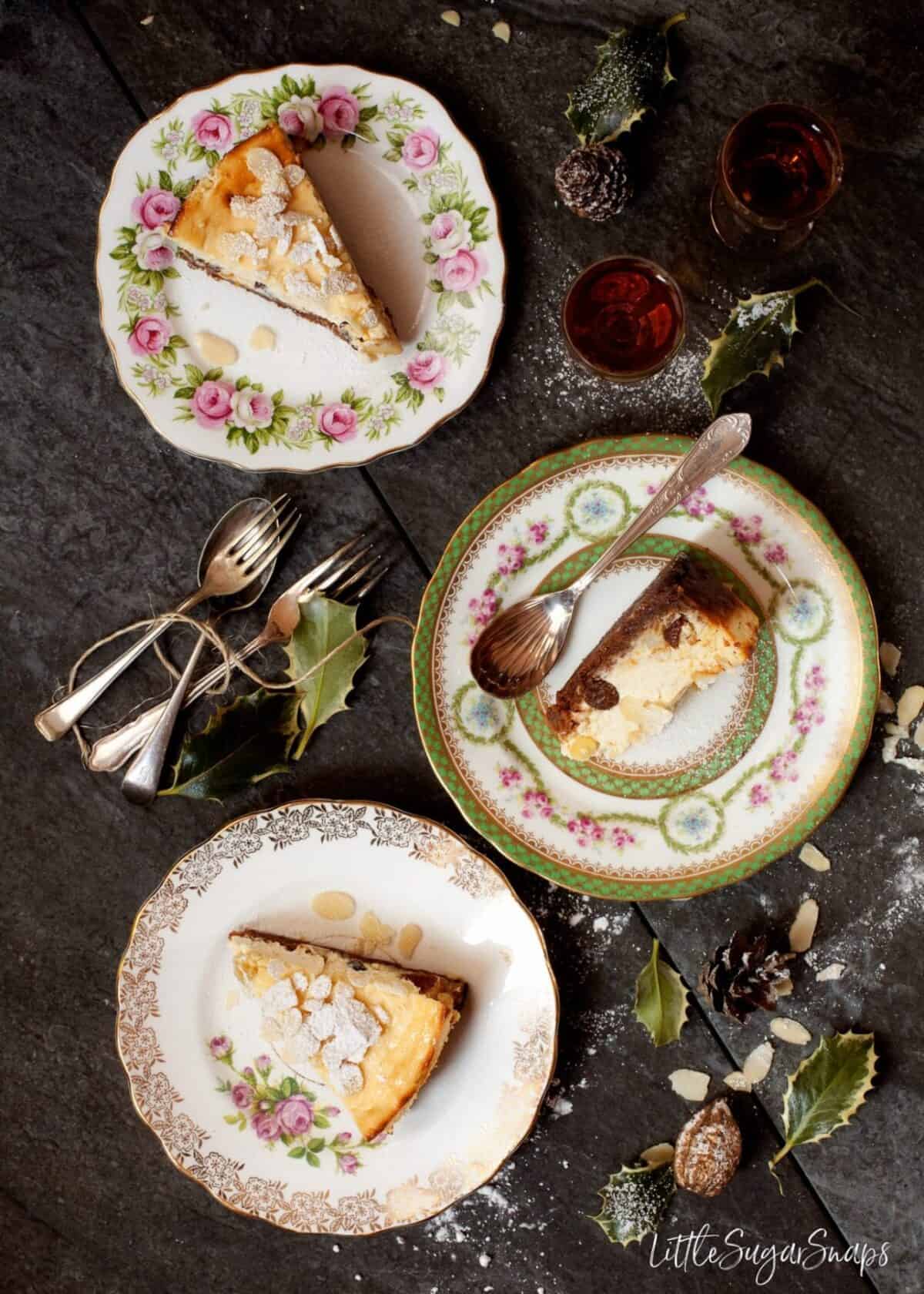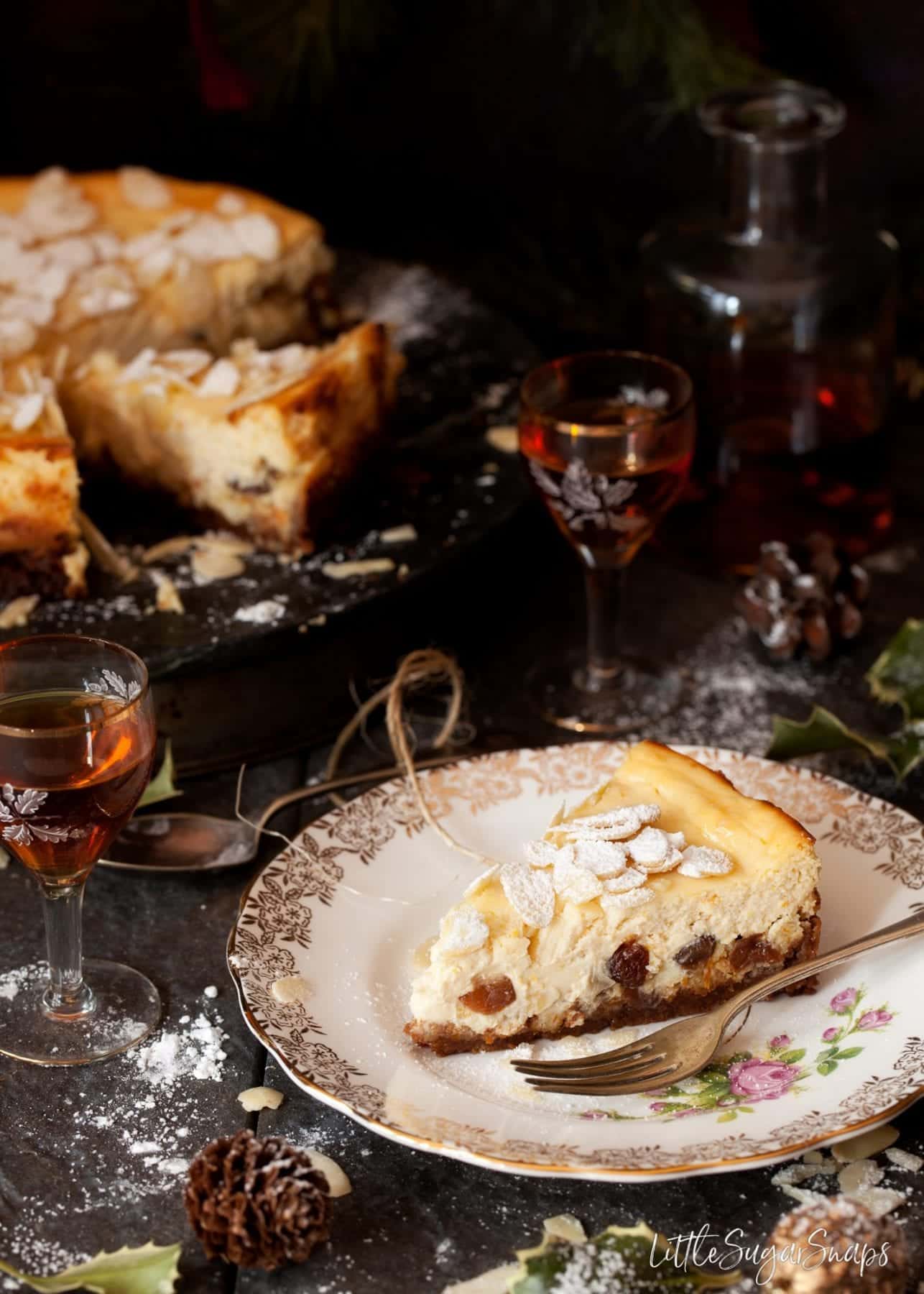 This cheesecake makes a delightful alternative to traditional desserts at Christmas. I recommend serving with a small glass of Amaretto alongside. Don't expect leftovers.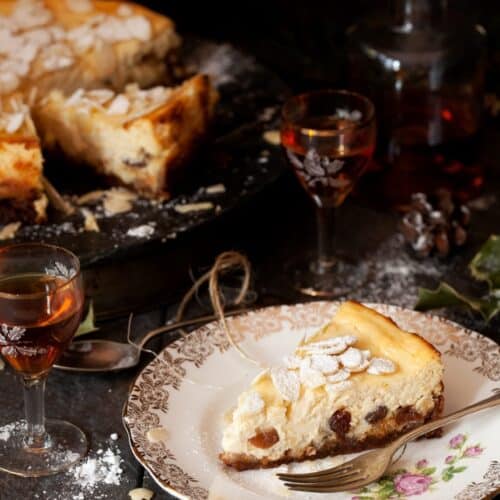 Italian Ricotta Cheesecake with Amaretto Raisins
Keyword:
Amaretto Cheesecake, baked cheesecake, Cheesecake, Italian Cheesecake, Italian Ricotta Cheesecake, Ricotta Cheesecake, torta di ricotta
Ingredients
50

g/ 1/3 cup

Raisins

2

tbsp

Amaretto liqueur

175

g/ 6oz

Amaretti cookies (crunchy, not soft)

90

g/ 3/8 cup

Butter

250

g/ 1 cup

Ricotta cheese

125

g/ 1/2 cup

Mascarpone cheese

60

g/ 2 oz

Caster sugar

2

Eggs (large, free range)

40

g/ 1/2 cup

Candied peel

Zest 1 orange + 4 tsp orange juice

Zest 1 lemon + 4 tsp lemon juice

1

tsp

Vanilla extract
To serve
40

g/ 1/2 cup

Flaked almonds

1

tbsp

Icing (confectionary) sugar
Instructions
Warm the Amaretto up to hot but not scalding and pour over the raisins in a small bowl. Set aside to soak for at least 30 minutes

Preheat the oven to 170C/ 325/ GM 3 then grease & line the bottom and sides of a 7-inch loose bottomed baking tin with baking parchment. The neater you can line the tin, the neater the shame of the cheesecake will be once baked

Crush the amaretto cookies. Either pulse in a food processor or put into a plastic bag and bash with a rolling pin until they resemble breadcrumbs

Melt the butter in a small saucepan and tip in the crushed Amaretti. Stir until thoroughly combined, then pour out into the baking tin and flatten across the bottom. Press down firmly using the back of a metal spoon and bake for 10 minutes. Set aside

When ready to bake, put the ricotta into a medium-sized mixing bowl and beat with a balloon whisk until smooth

Next beat in the mascarpone, followed by the ricotta, then the eggs. Continue to whisk until the mixture is nice and smooth again

Drain the raisins, reserving any leftover Amaretto

Add the orange & lemon zest and juice, along with the vanilla extract and the leftover Amaretto, mixing well

Scatter the raisins and the mixed peel over the biscuit base, then pour the cheesecake batter carefully over the top

Bake for 35-40 minutes until the internal temperature of the cheesecake reaches 65C/ 149F. I used my Thermapen digital food thermometer to check this (don't worry if the cheesecake cracks slightly when you insert the thermometer probe since it will be hidden with flaked almonds). If you do not have a food thermometer, bake until the cheesecake is beginning to turn golden around the edges but the centre still has a good wobble and is not set completely firm

Remove from the oven and let cool completely. Cover and refrigerate for at least 4 hours to allow the cheesecake to set

Remove from the tin and just before serving, top with flaked almonds and dredge in icing sugar
Pin this recipe: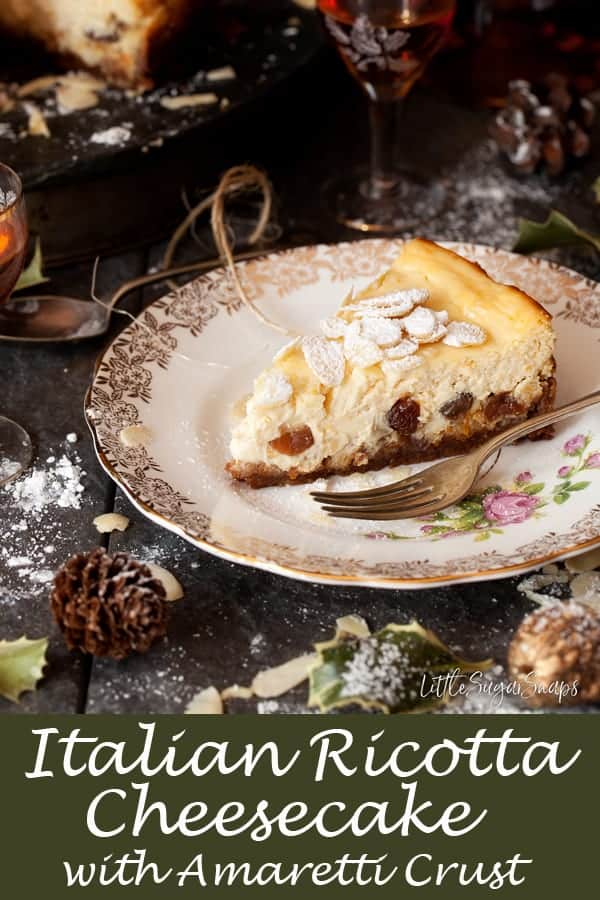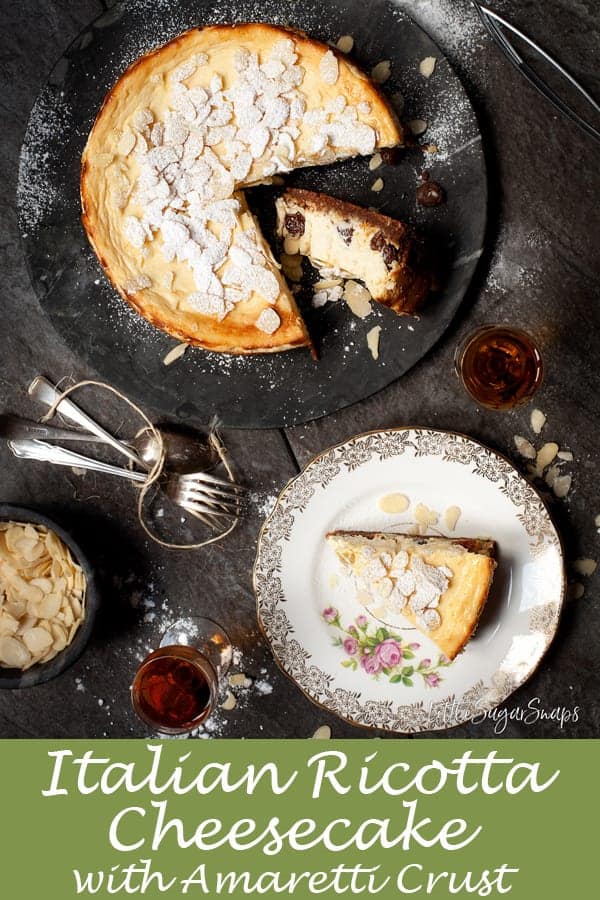 (Visited 216 times, 1 visits today)