Blackberry Feta Cheesecake is soft, velvety and lusciously creamy with a fresh bite to the flavour. The star ingredients – feta cheese and blackberry coulis – combine to create a spectacularly colourful dessert with an extra flavour dimension.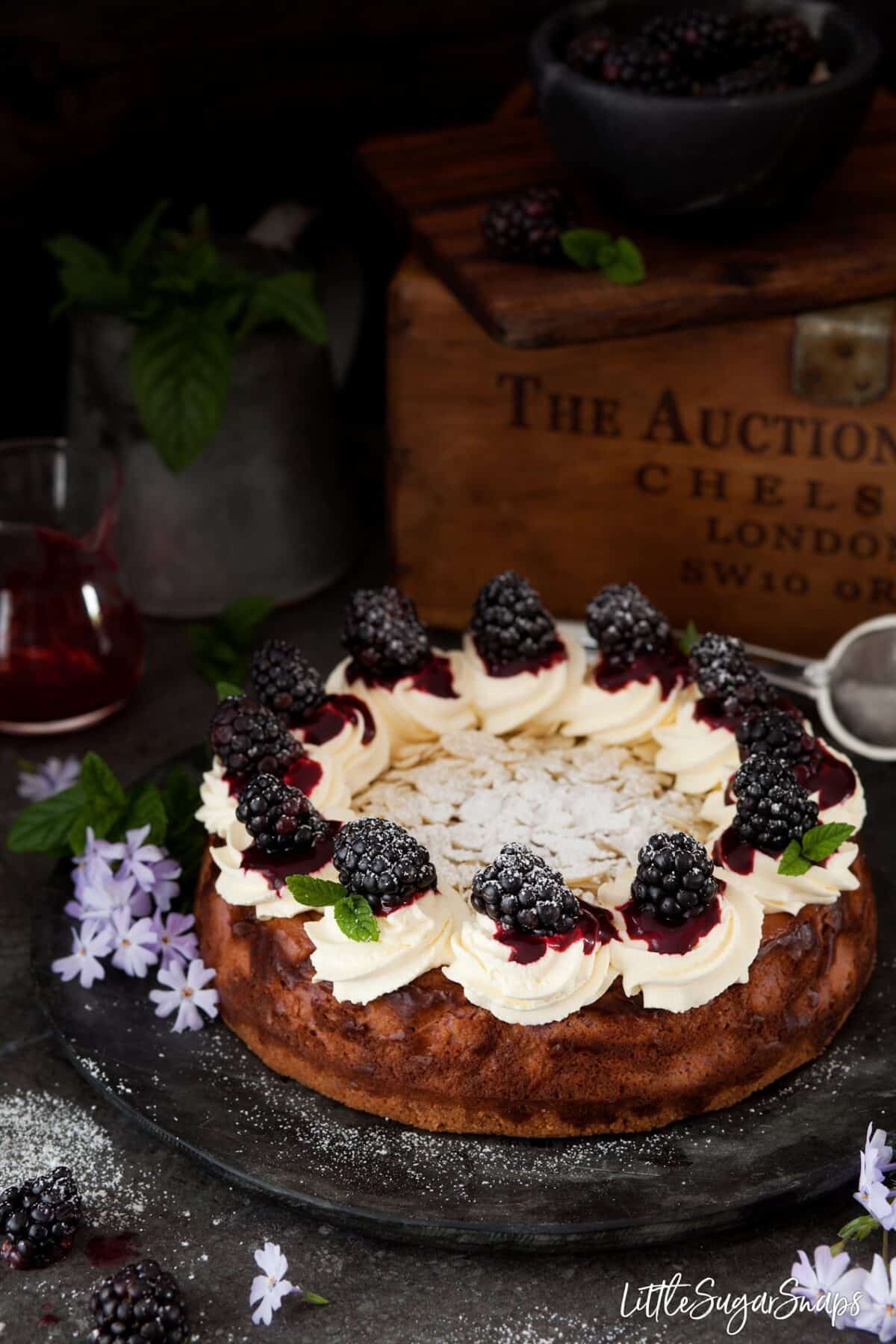 I've been wanting to make a purple dessert ever since passing by a patisserie window on holiday in Croatia, last summer. My eye was drawn to a fabulous looking purple tart. Unable to decipher the Croatian language, I couldn't tell what the confection was, but the colour alone had my full attention. So I've paid homage to my holiday memory by creating a vibrant and flavourful baked Blackberry Feta Cheesecake.
Yes, you read that correctly – I have included a little feta in this sweet berry confection. Tangy and slightly salty in nature, feta is the ideal addition to the sweet and creamy qualities of cheesecake. And it is sensational alongside blackberries.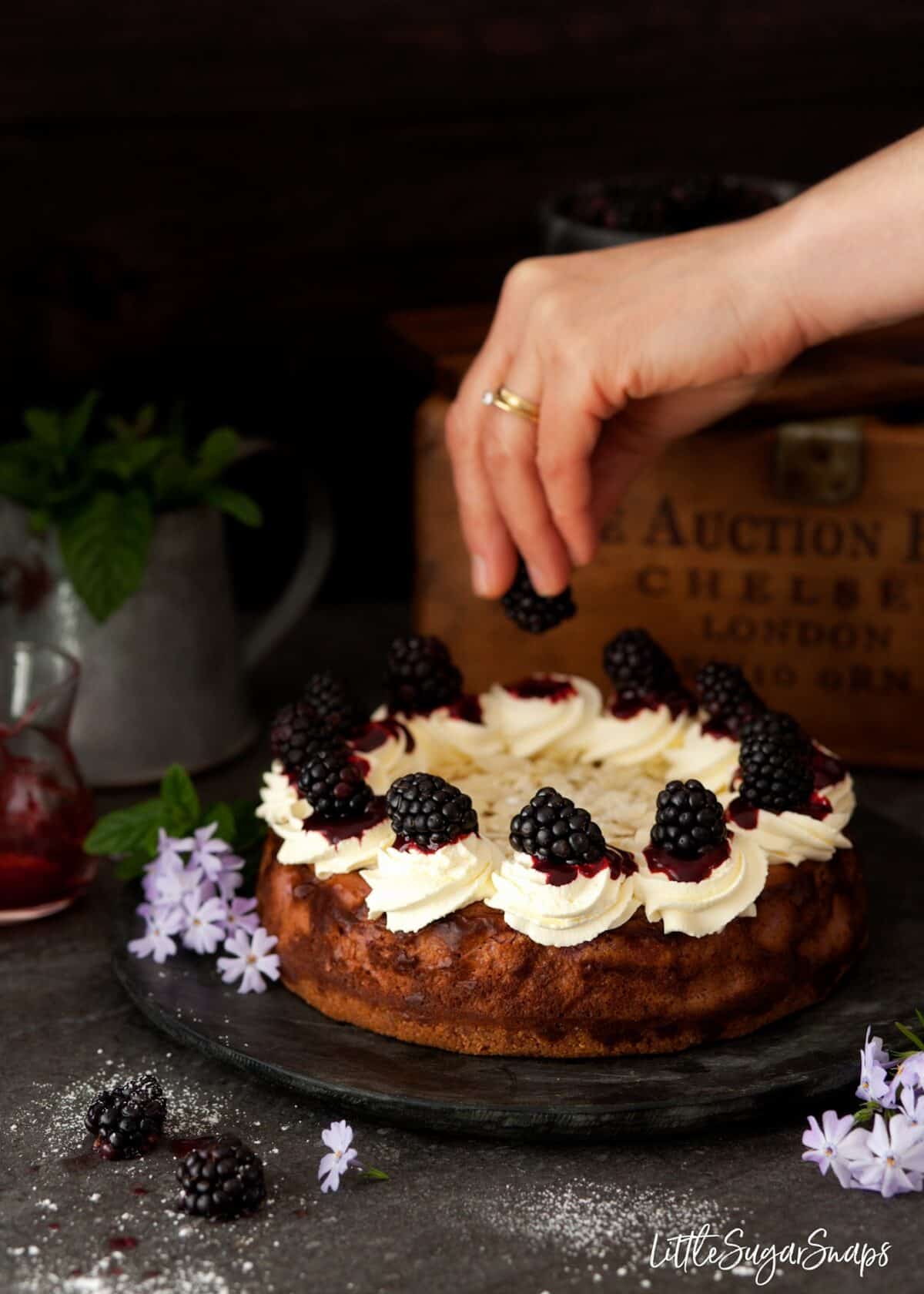 THIS POST CONTAINS AFFILIATE LINKS. AS AN AMAZON ASSOCIATE I EARN FROM QUALIFYING PURCHASES.
My husband says that although it is still a creamy cheesecake, this baked Blackberry Feta Cheesecake is slightly less creamy than, say, a New York Cheesecake. He sees that as a very good thing. As for me, I have yet to find a cheesecake that I do not like. This one manages to be sweet, fruity, creamy and a little tangy too.
I rather enjoy keeping the inside of this cheesecake as a surprise. A golden crust forms around the edges of this cheesecake as it bakes, so when the top is decorated with almonds and cream, the true colour of this dessert is completely disguised.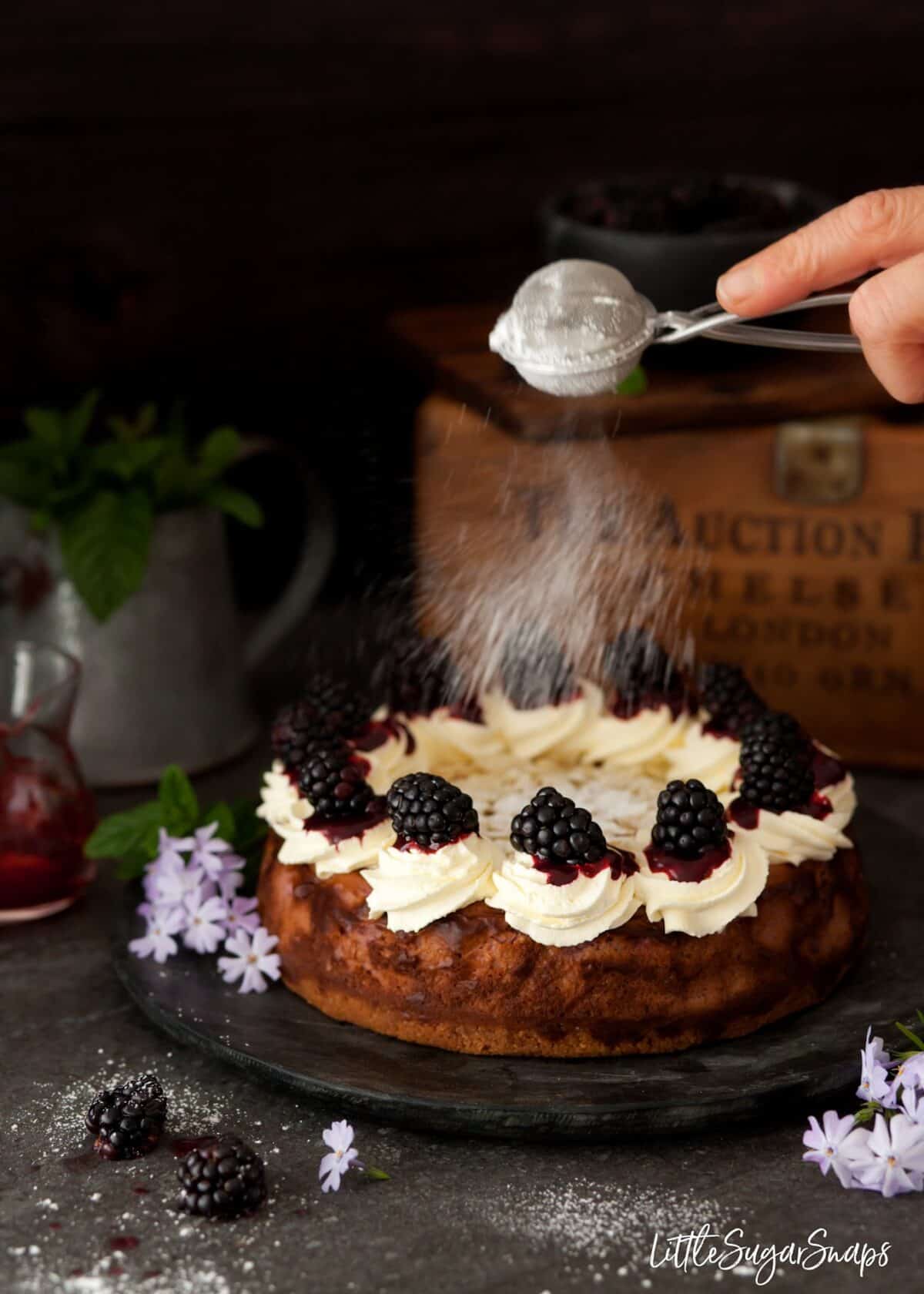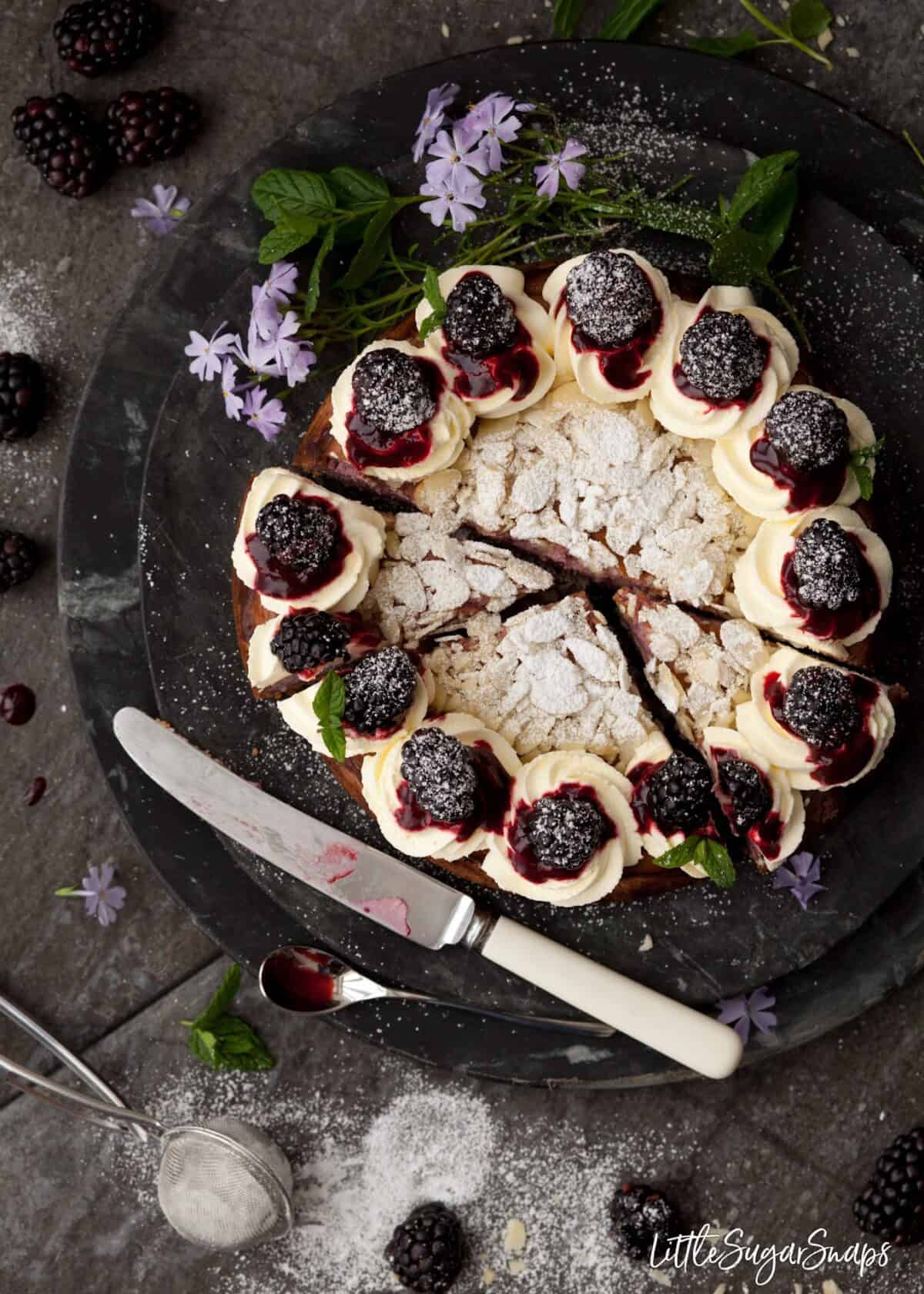 Only when it is cut open and served does the dramatic beauty of this Blackberry Feta Cheesecake reveal itself. In all it's technicolour glory.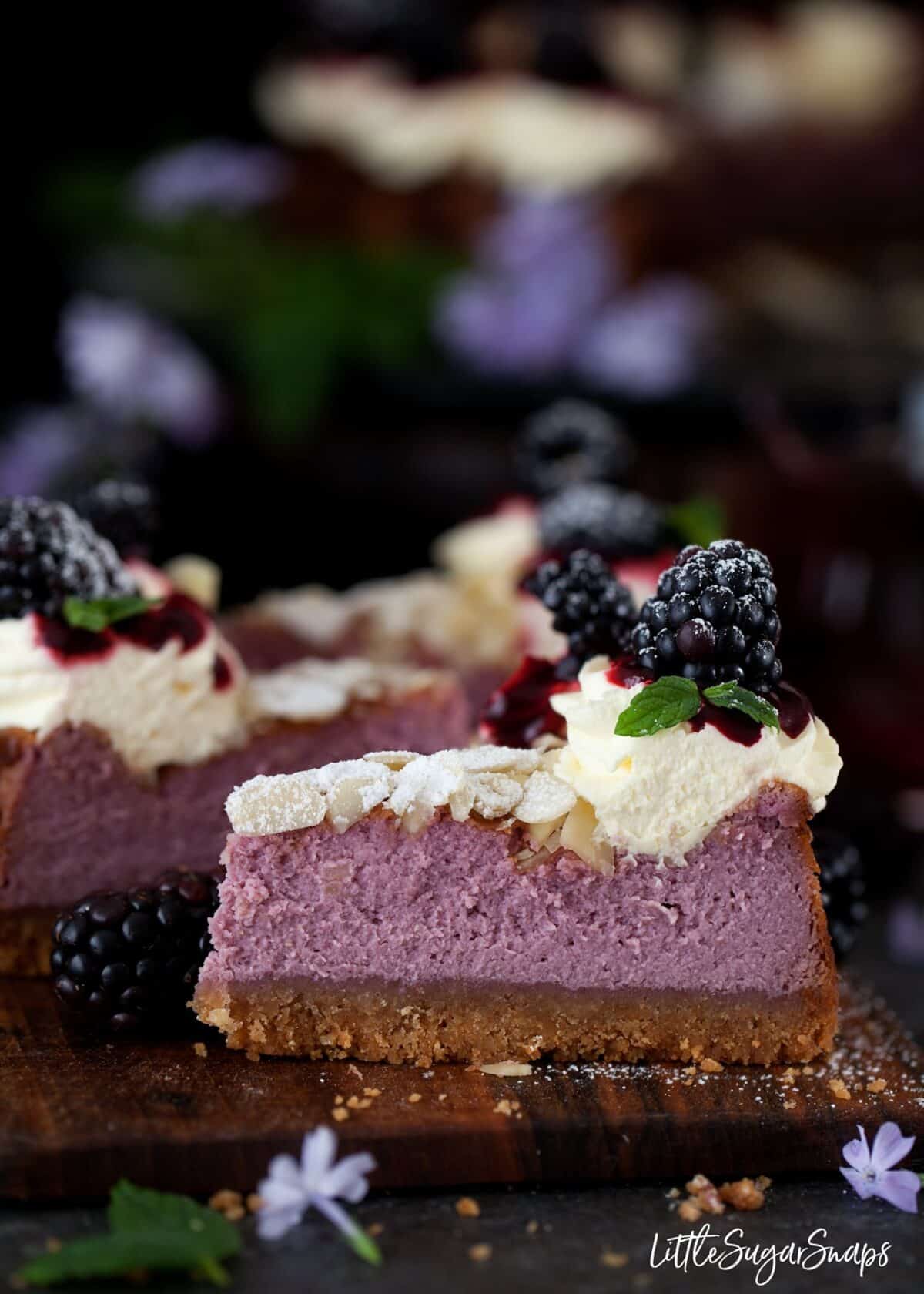 Tips for Making Blackberry Feta Cheesecake
I really enjoy baking cheesecakes, because, on the whole, they are very simple. But there are a few specific things to bear in mind for this Blackberry Feta Cheesecake:
The ingredients listed are sufficient for a deep 7-inch pan. The resulting cheesecake serves 8 people
It is imperative to pass the feta through a medium – fine-meshed sieve. Doing so will take around 3 minutes but it will ensure that your cheesecake is smooth and silky without lumps of feta baked into it
Fresh blackberries give a much more vibrant result than frozen blackberries – use fresh whenever you sensibly can
Whole eggs act as a thickening agent in baked cheesecakes. But it's the yolk that helps give the cheesecake that lovely smooth texture. For this reason, I've added 2 extra yolks to the batter
One of the main reasons a cheesecake cracks is when too much air gets incorporated into the batter when mixed. During baking, the trapped air expands and forces the cheesecake to crack. To reduce this risk, beat the cream cheese and other ingredients really well to remove any lumps before adding the egg. It's the egg that holds onto the air in the cheesecake batter. Once the egg goes in, mix enough to combine with the other ingredients thoroughly but do not over mix
All cheesecakes should be cooked at a moderate temperature until the edges are firming up but the middle 2-3 inches are still wobbly. Follow your recipe instructions. Some recipes recommend removing from the oven once this stage has been reached. Others might suggest leaving it in the oven as it cools. Have faith – the cheesecake continues to cook as it cools down and will firm up nicely. Cool this cheesecake out of the oven
Chilling the cheesecake once it has cooled is essential to ensure it sets properly. Leave it a minimum of 4 hours, longer if you can manage it. I like to remove my cheesecake about an hour before serving to take the chill off and to allow the flavours to come through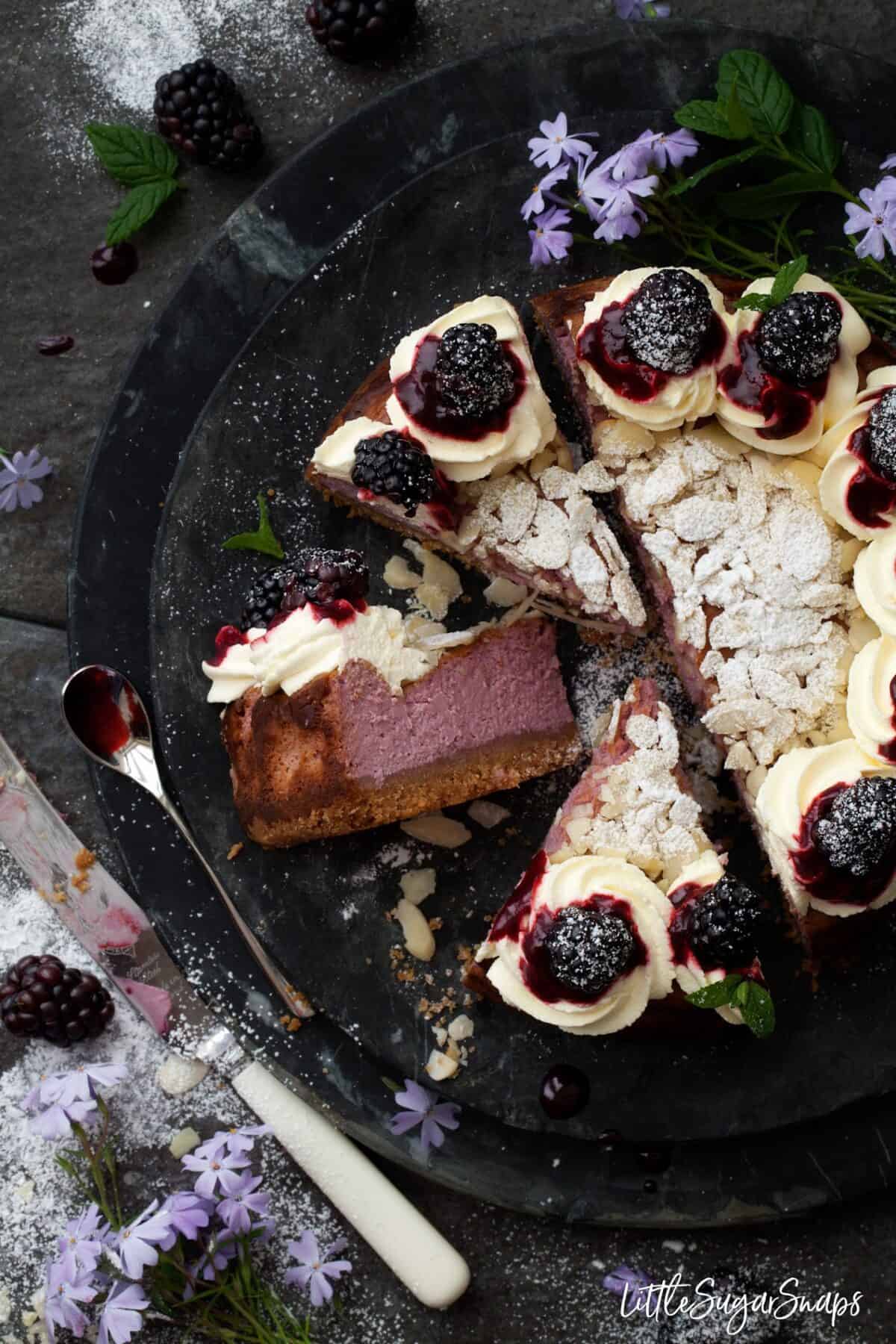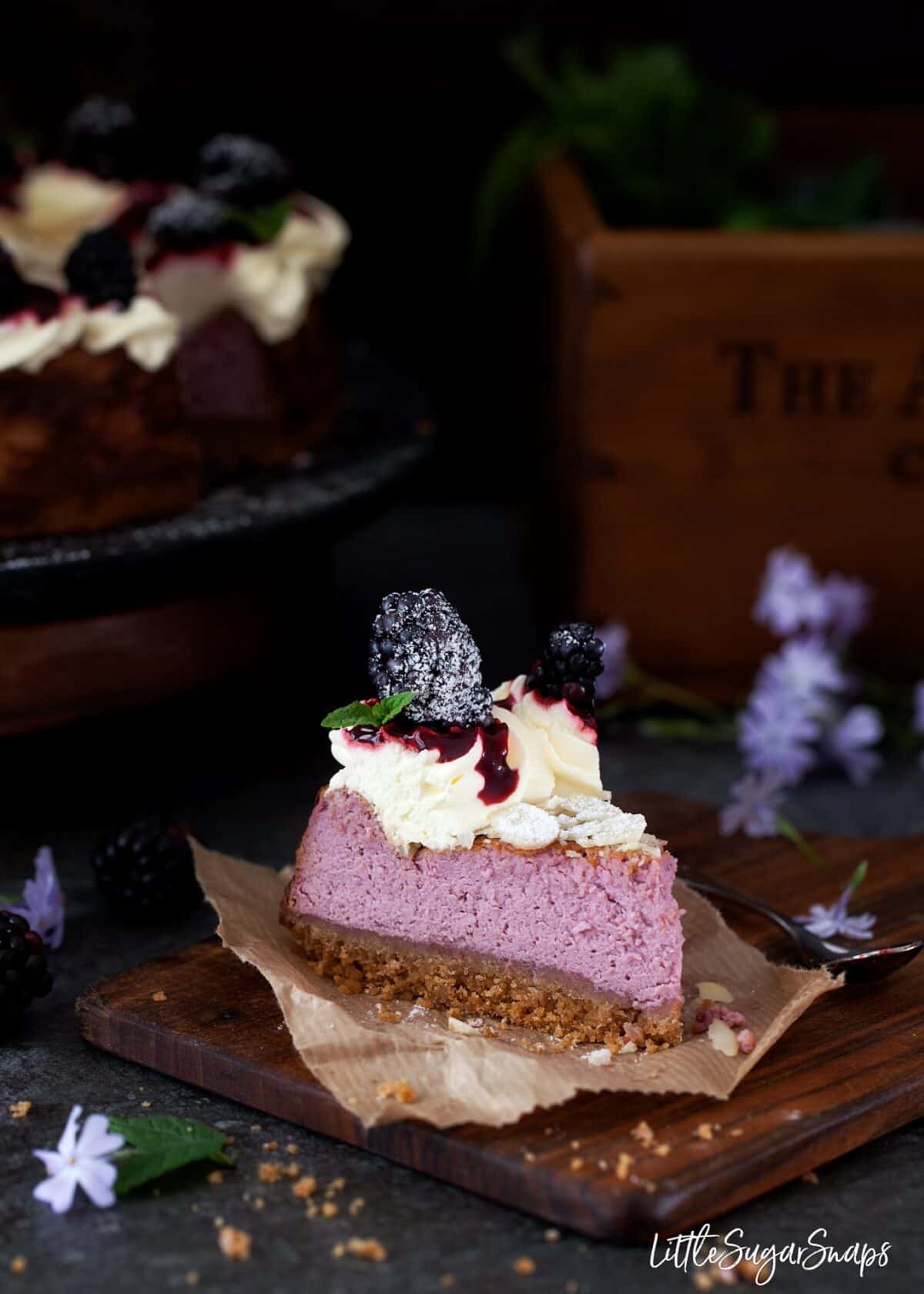 This cheesecake makes a bold statement at the dessert table. Don't expect leftovers.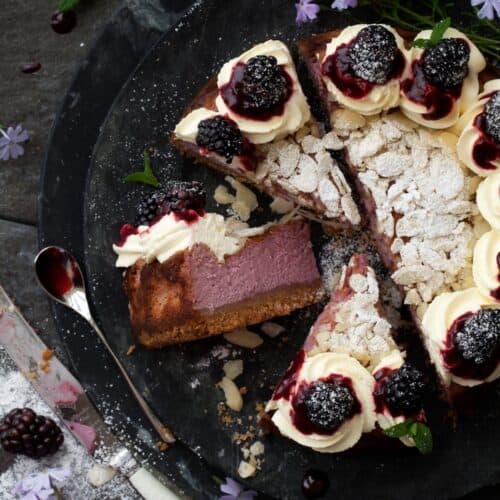 Blackberry Feta Cheesecake
Keyword:
baked cheesecake, berry cheesecake, blackberry cheesecake, Cheesecake, feta cheesecake
Ingredients
300

g/ 10 1/2oz

Fresh blackberries

4

tsp

Icing sugar (confectionary sugar)

150

g/ 5 oz

Digestive biscuits

(graham crackers make a good substitute)

75

g/ 3 oz

Butter

300

g/ 10 1/2 oz

Cream cheese

(e.g Philadelphia)

125

g/ 4 1/2oz

Feta cheese

2

Whole eggs (large, free range)

2

Egg yolks (large, free range)

100

g/ 3 1/2oz

Caster sugar

3/4

tsp

Vanilla extract

200

ml/ 4/5 cup

Double (heavy) cream

2

tbsp

Almond flakes
Instructions
Make the Blackberry Coulis
Reserve 12 blackberries for decoration and put the rest in a pan with the icing sugar

Cook gently until the blackberries soften and break down, stirring frequenty

Pass through a metal sieve, pushing all the liquid and flesh through using the back of a spoon. Discard the pips
Make the Cheesecake
Preheat the oven to 170C/ 325/ GM 3 then grease & line the bottom and sides of a deep 7-inch loose bottomed baking tin with baking parchment. The neater you can line the tin, the neater the shape of the cheesecake will be once baked

Crush the biscuits: either pulse in a food processor or put into a plastic bag and bash with a rolling pin until they resemble breadcrumbs

Melt the butter in a small saucepan and tip in the crushed biscuits. Stir until thoroughly combined, then pour out into the baking tin and flatten across the bottom. Press down firmly using the back of a metal spoon and bake for 10 minutes. Set aside

Put the cream cheese into a medium-sized mixing bowl and beat with a balloon whisk until smooth

Pass the feta cheese through a medium fine mesh sieve, using the back of a spoon to force it through. Doing this will ensure it is more easily and smoothly blended into the cheesecake

Beat the feta into the cream cheese, followed by the sugar. Continue to whisk until the mixture is nice and smooth again

Once the blackberry coulis is cool, reserve 1 tbsp and pour the rest into the cheesecake batter along with the vanilla extract. Beat until incorporated

Add the eggs and yolks. Continue to whisk until the mixture is nice and smooth again but do not over mix it

Pour the cheesecake batter carefully over the top of the biscuit base and bake for 35-40 minutes until the internal temperature of the cheesecake reaches 65C/ 149F. If you do not have a food thermometer, bake until the cheesecake is firm around the edges but the centre still has a good wobble and is not set completely

Remove from the oven and let cool completely. Cover and refrigerate for at least 4 hours to allow the cheesecake to set

Just before serving, whip the cream until it just holds its shape and use to pipe 12 rosettes around the edge of the cheesecake. Top each with a small drizzle of the reserved coulis and a fresh blackberry. Scatter the almond flakes into the centre of the cheesecake and dredge with a little icing sugar. Serve
Looking for more cheesecake? Try these:
Pin this Recipe:
(Visited 179 times, 1 visits today)