Beetroot Tahini Dip made with creamy Greek yoghurt and fresh dill is a lighter alternative to hummus. Serve it as a speedy lunch or as a party nibble with crudités, crackers or tortilla chips.
Dips are my new best friend. They are so easy to make, brilliantly versatile and they can stimulate a variety of eating habits. And newsflash: some dips are actually satisfyingly healthy.
My vibrant Beetroot Tahini Dip ticks all of these boxes. I'd like to take a look at all of those qualities, working in reverse order.
At first glance this dip is just another dip. (Is there another word for dip? I do seriously hope I come up with one before I finish writing this post today).
But back to the er… dip. Take a look at the ingredients. Nestled inside of this gloriously colourful snack there is:
beetroot (hi there, veggie goodness)
tahini (it's packed full of essential vitamins, protein and minerals, including calcium)
greek yoghurt (more delicious calcium)
So all in all, a portion of Beetroot Tahini Dip is a relatively sensible treat to be munching on. Depending what it is served alongside, it's almost guilt free snacking.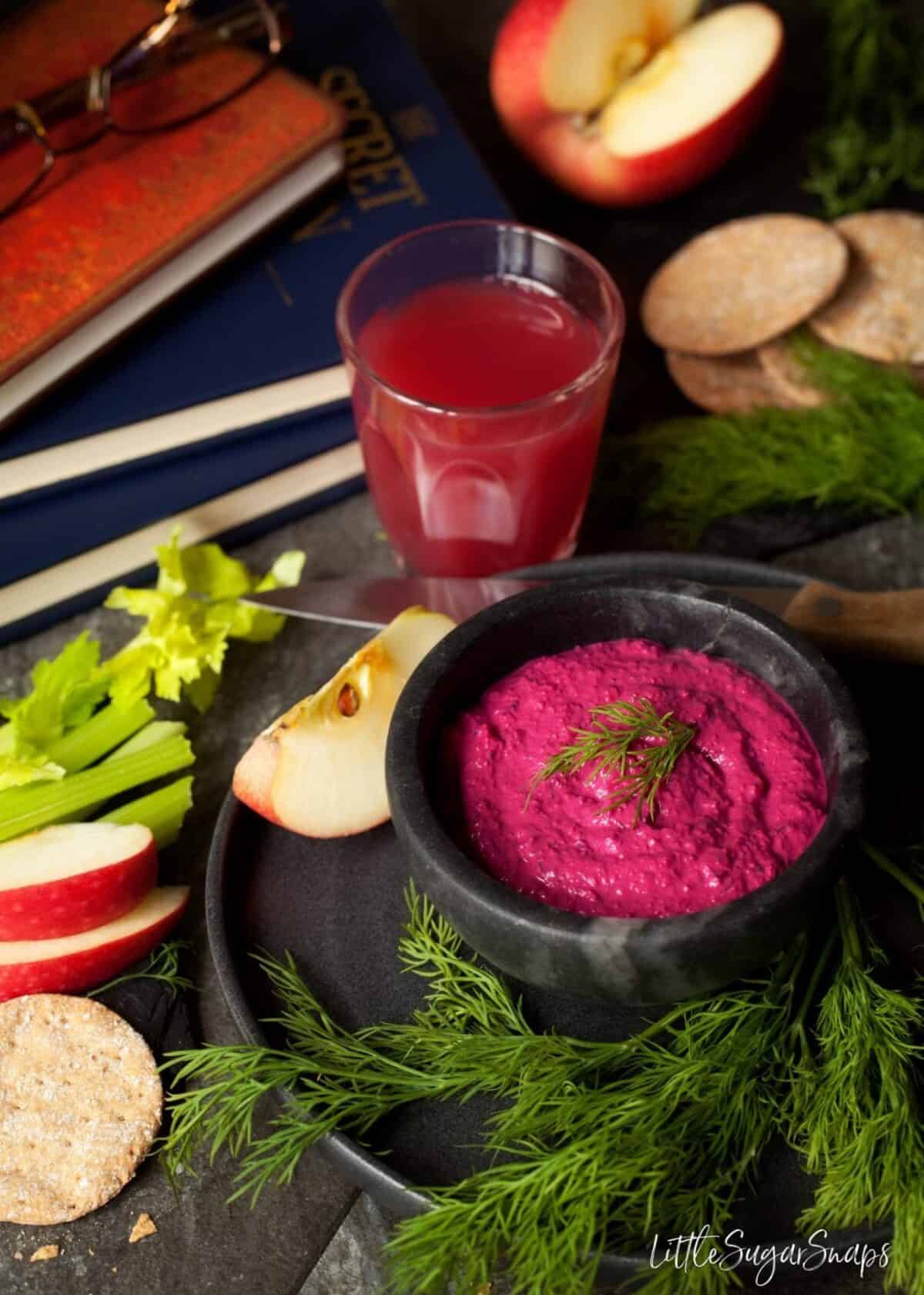 And that leads me on to eating habits and how this lovely purple concoction can be served. Hmm, for starters it can be paired with a host of healthy/ unhealthy ingredients as a simple snack:
Celery (my favourite)
Tortilla chips (obviously)
Savoury crackers
Potato wedges (again, you don't say)
Apple slices
Chunks of cheese (try goats cheese, cheddar or feta)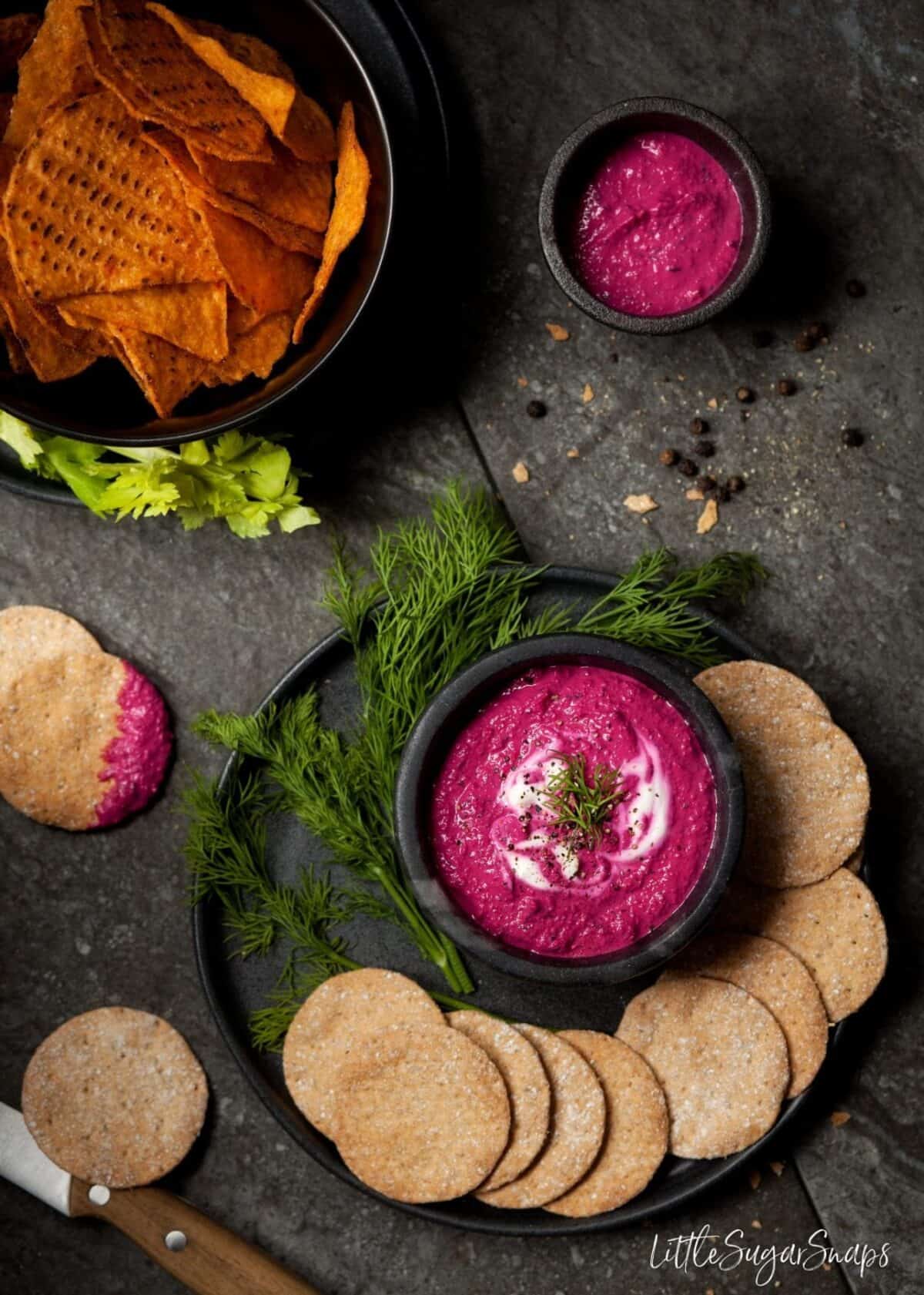 I think most kids like dips, especially colourful ones, so I've been slipping a little pot into my kids' lunchboxes to liven up their mid-morning vegetable snacking habit. But there are plenty more uses for this Beetroot Tahini Dip:
Spread it onto sandwiches (try it with cheddar cheese on wholemeal bread)
Dollop it onto flatbreads and serve with sliced chicken or, even better, a falafel or two
If salad is your lunchtime thing, try splashing a little onto a green salad for a nutritious, snazzy boost to all those virtuous leaves
I've even served this dip as a light lunch with a range of healthy accompaniments to submerge into that luscious, vivid, beetroot goodness
And that just leaves me to mention how easy it is to make. I recommend roasting fresh beetroot at home for the best colour. That's as easy as wrapping whole beetroot in foil, putting it into your oven and ignoring it for 90 minutes or so. Once it's ready, this Beetroot Tahini Dip is ready in a matter of minutes. oh and feel free to replace the dill with fresh mint. It's equally delicious.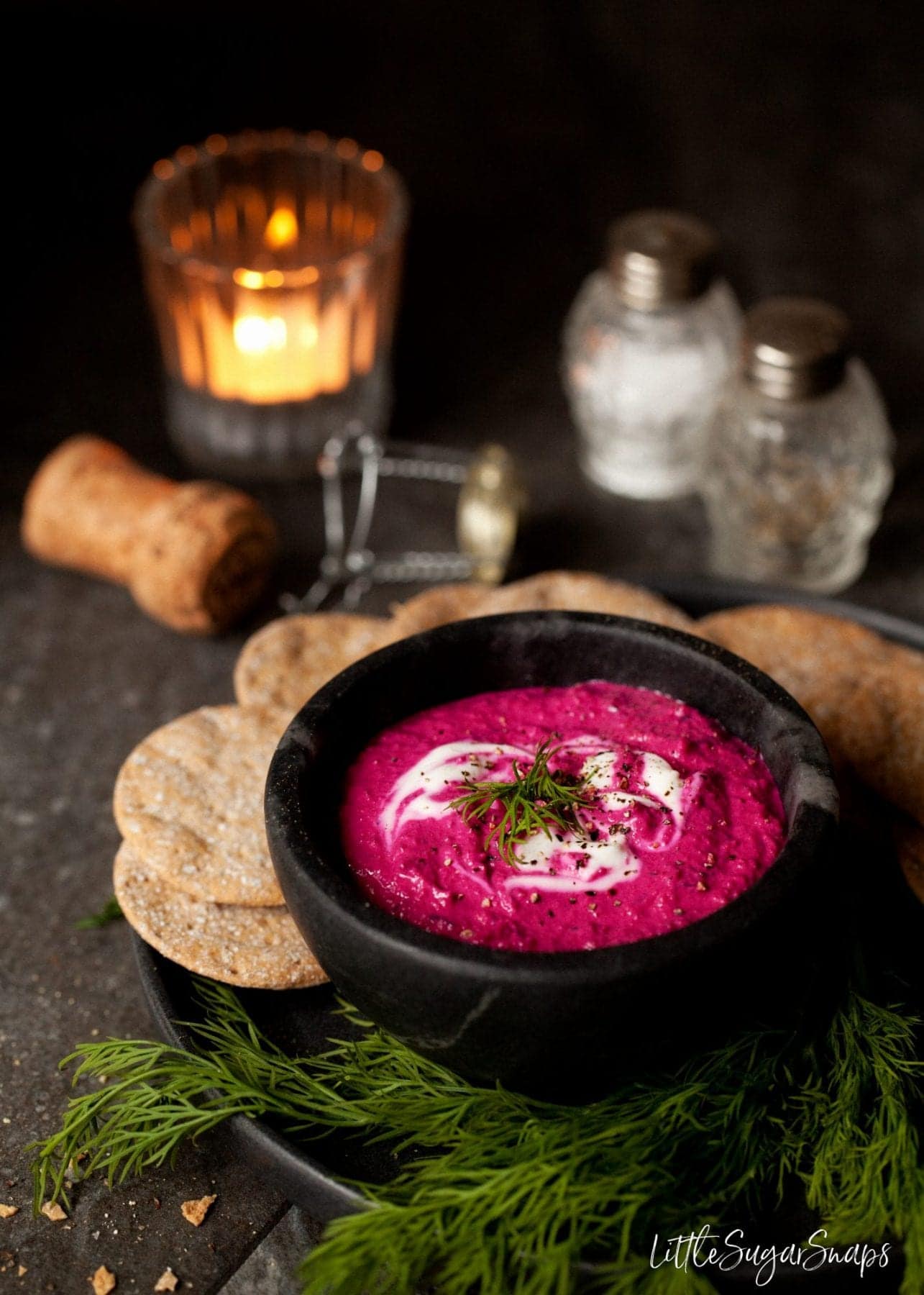 This dip is wonderfully vibrant and delivers a wholesome flavour. Think slightly sweet, with earthy undertones, mixed in with nutty, creamy goodness. Sounds good doesn't it?
PS I tried. I've called this Beetroot tahini Dip: a concoction; beetroot goodness; a snack and a treat. But the fact remains, it's a dip. The word seems inadequate, but I'm okay with that. Kind of. I think…
More Beetroot Recipes from me: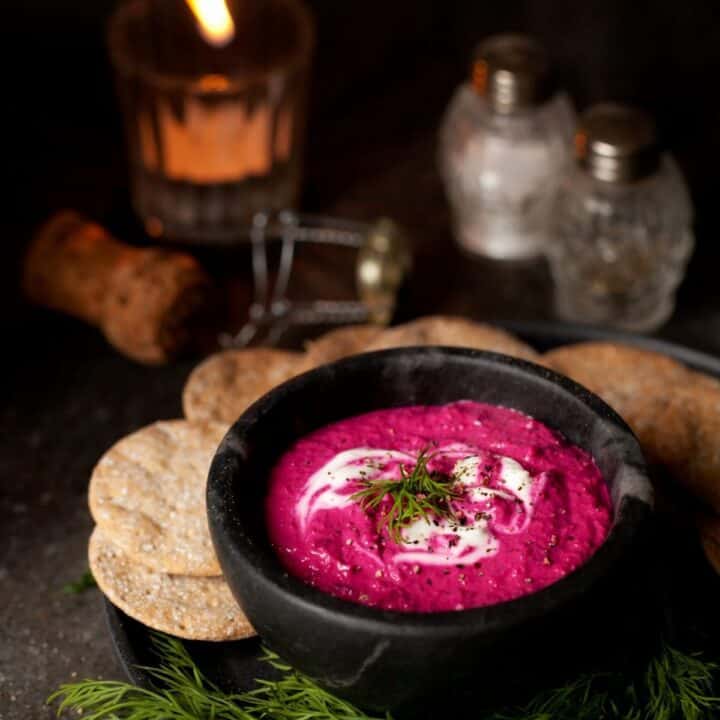 Creamy Beetroot Tahini Dip with Dill
Beetroot Tahini Dip made with creamy Greek yoghurt and fresh dill is a lighter alternative to hummus. Serve it as a light lunch or as a party nibble with crudités, crackers or tortilla chips
Print
Pin
Rate
Ingredients
100

g/ 4oz

Beetroot (freshly roasted)

4

tablespoon

Tahini

1

Small garlic clove (or ½ large one)

4

teaspoon

Lemon juice

1

tablespoon

Olive oil

¼

teaspoon

Salt

7

tablespoon

Greek Yoghurt

1

tablespoon

Fresh dill leaves (picked from stems)
Instructions
Put all ingredients except the dill into a bowl and blitz with a stick blender until desired consistency is reached

Alternatively place ingredients into a food processor and process as above

Stir through the dill and a little black pepper to taste.

Store in the fridge for up to 5 days (assuming your yoghurt is fresh)
(Visited 482 times, 6 visits today)