Chocolate Dipped Raspberry Marzipan is a sweet delight. Enrobed in dark chocolate this homemade marzipan, subtly flavoured with freeze dried raspberries, gives a modern twist to a longstanding classic.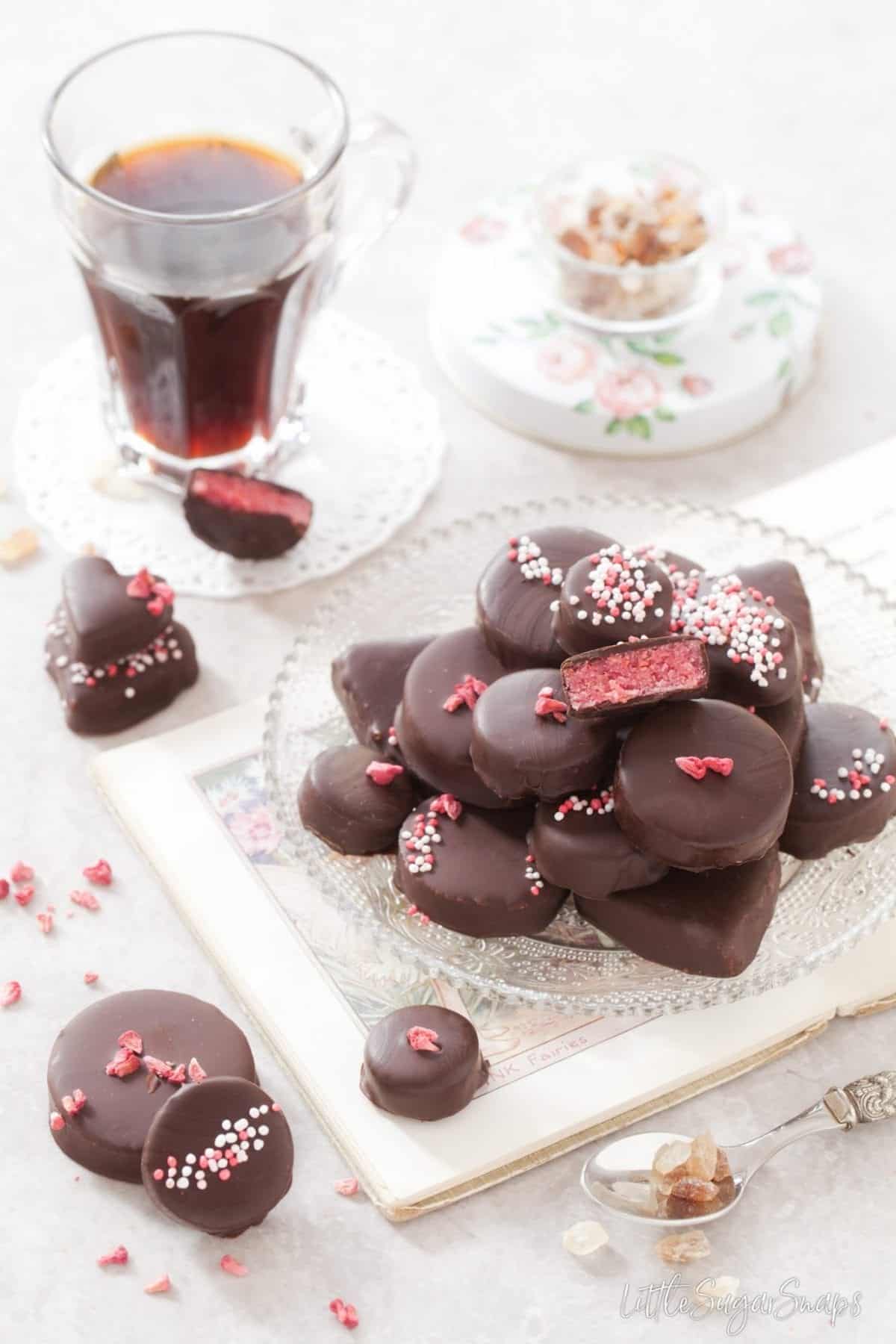 Pardon my pun but I've always had a soft spot for marzipan. And for the life of me, I don't know why it's taken me so long to get around to making my own. But now I'm on a roll. For this week and the next, I have 2 fantastic marzipan based recipes lined up.
I wasn't going to do a Valentine's Day recipe this year. Valentine's is just not a big thing for me and I know plenty of people who feel the same way. But then I discovered homemade marzipan and I got carried away.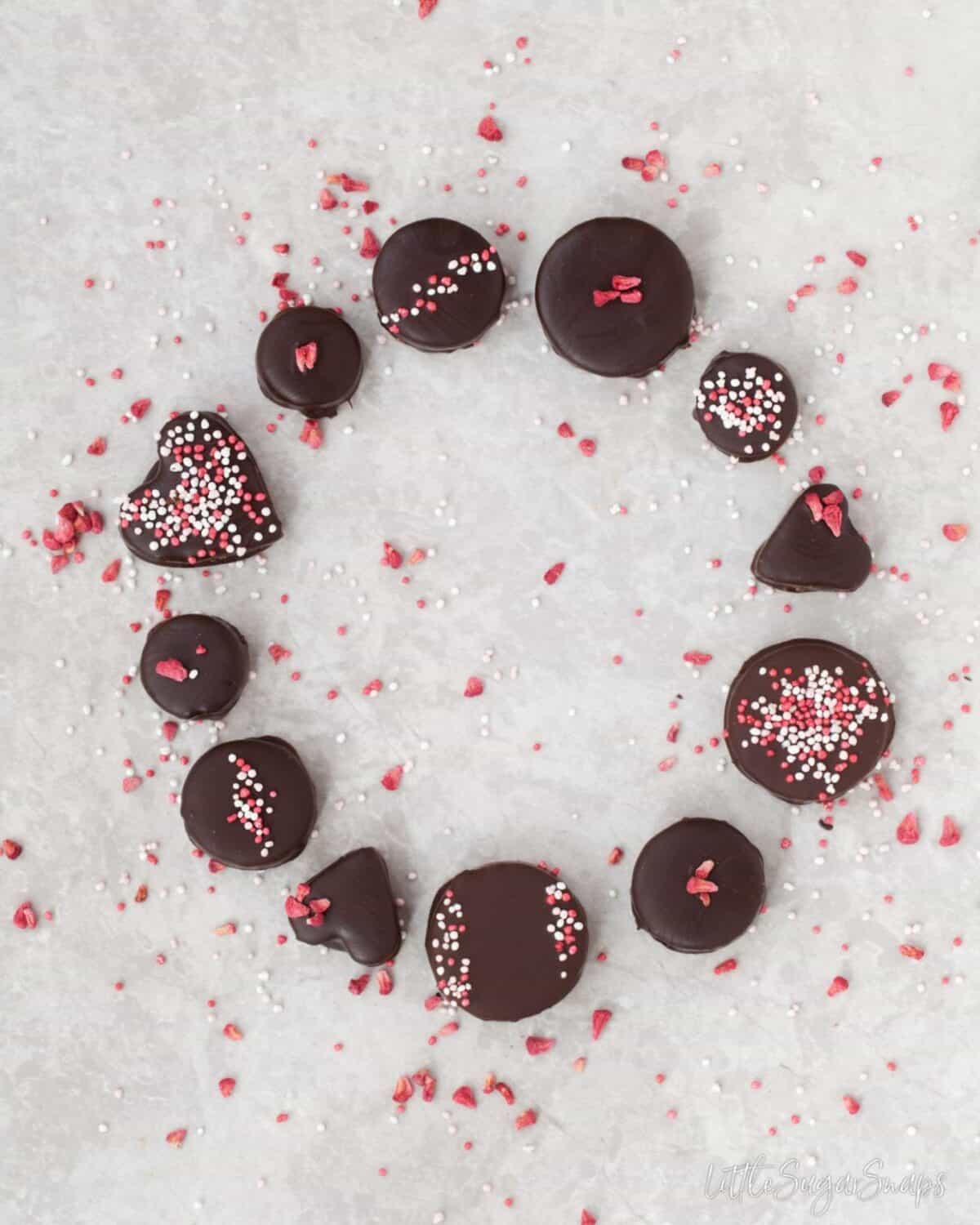 I'm intrigued by marzipan. Somehow it manages to win the hearts of adults & children alike. It's the latter camp that fascinates me. I'm sure 99% of kids are born with a deep loathing for nuts. I'm 99.99% certain that this is the case. But crack open the marzipan and it's a whole different story. I think because marzipan is so inherently sweet, and so utterly moreish, even the die-hard nut hating child cannot resist a nibble.
What I've come up with is a subtle Raspberry Marzipan that can be cut into any shape your feel like making – hearts or not.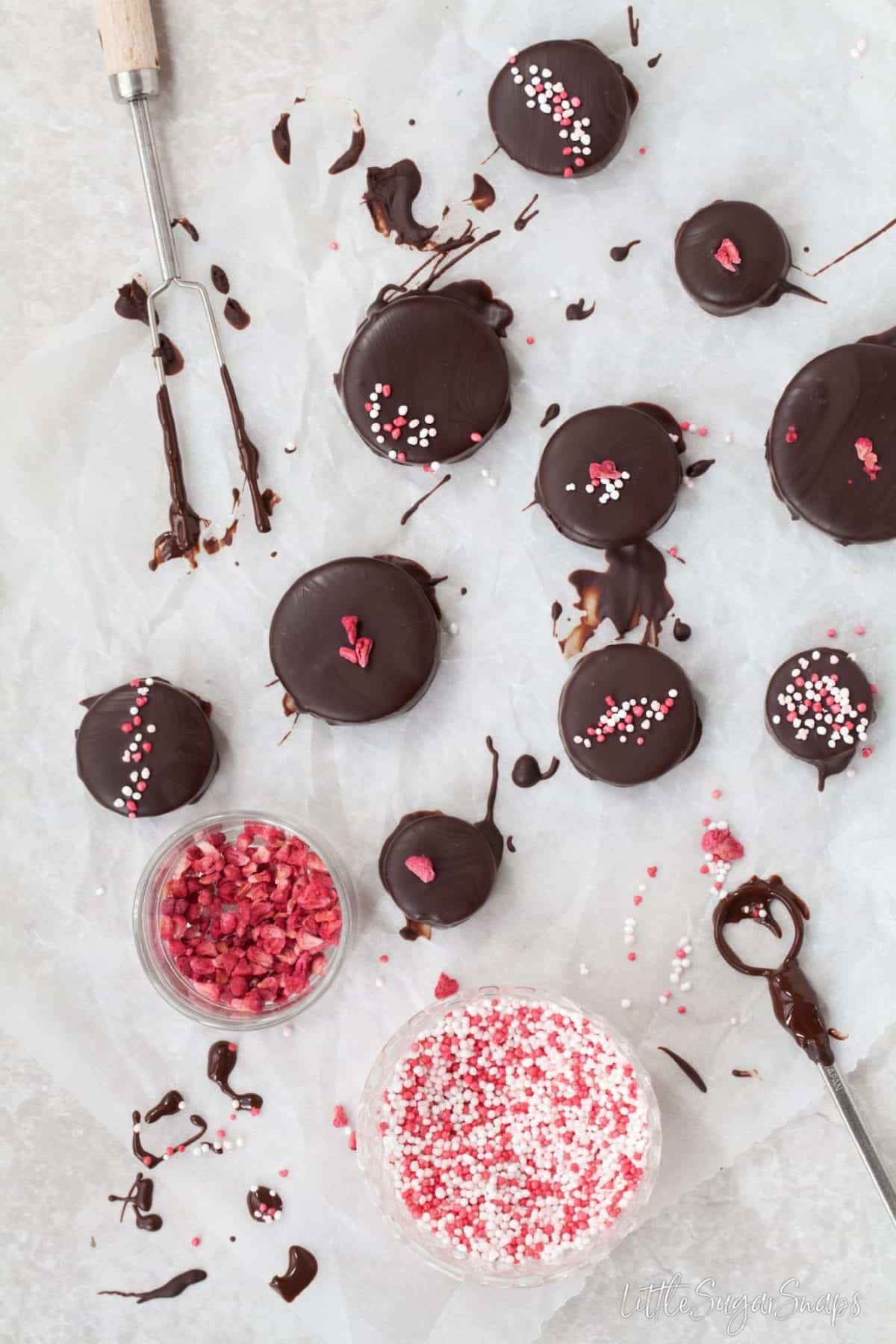 Bonus: this recipe is not just for Valentine's Day.
This Raspberry Marzipan could be cut into egg shapes for Easter or cut into a variety of Christmas themed shapes. Leaving aside those quirky seasonal choices, plain old circles or rolling it into balls will more than suffice for the remainder of the year. Whatever shape you decide upon the nutty centre with a hint of raspberry will delight in the way that only marzipan can do. It's a sweet joy.
My one piece of advice would be to stick with dark chocolate when it comes to dipping. As I've already alluded to, marzipan is by nature, on the sweet side, so pairing it with dark chocolate is the best way to ensure the result is not too sweet and it lets the marzipan flavour shine through. Sadly, dipping this Raspberry Marzipan in chocolate does require tempering skills, but I've got a handy guide to help you there.
Actually, I lied. I have another piece of advice. There are a lot of marzipan recipes out there that mix the sugars & almonds directly with egg white. The resulting marzipan is fine, but if you can spare an extra 20 minutes to heat a few of the ingredients together before combining with the nuts, the end result is out of this world. That's the technique I've used to create these Chocolate Dipped Raspberry Marzipan shapes and it's now they only way I'll be making this sweetmeat going forward.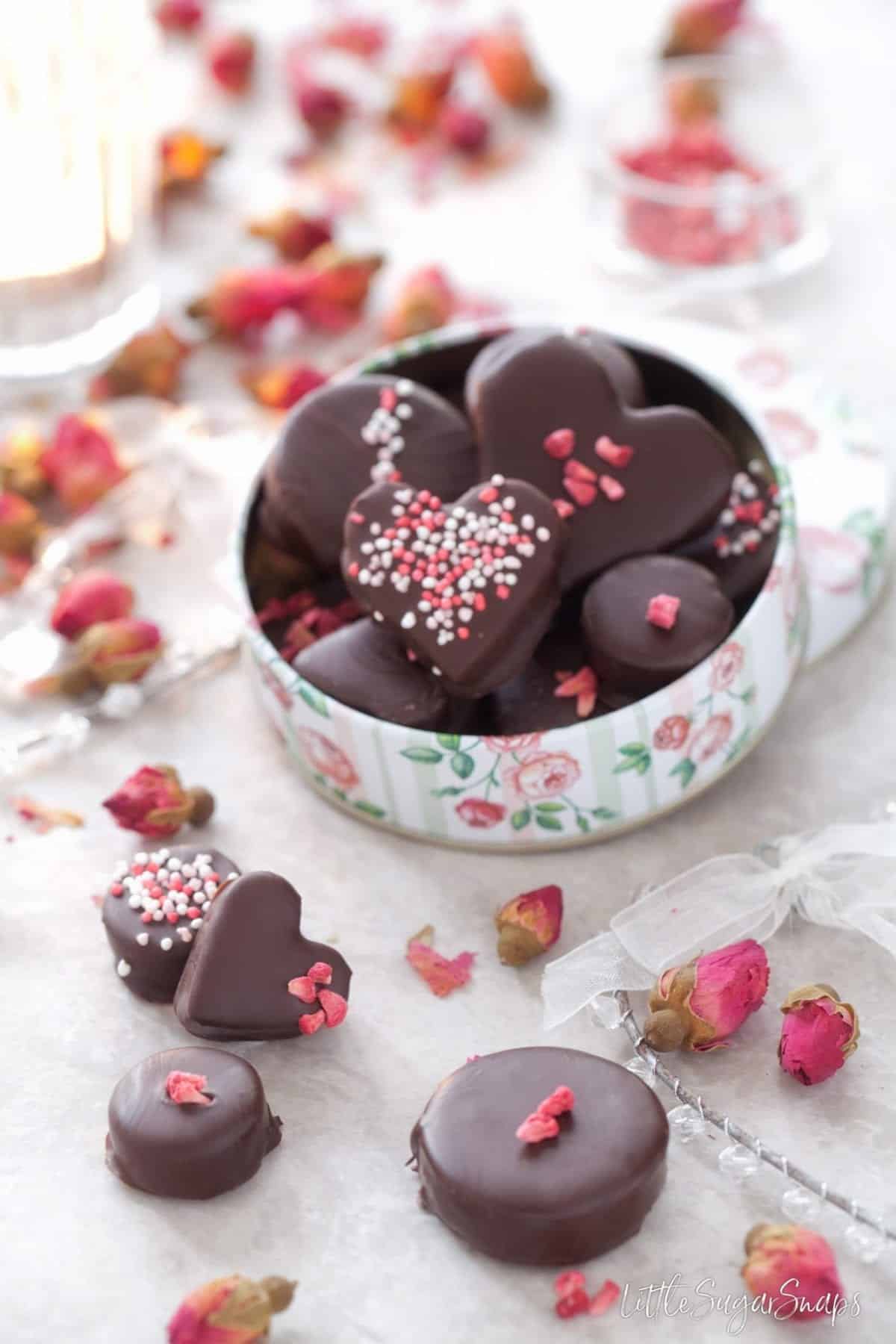 And that's all I have to say about Raspberry Marzipan. Next week I'm talking about a classic Batternberg cake but with a modern twist to the flavours.
Find More Chocolates to Make: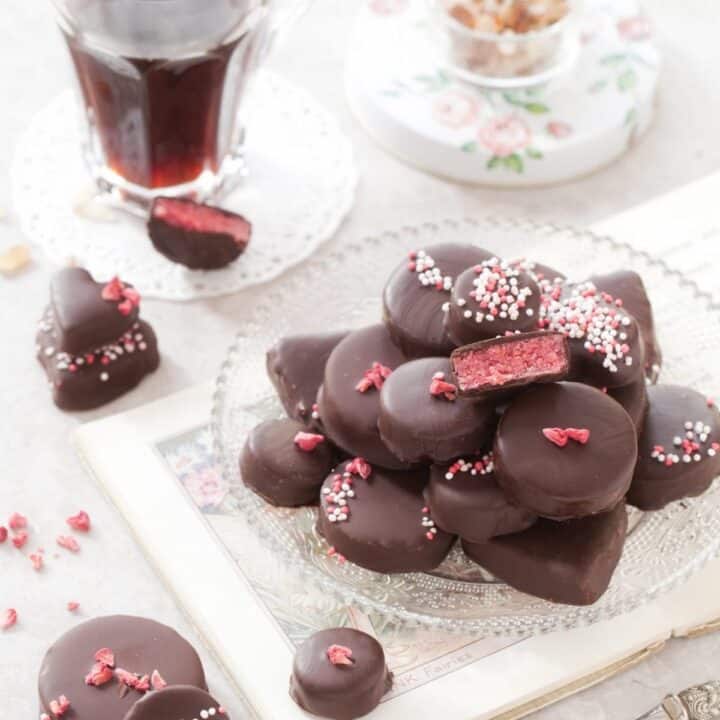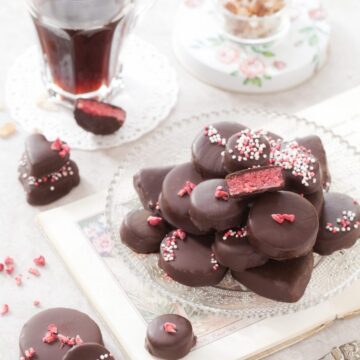 Chocolate Dipped Raspberry Marzipan
Chocolate Dipped Raspberry Marzipan is a sweet delight. Enrobed in dark chocolate this homemade marzipan, subtly flavoured with freeze dried raspberries, gives a modern twist to a longstanding classic.
Print
Pin
Rate
Ingredients
90

g/ ¾ cup

Icing Sugar

90

g/ ½ cup

Caster Sugar

1

Egg

1

teaspoon

Lemon Juice

1

teaspoon

Amaretto (optional)
Pink gel food colouring (optional)
175

g/ 1 ½ cups

Ground Almonds

2

tablespoon

Freeze dried raspberry pieces

300

g/ 2 cups

Dark Chocolate (chopped or chips)
Instructions
Fill a sink 3 inches deep with cold water

Put the freeze dried raspberries and 2 tablespoon ground almonds into a coffee grinder (or small processor) and blitz until fine

Put the sugars and egg into a medium sized heatproof bowl and place over a pan of barely simmering water

Using electric beaters whisk the mixture for around 10 minutes until the temperature registers 50-60C/ 125-140F and the mixtures falls into ribbons than do not blend straight back in when the beaters are lifted out

Put the bowl into the sink for 2 minutes to stop the mixture cooking further

Remove from the sink and beat in the lemon juice and the Amaretto (if using). Continue to whisk until the temperature has dropped to 25C/ 75F and the mixture has thicken further

Add the freeze dried raspberries and ground almonds, along with a small dab of food colouring (if using) and stir in

Tip onto a work surface and knead briefly until an even colour is attained throughout. Add a little extra icing sugar (sieved) if the mixture is too sticky. You are aiming for a soft, but not sticky consistency, similar to pastry

On greaseproof paper, roll the marzipan out to a thickness of ¾ cm (⅓ inch) and cut shapes of your choice out. Re-roll the leftovers until all of the dough is used up. Refriudgerate the cut of shapes for 30 minutes

Temper the chocolate (see the guide on Patisserie Makes Perfect) and line a baking sheet with greaseproof paper

Drop a marzipan shape into the melted chocolate and push it just under the surface of the chocolate. Lift it out of the chocolate with a fork or dipping tool and tap the fork several times against the side of the bowl to remove any excess chocolate

Transfer to the lined baking sheet. Decorate with colourful sprinkles or freeze dried raspberry flakes if desired. Repeat the process with the remaining marzipan and chocolate.
Notes
There will be leftover dipping chocolate. From experience, it's far easier to dip in plenty of chocolate than an amount that is only just enough. Save the leftover chocolate and melt into hot milk for a delicious hot chocolate with a slight nutty taste.
(Visited 406 times, 1 visits today)