This Ancho Reyes cocktail gives a punchy revamp to the classic espresso coffee martini recipe. It's a triple whammy of flavour: coffee, almonds and spice.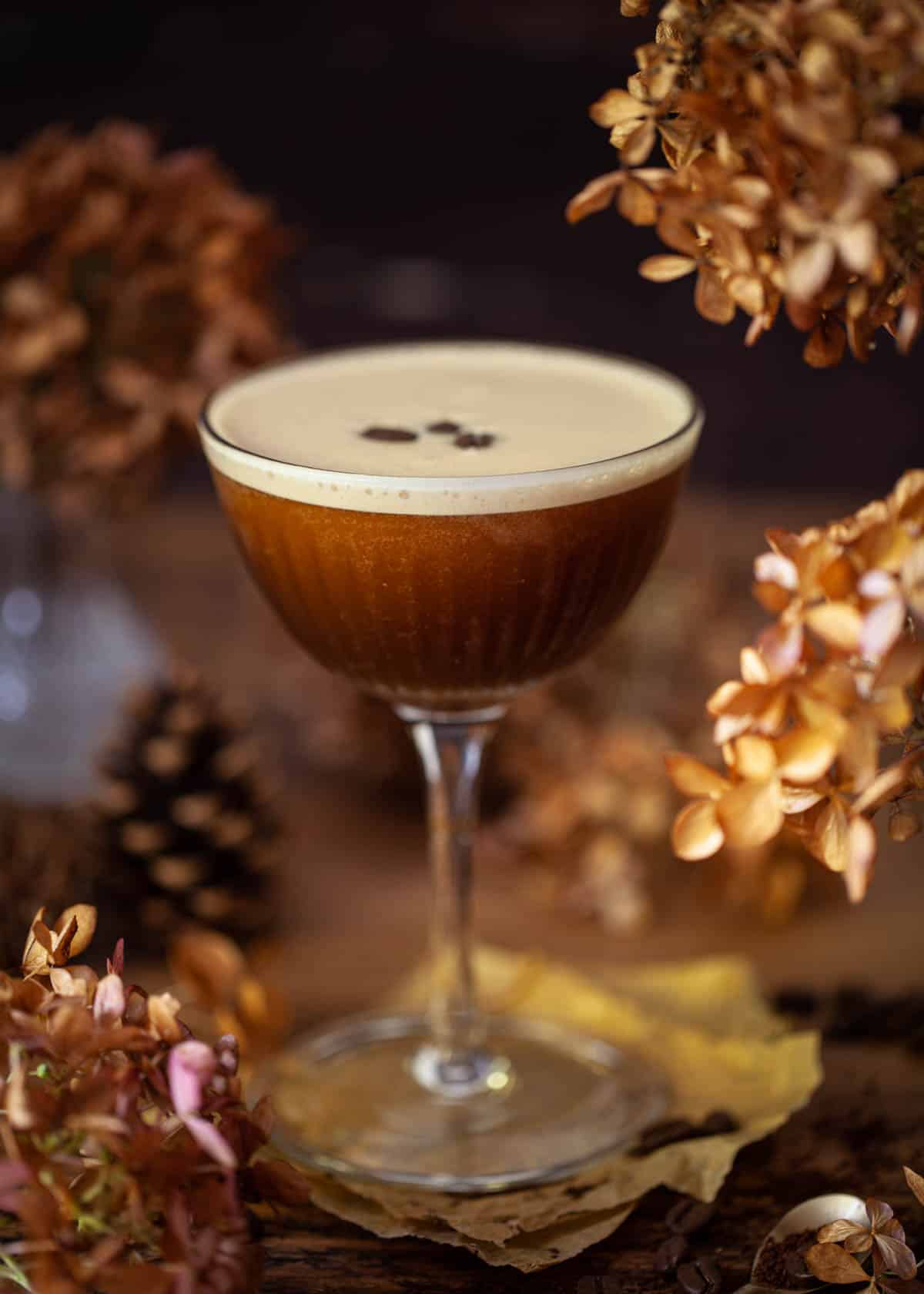 IN COLLABORATION WITH THE BRANDS FEATURED IN THIS GUIDE. ALL OPINIONS ARE MY OWN.
Welcome to my Christmas Gift Guide Part 1, which is all about drinks.
Heading up the drinks section of this guide is this beautiful espresso coffee martini recipe. But this is no ordinary espresso martini. I discovered Ancho Reyes liqueur this summer, and have been desperate to create an Ancho Reyes cocktail (available from Amazon).
This is it. If you like, it's a coffee martini livened up with the warming and sweet, yet spicy, flavour profile of Anchos Reyes chilli liqueur.
As usual, I'm going to talk about the ingredients and how to make this cocktail, then I'll change tack and delve into my top picks of gifts on the drinks front for this festive season.
Ingredients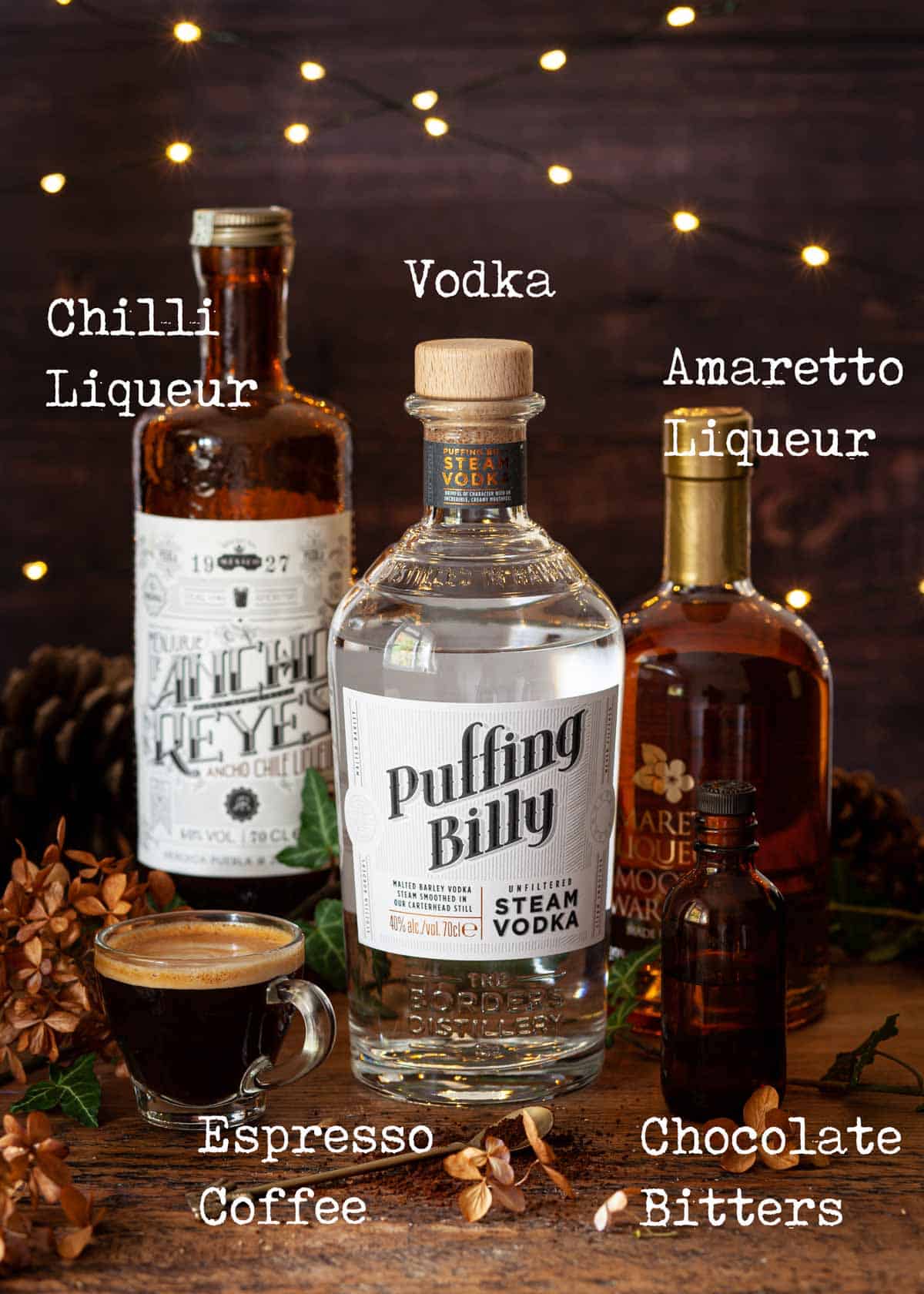 Inspired by a coffee cocktail I once tried at Dishoom, I've compiled this Ancho Reyes cocktail with nothing but quality ingredients. The majority of which you will be familiar with already.
I've used both Amaretto and the rather unusual, but deeply delicious, Ancho Reyes liqueur to replace the coffee liqueur in my martini. Ancho Reyes is Mexican chilli liqueur available at well-stocked drink stores and amazon.
This combination is enough to sweeten the drink slightly and the undertones of the almonds and chilli spice are a winning partnership with the rich coffee and smooth vodka. It's a knockout cocktail to get into.
How to make This Drink
Making this Ancho Reyes cocktail could not be easier:
Step 1: Brew your espresso coffee fresh, then pour it, along with the other ingredients, into a cocktail shaker loaded with plenty of ice
Step 2: Secure the lid and shake vigorously for 30-40 seconds until the drink is ice cold and wonderfully frothy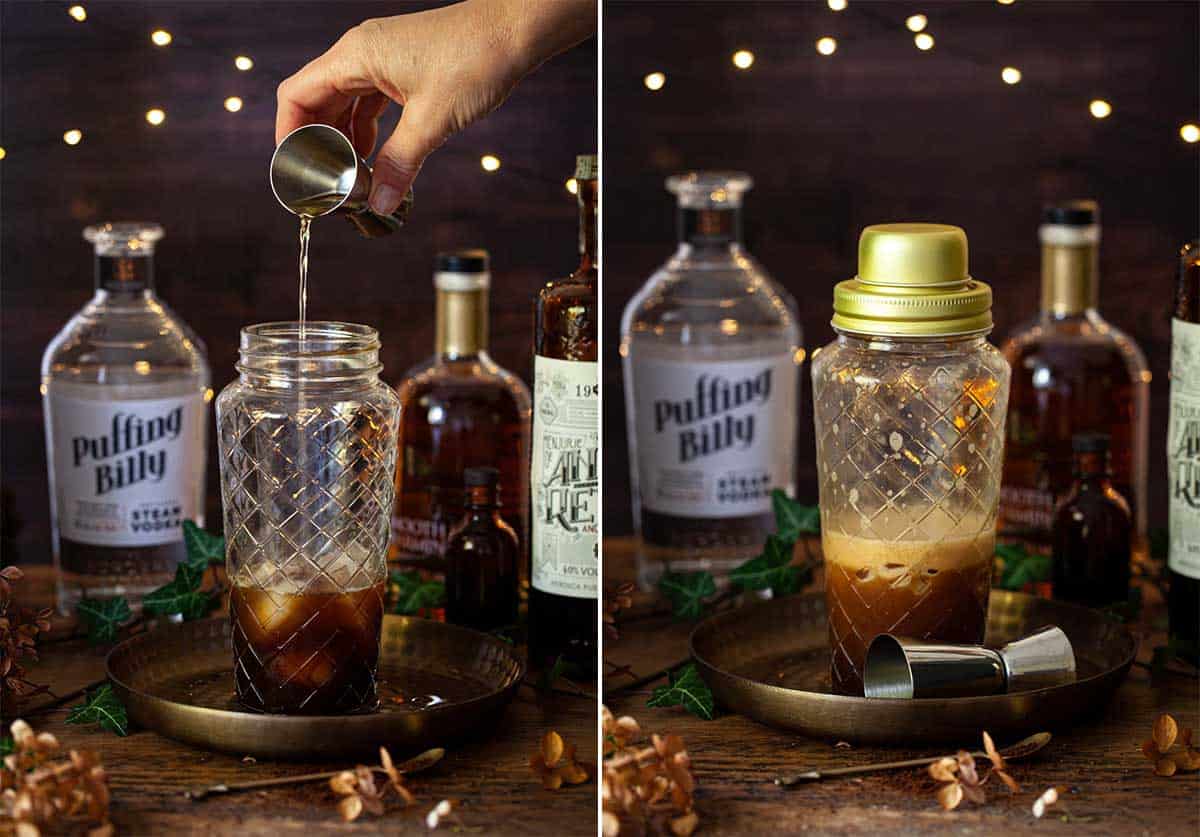 Step 3: Strain the espresso coffee martini into a pretty cocktail glass and garnish with a few coffee beans
Tips and Frequently Asked Questions
This Ancho Reyes cocktail is very easy to make, so there are really only a few tips to give:
pop your serving glass into the freezer for 15 minutes just before serving. This will allow you to serve your coffee martini deliciously chilled
hot espresso has a better crema than cold and this crema blends into the drink to give better body to the cocktail. Use freshly brewed espresso if possible
use plenty of ice to help bring the temperature of the coffee down quickly
Can I use instant coffee?
Technically, yes, instant coffee can be used to make this cocktail. However, you are unlikely to get the delicious foamy top that is the signature garnish on this simple drink.
Can I leave out the chilli liqueur?
Ancho Reyes liqueur adds both spice and sweetness to this libation. If you don't want to include it, use an equal measure of coffee liqueur in its place.
Can I batch make this drink in advance?
If you would like to make this drink in advance ready to shake up when required, do remember that the quality of the espresso crema will be inferior when left to cool and stand.
Though the made-in-advance drink will certainly still be delicious, the texture of the cocktail and the foam on top may not match up to a freshly made version.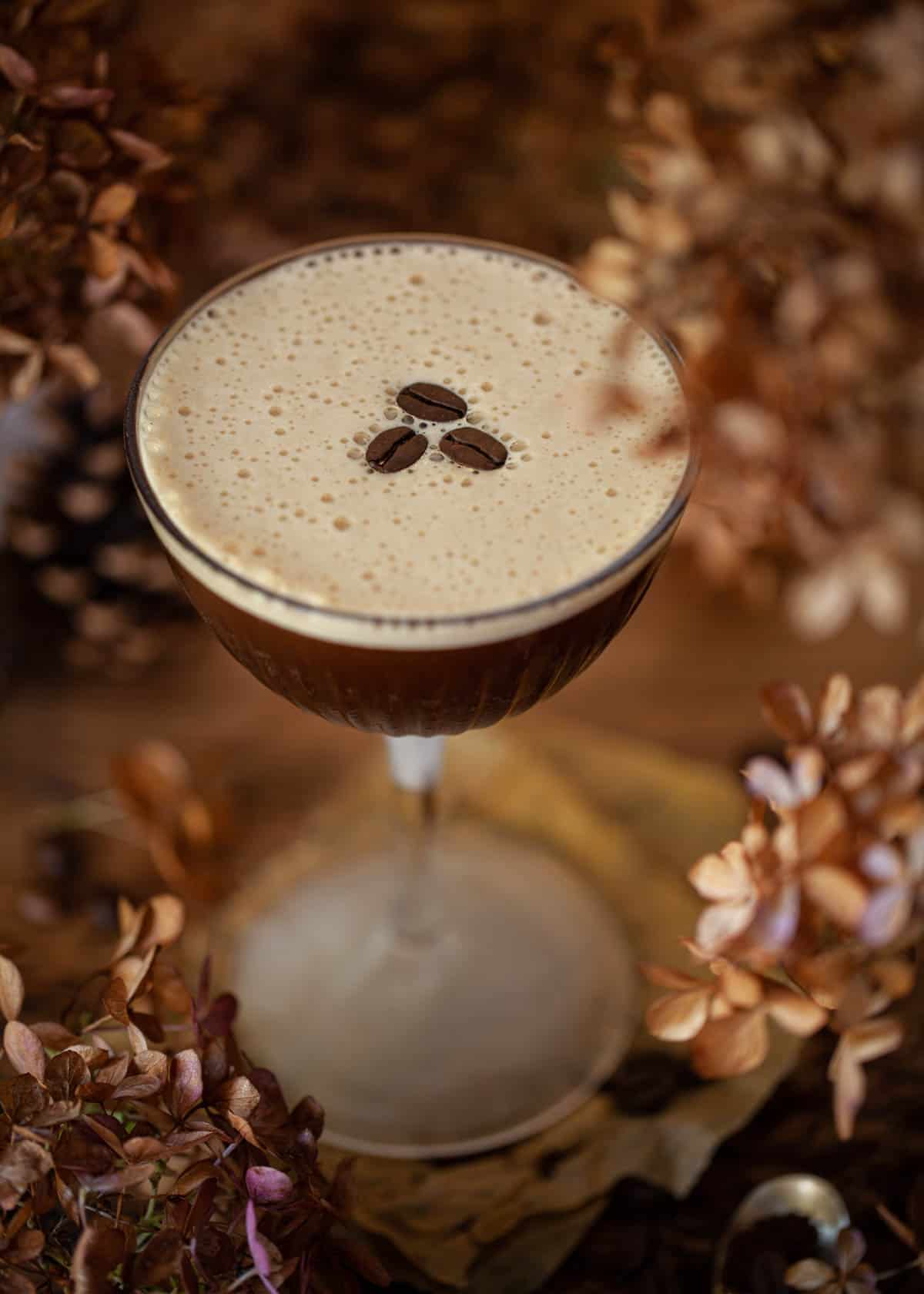 That's the cocktail covered in detail, so let's move on to some gift ideas.
Drinks Gifts for Christmas 2020
It's no secret that I love my drinks. Whether that's a cup of tea to keep me going as I take my kids to their various sports clubs, a sneaky cocktail on a Friday night or a chance to taste and compare spirits.
Well, this year I've discovered a few treats in the drinks department and I'm going to tell you all about them.
The Borders Distillery
First up is the selection of spirits available from The Borders Distillery - a relatively new distillery based in Hawick, Scotland. The team there produce some rather fine whisky, vodka and gin.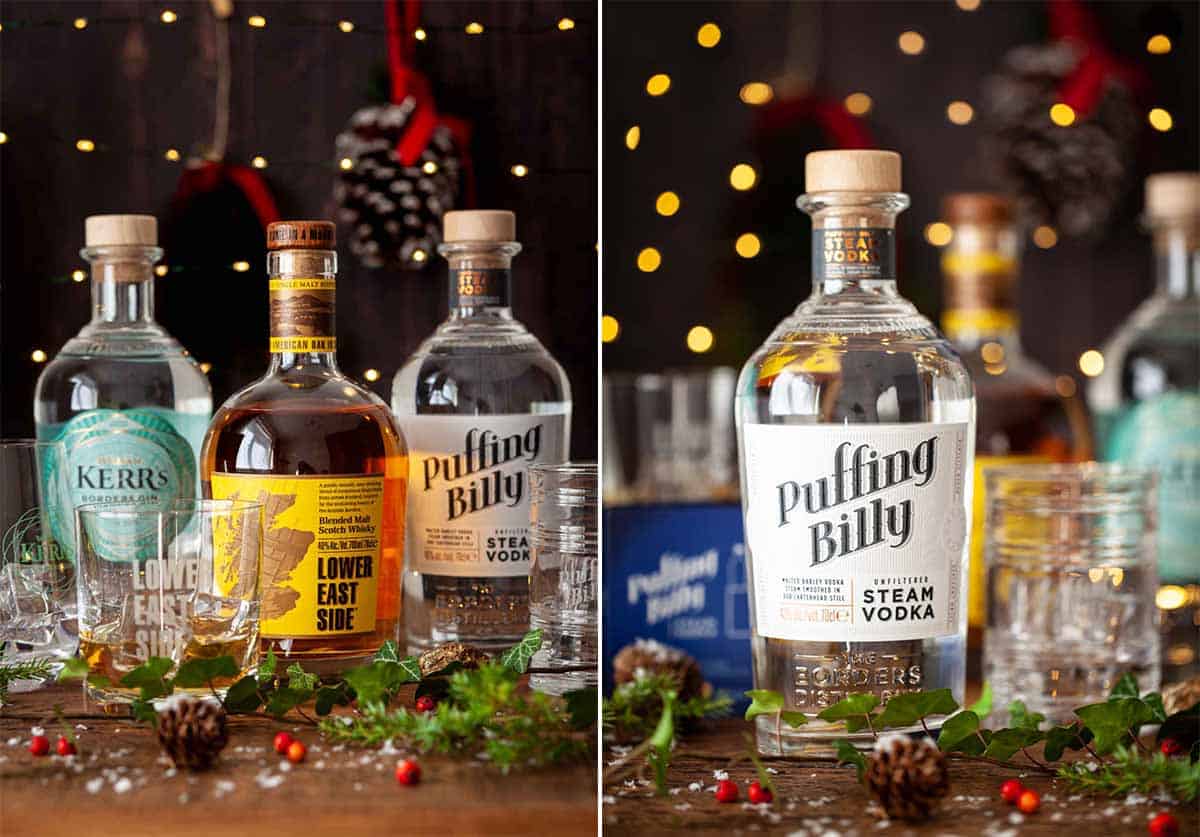 William Kerr's Gin
I'm a great lover of gin and I'm always keen to expand my gin collection. Kerr's has proved to be a great addition. It displays subtle aromas and complex flavours of juniper berries, herbs, roots, flowers and spices. It's a smooth gin with great depth. Easy to fall for.
Puffing Billy Steam Vodka
Puffing Billy is unfiltered malted barley vodka that is made from barley and steamed through charcoal inside the still to preserve the character of the barley.
I've used Puffing Billy in this Ancho Reyes cocktail to capitalise on the creamy finish that this barley based vodka boasts. It's a great balance to the intense coffee flavour and the spicy undertones of this drink.
Lower East Side Whisky
Lower East Side is a blended malt Scotch whisky that is matured in American Oak casks. It's wonderful to sip on as a nightcap. Expect vanilla, almond, and honey notes, with just a hint of smoke.
All of these spirits are available to purchase online directly from The Borders Distillery. They have a fantastic collection of individual bottles, sets and lovely hampers.
Union Coffee
Union Coffee are all about quality, ethically sourced coffee that is roasted to order.
They currently work in 14 countries, with 42 long-term partners, ensuring that they trade directing with coffee farmers to ensure a fair price for the farmer in return for the finest coffee.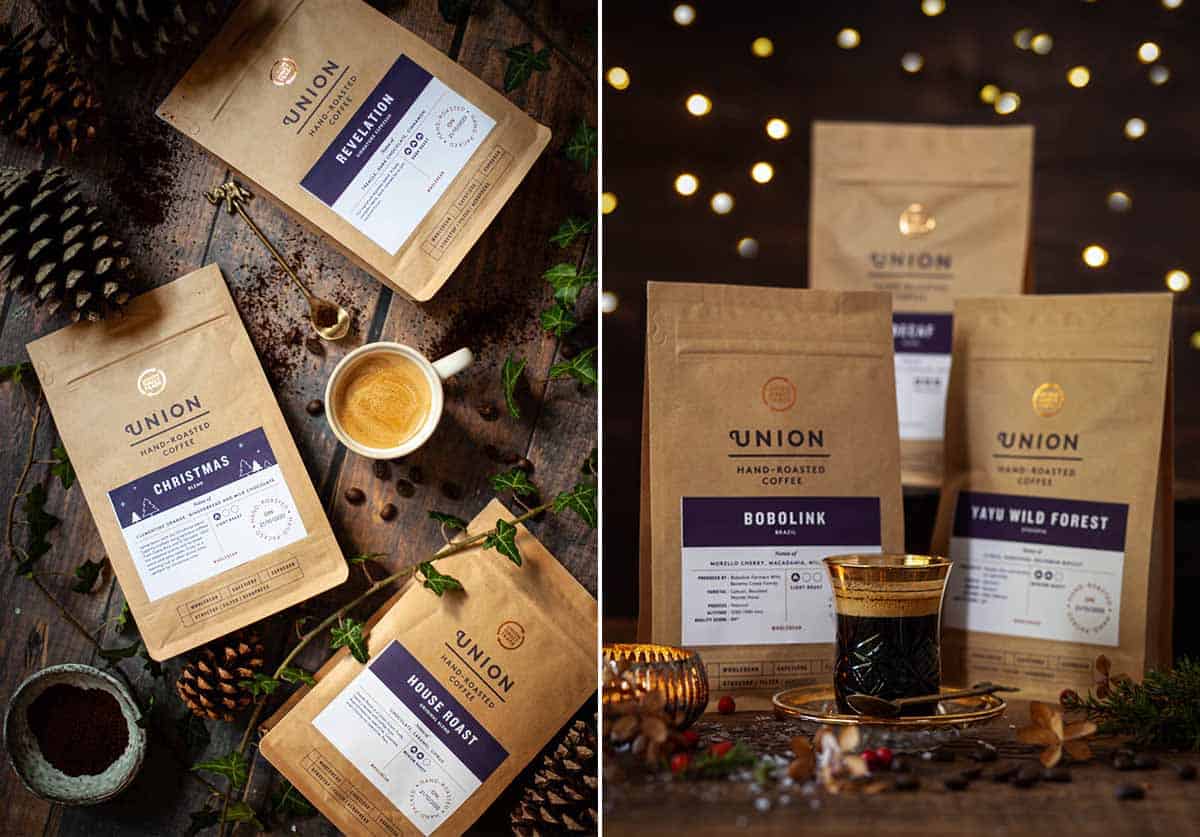 Their selection of coffees is ever-changing. So whilst consumers can head online to select what they wish, Union Coffee also over a CoffeeClub service. With this, members can either select what they wish each time or allow the Union Coffee team to surprise them with something new.
The CoffeeClub subscription is a great option for a unique Christmas gift that can be enjoyed throughout the year. Pick from 3, 6 or 12 months. Alternatively, for a one-off purchase, Union Coffee have some great gift boxes too.
When it comes to making a coffee martini I always use freshly brewed espresso for an intense flavour and superior foamy top. I used Union's signature espresso, Revelation, in my Ancho Reyes cocktail for its rich taste with pleasing notes of treacle, chocolate and sweet spice. Gorgeous!
Rum Advent Calender
After the fun of enjoying a bourbon advent calendar last year, I'm excited to be opening a rum calendar this year.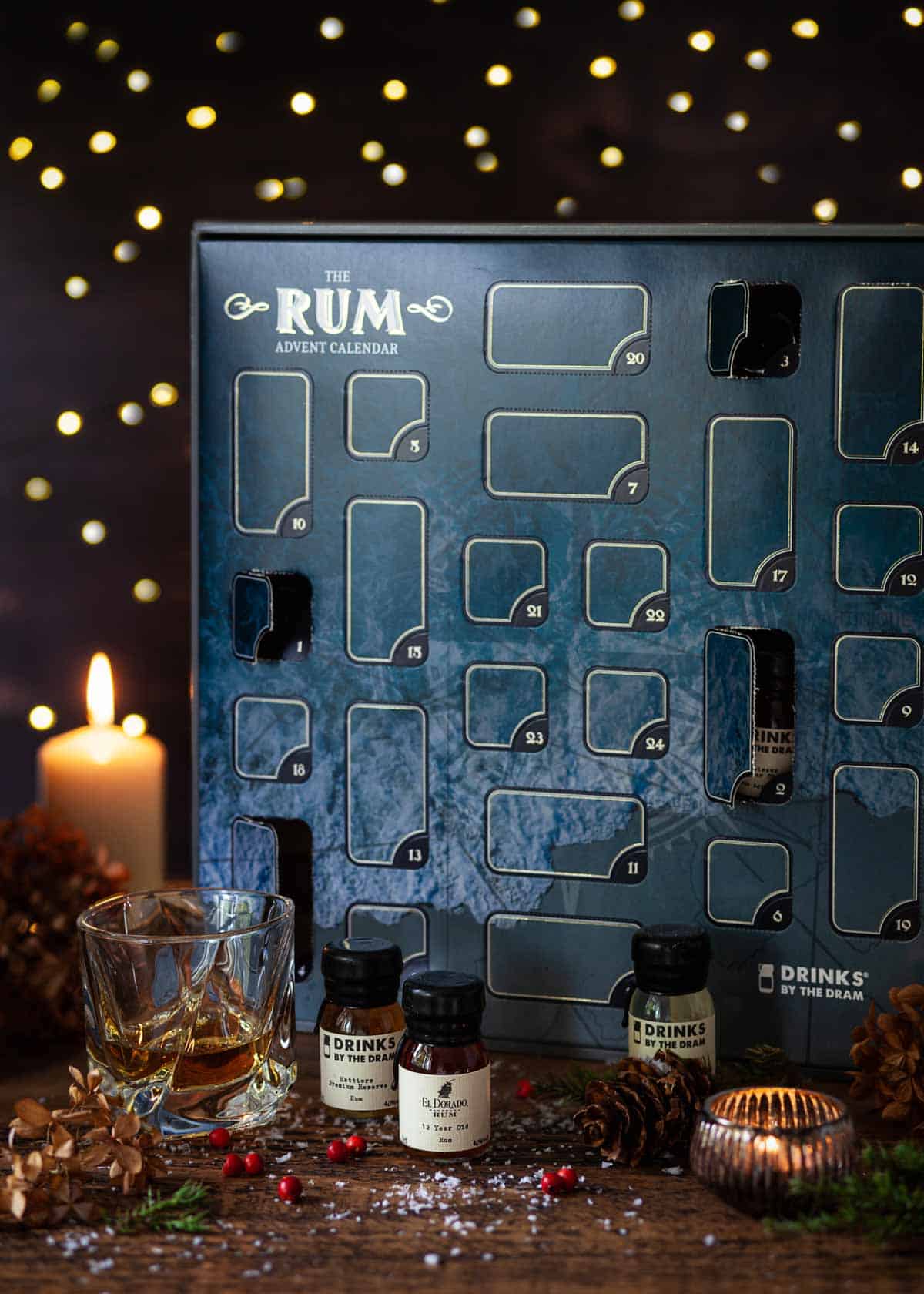 The beauty of these single spirit advent calenders from Drinks by the Dram is that they include a wide range of carefully compiled drams in each one.
Last year we (unsurprisingly my husband was keen to join in) chose to enjoy the drams of bourbon 2 at a time. Each dram was split into 2 servings, so that we could sample several bourbons side by side and identify the differences. It was quite a delightful and eye-opening experience.
Drinks by the Dram have a great selection of advent calendars to choose from again this year. Offerings include whisky, bourbon, gin, vodka and rum. And for the whisky specialists, calendars include Japanese whisky, Scotch whisky, single cask whisky and an Old & Rare whisky calendar.
If ever you were wondering if you really could taste the difference this is a great way to confirm that yes, you certainly can.
Barware from Cellardine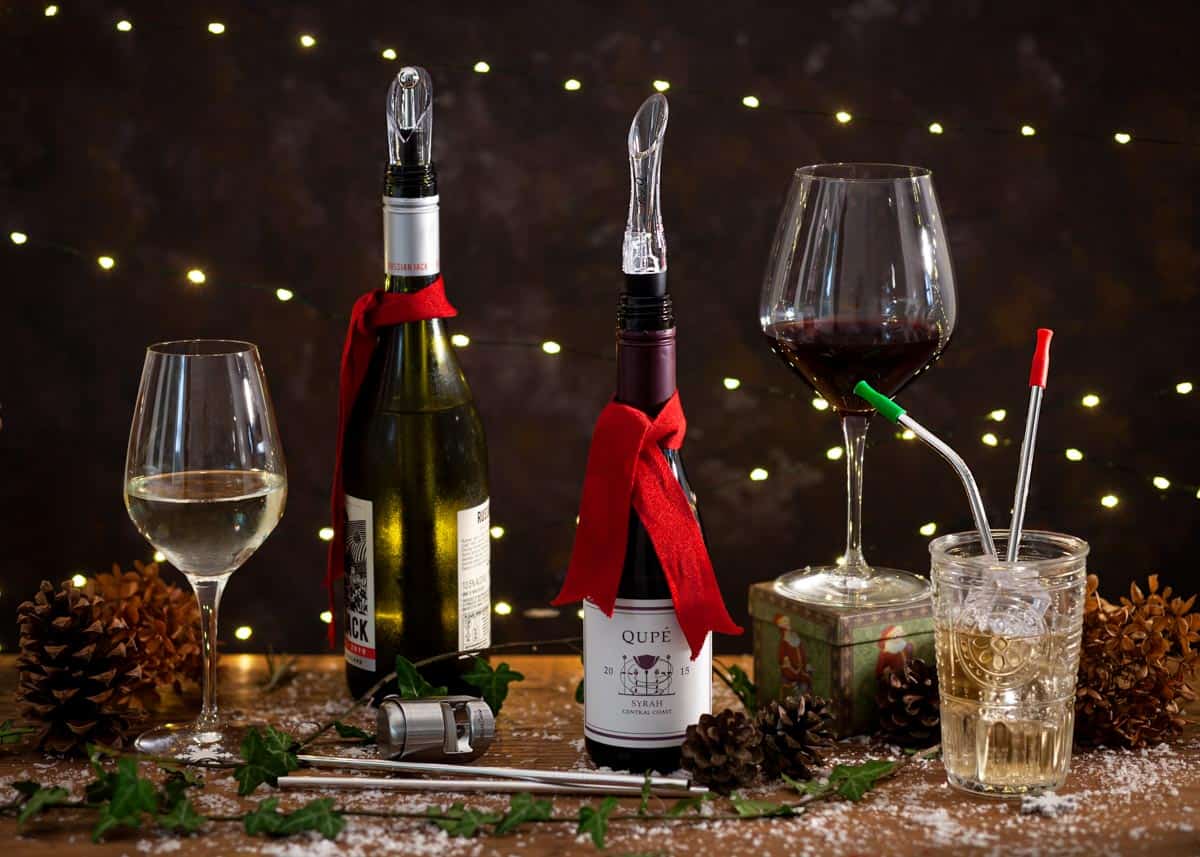 If wine is more your style that this Anchos Reyes cocktail, then Cellardine have some great gift options for your consideration.
I've found their ChillCore 3-in-1 highly useful as I'm prone to forgetting to put white wine in the fridge. But this small and nifty gadget is the answer to my recurrent problem. It stores in the freezer so it's ready to pop into a bottle of wine and chill it in 15 minutes flat. Genius.
Be sure to look at their other gift options too. They have plenty of bar equipment that would make thoughtful stocking fillers such as stainless steel straws and Champagne bottle sealers. One of my favourites is the Rouge 02, which aerates red wine as it is being poured from the bottle.
Reusable Portable Cups from Klean Kanteen
It's fair to say that there have been massive innovations in the world of reusable drinks cups over the last decade. And it's so good to see.
After soldiering on with what I affectionately call my first-generation re-usable cup for the last few years, I decided enough was enough and it was time to replace my dear old (leaky) mug as it was no longer fit for purpose. I'd owned it for near on a decade, so that's a lot of drinks it has served me.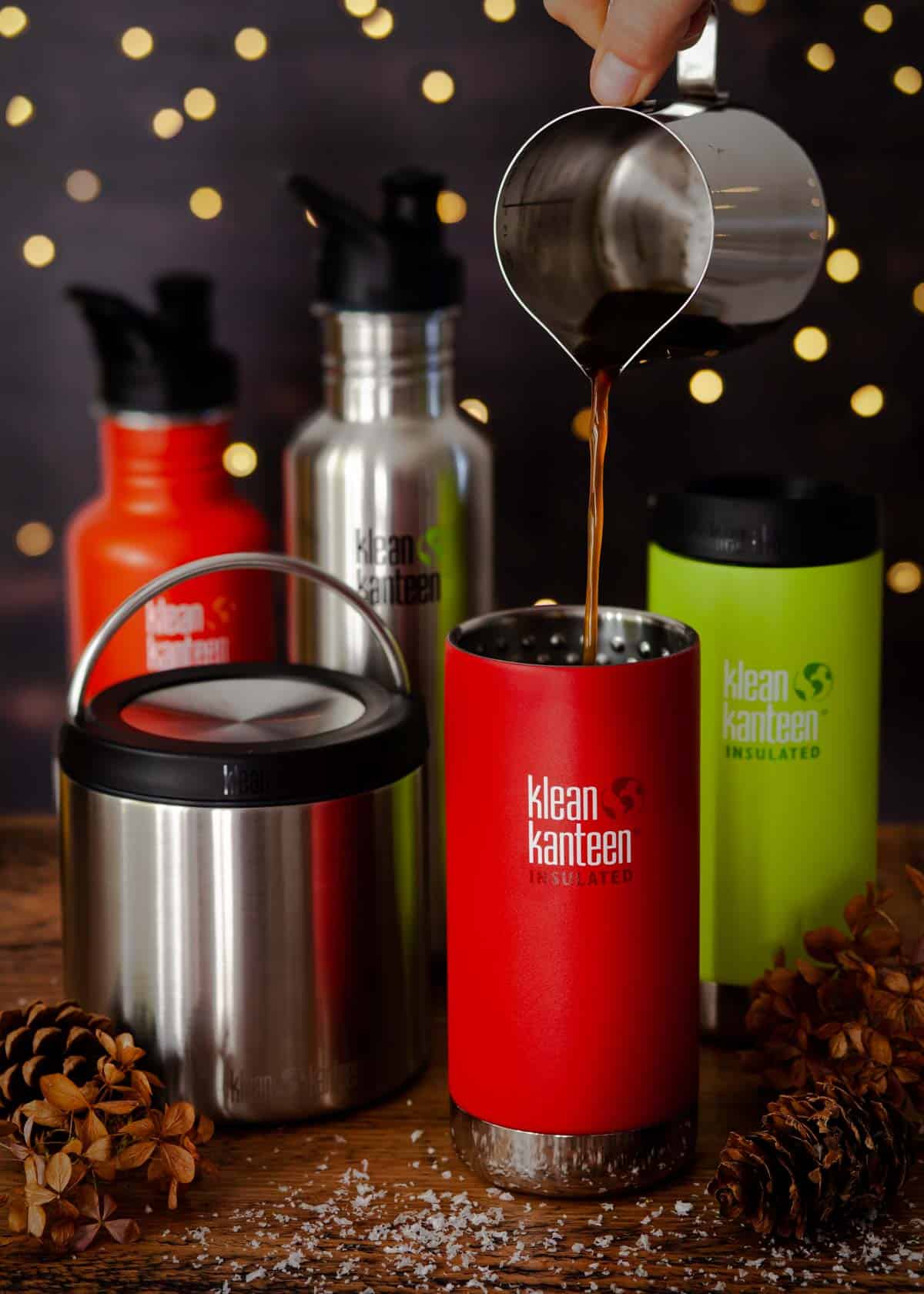 Its replacement is a TKWide mug from Klean Kanteen. This drinks mug is vacuum insulated, so my beverage can stay hot (or cold) for hours (big improvement). And I can seal the lid firmly, so I have no more leaks to worry about when I'm on the go.
Available in a range of funky colours, these mugs have a smooth, rounded lip and interchangeable caps so you can switch them up depending on your needs. It's also designed to last for years.
Kleen Kanteen offers an extensive range of durable drinks bottles and food canisters to make our lives stylishly easier and less reliant on single-use plastic. Hurrah!
More Gift Ideas
If you still have an appetite for more shopping ideas take a look through the second part of my gift guide which focuses on food. You'll also pick up the recipe for some lovely festive lemon cookies as you browse.
If you still need more inspiration for Christmas gifts, take a flick through my 2019 gift guide.
Have you made my espresso coffee martini? It's a fantastic introduction to the sweet yet spicy profile available in Ancho Reyes cocktails and I hope you enjoyed it. I'd love it if you left a rating or comment to let me know how you got along.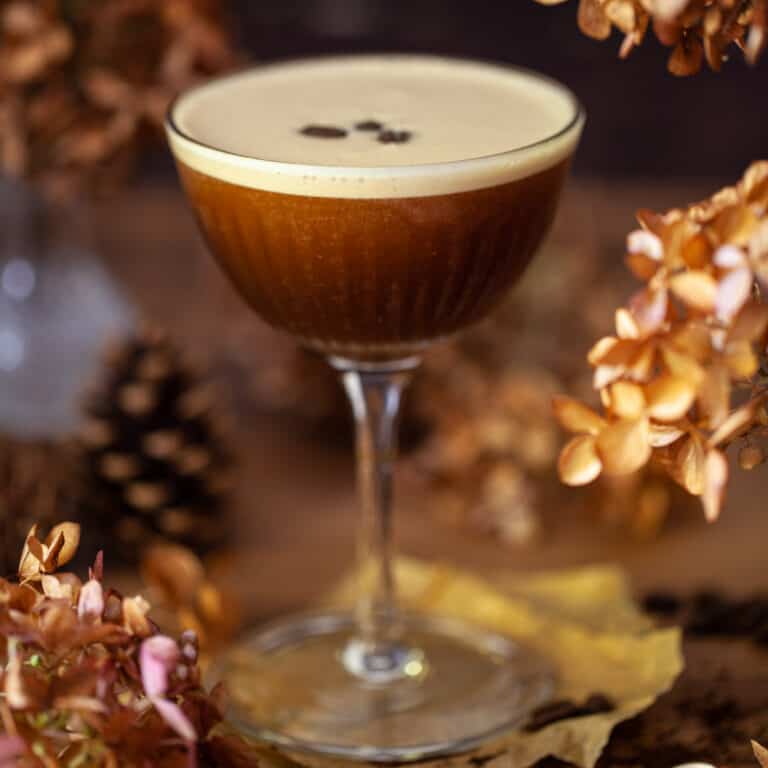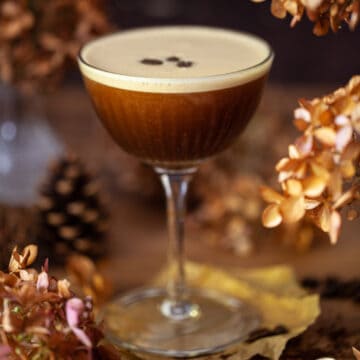 Espresso Coffee Martini - An Ancho Reyes Cocktail
This espresso coffee martini is no ordinary affair. It's a triple whammy of flavour: coffee, almonds and spice. Easy to make, it's a fine Ancho Reyes cocktail to try out.
Print
Pin
Rate
Ingredients
40

ml

Espresso

Freshly brewed using 15g/ ½oz ground espresso coffee

40

ml

Vodka

Puffing Billy is excellent

20

ml

Amaretto liqueur

15

ml

Ancho Reyes liqueur

3

Drops

Chocolate bitters

3

Coffee beans

for garnish
Instructions
Put a cocktail glass in the freezer to chill for 15 minutes

Pour the liquid cocktail ingredients into the base of a cocktail shaker and add plenty of ice (around 8 ice cubes)

Secure the lid and shake for 30-45 seconds until the drink is thoroughly chilled and the drink is frothy

Strain into the chilled cocktail glass, using a cocktail strainer if necessary, to ensure the ice does not fall into the glass

Garnish with coffee beans and serve immediately
Notes
pop your serving glass into the freezer for 15 minutes just before serving. This will allow you to serve your coffee martini deliciously chilled
use plenty of ice to help bring the temperature of the coffee down quickly
hot espresso has a better crema than cold and this crema blends into the drink to give better body to the cocktail. Use freshly brewed espresso if possible
although instant coffee can be used to make this cocktail you are unlikely to get the delicious foamy top that is the signature garnish on this simple drink. Freshly brewed espresso coffee is needed for this
if you would like to make this drink in advance ready to shake up when required, do remember that the quality of the espresso crema will be inferior when left to cool and stand. Though the made-in-advance drink will certainly still be delicious, the texture of the cocktail and the foam on top may not match up to a freshly made version
Nutrition Per Serving (Approximate)
Calories:
226
kcal
|
Carbohydrates:
14
g
|
Protein:
1
g
|
Fat:
1
g
|
Saturated Fat:
1
g
|
Sodium:
8
mg
|
Potassium:
46
mg
|
Sugar:
13
g
(Visited 1,298 times, 3 visits today)