Lemon shortbread cookies are easy to make in a food processor and very versatile: emboss them or leave them plain-cut. This recipe can easily be adapted to make Christmas shortbread cookies with sprinkles in the dough too.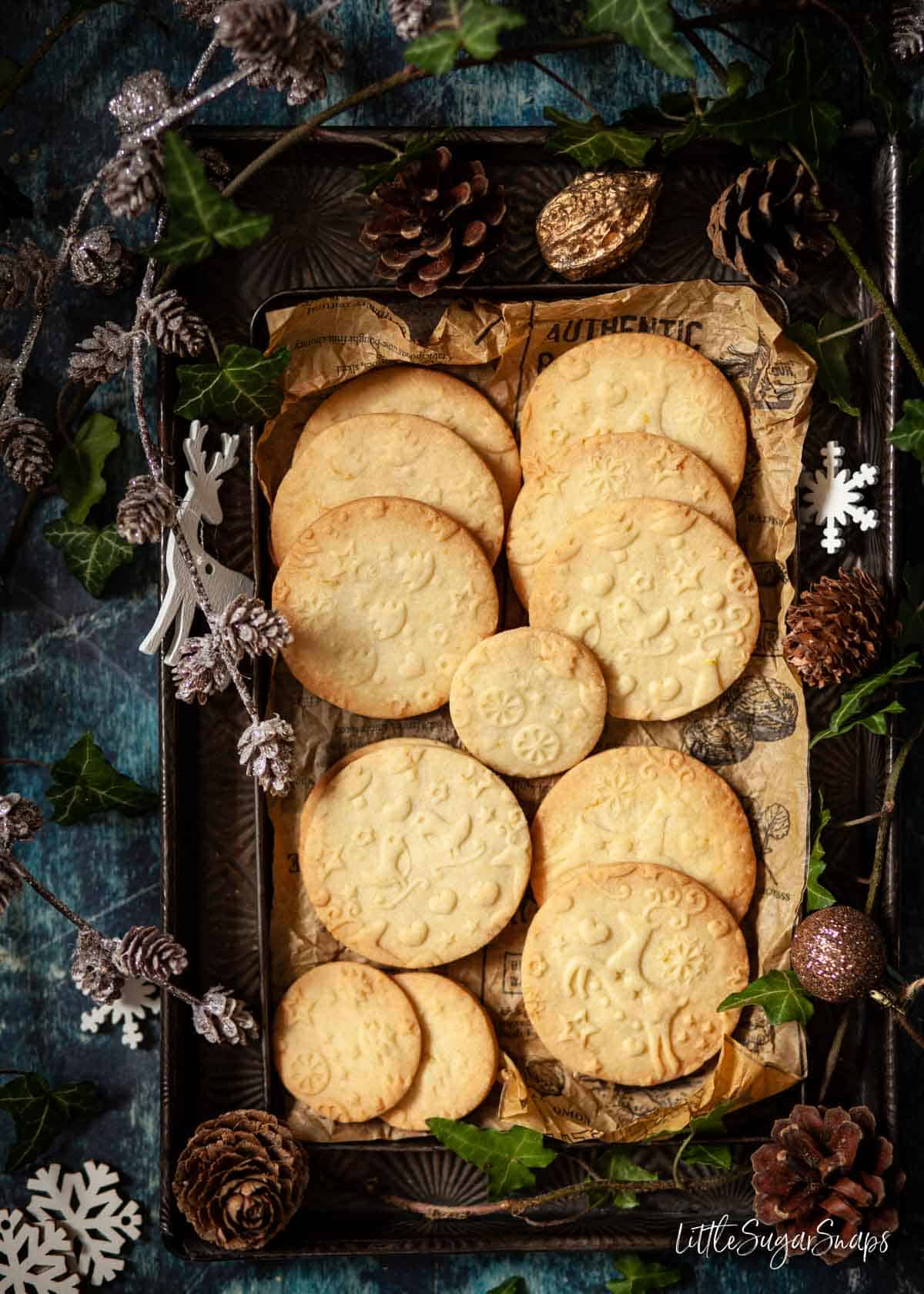 IN COLLABORATION WITH THE BRANDS FEATURED IN THIS GUIDE. ALL OPINIONS ARE MY OWN.
Welcome to my Christmas Gift Guide Part 2, which is all about food. My Christmas Gift Guide Part 1 covers a select few items related to drinks.
But before we get to the gifts, let's talk about the headline act, these rather pretty lemon shortbread cookies. They may look fancy but, trust me, if you are after an easy cookie recipe this is it.
These lemon shortbread cookies look charmingly festive as I've presented them. But they are in fact freshly and subtly flavoured just with lemon, making them suitable for year-round enjoyment.
The base recipe can also be tweaked to turn the dough into Christmas shortbread cookies. Gently flavoured with vanilla and loaded up with festive sprinkles, they are bound to capture the hearts of children.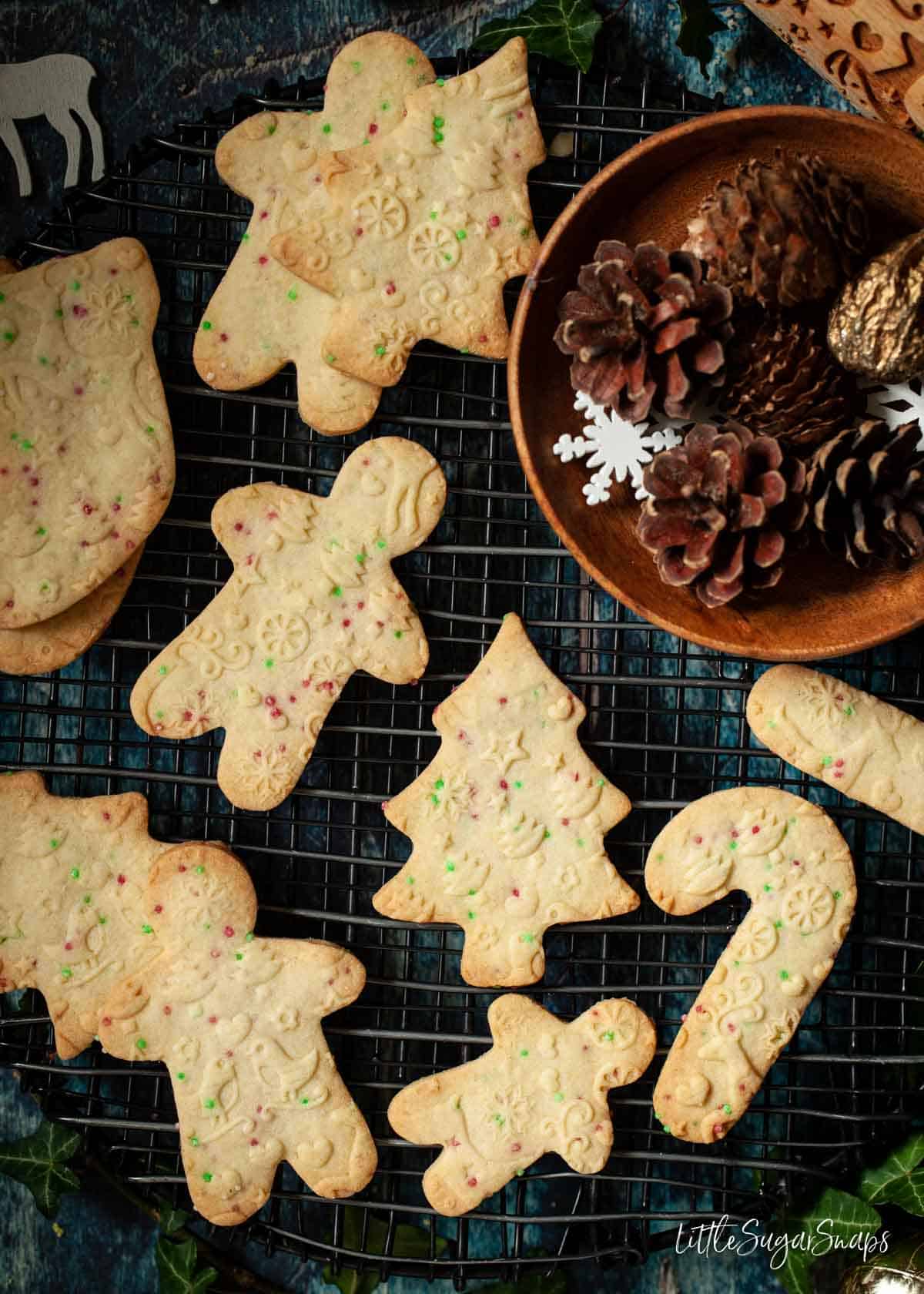 Both variations of these shortbread cookies are devilishly delicious in their own right.
In what follows, I'll first of all talk about the ingredients and how to make these cookies. Then I'll switch to talking about my top picks for food-centric gifts for this coming festive season and round things off with a competition. Let's get stuck in.
Ingredients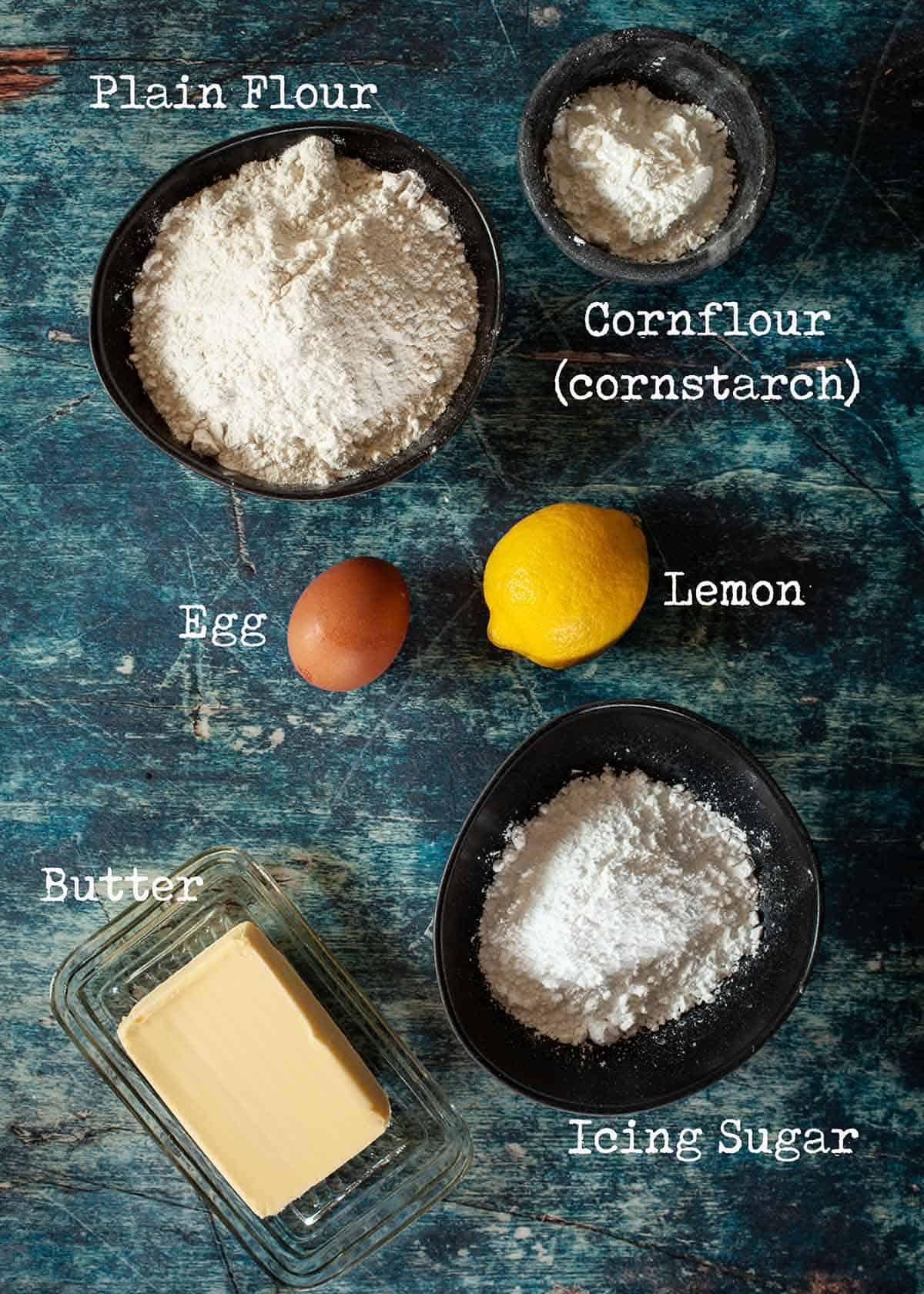 The picture says it all – easy ingredients for some easy lemon shortbread cookies.
I've included cornflour as I find it helps to make that melt in the mouth texture we all crave when eating shortbread. Similarly, this is why I've used icing sugar rather than caster sugar.
The egg is essential. Without it the cookies would spread in the oven and that beautiful embossing would be lost.
Step By Step Instructions
Step 1: Put the flours, sugar, lemon zest, salt and icing sugar into the base of a food processor. Pulse briefly 10-12 times to break up the zest and ensure all ingredients are smooth and lump free. Add the cubed butter then continue to pulse until the mixture resembles fine breadcrumbs
Step 2: Add the egg and lemon juice and give a few short pulses to combine the ingredients. It should resemble uncooked crumble topping when finished – a bit lumpier than breadcrumbs, but still relatively loose
Step 3: Tip onto a worktop and use your hands to press the dough together. Split into 2 and flatten into discs (it's easier to roll out in half quantities). Wrap in clingfilm, then chill for 1 hour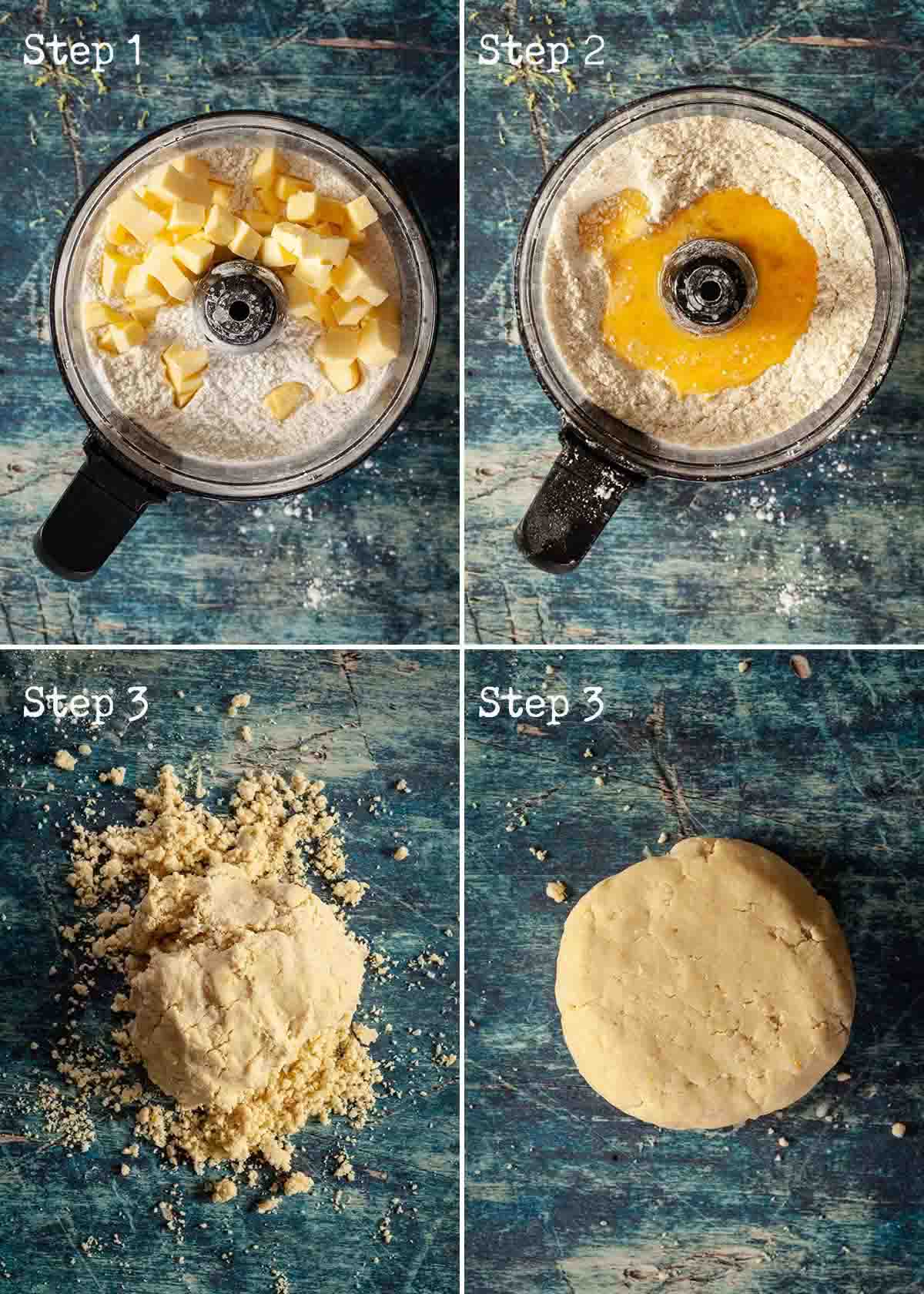 Step 4: Using a standard rolling pin, roll one disc of dough out on a lightly floured worktop to around 3mm thickness (approx the depth of a £1 coin). Use an embossing rolling pin to create a pattern: lightly dust the top of the dough with flour and spread it out with your hands. Roll the embossing pin once across the dough, pressing down firmly and evenly as you go
Step 5: Cut out the cookies using cookie cutters – mine were approx 6cm and 3 ½cm in diameter. Scrape up leftovers and press them together firmly to expel any trapped air and re-roll and cut more cookies out (the dough can be rolled 3 times in total)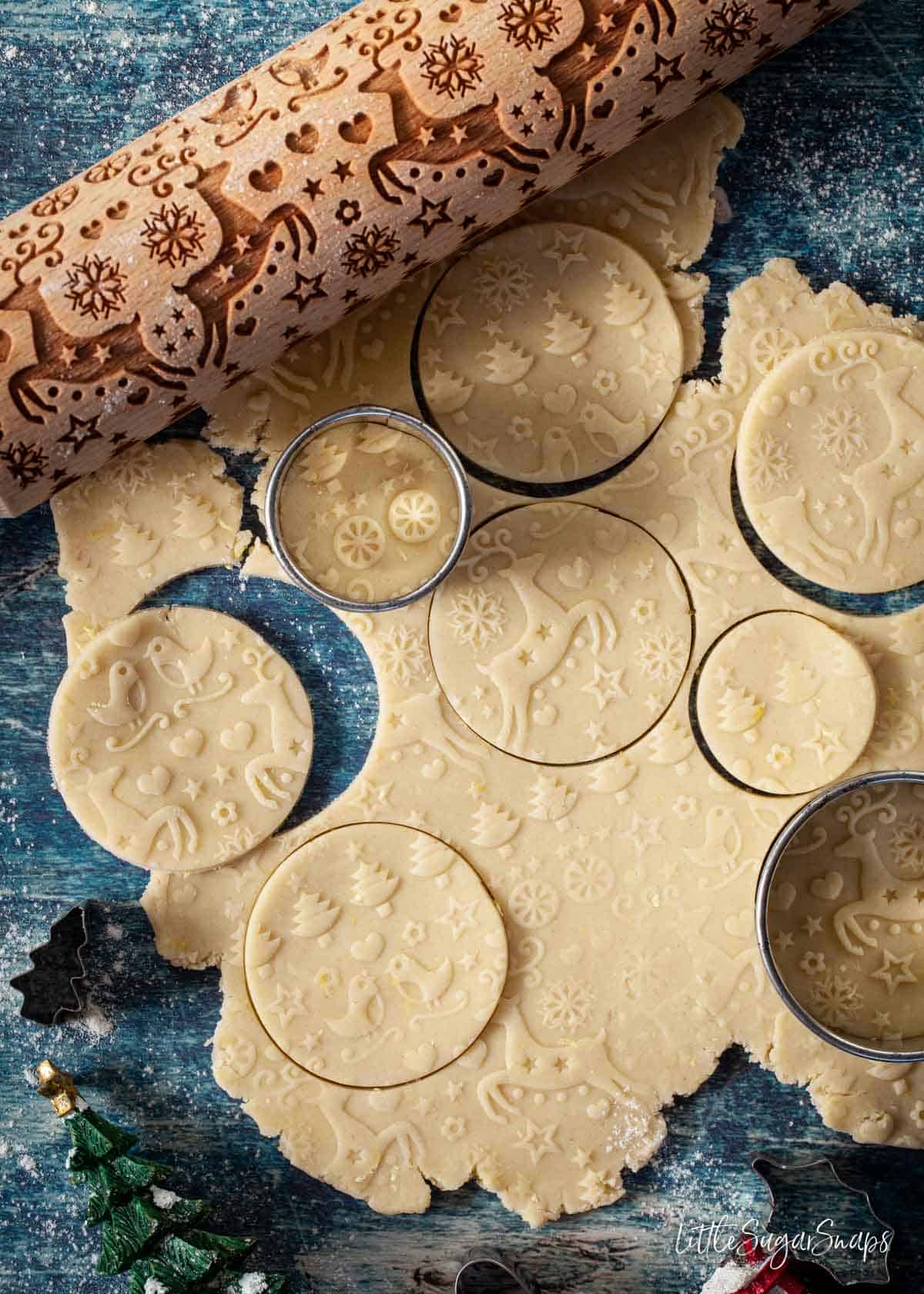 Step 6: Lay the cookies on baking sheets 1cm apart and chill for 1 hour before baking for 12-14 minutes in a preheated oven
Festive Adaptation
It's really easy to turn these biscuits into Christmas shortbread cookies instead. Or any other celebration cookie, such as Valentine's, birthday or Easter:
leave out the lemon juice and zest but in step 2 add in some vanilla extract
stir through some colourful sprinkles (hundreds and thousands work well) at the end of step 3 before continuing with the recipe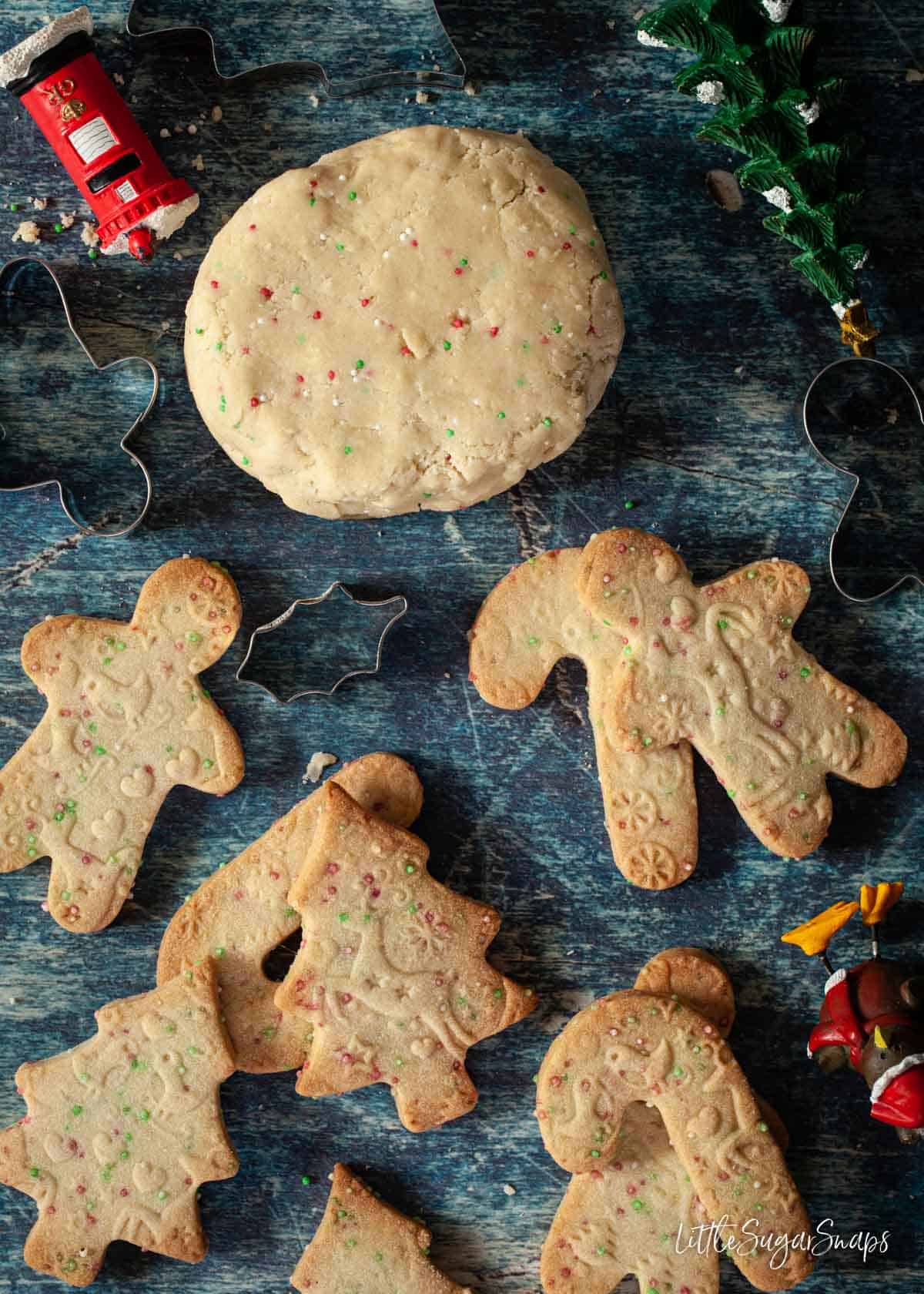 Note: Some cute Easter cookies from A Beautiful Farm Life were the inspiration behind me adding festive sprinkles to create this variation for Christmas shortbread cookies.
Tips and FAQs
Though these lemon shortbread cookies are very simple to pull together, they do require a little patience and attention to detail. Though nothing too arduous, I promise.
Tips
Take care not to over-process the ingredients otherwise the cookies will end up tough. I recommend using the pulse function and processing until just resembling breadcrumbs (step 1). Then, when mixing in the egg, processing until the mix resembles uncooked crumble – slightly clumpy, but not overly so
Chilling of the cookie dough twice is non-negotiable for this recipe. It needs to be chilled once freshly made to ensure that it is firm enough to roll and emboss easily. Once rolled and cut, the dough must be chilled again to ensure the embossed print is preserved during the bake
When rolling out, keep the worktop lightly floured and keep the dough moving – turn it slightly after each roll
Do not make these cookies too thick. I've trialled various thicknesses and thinner is definitely better – roll to the depth of a £1 coin (approx 3mm) before using the embossing pin. Roll to 2mm thick if not using the embosser
If using an embossing rolling pin, then give the dough a very light dusting of flour once rolled out and use your hands to gently spread it out. This will reduce the risk of the pin sticking
When ready to emboss, start at one end and press & roll the pin down firmly and evenly right along the length of the rolled out dough. If this is your first time using an embossing pin, you may be surprised how firmly you need to press to get a good print
When cutting out, use a variety of shapes and sizes of cutters to maximise the number of cookies obtained. Think carefully about which part of the embossing you want to include in certain cookies and cut the rest in accordance with this
If you need to reroll the dough, ensure you give a few firm presses with the back of your hand once the scraps of dough have been scooped together. This dispels any trapped air that may otherwise lead to an uneven surface once baked.
Frequently Asked Questions
Do I have to Use an Embossing Rolling pin?
Nope. You can roll these lemon shortbread cookies out using a normal rolling pin and enjoy them just as much.
In this instance, you might want to decorate them with a little icing as you would a gingerbread cookie. You can also flavour this icing with lemon.
Can I leave out the egg?
I'm afraid not. Without the egg these cookies tend to spread and the embossed print will disappear.
How do I keep them crisp?
My favourite way to store crisp shorbread cookies is to first of all wrap them tightly in tin foil and then store them in an airtight container.
I've also heard that storing cookies in a glass jar rather than a plastic container can help too, though I've yet to try this.
If, despite your best efforts, they still go soft after a day or to, simply reheat for 2-3 minutes and let cool. This should return their crispness.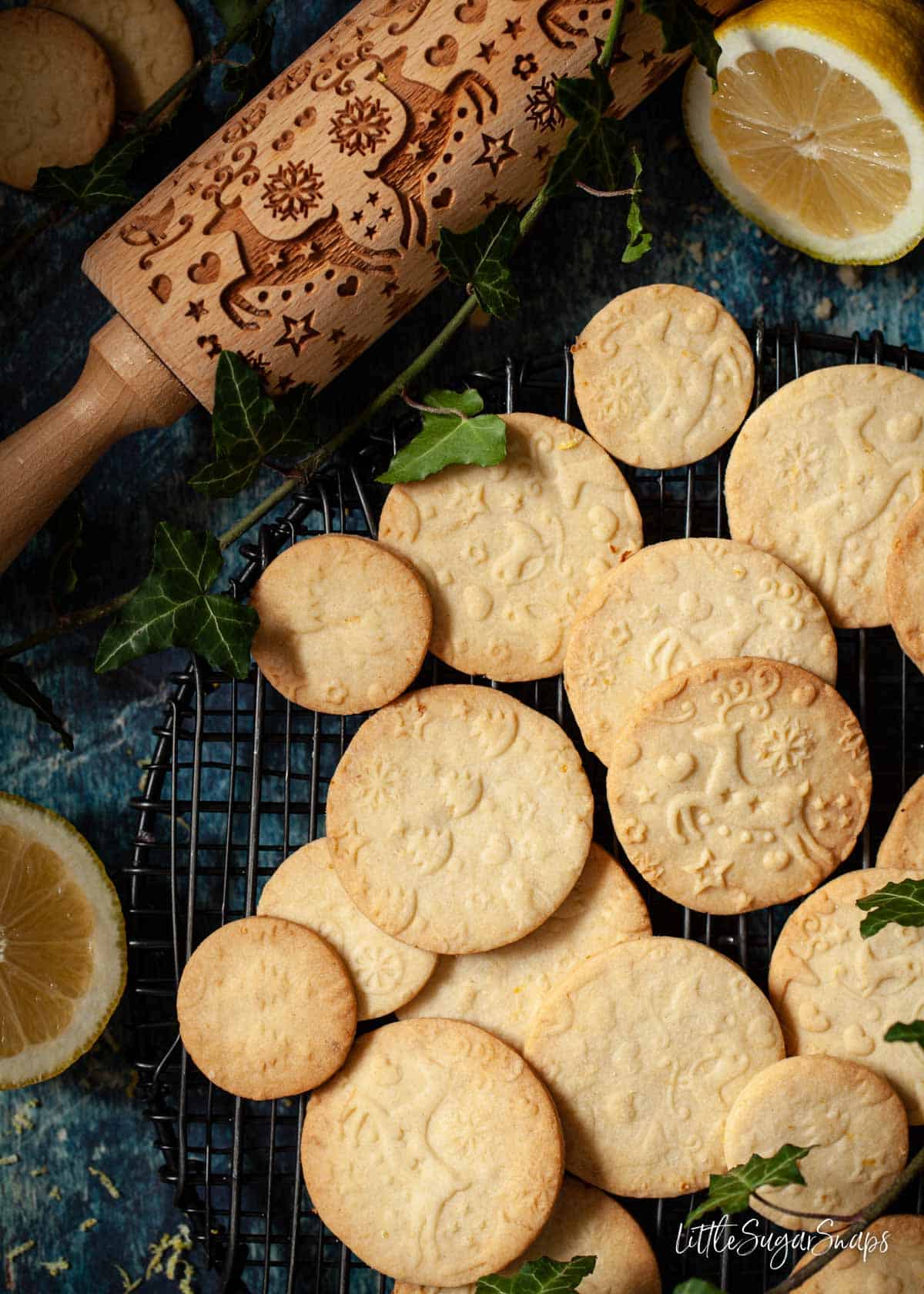 Both renditions of this biscuit are easy to make and sure to please. The recipe produces around 50 biscuits, so preparing a batch of Christmas shortbread cookies would be wise if making for a festive bake sale.
That's the cookies sorted, are you ready for the gift guide?
Foodie Gifts for Christmas 2020
The Carved Angel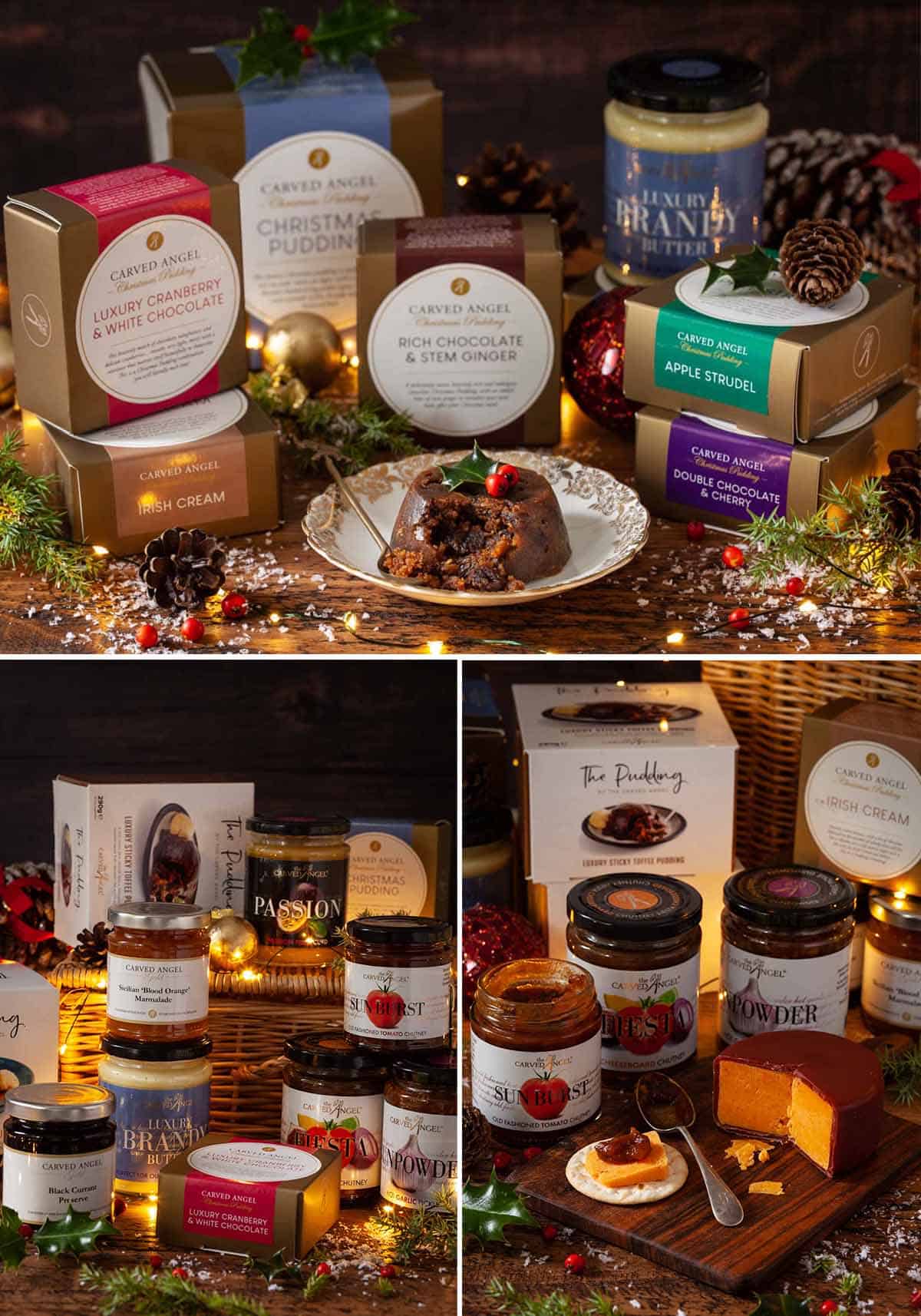 Do you love Christmas Pudding? I'm a huge fan of it and quite frankly, I'd be heart-broken if I didn't get to eat it on the 25th December every year.
The Carvel Angel have a fantastic range of puds to choose from (including a gluten-free option). And they come in seven sizes, so whether it's a meal for one or a feast for a small army (up to 14 people), they have you covered. They've got Christmas cakes and brandy butter too.
But The Carved Angel are not just about festive goodies. They also have a fantastic selection of jams, chutneys, pickles & mustards and year-round family favourite puddings to tickle our tastebuds.
Excellent ingredients and some enticing flavours (including some to-die-for passionfruit curd) make for an impressive line up of jars. Take a look through their online shop for ready-made hampers or mix & match to get the perfect bespoke gift for your lucky recipient.
Mood for Wood
Embossed rolling pins are a treat for any avid baker, regardless of age. They can transform a simple recipe into something really quite stunning. I think my lemon shortbread cookies prove this point well.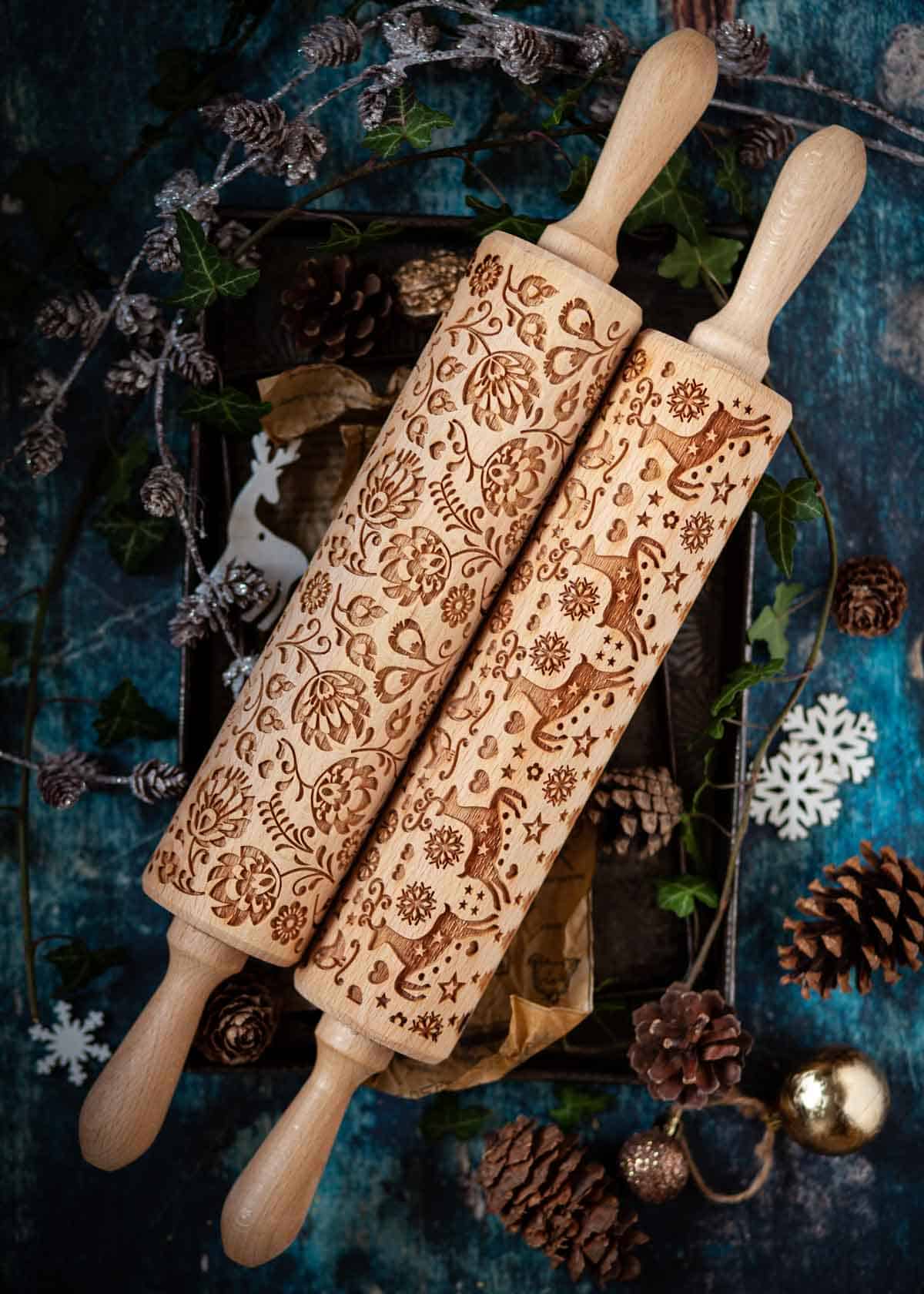 Mood for Wood have an enormous selection of full-sized and mini rolling pins to choose from. But be prepared to spend quite a while on their website picking out your favourite design(s).
I've wanted one of these for a number of years and finally bit the bullet this year. Well, 2020 has been the year for home baking, all all.
But I found I just couldn't stop at one. I definitely needed one for Christmas but another for the rest of the year was also essential. Luckily, these wooden rolling pins are very affordable.
Bundt Tins from Nordic Ware
And talking of baking equipment, I'm constantly hankering after new baking tins. I've even been known to request them as gifts as I love to extend my collection of unusual and bespoke tins that add extra visual interest to my bakes.
I'm delighted to have recently added to my collection with a Nordic Ware Elegant Party bundt tin. Those defined lines make creating an attractive cake a walk in the park.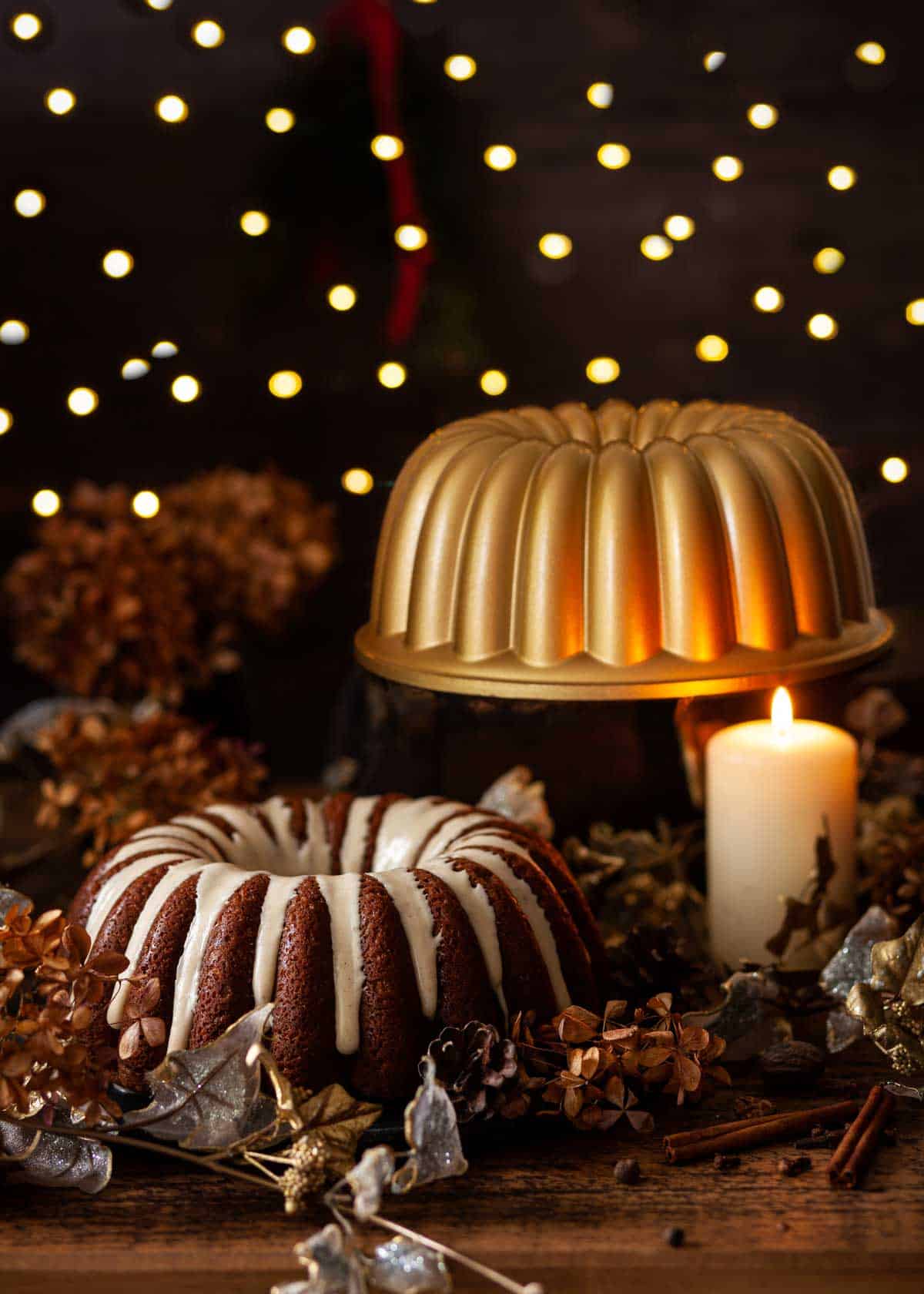 I recently used it to bake my pumpkin spice cake and it undoubtedly added a little more style to the cake's appearance.
Take a look at all the huge collection of bundt tins Nordic Ware have available. These tins are designed to last and I'm sure you'll find something that your keen baker hasn't already got.
Willies Cacao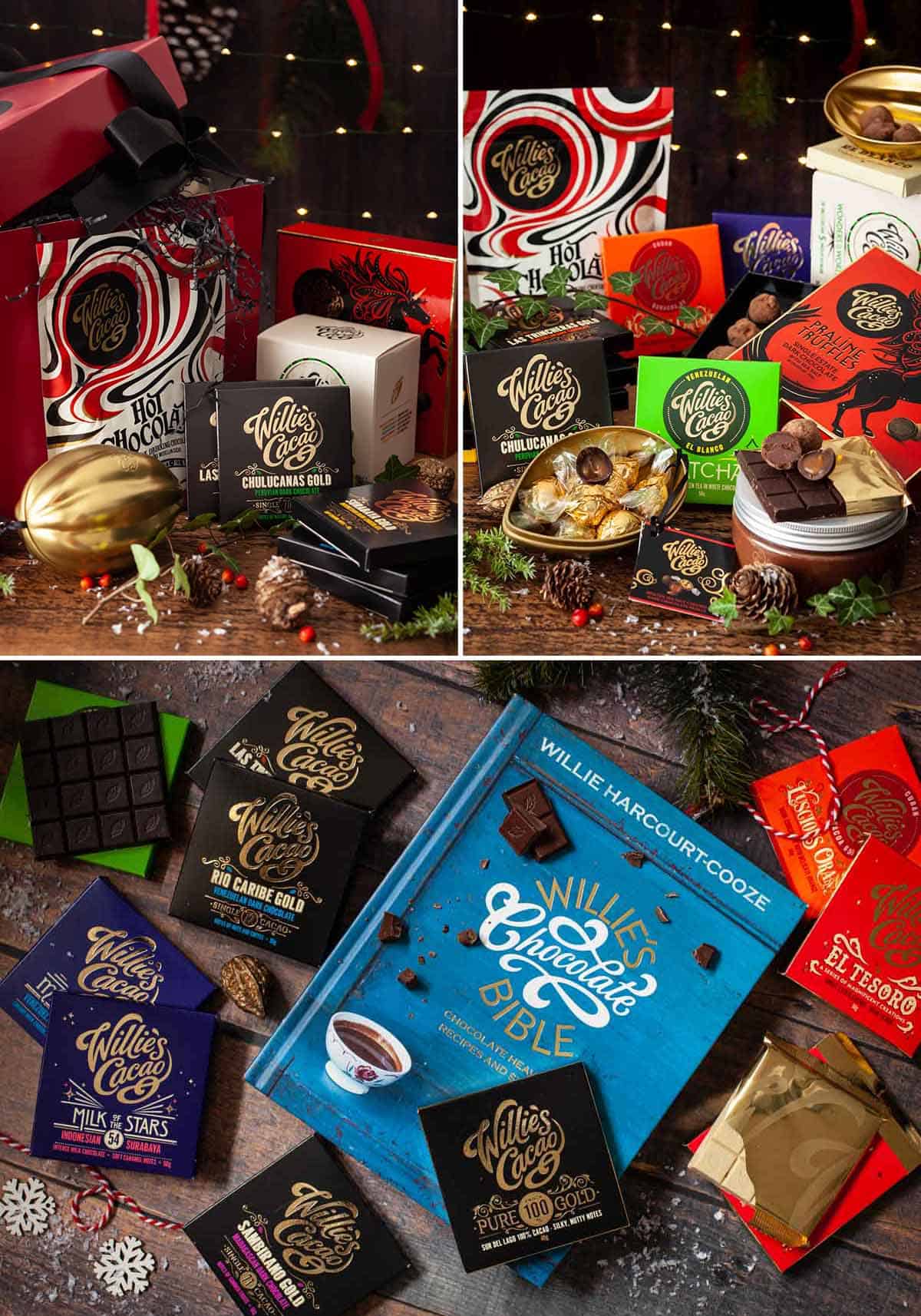 Many years ago my husband bought me a cylinder of Willie's Cacao chocolate to use in my cooking and baking. I've been fascinated by this brand ever since. I love flicking through my copy of Willie's Chocolate Bible occasionally for a little knowledge or recipe inspiration.
These days Willie's offer a diverse range of products, from the cylinders that first grabbed my attention through to truffles and hampers (pictured above is The Gateway).
They also offer a chocolate subscription box, which is a lovely way to let your favourite chocoholic savour 10 bars each month from an ever-changing array of chocolate (bottom picture above – minus the book!)
Cheese from Pong
Last but by no means least, I'm delighted to feature Pong here too. Quite simply, I'm more than a little bit in love with their offerings. The cheese box I ordered from Pong last year surpassed my expectations, so I had no hesitation selecting another box from them recently.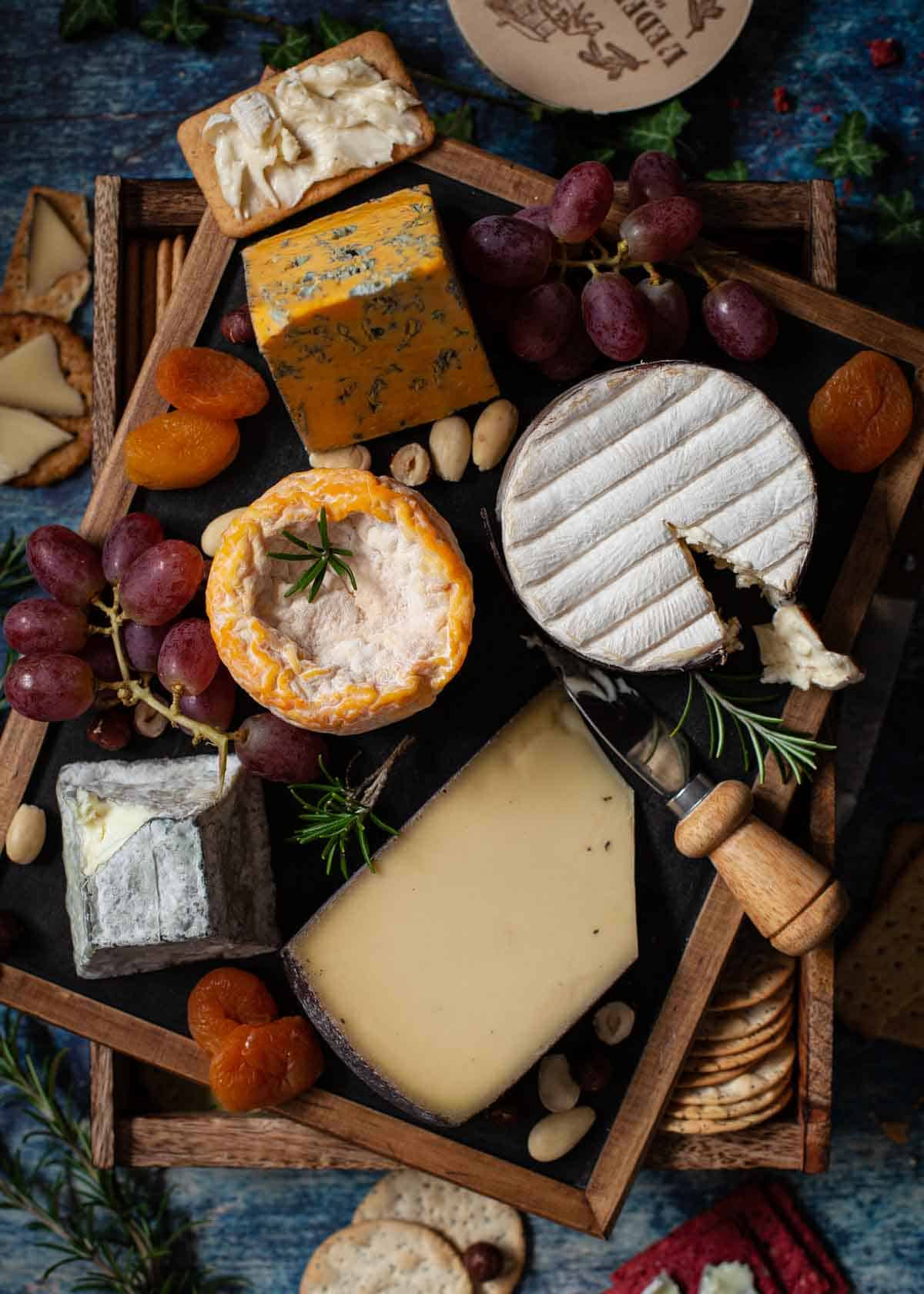 The Christmas Explorer Box, pictured above, contains 5 well-matched nuggets of cheese. All of them manage to display their own unique characteristics alongside each other. And yet they also work in harmony together.
Ordering a box from Pong is like ordering a ready-made and highly unique cheeseboard, with very little effort on your part. Just raid your supply of crackers, fruit and nuts to accompany it.
Pong have a vast selection of boxes you can order year-round for yourselves or as a gift, as well as some Christmas specials. But they also run an incredibly flexible cheese club, allowing you to give the gift of cheese on a monthly, bi-monthly or quarterly basis, for as long as you want.
More Gift Ideas
I hope that I've tempted you with my lemon shortbread cookies and that I've given you some inspiration for your Christmas shopping.
Why not hop over to my Drinks Gift Guide. You'll pick up a few more ideas on what to buy your loved ones and my take on an espresso martini too.
If you still need more ideas you can always look back at my previous guide.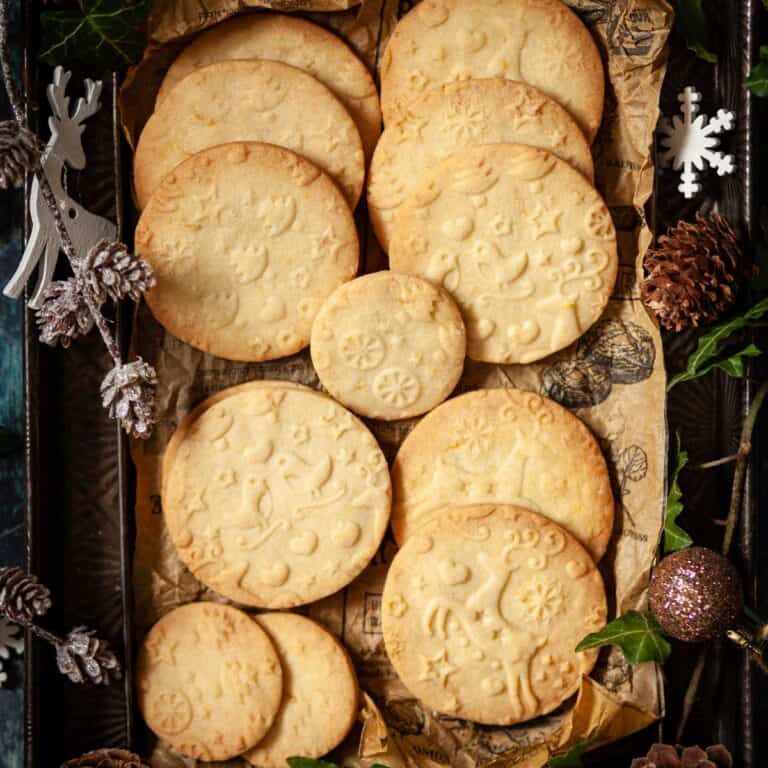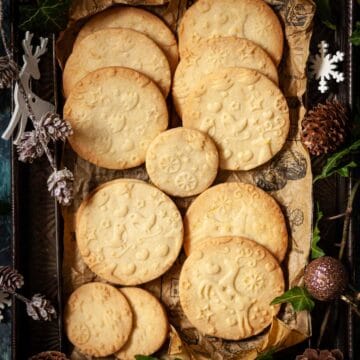 Lemon Shortbread Cookies
Lemon shortbread cookies are easy to make in a food processor and very versatile: emboss them or leave them plain-cut. This recipe can easily be adapted to make Christmas shortbread cookies with sprinkles in the dough too.
Print
Pin
Rate
Ingredients
Base Shortbread Cookie
350

g

Plain flour

all-purpose

200

g

Butter

50

g

Cornflour

cornstarch

120

g

Icing sugar

¼

teaspoon

Salt

1

Egg

medium, free range
Additions for Lemon Shortbread Cookies
Zest 1 lemon

1½

teaspoon

Lemon juice
Additions for Christmas Shortbread Cookie
Instructions
Lemon Shortbread Cookies
Add the egg and lemon juice and give a few short pulses to combine the ingredients until it has a slightly lumpier consistency, similar to crumble mix

Tip onto a worktop and use your hands to press the dough together. Split into 2 and flatten into discs. Wrap in clingfilm, then chill for 1 hour

Use a normal rolling pin to roll one disc of dough out on a lightly floured worktop to around 3mm thickness (approx the depth of a £1 coin). If using an embossing rolling pin lightly dust the top of the dough with flour and spread it out with your hands. Roll the embossing pin across the dough, pressing down firmly and evenly as you go. Repeat with the other disc of dough

Cut out the cookies using cookie cutters – mine were approx 6cm and 3½cm in diameter. Scrape up leftovers and press them together firmly to expel any trapped air and re-roll and cut more (the dough can be rolled 3 times in total)

Lay the cookies on lined baking sheets 1cm apart and chill for 1 hour before baking for 12-14 minutes in a preheated oven (160C/ 320F/ GM 2½) until golden

Let cool on the baking sheet then wrap in foil and store in an airtight container for up to 5 days
Christmas Shortbread Cookies Adaptation
Follow the instructions above for step 1-2 but omit the lemon zest from step 1 and the lemon juice from step 2. Instead add the vanilla extract with the egg in step 2

Before tipping onto a worktop, stir through the sprinkles at the end of step 2

Continue with the remainder of the steps listed above
Notes
Do not over-process the ingredients otherwise the cookies will end up tough. Use the pulse function and process until just resembling breadcrumbs (step 1) and then, when mixing in the egg, processing until the mix resembles uncooked crumble – slightly clumpy, but not overly so
Chilling of the cookie dough twice is non-negotiable for this recipe. It needs to be chilled once freshly made to ensure that it is firm enough to roll and emboss easily. Then, once rolled and cut, the dough must be chilled again to ensure the embossed print is preserved during the bake
When rolling out, keep the worktop lightly floured and keep the dough moving – turn it slightly after each roll
Do not make these cookies too thick – roll to the depth of a £1 coin (approx 3mm)
If using an embossing rolling pin, then give the dough a very light dusting of flour once rolled out and use your hand to delicately spread it out. This will reduce the risk of the pin sticking
When ready to emboss, start at one end and press & roll the pin down firmly and evenly right along the length of the rolled out dough. If this is your first time using an embossing pin, you may be surprised how firmly you need to press to get a good print
When cutting out, use a variety of shapes and sizes of cutters to maximise the number of cookies obtained. Think carefully about which part of the embossing you want to include in certain cookies and cut the rest in accordance with this
If you need to reroll the dough, ensure you give a few firm presses with the back of your hand once the scraps of dough have been scooped together. This dispels any trapped air that may otherwise lead to an uneven surface once baked
Nutrition Per Serving (Approximate)
Calories:
71
kcal
|
Carbohydrates:
9
g
|
Protein:
1
g
|
Fat:
3
g
|
Saturated Fat:
2
g
|
Cholesterol:
12
mg
|
Sodium:
42
mg
|
Potassium:
10
mg
|
Fiber:
1
g
|
Sugar:
3
g
|
Vitamin A:
105
IU
|
Vitamin C:
1
mg
|
Calcium:
3
mg
|
Iron:
1
mg
(Visited 290 times, 1 visits today)