This Egg Florentine Pasta Salad combines the classic flavours of Egg Florentine. Egg, spinach & lemon combine perfectly with pine nuts, Parmesan and basil.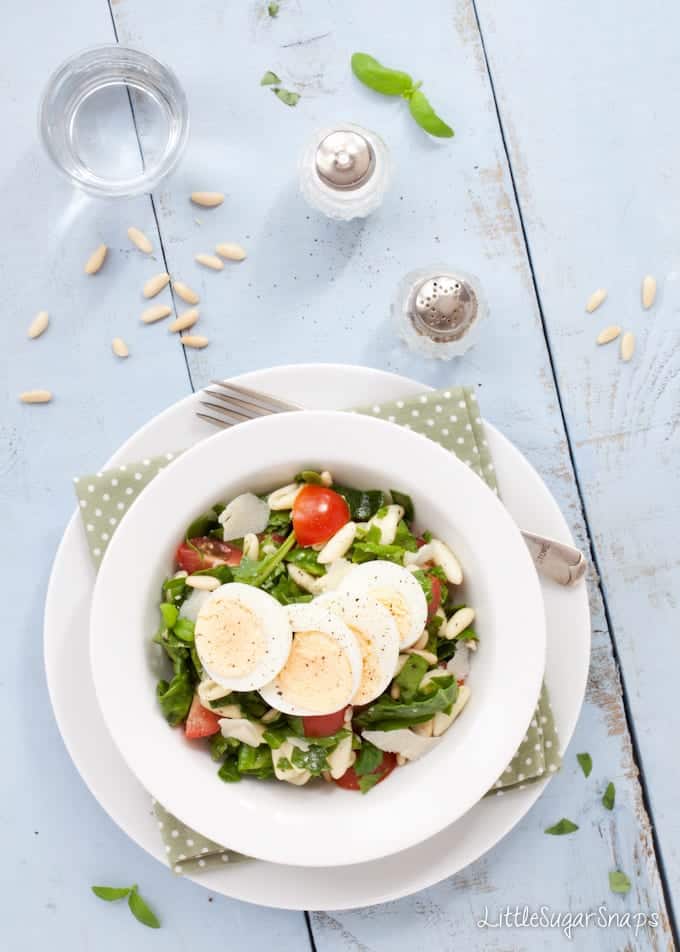 Next Monday it is June. Since the UK is located within the northern hemisphere, this means it is officially summer over here. And am I right in thinking that we all love to gorge on huge bowls of tasty salad all summer long? Good, because this week I'm sharing my Egg Florentine Pasta Salad with you.
Humour me. I know that really we all love to devour ice cream by the bucket full and slurp our favourite ice-cold drinks until the sun goes down and, that technically, the British summer doesn't really start until 21st June. I'm just looking for an excuse to kick off the LittleSugarSnaps summer season so that I can officially talk about warm weather and salads.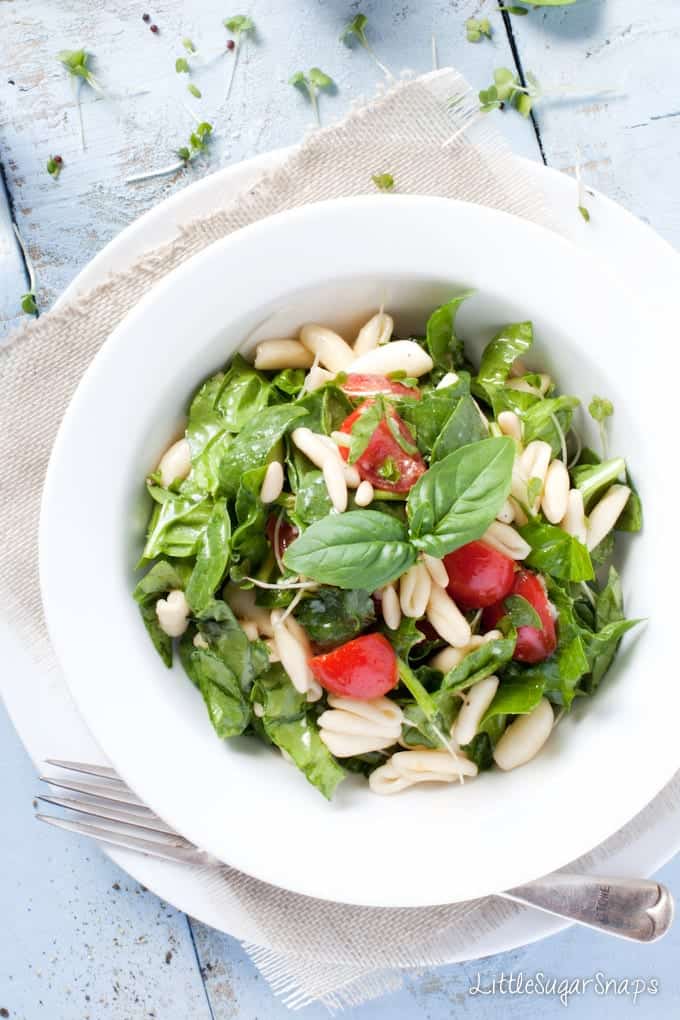 This Egg Florentine Pasta Salad is the kind of salad I could consume several times over the course of a week, especially during warmer weather (not obsessed, not obsessed). This salad feels like a really healthy lunch, but the pasta will keep your tummy nicely satisfied until suppertime. It's also got some great tastes and textures in the mix.
Egg Florentine is a classic brunch recipe involving poached egg, spinach and lemony hollandaise sauce. I've used these classic elements of Egg Florentine as the starting point for this pasta salad.
I believe that an exciting salad is one that has been thought about and planned. Let's be honest, there's not a great deal of joy in eating endless forkfuls of leaves that have just been plonked into a bowl with a bit of generic dressing splashed on top. Salads need variety. They need texture. They need ♥ love ♥ so that we can love eating them.
Here's what I've come up with to move my starting point salad up a level or two:
I've added pine nuts to create some crunch and lend a sweet, nutty side to the salad
Basil & lemon are best friends, so I've added a little basil to the dressing. Good thing that eggs get on very well with basil too

😉

To give a salty hit and to add some gritty bite, I've thrown a scattering of parmesan shavings into the mix
I just love the timeless combination of spinach and tomatoes, so couldn't resist letting a few cherry tomatoes land in the bowl too
I wanted this salad to be hearty, so decided that pasta would also be a welcome addition
The result is this Egg Florentine Pasta Salad. It is bright, thanks to those lush green spinach leaves and zesty, due to the lemon & basil dressing. Altogether, it is a great combination.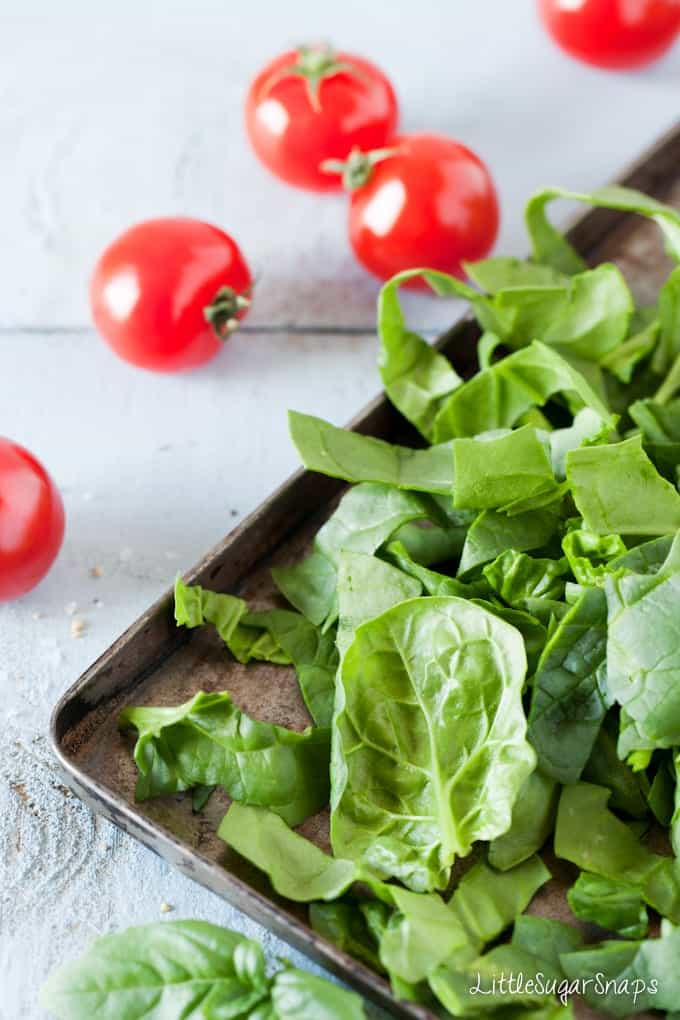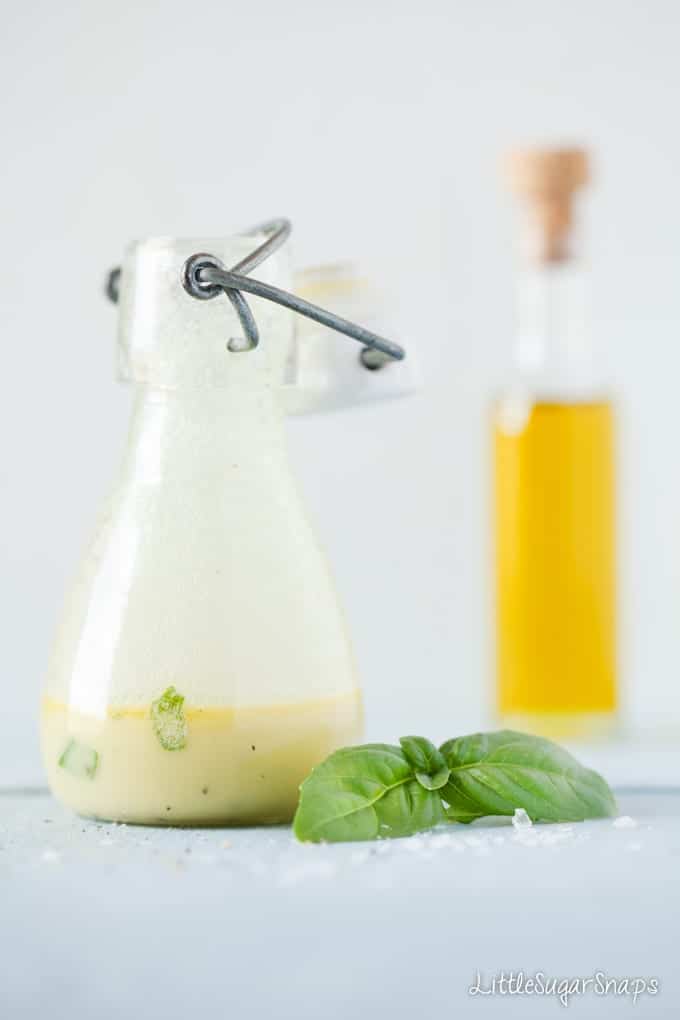 This Egg Florentine Pasta Salad has been a while coming. In fact, I have withheld it twice due to me having the grumps about the English weather (I sound like a stereo-type – sorry). This week I say: it's nearly June, it's time to dive into the salad bowl… even if I am shivering under an umbrella….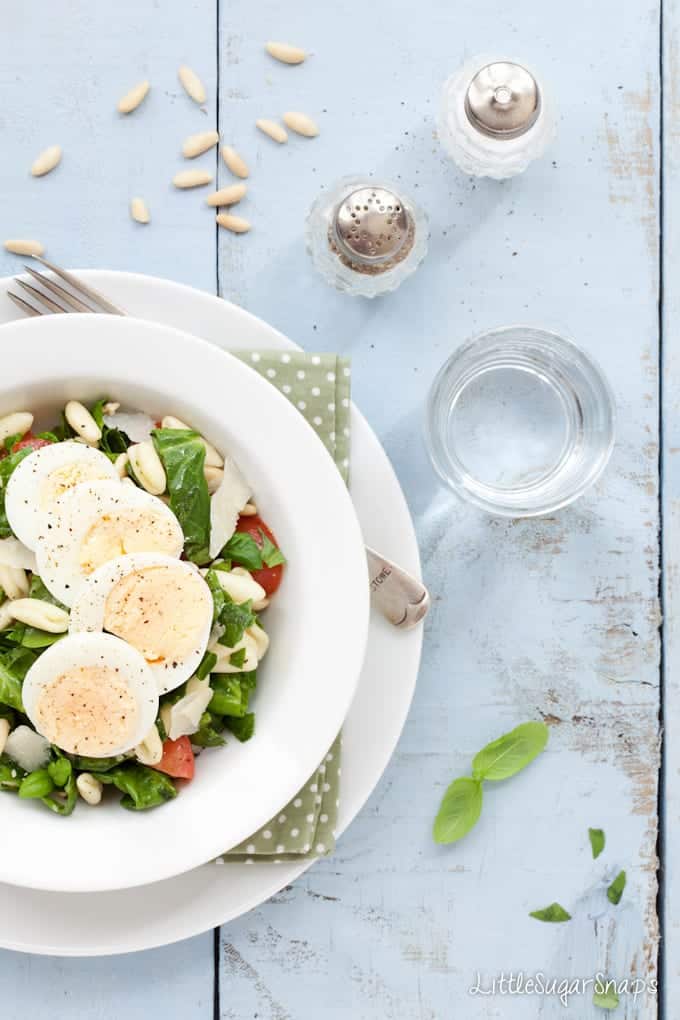 If you've enjoyed reading this post, please leave a comment or share it with friends – you'll make me very happy. You can also follow along to get notified of my future blog posts by email.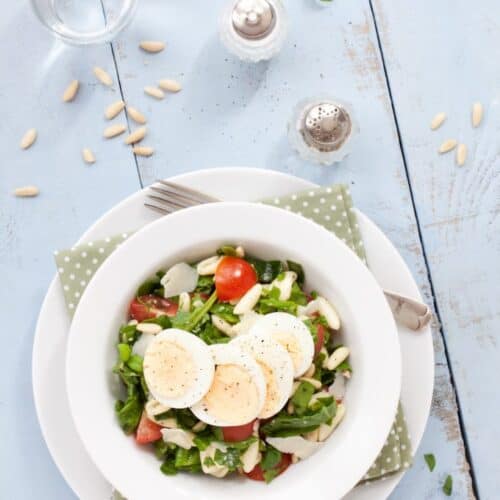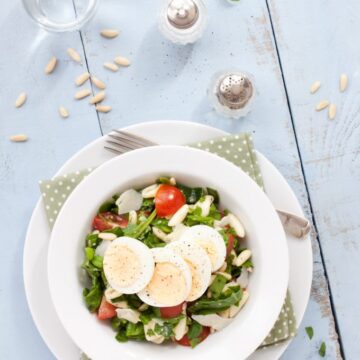 Egg Florentine Pasta Salad
This Egg Florentine Pasta Salad combines the classic flavours of Egg Florentine. Egg, spinach & lemon combine perfectly with pine nuts, Parmesan and basil.
Print
Pin
Rate
Ingredients
For the Salad:
2

Hard boiled eggs – cooled

, shells removed

100

g/ 4 oz

Pasta

(cavatelli is good, but any small pasta will do)

2

Handfuls spinach leaves

(approx. 80g/2 ½ cups)

10

Cherry tomatoes

1

tablespoon

Parmesan cheese shavings

1

tablespoon

Pine nuts

Salad cress – optional
For the Dressing:
2

teaspoon

Lemon juice

3

tablespoon

Olive oil

Salt & pepper

(to taste)

pinch

Cayenne pepper

2

teaspoon

Crème fraiche

4

Large basil leaves
To Garnish
Extra Parmesan and a few basil leaves
Instructions
Cook the pasta according to the instructions on the packet, drain and leave to cool

Thinly slice the eggs into circles and set aside

Slice the spinach leaves thinly and place in a large bowl. Quarter the cherry tomatoes and add to the bowl along with the Parmesan & pine nuts. Add the cress (if using)

Put the first 5 ingredients for the dressing into a screw cap jar and shake for 30 seconds to blend well. Chop the basil leaves finely and add to the dressing

Pour the dressing into the bowl and, using your hands, give everything a gently but thorough mix. Add the cooled pasta and mix again

Share the salad between 2 bowls or plates and top each with the sliced egg. Garnish with extra Parmesan shavings and a few basil leaves, if desired. Eat immediately
Notes
I used some fantastic cavatelli pasta that I brought back from Rome last October. Cavatelli are small shells of pasta that have a slightly rolled-in edge. It is popular in Southern Italy. If you can't get hold of it, you can substitute another small shape in it's place – such as Gnoccheti Sardo, or tiny pasta shells.
(Visited 154 times, 1 visits today)