Mint Pea Falafel make a tasty lunch but are equally delicious served as a party nibble alongside drinks. These falafel can be deep fried, shallow fried, or cooked in an air-fryer, depending how healthy you feel like being.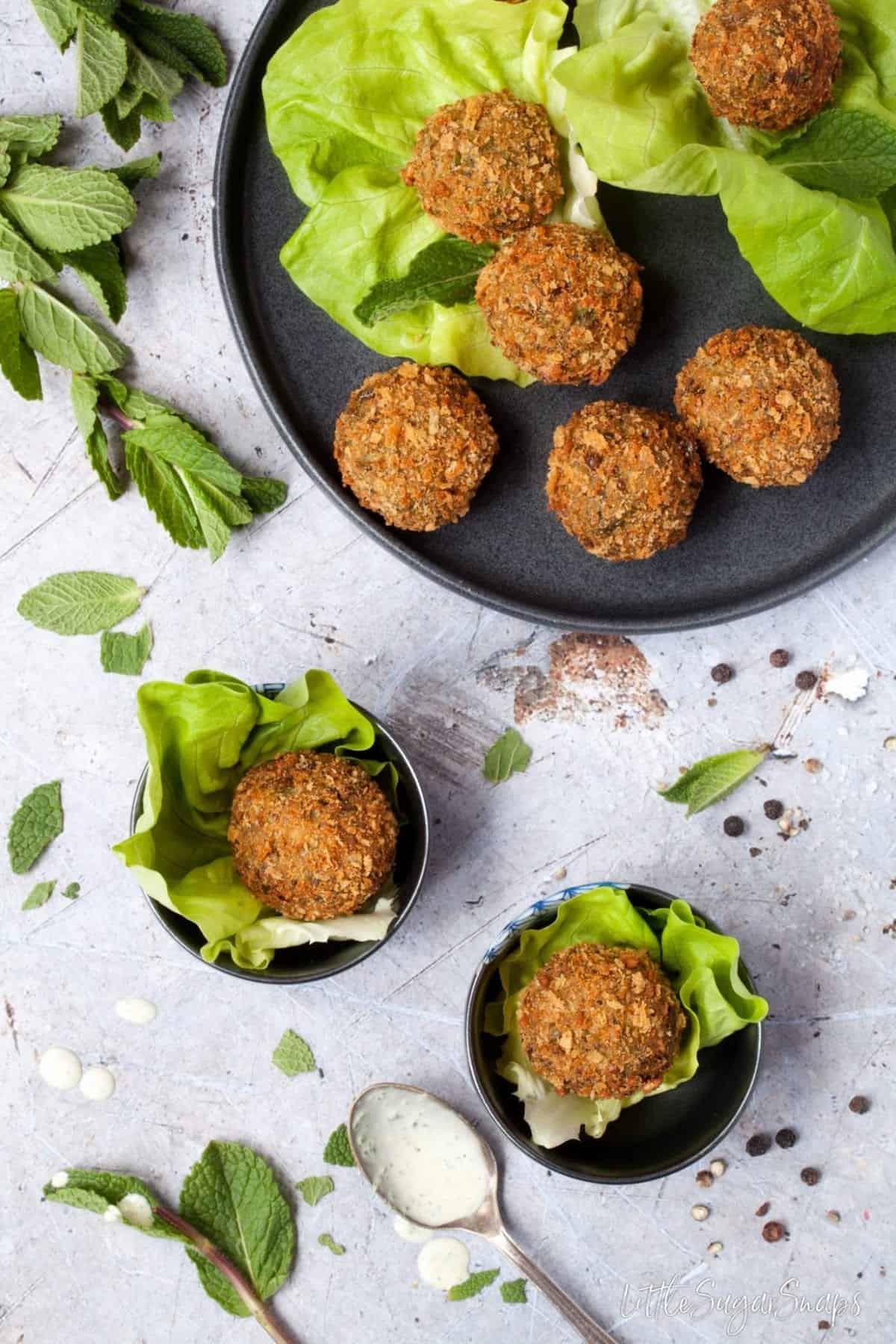 THIS POST CONTAINS AFFILIATE LINKS. AS A THERMAPEN & AMAZON ASSOCIATE I EARN FROM QUALIFYING PURCHASES.
I first had proper falafel in Brighton about five years ago, in a little back street cafe on a rare break away without kids in tow. The falafel came served with house-made pitta bread, lightly pickled cabbage, piles of hearty salad vegetables, hummus and some punchy chilli pickles. They were blissful. Unforgettably blissful.
Me being me, as soon as I got home, I started to recreate my experience. All of the add-ons were easy to assemble at home, but the falafel themselves were more of a challenge. At that point I had never deep fried any food myself. The thought of it intimidated me immensely – both from a health perspective and that niggling question: will I end up burning down the house?
Confession: I think this latter concern stemmed from a chip-pan incident in the 1970s when I was growing up. I seem to recall my brother taking great joy in announcing that there was a fire in the kitchen. It's a vague childhood memory, but I'm 99% sure that it happened.
Fear ingrained in me, for several years I stuck firm with oven baking my falafel or resorting to the pre-made selection at the supermarket. But they never quite compared to the Brighton falafel.
Fast forward to the present day and I've mastered the art of deep frying safely. Gone are my lack-lustre first attempts at falafel and the need to buy ready-made. The truth is that falafel are at their best when freshly made and, dare I say it… when they have been deep fried. Nothing can beat biting into that deep golden, crunchy & crisp exterior to reveal the soft and flavourful blend of chickpeas, spices and herbs inside.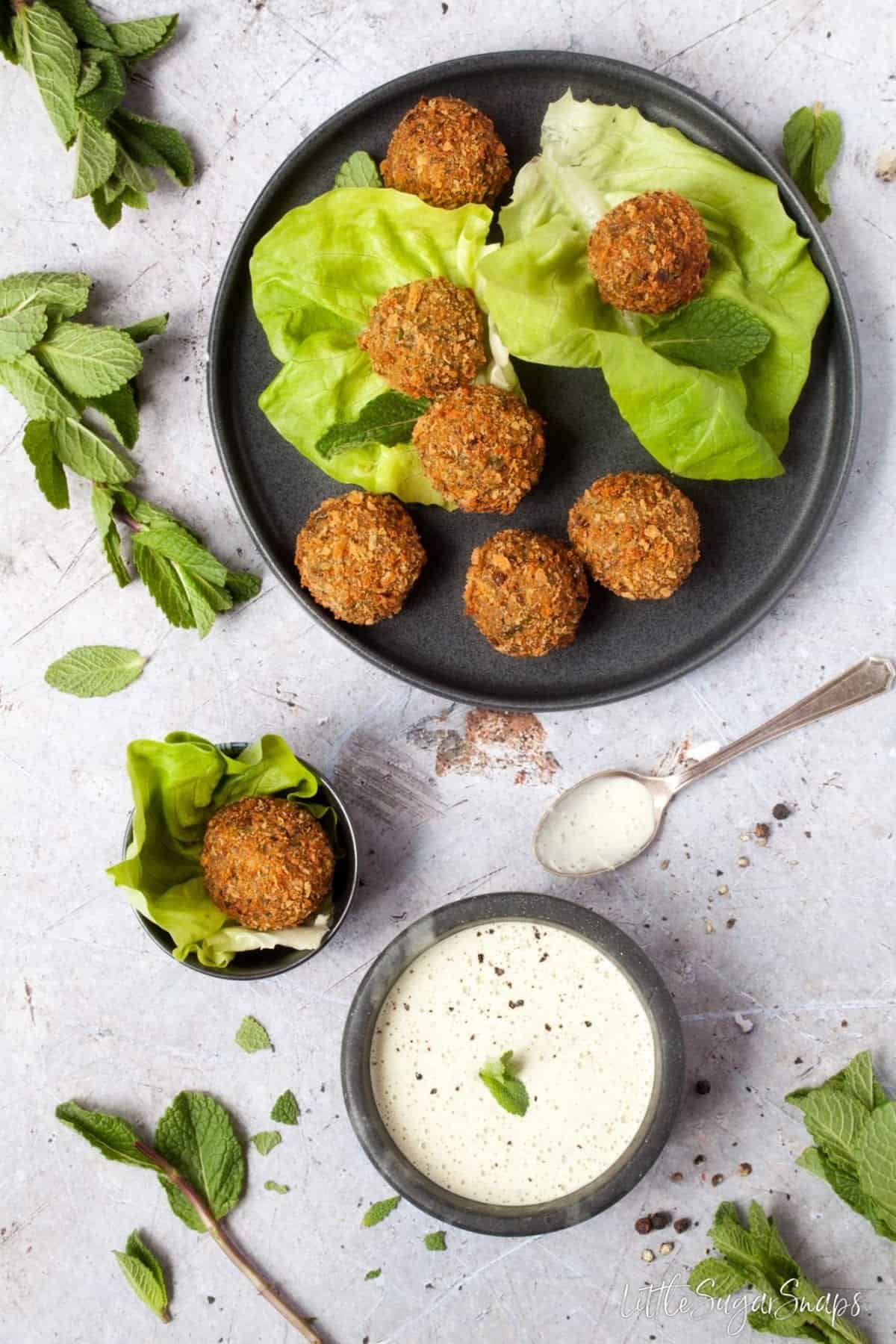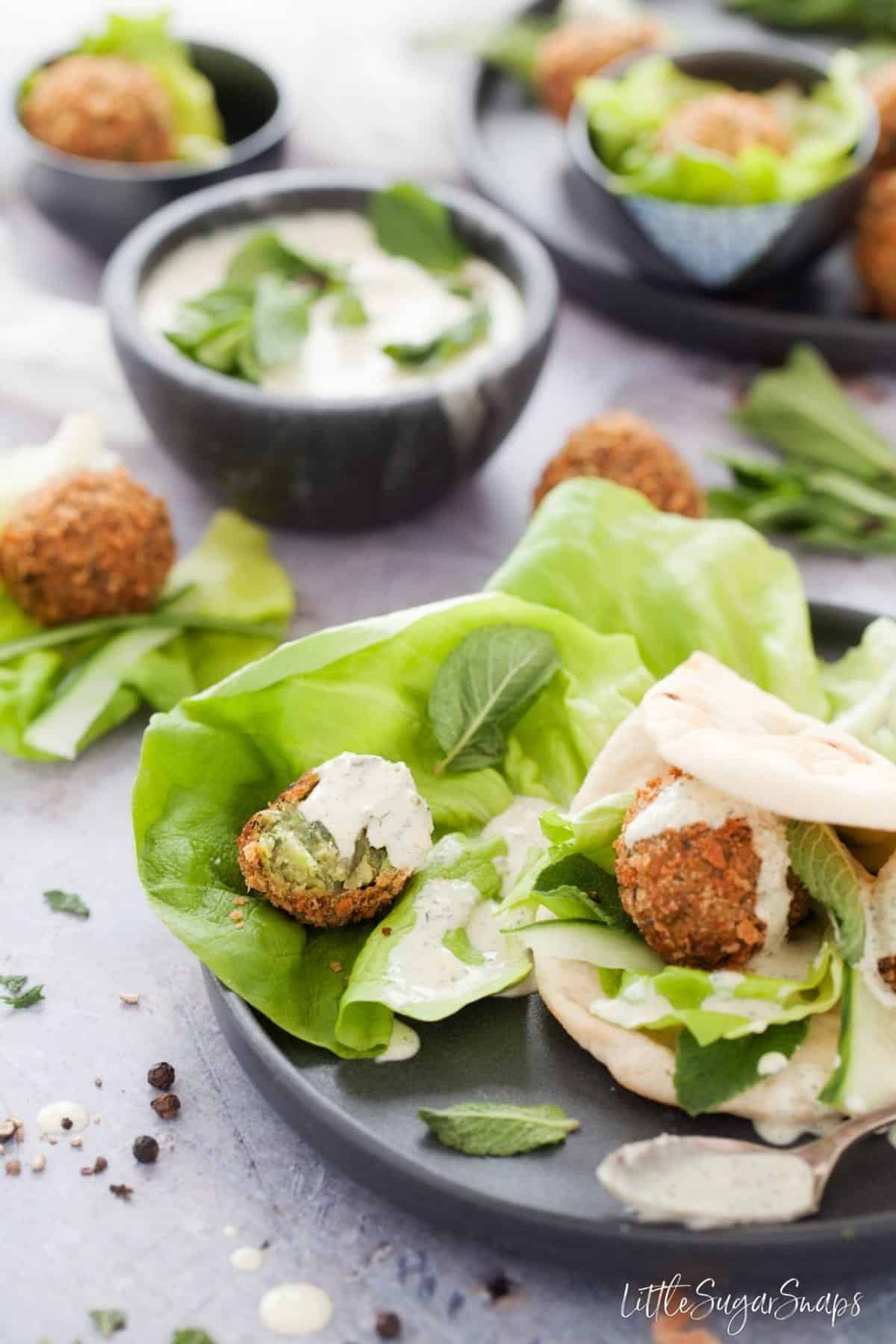 I've made these Mint Pea Falafel plenty of times. I've oven baked them (meh), air-fried them, shallow fried them and, of course, I've deep fried them. They always taste good, but they really are at their best when deep fried. With this in mind, I want to give first time deep-fryers a few handy tips to help alleviate those natural concerns:
Use sunflower, vegetable oil or rapeseed oil. All of these oils have a high smoke point – the temperature an oil can be heated to before it begins to smoke and burn
Use a large, wide, heavy-based pan and fill no more that ⅔ full of oil as food has a tendency to bubble & splutter as it cooks. Using a pan that is too small runs the risk of the very hot oil spilling over the sides
Ensure all saucepan handles are facing away from the front of the cooker, to avoid knocking the pan off the hob
Make sure your pan has a well-fitting lid and keep it close to hand to slide onto the pan should the oil catches fire. With the lid on (and the heat off), the fire should quickly consume all the oxygen and put itself out
Keep a very close eye on the oil temperature to avoid it getting too hot & catching fire. I always use a Thermapen food thermometer and watch the temperature like a hawk – literally every minute (#nerves). Never let your oil get hotter than 190C/ 375F as it is likely to catch fire
If you don't have a food thermometer, test the oil with a cube of bread. It should brown in 30-40 seconds when the oil is at a moderate heat. Any quicker and your oil is getting too hot – turn the heat off immediately
As a guide heat the oil to 160C for low heat, 180C for moderate heat and 190C for high heat
Never put wet food in the fryer – liquid will cause the oil to splutter which can cause injuries.
Never leave a pan of hot oil unattended, it can take just a moment for the oil to overheat and catch fire.
Deep frying is NOT an activity to involve young children in. Ensure they are well clear of the cooking area and that you will not be distracted by them during cooking
Likewise, always closely supervise (much) older children
Always concentrate. Do not get distracted by kids, friends, tv or mobile phones
If the doorbell goes, ignore it
And finally, do not be tempted to deep fry food whilst intoxicated – impaired judgement can lead to nasty accidents
I'm sure that a quick read through of my checklist confirms that deep frying at home can be done safely, just as long as the responsible adult remains just that: responsible. But if deep frying is a complete no-no for you, then rest assured that these Mint Pea Falafel can also be shallow fried or cooked in an air-fryer with success. They won't be as crisp and golden (or perfectly round), but the taste will still be spot on.
I like to serve these Mint Pea Falafel just as I had my falafel in Brighton – loaded up with wholesome goodies and served with homemade flatbreads. In fact, when served like this, they constitute a complete dinner in my opinion. They can, however, make a simple lunch stuffed into pitta with crisp salad leaves, cucumber chunks, fresh mint and a drizzle of the mint tahini yoghurt dressing.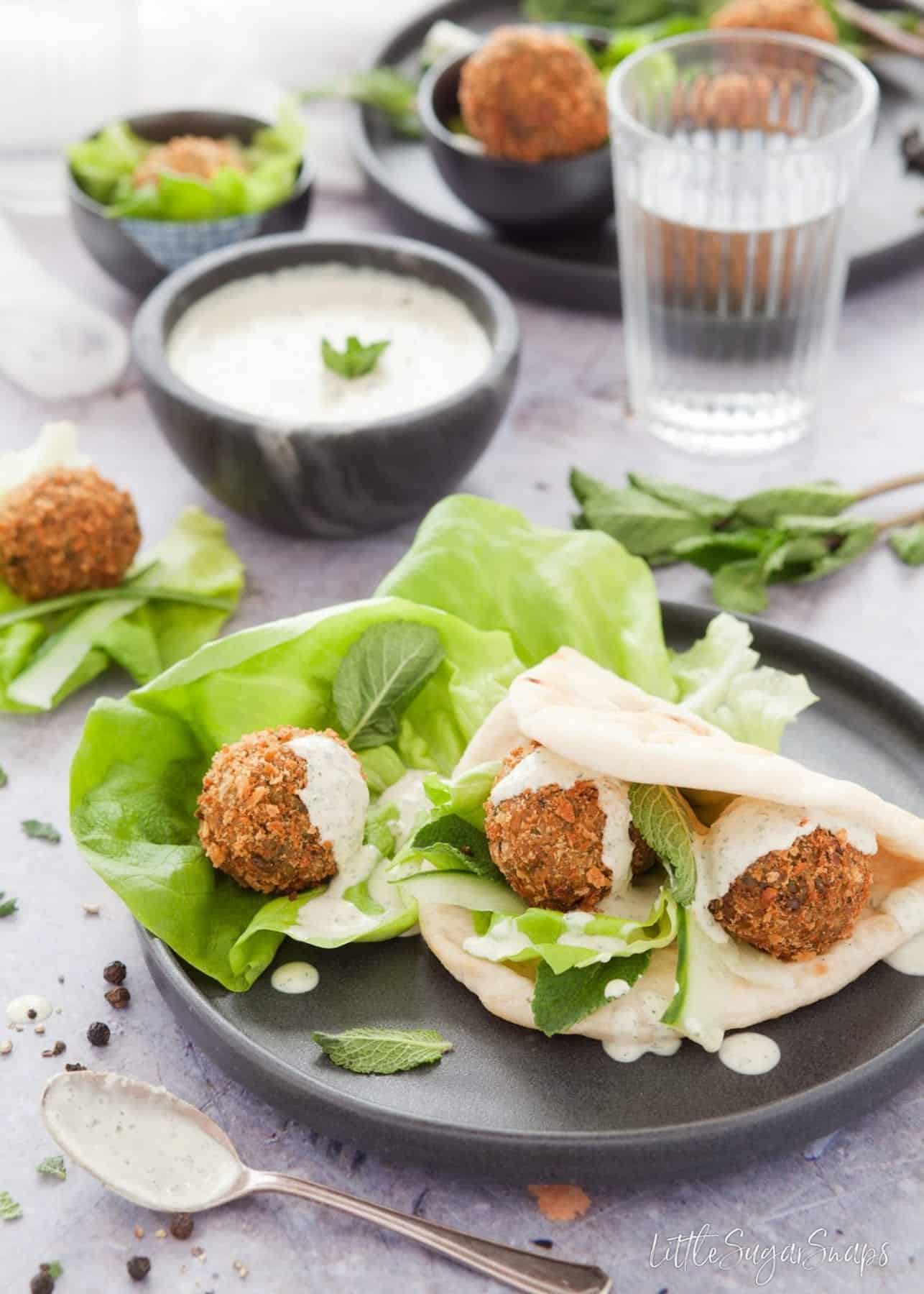 The dressing – I nearly forgot. It's gorgeous. A real family favourite. This dressing gets packed into lunchboxes for veggie dunking and it's the condiment my kids request the most out of all my dips, sauces or dressings. It can be assembled in the blink of an eye and it's essential if you want to serve these Mint Pea Falafel as a nibble alongside drinks. More bliss.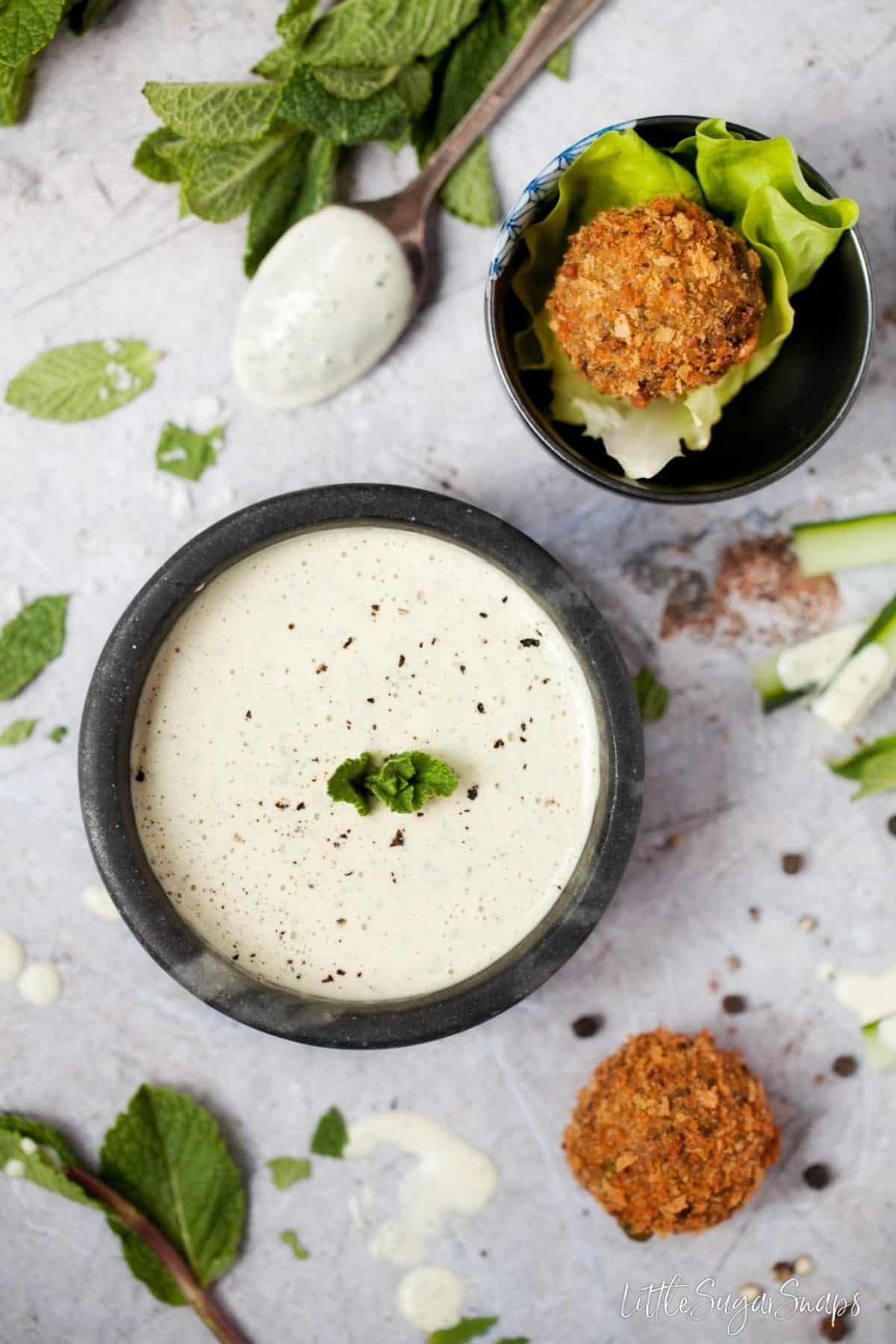 PS – do you have any more deep frying tips to share? Hit me up – I may be willing to deep fry occasionally these days (mainly for doughnuts) but I still get the jitters when I do.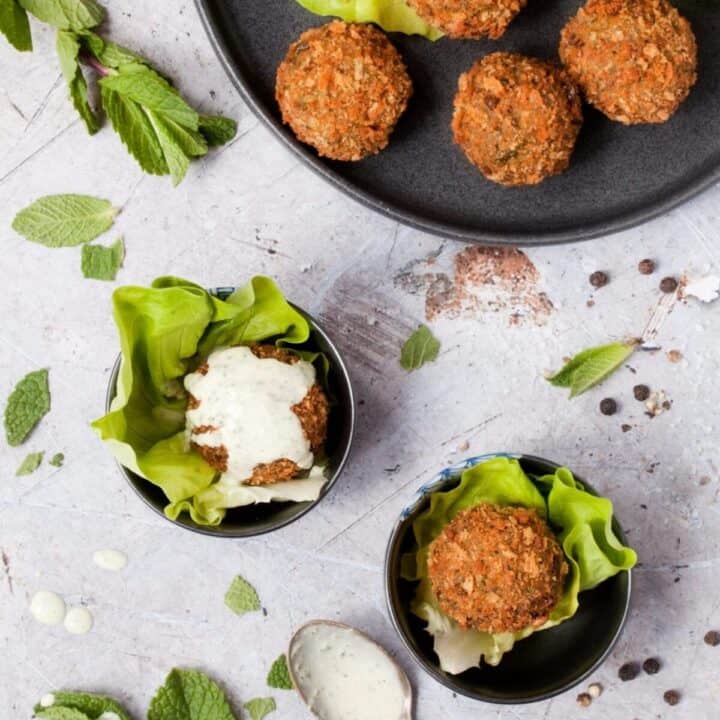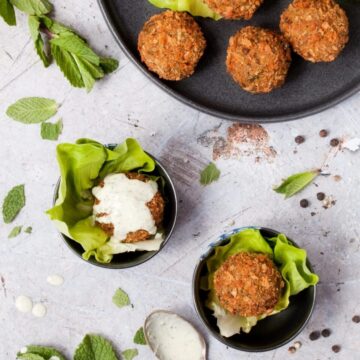 Mint Pea Falafel with Mint Tahini Dip
Mint Pea Falafel make a tasty lunch but are equally delicious served as a party nibble alongside drinks. These falafel can be deep fried, shallow fried, or cooked in an air-fryer, depending how healthy you feel like being.
Print
Pin
Rate
Ingredients
For the Mint Pea Falafel
1

400g/ 14 oz

Can Chickpeas

1

Echalion (banana) shallot

2

Garlic cloves

2

tablespoon

Plain (all purpose) flour

1

teaspoon

Salt

¼

teaspoon

Black pepper (ground)

60

g/ 1 cup/ 2 oz

Fresh breadcrumbs (wholemeal)

¼

teaspoon

Nutmeg (ground)

1

teaspoon

Cumin (ground)

100

g/ ⅔ cup/ 3 ½ oz

Frozen Peas – defrosted

Zest from ½ lemon

15

g/ ½ cup/ ½ oz

Fresh Mint (chopped)

120

g/ 2 cup/ 4 oz

Fresh breadcrumbs for coating

Vegetable/ Sunflower/ Rapeseed oil for frying
For the Mint Tahini Dressing
3

tablespoon

Tahini

1

Garlic Clove

Juice ½ lemon

¼

teaspoon

Salt

1

tablespoon

Olive oil

3

tablespoon

Water

6

tablespoon

Greek yoghurt (full fat)

15

g/ ½ cup/ ½ oz

Fresh Mint
Instructions
Make the Falafel
Drain the chickpeas (reserve the liquid) and put the chickpeas into a food processor

Finely chop the shallot and garlic and add to the processor

Add all remaining ingredients and pulse until the mixture is blended and sticks together but still has a little texture (scrape down the side as you go if necessary). If the mix looks dry and crumbly add a little of the reserved liquid from the chickpeas and pulse again to bind everything together

Refrigerate for 30 minutes
Make the Mint Tahini Dressing
Peel the garlic, chop finely and add to a jug with all other ingredients

Blitz with a hand blender, until smooth

Adjust seasoning to taste
Cooking the Falafel
Divide the falafel mix into 16 equal portions. Shape into balls and roll in breadcrumbs to cover (treat them gently – they will be soft)

If deep frying: heat the oil to 180C/ 350F and carefully drop the falafel into the hot oil. Cook in batches until golden all over (approx 3 minutes). Remove using a heat resistant slotted spoon and drain on kitchen paper. Keep warm in a preheated oven while the remaining falafel are fried

If shallow frying: the falafel cook best when flattened slightly to form patties rather than balls. Put a thin layer of oil into a heavy-based frying pan and cook in batches for 4-5 minutes, flipping midway through the cooking time to crisp both sides. Keep warm in a preheated oven while the remaining falafel are cooked

If using an Air-Fryer (see notes): follow cooking instructions for your specific model. I'd expect to cook in batches for a around 7-8 minutes at 180C/ 350F. Keep cooked falafel warm in a preheated oven to keep cooked falafel warm.
Notes
Cooking these falafel in an air-fryer will give good results, but they will not be as crisp and golden as the falafel pictured here (these have been deep fried – for my sins).
I do not recommend oven baking these falafel.
(Visited 1,141 times, 1 visits today)