Curry spiced, wonderfully crisp Poppadom Style Indian Potato Skins are loaded with fresh onion salad, raita and chutneys of your choice. They make a great appetiser or a fun party nibble.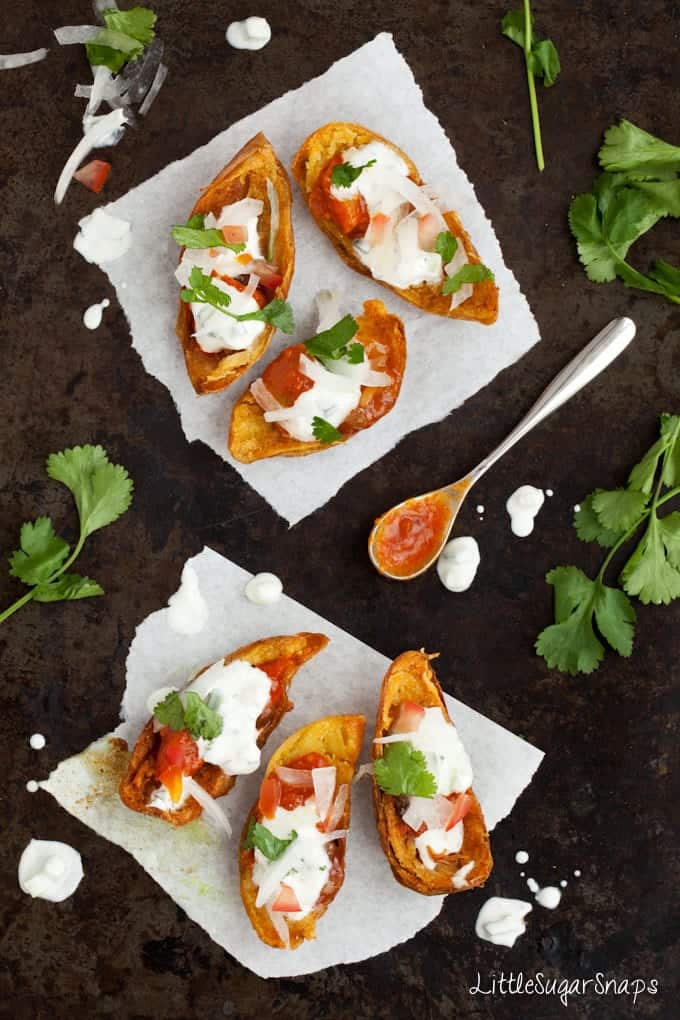 I'm diving straight into autumn with a hot little party number this week – Poppadom Style Indian Potato Skins. These curry-spiced, wonderfully crisp skins are loaded with fresh onion salad, cucumber & mint raita and chutneys of your choice. They make the perfect appetiser for a curry night or a fun nibble to linger over at a drinks party.
What's more, whilst they are delightful warm, these Indian Potato Skins retain their wow factor even when they've cooled. They remain perfectly crisp.
The recipe title gives away the inspiration behind these potato skins: the humble Poppadom. Yes, those pre-starter items on the Indian restaurant menu that most people delicately dip or top with one or 2 of the salads or chutneys that the chef has provided.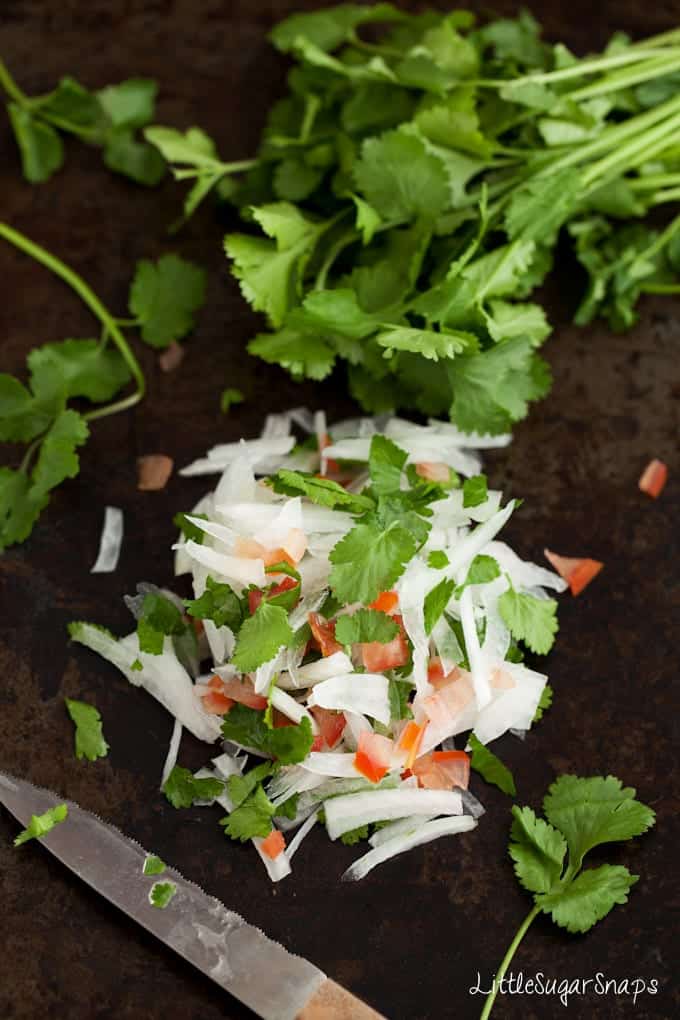 Confession number 1: Whenever Chris and I go to an Indian Restaurant we skip the starters and order a couple of poppadoms each. We then proceed to load them up with not one, not two, but a wild medley of toppings all in one go. We just love the freshness of the raita and onion salad all mixed in with the sweet, spicy, occasionally blow-your-head-off-hot, flavours of the chutneys.
Confession number 2. Quite often the waiters look genuinely shocked at just how much of those topping we've got through.
Confessions aside, the trouble is we don't eat out awfully often and I can't make poppadoms at home. To be truthful, I've never even tried. I do buy the pre-made version from the supermarket. But half the time I can't find a pack that hasn't been bashed about so much that those once perfect discs are reduced to a pile of crumbs. Even if I do find a decent pack, I then have to attempt to get those poppadoms home in one piece… success is not guaranteed.
And that is why there is no better alternative than to load up some curry spiked potato skins with all the wonderful flavours that are normally reserved for poppadums. You can make them at home and they don't shatter as soon as you look at them.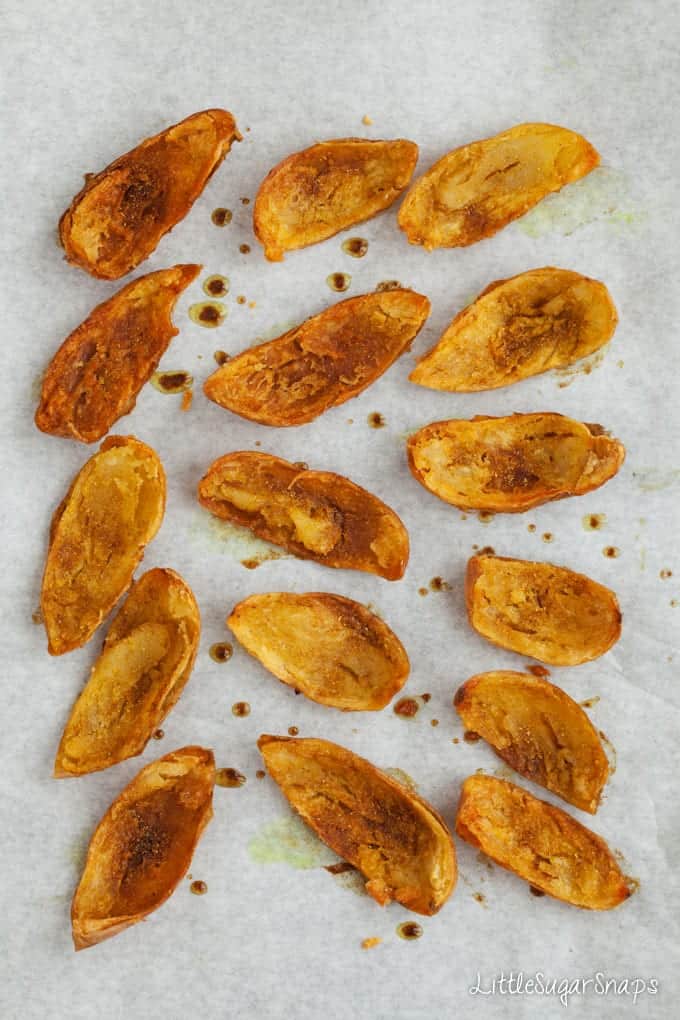 I love thesePoppadom Style Indian Potato Skins for a good many reasons. Mainly because these skins are deeply crisp and piled high with so many delicious toppings. Each flavour laden bite will make your bouche wonder what has hit it. They are also super easy to prepare and amazingly adaptable:
serve them hot or cold
pre-load them with all the toppings your little heart desires… Then sit back and watch your guests marvel at how colourful and inviting they look
Or not… present those skins naked alongside all of the toppings for guests to load up themselves
Poppadom Style Indian Potato Skins are the ultimate party pleaser, for you and your guests.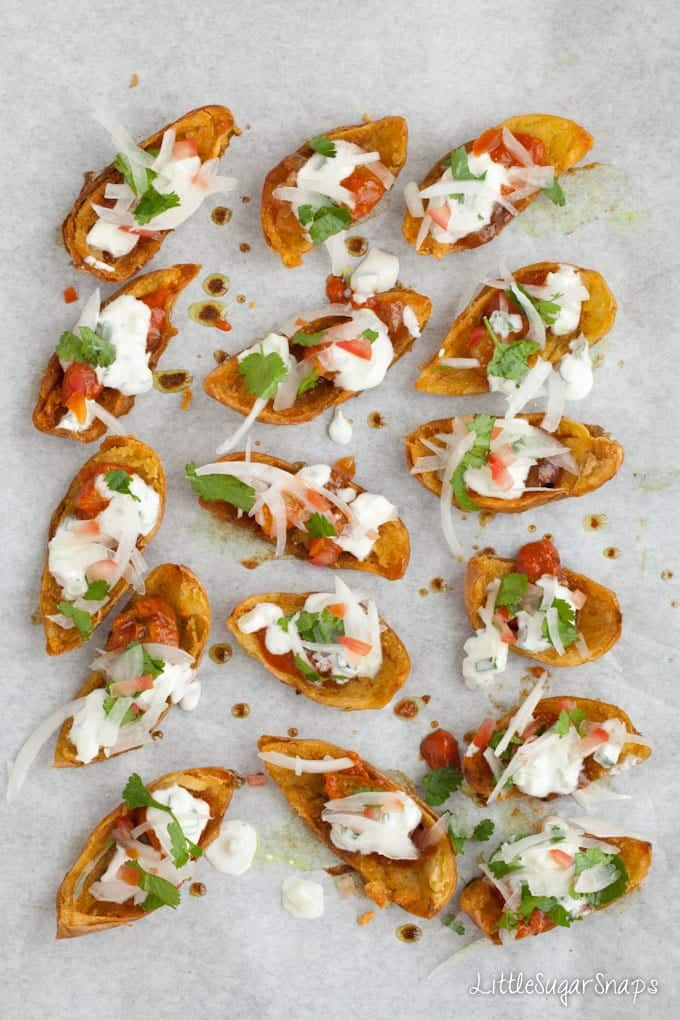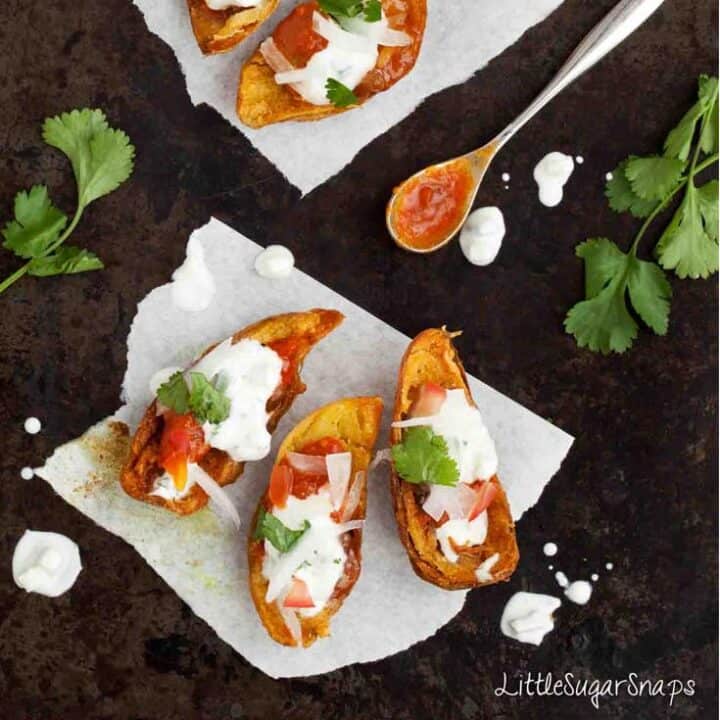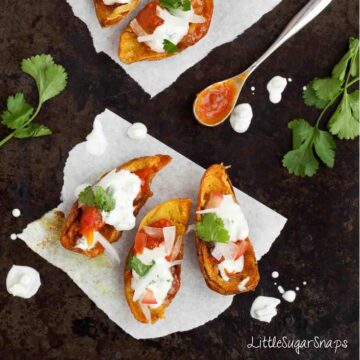 Poppadom Style Indian Potato Skins
Curry spiced, wonderfully crisp Poppadom Style Indian Potato Skins are loaded with fresh onion salad, raita and chutneys of your choice. They make a great appetiser or a fun party nibble.
Print
Pin
Rate
Ingredients
4

Medium or 6 small baking potatoes

(pre-baked at 180°C/ 350°F/ GM4 for around 75-90 minutes until the inside is soft when a knife is pushed through)

3

tablespoon

Groundnut oil

(or other flavourless oil)

1

tablespoon

Curry powder

(I used Madras)

½

teaspoon

Salt
For the Onion Salad:
½

White onion

½

Tomato

Small handful fresh coriander
For the Cucumber & Mint Raita:
3

tablespoon

Plain yoghurt

(unsweetened)

4

cm

Chunk cucumber

pinch

Cumin – ground

Salt & pepper

10

Fresh mint leaves
To Serve: several chutneys/ pickles of your choice such as:
mango chutney

hot lime pickle

garlic pickle

aubergine pickle
Instructions
Preheat the oven to 180°C/ 350°F/ GM4

Cut each potato in half and scoop out the flesh. Cut the skins in half again

Mix the oil with the curry powder and salt. Brush this mixture over the skins, front and back and place on a baking sheet lined with baking parchment. Bake in the oven for 12 minutes, until crisp

Meanwhile make the onion salad. Finely slice the onion lengthways and then roughly chop these slices several times. De-seed the tomato and cut into small chunks. Finely chop the coriander. Toss the onion, tomato and coriander together and tip into a serving bowl

Make the raita. Put the yoghurt into a bowl with the cumin and some salt & pepper. De-seed the cucumber and chop finely. Chop the mint. Stir the cucumber and mint into the yoghurt and transfer to a serving bowl

Put the chutneys and pickles into serving dishes

Once the skins are cooked, remove from the oven and top with the salads and chutneys or serve on a plate alongside the accompaniments
Notes
1. Serve these potato skins warm or allow to cool to room temperature. 2. Do not chill them once they have been cooked as they will lose their crispness. 3. Use the flesh from the baked potatoes to top a savoury pie or serve alongside a roast dinner.
(Visited 43 times, 1 visits today)