A tear-and-share dough ball and baked camembert wreath is the ultimate sharing platter for parties. Topped with red pesto, this gooey cheese is crying out to be dipped into with buttery & garlicky sundried tomato dough balls.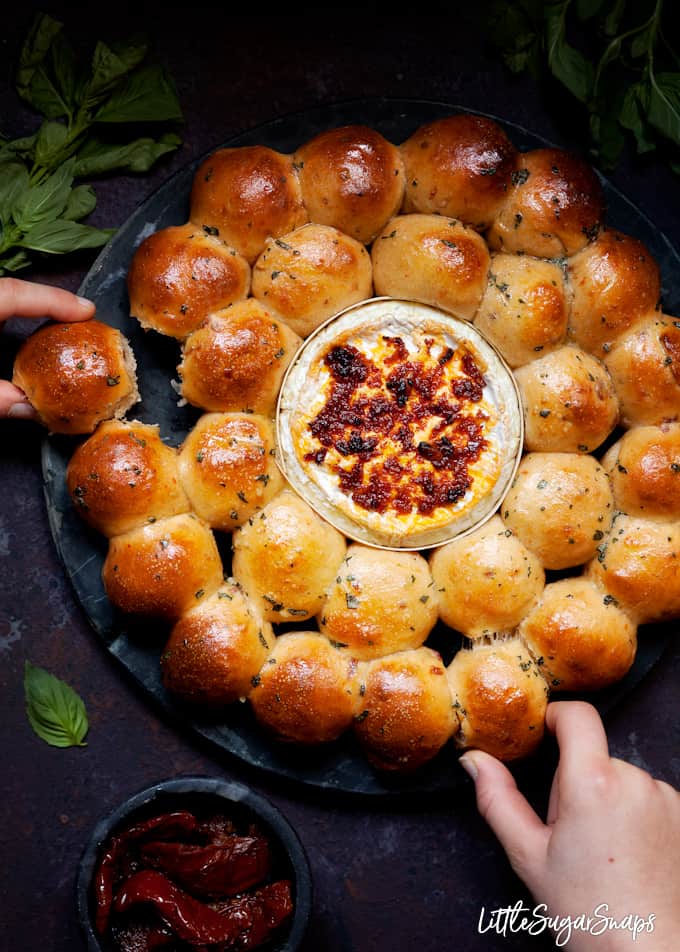 IN COLLABORATION WITH THERMAPEN
Way back when my kids were tiny we were holidaying in France and, looking for an easy supper option, I baked up a whole Camembert. With plenty of bread and vegetables to dip in, the meal was an instant hit. So much so that it's a dish we return to time and again at home when we fancy indulging ourselves.
Since that first instance, a certain youngest child of mine has developed quite a penchant for dough balls. So I thought it was about time I revisited our much-loved baked Camembert platter to give it a little makeover by incorporating some tear and share dough balls.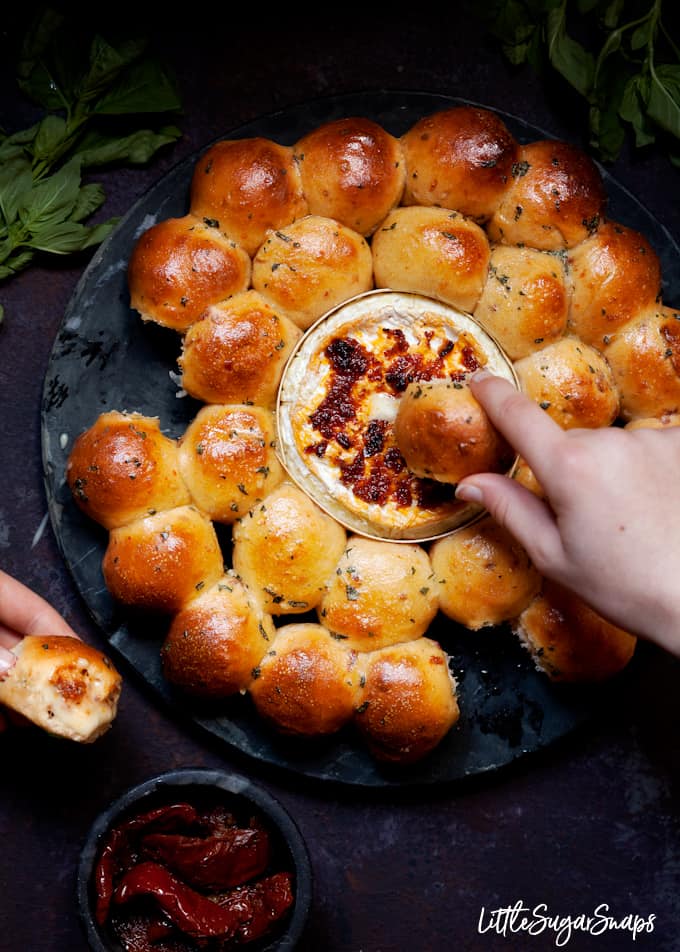 The dough balls are flavoured with sundried tomatoes and glazed in garlicky butter to give a vibrant and enticing golden glow. To give extra excitement to the baked Camembert itself, a dollop of juicy red pesto is ladled on top before baking.
The already winning combination of warm bread and gooey cheese has definitely been taken up a few steps.
These tear and share dough balls and the baked Camembert wreath would go down a storm at any party gathering. But the wreath shape makes this baked Camembert platter an absolute gem to serve to a voracious crowd over the Christmas period.
What are Dough Balls
Dough balls were made popular by a famous high street pizzeria in 1969. Made simply from pizza dough that had been shaped into balls and baked, dough balls remain a widespread favourite for dipping into garlic butter.
My dough balls are loosely based on this concept. I've taken a regular bread dough and added a flavour boost by incorporating finely chopped sundried tomatoes into it.
They have also been glazed with an egg wash prior to baking to give each ball a healthy glow. Finally, a lick of garlic and basil butter serves to amplify this radiant glow and kick up the flavour profile.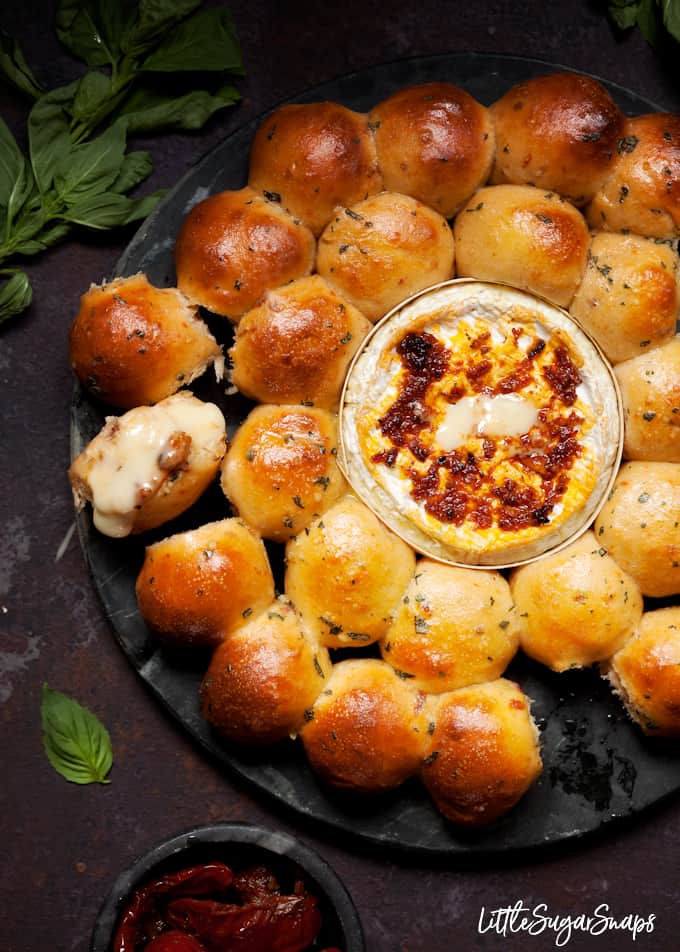 Equipment for Making Dough Balls
Bread making requires very little in the way of essential equipment. But there are a few things that will make life far easier if you can use them:
A large bowl – this is essential bread making equipment for mixing the dough by hand and for holding the dough as it rises
A Stand mixer – though not essential, a machine that can do the kneading for you will make life considerably easier
Clean tea towels and a large plastic bag for the rising and proving stages
A warm place – bread needs time for the yeast to work its magic and help the dough rise. A warm, rather than cold or hot place is best
A food thermometer to help test that the bread is sufficiently cooked – nobody likes to bite into a raw dough ball. I consider this piece of kit essential when it comes to making bread.
Of course, I always whip out my trusty Thermapen digital food thermometer whenever I make bread. It can accurately read the temperature inside the bread in just 3 seconds, meaning that I can rest assured that the correct temperature has been reached. For my dough balls that's anywhere between 88C/ 190F and 93C/ 199F.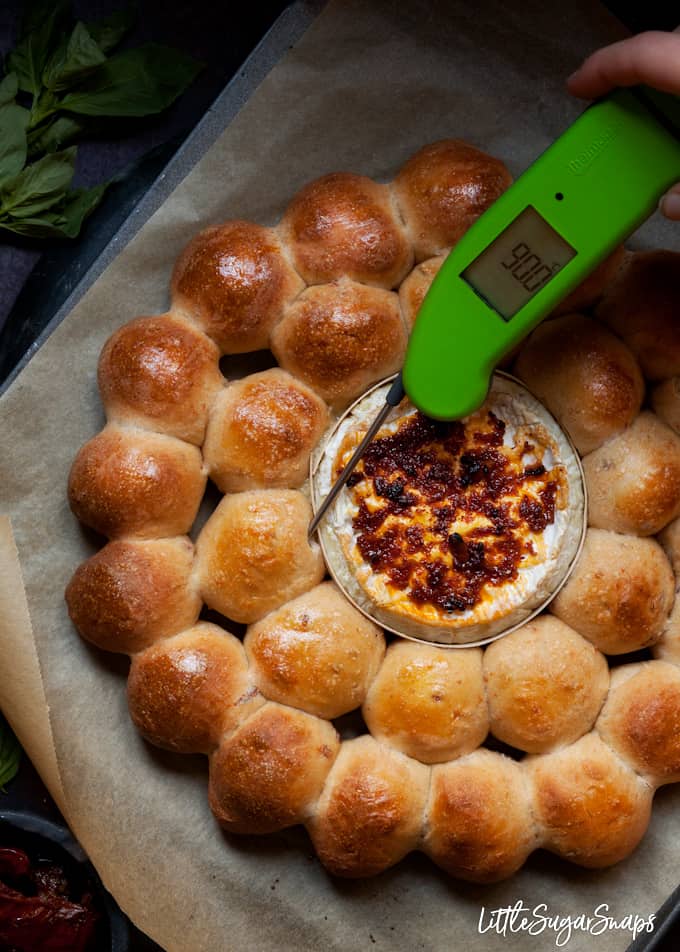 Incidentally, the Thermapen Professional can be configured to read Celcius or Fahrenheit. And it comes in a range of fun colours to suit every kitchen going.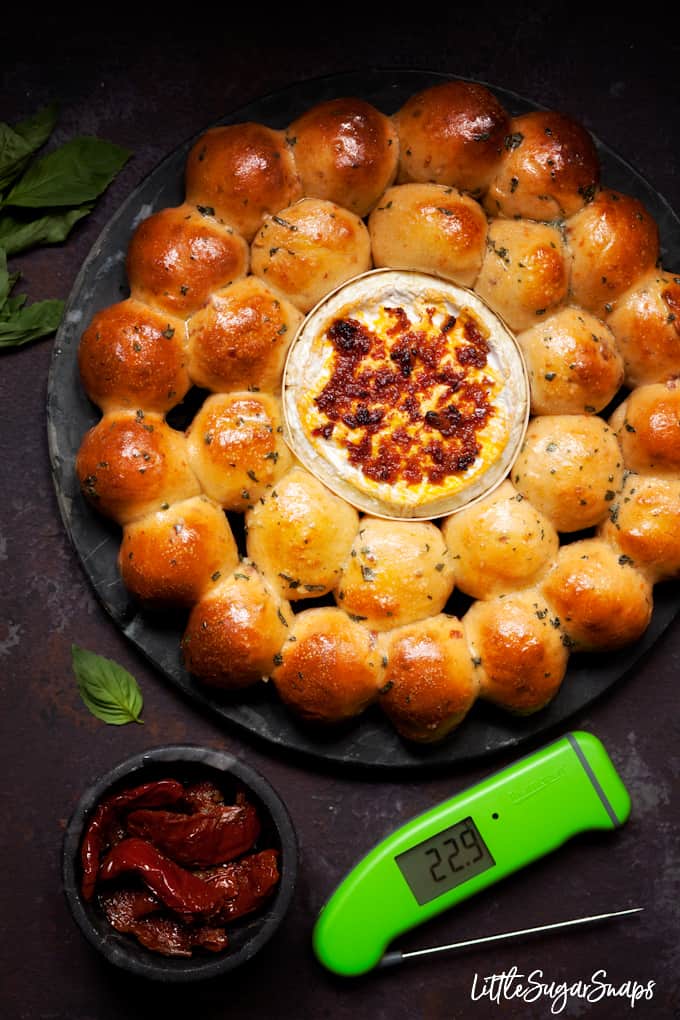 For a limited time (19th Nov 2021 – 19th Dec 2021) Thermapen are offering my readers a 20% discount on full-priced items bought directly from them. Just use the code SUGAR20 at the checkout.
How to Make this Dough Ball and Baked Camembert Wreath
You'll be pleased to hear that there is nothing complicated about producing this baked Camembert platter. Despite the stunning visual appearance, it's a straightforward recipe:
Make the bread dough by mixing the flour, yeast, salt, sugar, oil and water to a soft (but not sticky dough)
Knead for 5 minutes then work in some finely chopped sundried tomatoes. Continue to knead for a further 5 minutes until the dough is smooth and elastic
Place in a lightly oiled bowl, cover with a clean tea towel and leave to rise for 2 hours (or until doubled in size)
Knock back the dough and divide into balls approx 30g (1 oz) in weight. You should end up with 27-28 balls
Unwrap the Camembert, place back in its wooden case and lay in the centre of a baking sheet (lined with parchment). Spoon red pesto onto the top
Shape the dough into balls and arrange around the edge of the cheese in 2 circles. Let prove then brush with a little beaten egg and bake for approx 20 minutes
Check the dough is cooked using a digital food thermometer. If not, return to the oven for a few more minutes and test again
Once cooked mash butter, garlic and basil together and brush over the dough balls. Serve straight away
Please refer to the recipe card for full instructions.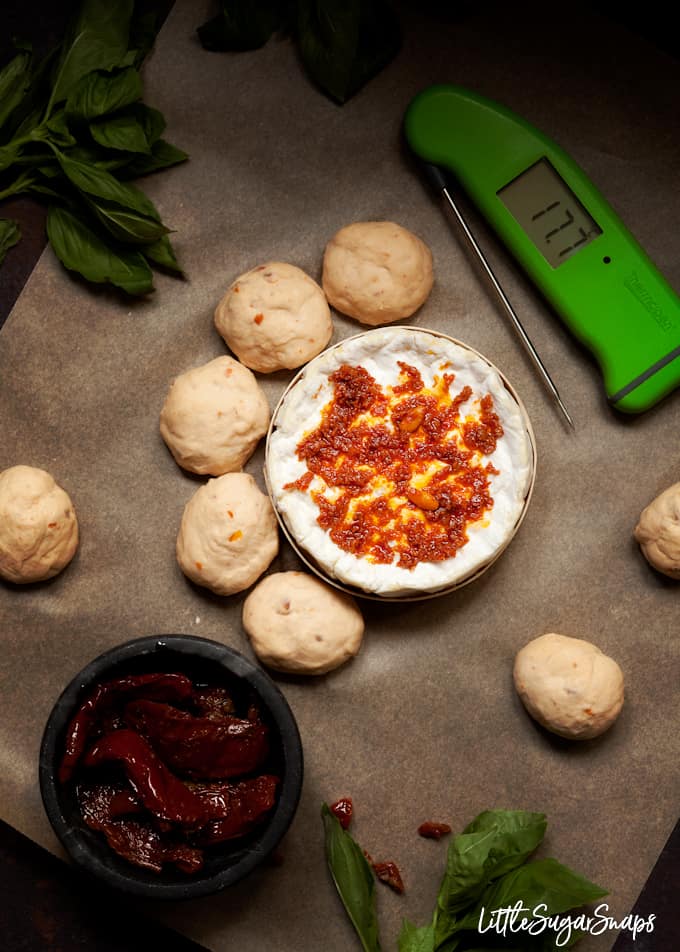 Tear and share dough balls in a baked Camembert wreath are a sure way to get a party started right. This sharing platter is fun, inclusive and very welcoming when served to guests.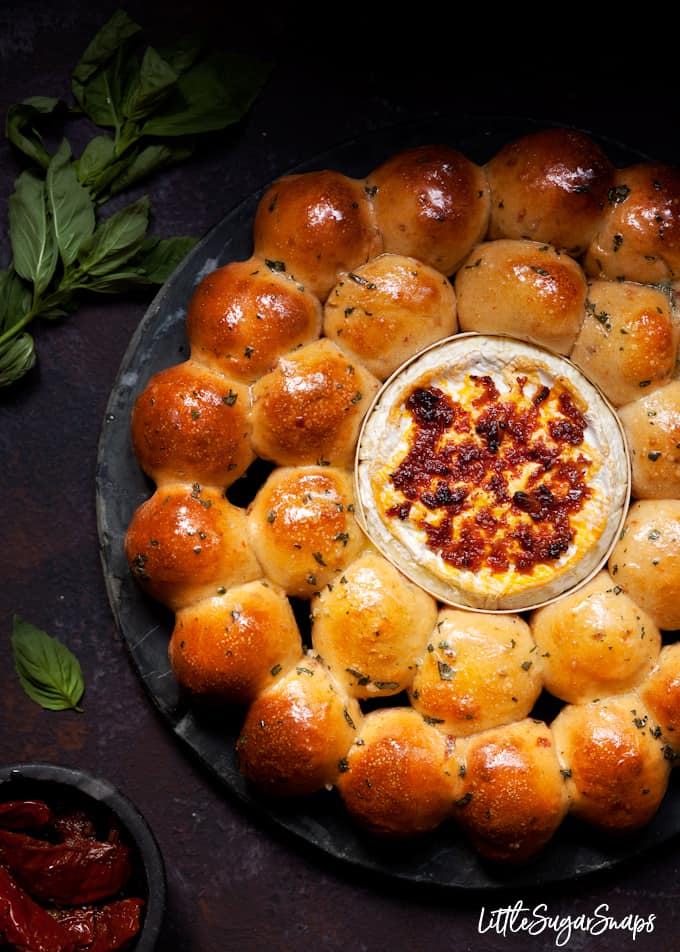 Try my other party favourites: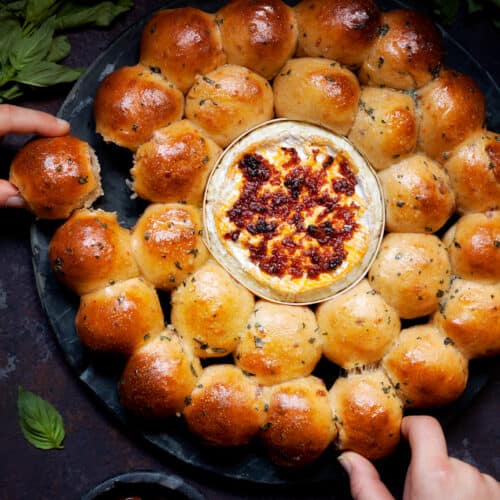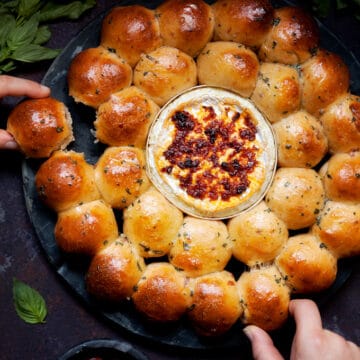 Dough Ball and Baked Camembert Wreath
A tear-and-share dough ball and baked camembert wreath is the ultimate sharing platter for parties. Topped with red pesto, this gooey cheese is crying out to be dipped into with buttery & garlicky sundried tomato dough balls.USE THE TOGGLE BUTTON AT THE BOTTOM OF THE INGREDIENTS LIST FOR U.S. MEASURES
Print
Pin
Rate
Ingredients
250

g

Camembert

(bought in a round)

500

g

Bread flour

2 ½

teaspoon

Fast action dried yeast

1

teaspoon

Salt

1

teaspoon

Caster sugar

1

tablespoon

Olive oil

300

ml

Water (tepid)

45

g

Sundried tomatoes

Use those preserved in oil rather than dried

1

Egg

45

g

Butter (softened)

1

Garlic clove

Use 2 cloves for a really garlicky hit

5-6

Basil leaves
Instructions
Mixing By Hand
Put the flour, salt, sugar, yeast and oil into a large mixing bowl and add ¾ of the water. Begin to mix, adding more water as necessary to form a soft, but not sticky dough

Turn out onto a lightly oiled work surface and knead for 5 minutes

Drain the sundried tomatoes and blot on kitchen paper. Chop finely and work to the dough, kneading for 5 more minutes until smooth and elastic. Proceed to the Rising and Proving stage
Mixing By Machine
Put the flour, salt, sugar, yeast and oil into the mixing bowl of a stand mixer fitted with a dough hook. Add ¾ of the water and let the machine run. After a few moments, turn off, scrape the sides of the bowl with a rubber spatula if necessary and then let the machine continue to mix. Add more water as necessary to form a soft, but not sticky dough (turn the machine off and feel the dough to guide yourself

Let the machine knead the dough for 5 minutes then turn off

Drain the sundried tomatoes and blot on kitchen paper. Chop finely and tip into bowl. Let the machine knead the dough for 5 more minutes, turning off and scraping any loose tomato back into the dough as required. Stop with the dough is smooth and elastic
Rising and Proving
Lightly oil a clean bowl and place the dough inside. Cover with a clean tea towel and leave in a warm place for around 2 hours until doubled in size

Turn the dough out onto a lightly floured work surface and knock back. Dived into small balls each weighing around 30g (1 oz). You will end up with approximately 27-28 balls

Lay baking parchment on a large baking sheet

Take the Camembert out of it's case and wrapper, then push it back into 1 half of the wooden case it came in, then place in the centre of the baking sheet

Using floured hands, roll each portion of dough into a ball and place arund the Camembert in 2 concentric circles

Cover loosely with a large plastic bag and leave to prove for 30-40 minutes until well risen

Meanwhile, preheat the oven to 210C/ 410F/ GM 6 ½

Beat the egg and use to glaze the dough (use a silicon brush and wipe gently over the dough balls to retain the good rise

Top the cheese with the pesto and slide the baking sheet carefully into the oven

Let cook for 20 minutes, then test the dough balls are cooked by using a digital food thermometer, such as a Thermapen, to check the temperature. It should be between 88C/ 190F and 93C/ 199F to be cooked sufficiently. If below 88C/ 190F, return to the oven, cook for a few more minutes and retest

While the wreath is cooking make the garlic butter: finely chop the basil and crush the garlic clove then mash into the butter using a fork

Once the wreath is baked, remove from the oven and brush the garlic butter over the dough balls using a silicon brush
Nutrition Per Serving (Approximate)
Calories:
412
kcal
|
Carbohydrates:
51
g
|
Protein:
17
g
|
Fat:
16
g
|
Saturated Fat:
8
g
|
Cholesterol:
55
mg
|
Sodium:
621
mg
|
Potassium:
357
mg
|
Fiber:
3
g
|
Sugar:
3
g
|
Vitamin A:
489
IU
|
Vitamin C:
2
mg
|
Calcium:
141
mg
|
Iron:
1
mg
(Visited 1,541 times, 5 visits today)