This Salmon & Rice Bowl delivers blissful bites of flaky salmon, fresh asparagus & wild rice all wrapped up in a tangy, spicy Thai style dressing.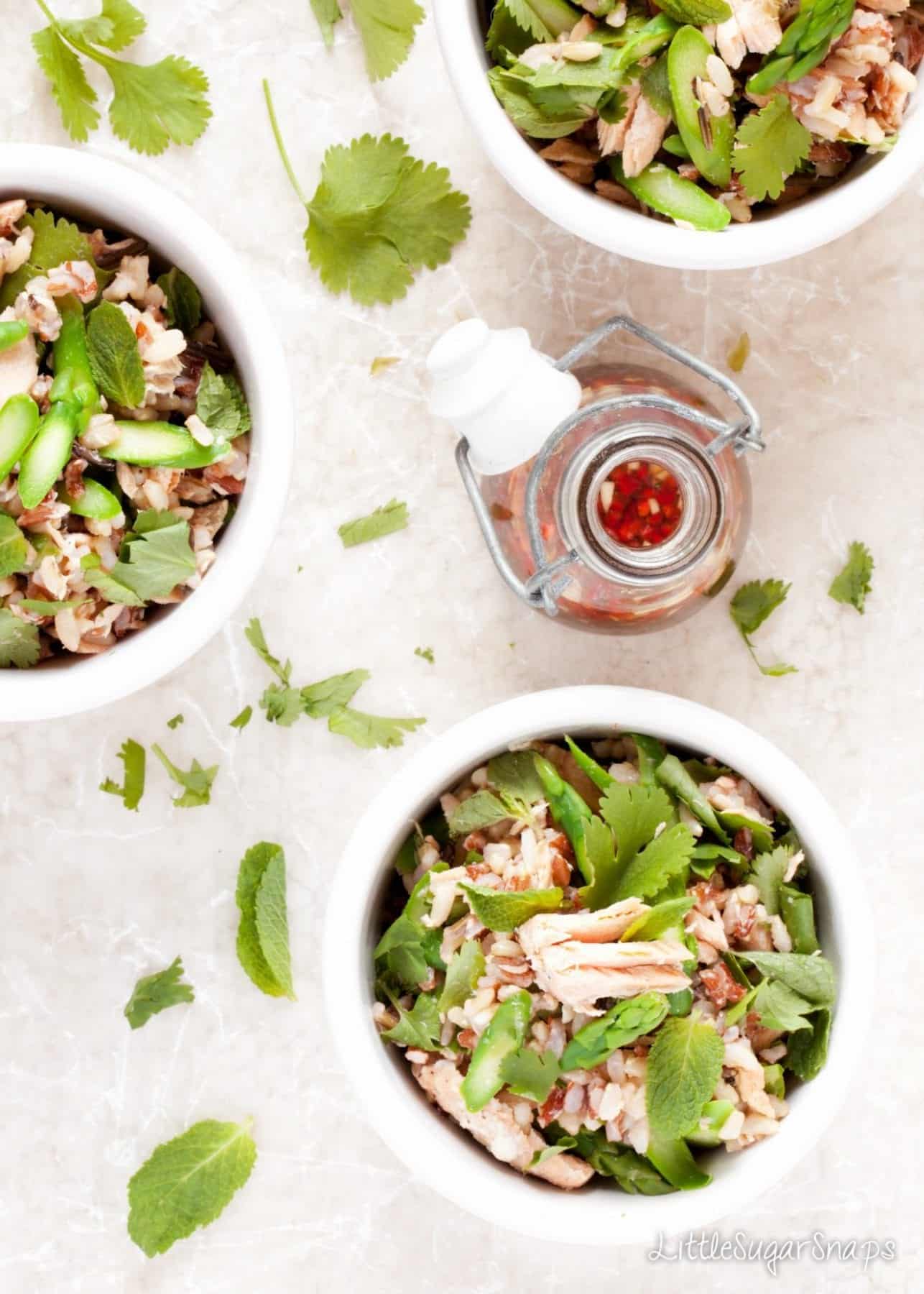 Since early February I've been living a very simple lunchtime life consisting mainly of using up leftovers I've found in the fridge. Now, that may sound very clean and frugal, but the truth is, I've been having some fairly monotonous lunches lately.
Last week I decided that it was time to break out of this rut I'd fallen into and give my lunch some welly. Off I went to investigate the contents of my fridge and store cupboard with fresh eyes….
Two minutes later I grabbed a cooked salmon fillet and concocted this flavour-packed Thai salmon & rice bowl.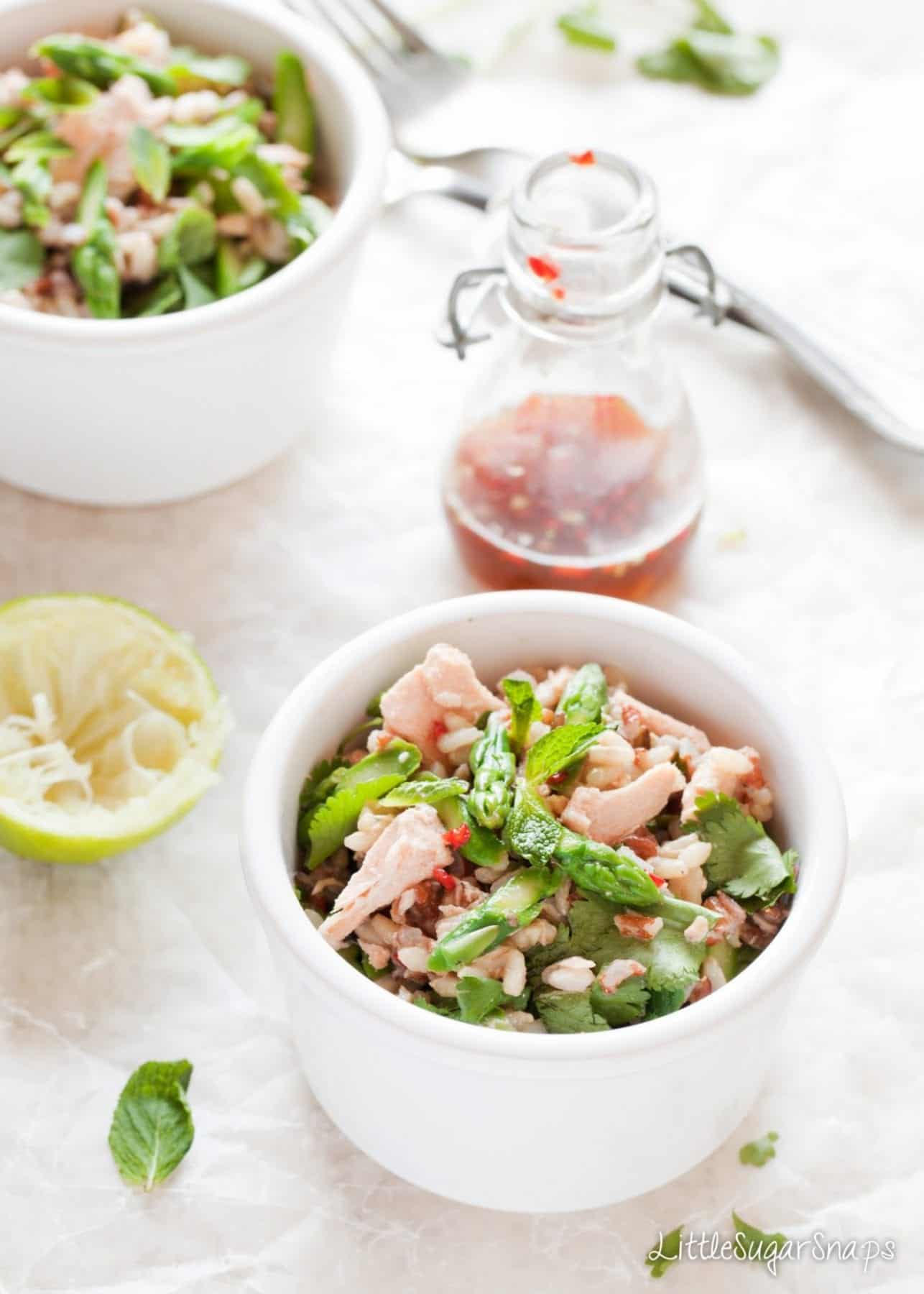 Note that I haven't called this bowl a Thai salmon and rice salad even though there's plenty of veg and herbs in the mix.
What set's this dish apart from a true salad is the comforting serving of rice that's included. After all, we're only just tiptoeing towards spring in my neighbourhood.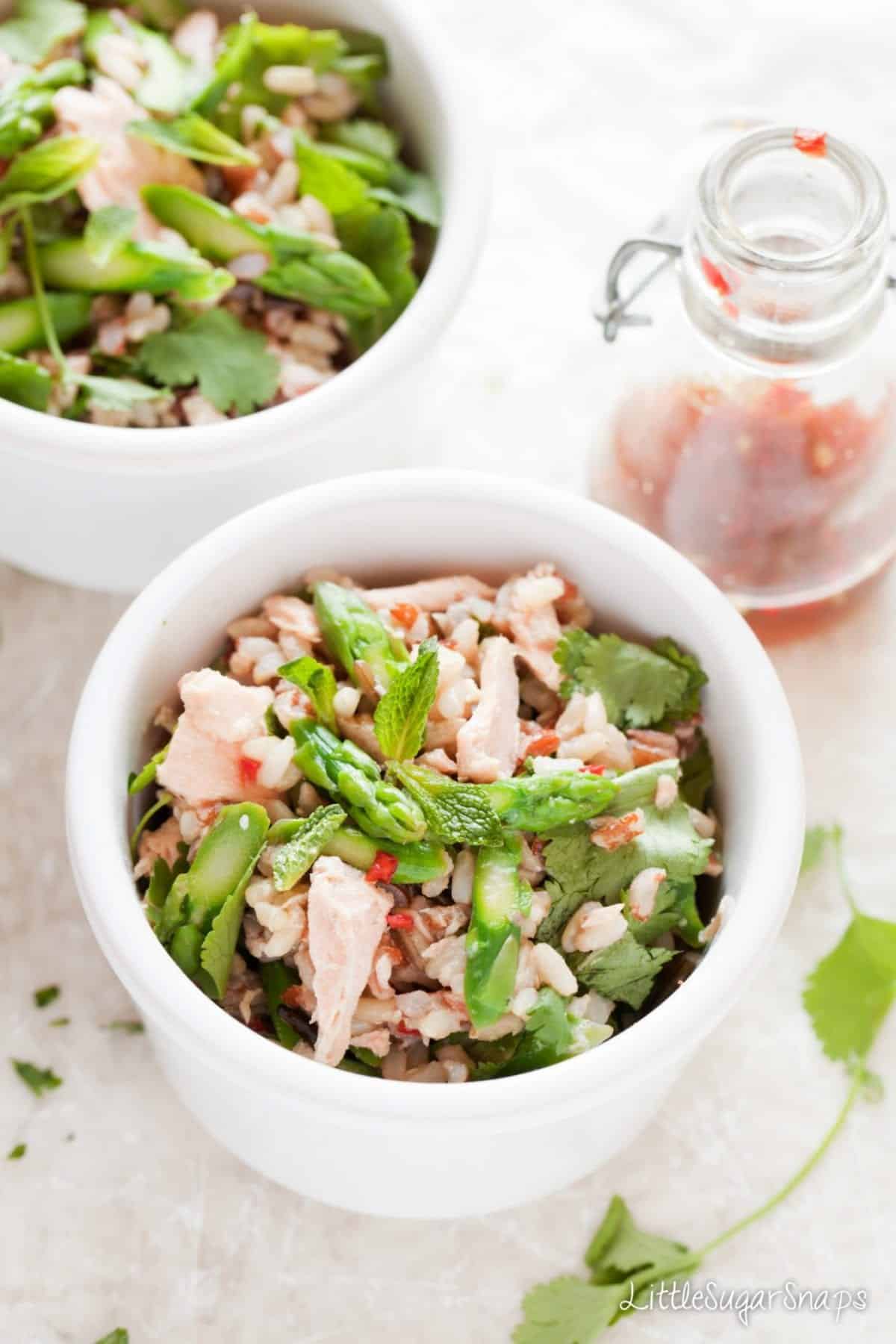 Ingredients for Thai Salmon and Rice Bowls
I wanted to keep this salmon and wild rice recipe healthy and nutritious. So I've incorporated plenty of fresh ingredients to really play up the nourishment factor.
Each bowl is loaded with rice, flaky salmon and fresh, bright asparagus, fresh mint and coriander.
If you don't happen to have wild rice handy then feel free to substitute white or brown rice instead.
Teamed with a zesty and bold fat-free Thai dressing, this is one lunch you'll be tempted by time after time.
How to Make Salmon and Rice Bowls
These bowls look impressive, but are actually very simple to prepare. Simply:
cook the rice and asparagus
flake the salmon and chop the scallions
mix the salmon and wild rice together with the asparagus and herbs
prepare the dressing and serve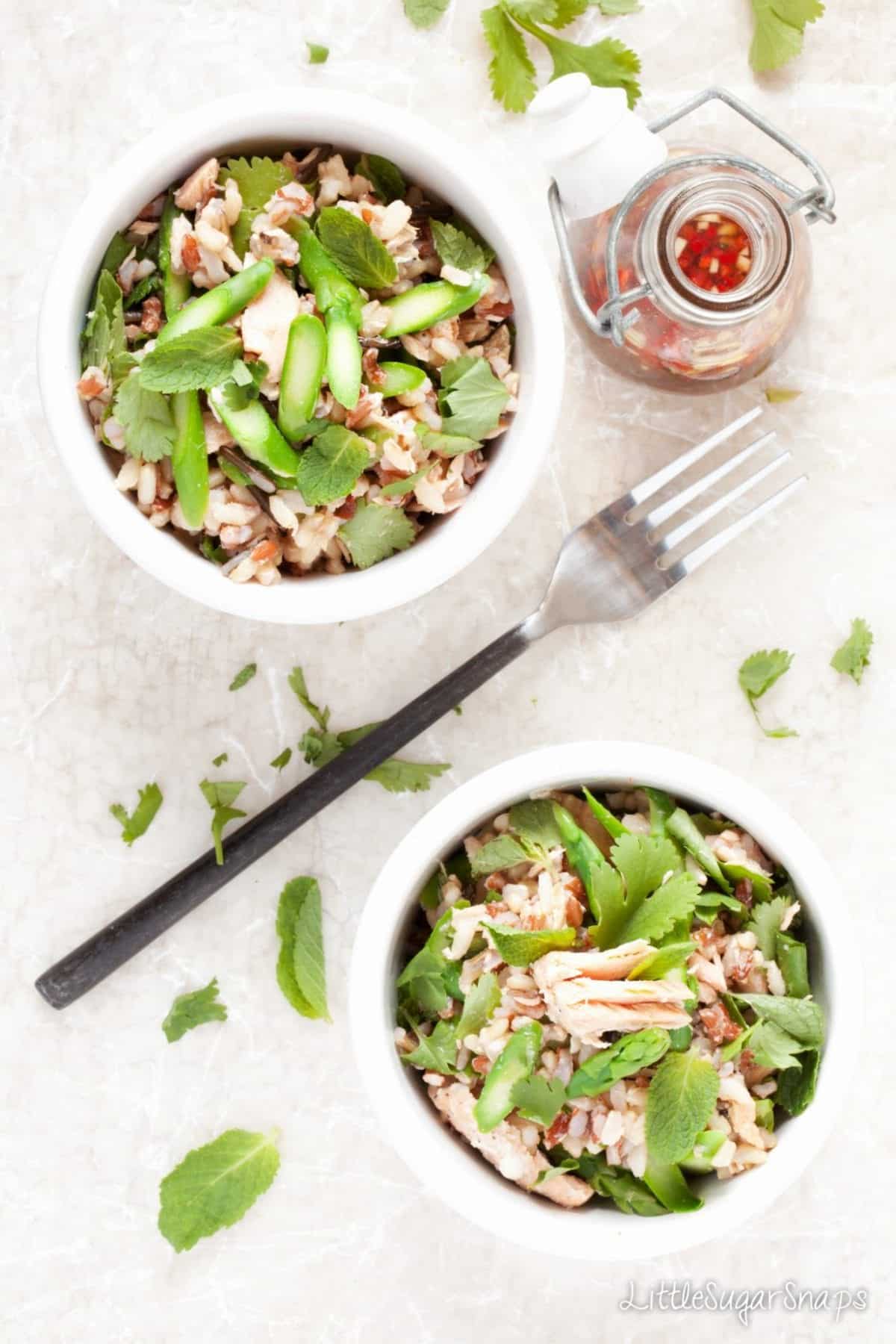 How to make the Thai Dressing
I decided to use a dressing that is based on traditional Thai flavours:
lime
fish sauce
chilli
mint
coriander
This means each forkful delivers a taste that is lively, fresh, spicy and generally so very yummy it's hard to resist.
And it couldn't be easier to make. Simply mix the lime juice and fish sauce together in a bowl with the palm sugar until it dissolves, then stir in the remaining ingredients.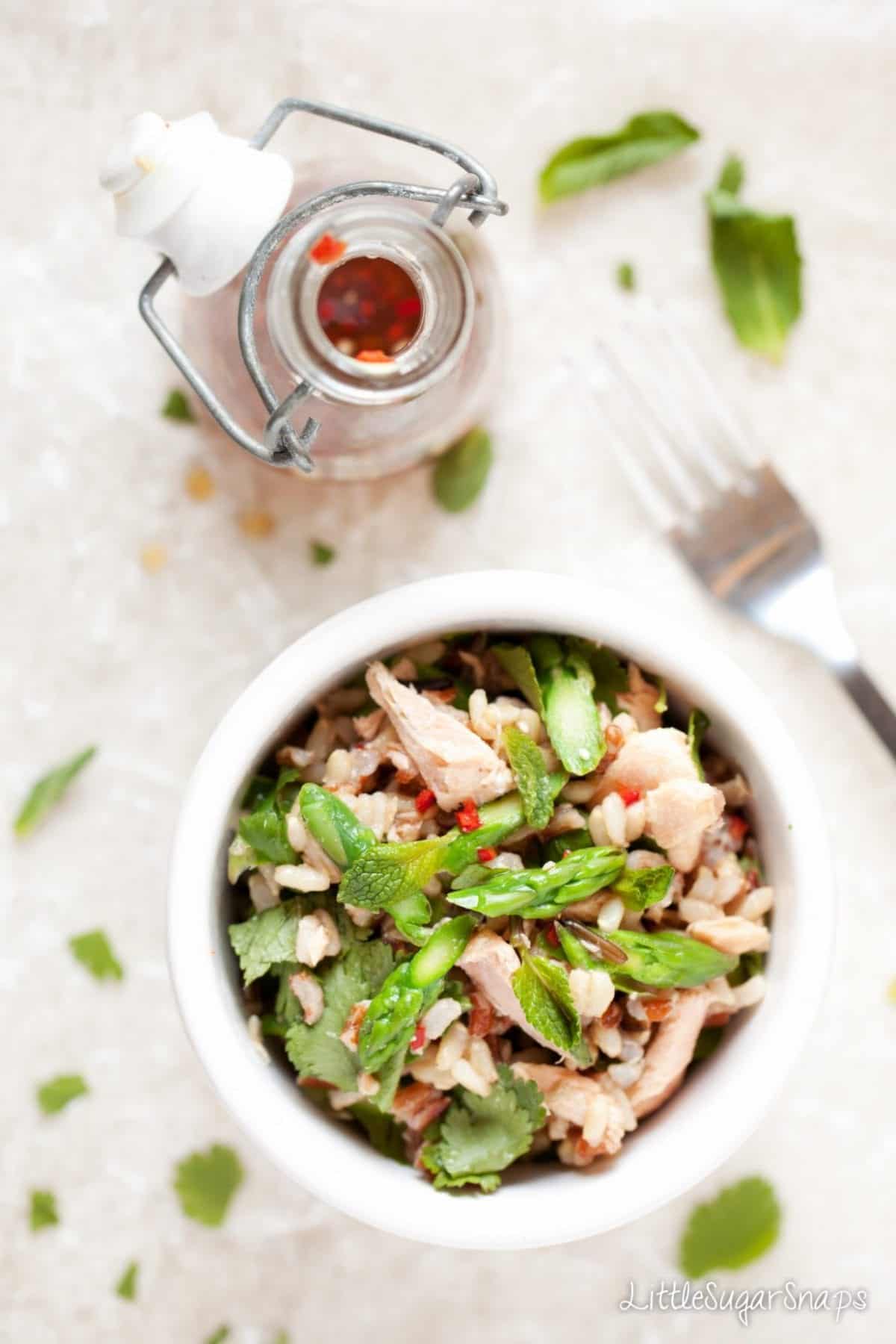 I think it's the combination of the salty-spicy-zesty boom from the dressing, mixed with the cooling mint and coriander, the crunch from the asparagus & onions and the slightly chewy texture from the salmon and wild rice that keeps me coming back for more. These salmon rice bowls are a new regular feature in my midday break now.
I think I may just be falling back in love with lunchtime.
Find More Simple Recipes for Lunchtime: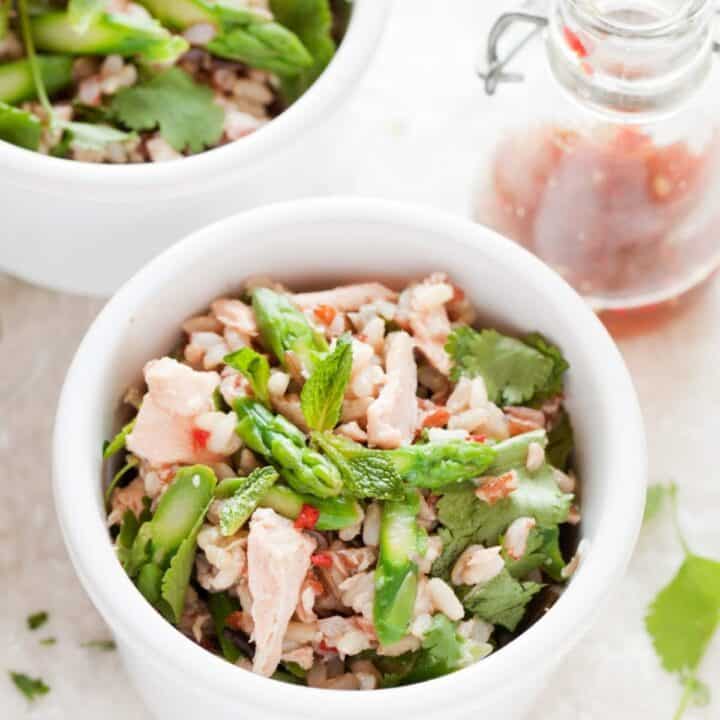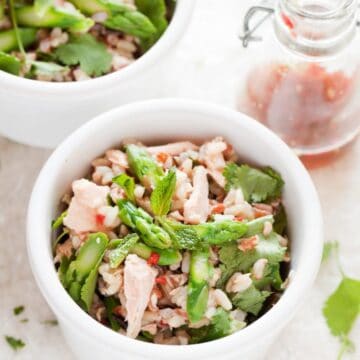 Thai Salmon & Rice Bowls
Thai Salmon & Wild Rice Lunch Bowls deliver blissful bites of flaky salmon, fresh asparagus & wild rice all wrapped up in a tangy, spicy Thai style dressing.
Print
Pin
Rate
Ingredients
For the bowl mix:
2

Salmon fillets (skinless, cooked)

200

g/ 7oz rice

Wild Rice Mix – I used Biona

see notes

250

g/ 9oz

Asparagus stems – not too fat if you can choose

20

g/ 1oz

Fresh coriander – reserve a few leaves for garnish

20

g/ 1oz

Fresh mint – reserve a few leaves for garnish

6

Salad onions
For the Dressing:
3

tablespoon

Fish sauce

4

tablespoon

Lime juice

1

teaspoon

Palm sugar

1

Garlic clove – peeled and chopped fine

½

Hot red chilli – deseeded and chopped fine

(see notes)
Instructions
Cook the rice according to the pack instructions. Set aside to cool

Trim the woody ends from the asparagus. Finely slice the remaining asparagus on the diagonal, plunge into boiling water for 1 minute, then refresh in cold water. Drain and set aside

Finely slice the salad onions and pick the coriander and mint leaves from their stalks. If the mint leaves are large, rip them into smaller pieces

Once the rice has cooled, add the asparagus, salad onions, mint and coriander. Flake the salmon into the bowl and and stir to combine

Make the dressing by mixing all ingredients in a bowl until the sugar dissolves

Pour the dressing over the salad, mix gently and spoon into bowls. Top with the reserved coriander and mint leaves and serve immediately
Notes
1. Biona Organic Wild Rice Mix contains red Camargue, white long grain and Canadian Wild rice. I think that brown rice would also work particularly well, but plain ol' white rice would be fine too.
2. You can adjust the amount of chilli according to your tastes. The ½ chilli suggestion is just my guide based on what a person who enjoys fairly spice food might like to eat at lunchtime.
Nutrition Per Serving (Approximate)
Calories:
337
kcal
|
Carbohydrates:
45
g
|
Protein:
27
g
|
Fat:
6
g
|
Saturated Fat:
1
g
|
Cholesterol:
47
mg
|
Sodium:
1112
mg
|
Potassium:
935
mg
|
Fiber:
6
g
|
Sugar:
5
g
|
Vitamin A:
1289
IU
|
Vitamin C:
23
mg
|
Calcium:
70
mg
|
Iron:
4
mg
(Visited 336 times, 5 visits today)