Ready in no time, packed with tangy, spicy flavour and incredibly healthy. This Pickled Ginger Noodle Salad is a winning lunchtime combination.
Monday morning hits and the reality of the weekend bites – I have half a pack of pickled ginger left over from Saturday night's supper in the fridge and no plan to use it up. What should I do with it? For me, weekdays consist of healthy, well balanced meals for myself and my family. They have to be quick though, whether that's in the evening when small mouths will not wait, or daytime and its just me here with a bunch of things to do before school ends. That's where this little gem of a salad helps out. Pickled Ginger Noodle Salad is ready in no time, packed with flavour and full-on healthy.
At the base of this recipe is a tasty salad of noodles, tenderstem broccoli and Romanesco (aka Romanesque cauliflower or Romanesco broccoli or even broccoflower). I've dressed up these ingredients with a lovely tangy, spicy dressing. Not bad, not bad at all. But by adding on some toppings this Pickled Ginger Noodle Salad hits a new level completely. The choice of topping is purely personal, but I recommend a mix of
red chilli
fresh coriander
spring onions
toasted peanuts
Dressed with all of these additional treats this salad practically dances in your mouth. I'm not sure if it's the satisfying crunch of those peanuts, or the heat from the chilli as the days get colder, but I'll admit that I'm hooked on this right now.
Lunch sorted, mmmmm, what to do with the half tub of white miso paste also lurking in the fridge.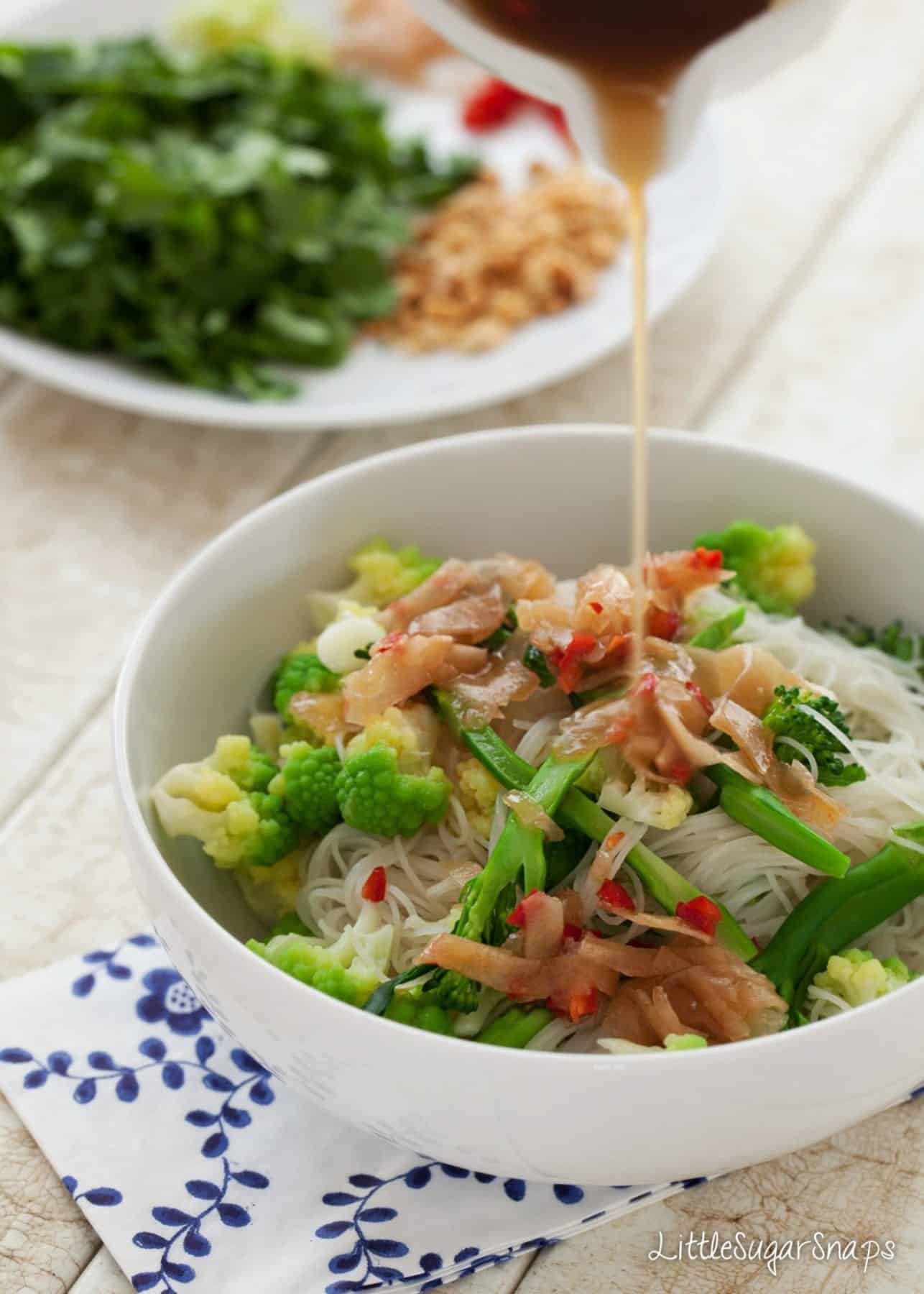 For another quick lunch idea try my Fried Rice with Mushrooms, Egg and Peas.
(Visited 1,064 times, 2 visits today)