The Blushing Cuban Passionfruit Raspberry Cocktail is a vibrant & exotic blend of fresh passionfruit & raspberries, Cuban rum & Raspberry Liqueur.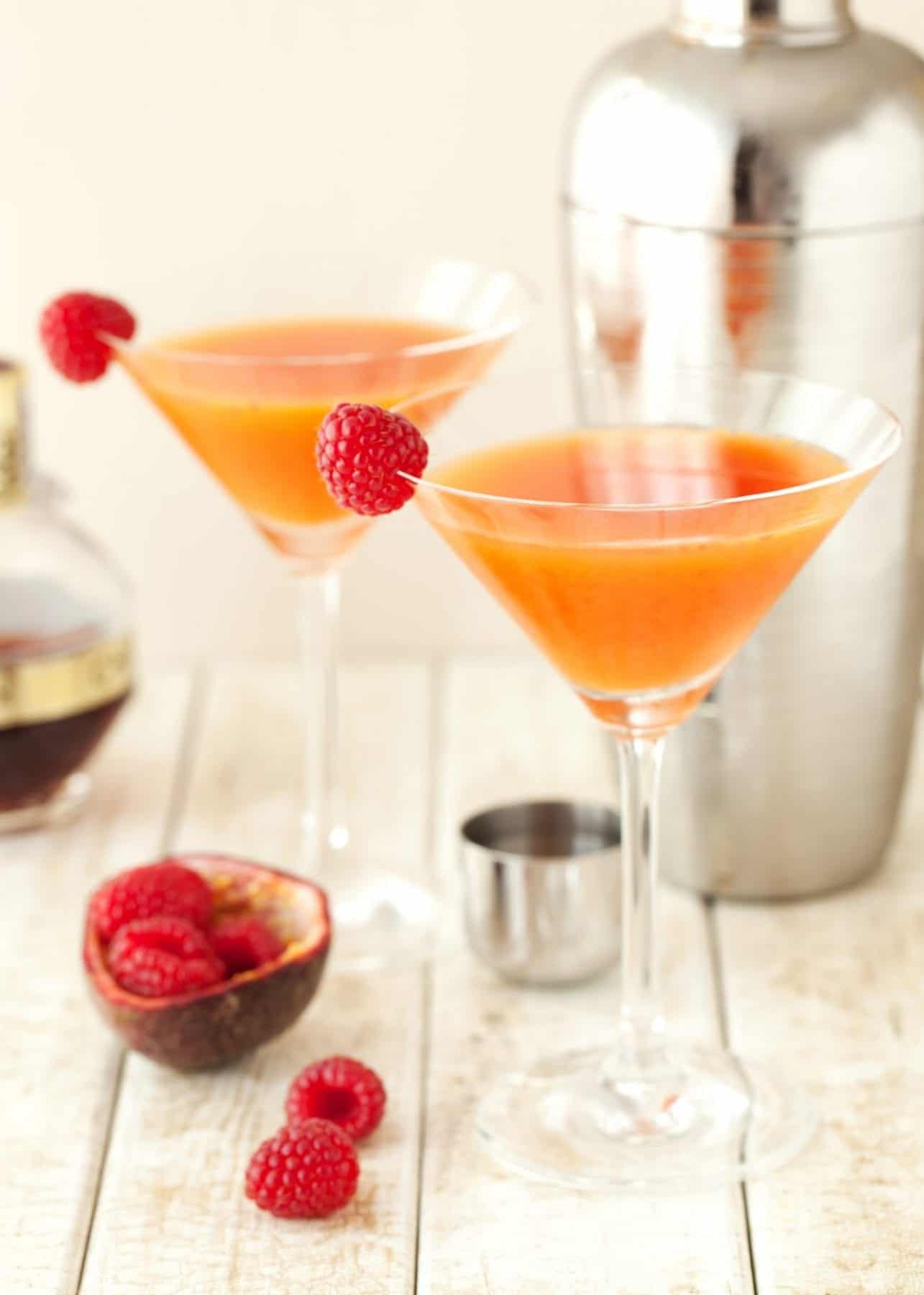 This post contains affiliate links. As an Amazon Associate, I earn from qualifying purchases.
It's Friday, which in my house means that tonight is cocktail night. This week I'll be relaxing with a Blushing Cuban – a vibrant little number blending fresh passion fruit & raspberries together with Cuban rum and Raspberry Liqueur. If you like fruity, exotic, punchy cocktails to linger over, then this is the perfect one for late summer. I can't wait to get squishing our fat & juicy homegrown raspberries in this Passionfruit Raspberry Cocktail tonight.
If you're out of raspberries, fear not, I've got a straight passionfruit martini recipe too.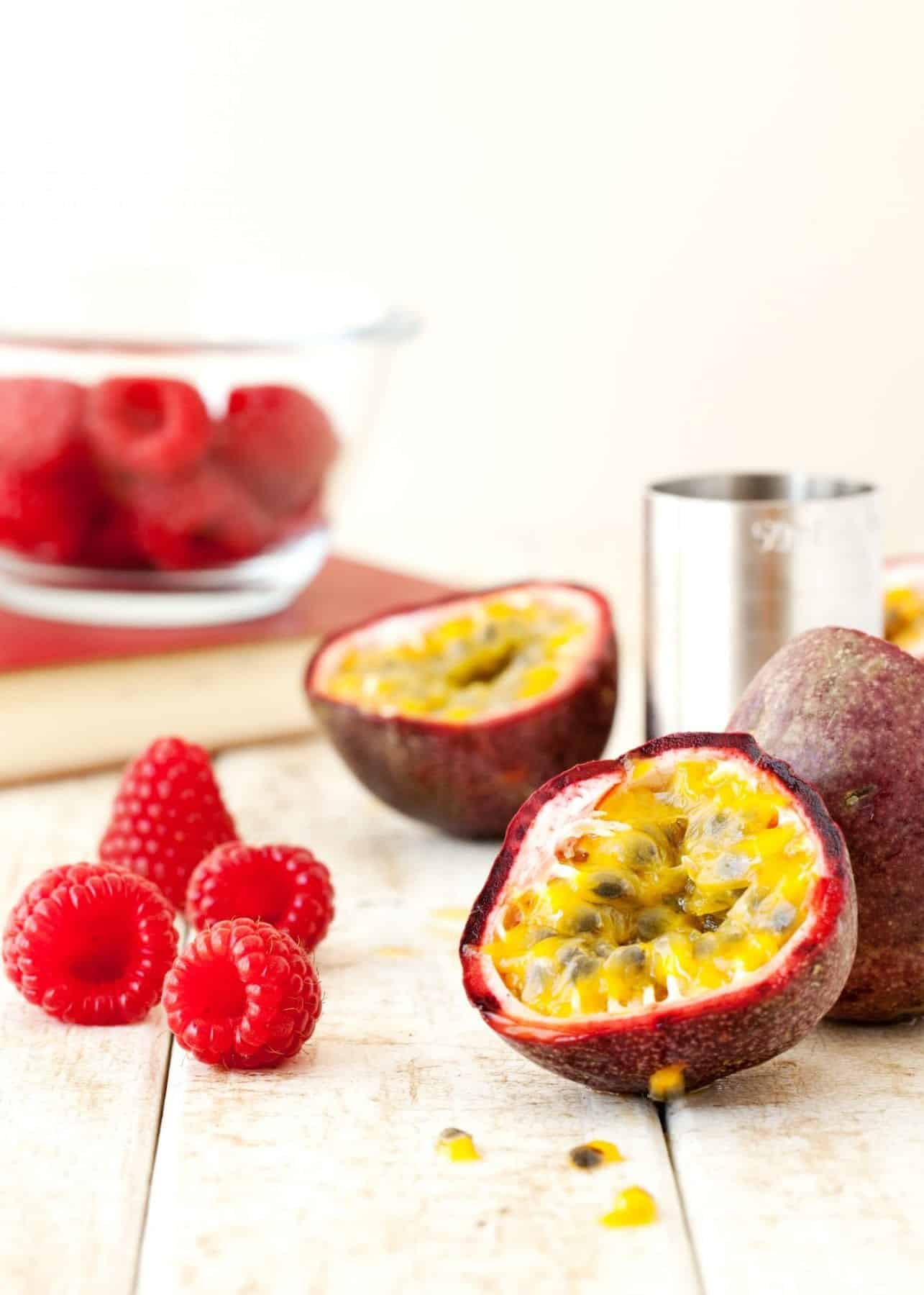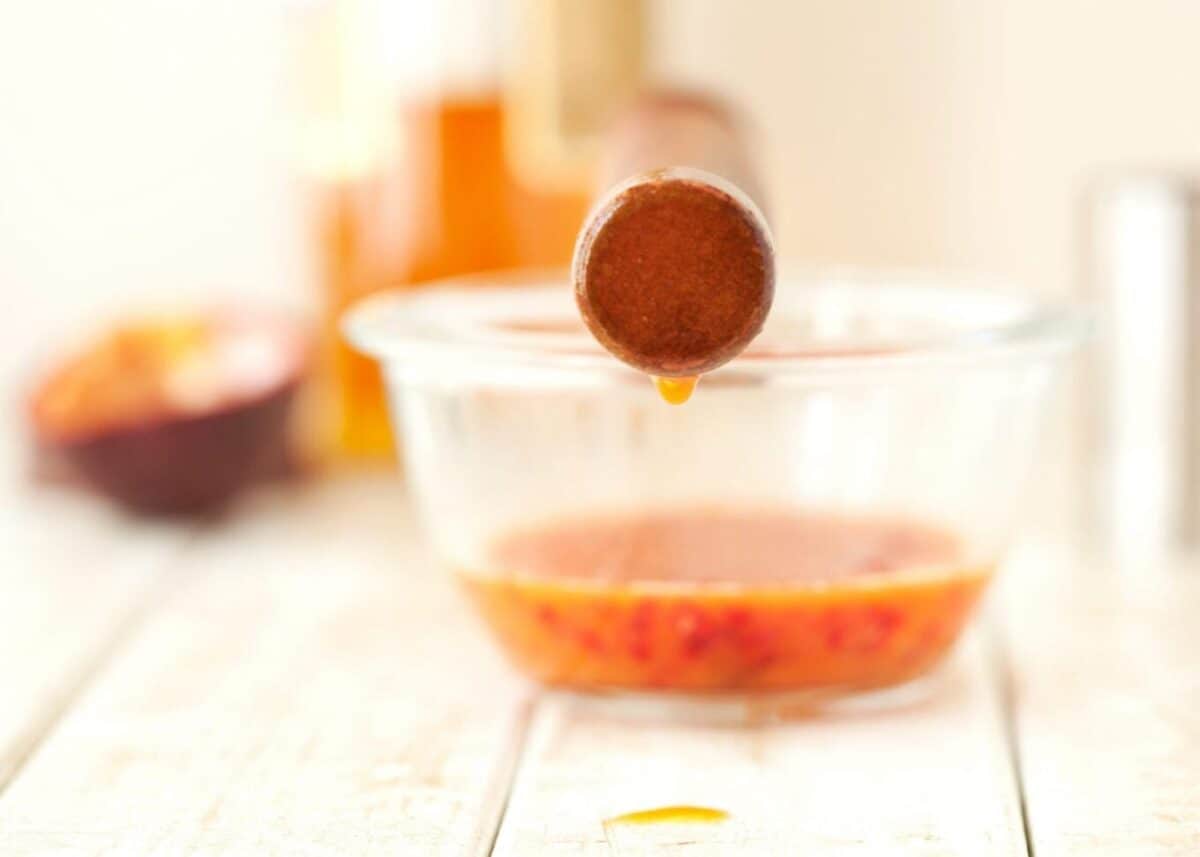 Talking of tonight, Friday night is one of my favourite nights of the week. Aside from the cocktails, it's a chance for Chris & myself to spend some time together. During the week there's the constant round of after school activities (kids), work that has to be finished at home (Chris) and blog writing (me). Come Friday night all of this stops and the weekend starts.
When we first had children we lacked family and friends nearby to help out with the odd bit of babysitting. Rather than mope around and complain that we didn't go out since the kids came along, we made a point of making our Friday nights at home fun. Over the years, Friday nights have evolved into something that both of us really look forward to. A couple of ?cocktails?and a few ? board games ? keep us happy.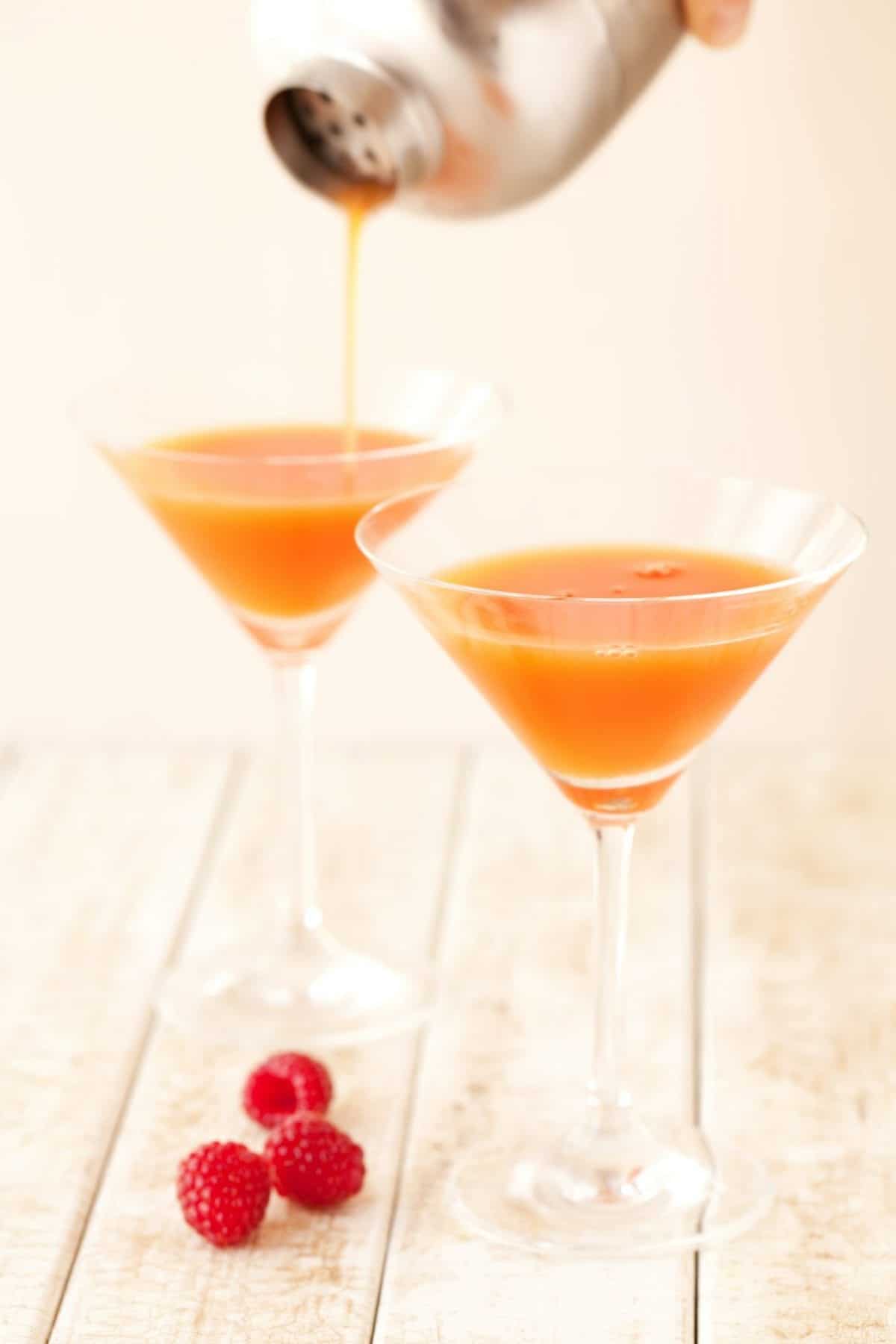 Yes, yes, I know how excessively geeky I sound right now, but it gets worse…
Confession: Saturday nights are all about games with the children and so far they are matching our geeky choices. Our family favourites are
Anyway, back to the Blushing Cuban Passionfruit Raspberry Cocktail, which I created one Friday night quite a while ago – last September to be precise. I've been racking my brain since then trying to come up with a sensible title for it.
As a name, I like The Blushing Cuban. It links the pink raspberries with the natural territory of the rum. The trouble is that this name tells potential readers nothing about the drink. How on earth will that name get picked up in search engines and entice people to read about it let alone try out the recipe?
Believe me, I've tried so hard to like the name Passionfruit Raspberry Rum Cocktail, but it just doesn't do it for me. In the end, I've gone with my creative instinct and called it The Blushing Cuban. It's fun. It has meaning. I like it.
So here are a couple of questions to all you lovely readers:
What draws you into reading a blog post? Is it the recipe title? Seeing an enticing picture?
Are you ever drawn in by a curious name?
If you have thoughts on this subject, I'd love to hear from you.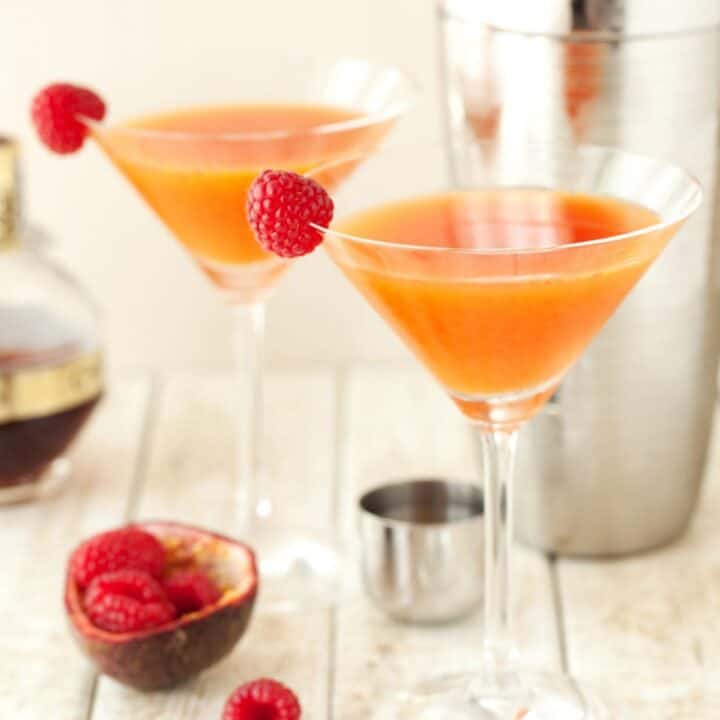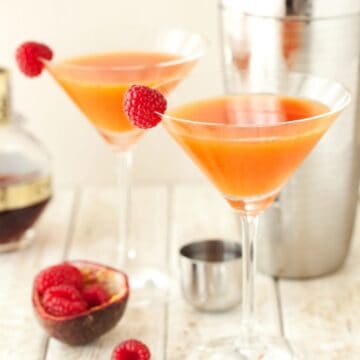 The Blushing Cuban – A Passionfruit & Raspberry Cocktail
The Blushing Cuban Passionfruit Raspberry Cocktail is a vibrant & exotic blend of fresh passionfruit & raspberries, Cuban rum & Raspberry Liqueur.
Print
Pin
Rate
Ingredients
3

Passionfruit

8

Raspberries

80

ml

Golden Cuban rum

(I like Havana Club Añejo Especial)

40

ml

Chambord Raspberry Liqueur
Instructions
Slice each passionfruit in half. Scoop the seeds & pulp into a sieve placed over a bowl. Stir the fruit with a metal spoon to extract the juice

Add the raspberries to the juice and squish with a muddling stick (or the end of a rolling pin)

Put a handful of ice into a cocktail shaker and strain in the passionfruit & raspberry mixture

Pour the rum and raspberry liqueur into the shaker, put on the lid and shake well for 30 seconds

Pour into 2 cocktail glasses and garnish with a fresh raspberry

Serve immediately
Notes
If you don't have a cocktail shaker you can improvise – use a large jar with a screwcap lid. Once the cocktail has been shaken, simply strain through a sieve to stop the remaining ice falling into the serving glasses.
(Visited 2,908 times, 5 visits today)