This spiced blackberry bramble cocktail recipe is a simple yet stylish twist on the classic for the cooler months. Teeming with tart fruit and cinnamon spice this winter bramble is one revamp you don't want to miss out on.
This recipe was first published in November 2018 and updated in September 2021 to include step-by-step instructions, tips and frequently asked questions.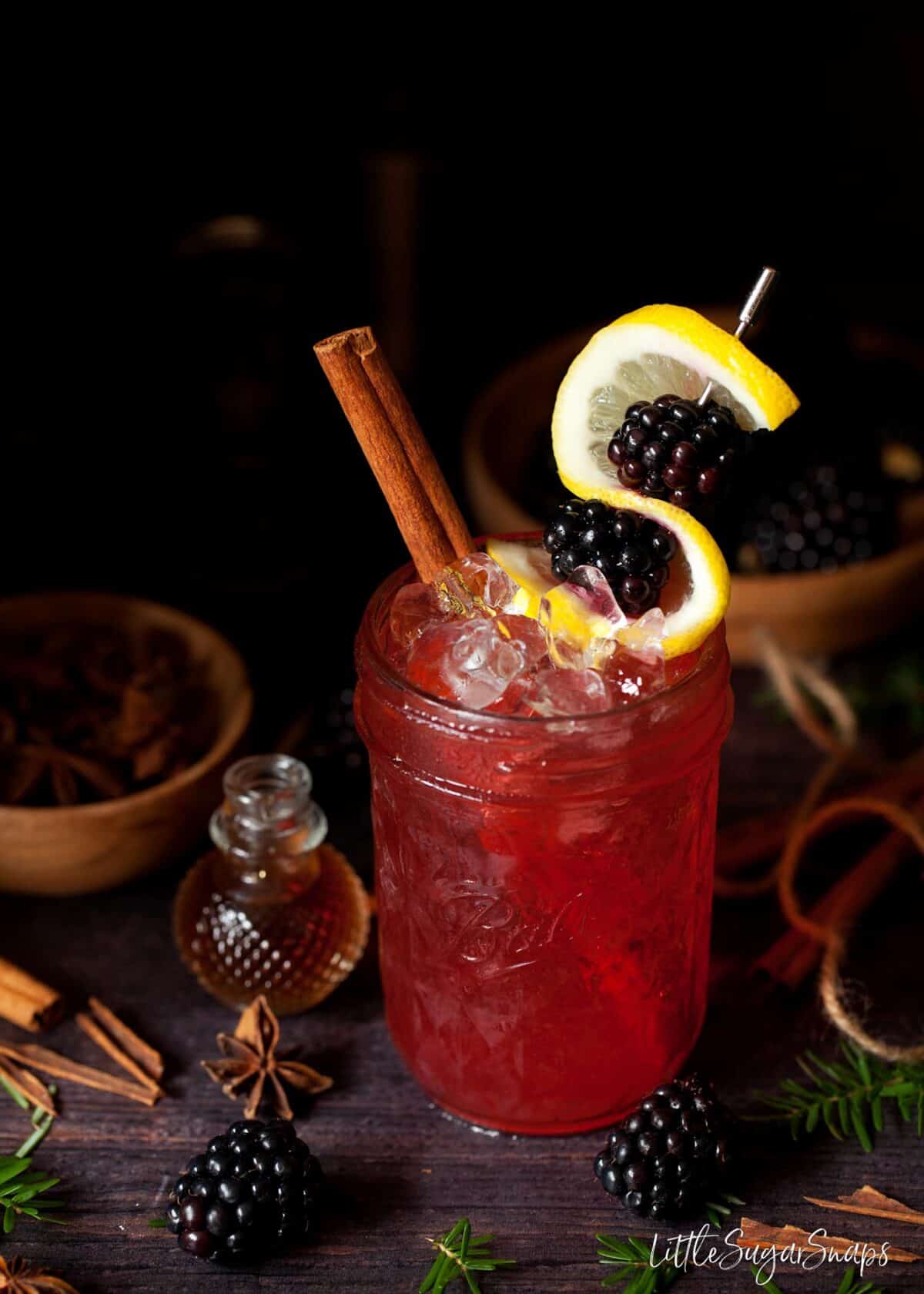 This post is sponsored by The Gin Kitchen. All opinions and text are my own.
I have a lot to talk about today. So I'm going to go straight to the headline act, my spiced blackberry bramble, to whet your gin appetite.
This libation is a very simple variation on the classic Bramble. In fact, it has all the ingredients commonly associated with the classic drink plus a hit of juicy spiced syrup to pump up the comfort level. It's perfect for autumn and also winter when it's knee-knocking chilly outside.
As well as the blackberry bramble, I've got 3 seasonal gin and tonics using 3 different kinds of gin from The Gin Kitchen to talk about today, I hope you enjoy reading about them all.
And if you are after a cosy gin drink that is entirely different from this winter bramble take a look at my mulled gin and tonic. It's warm and it's festive. In a nutshell, it's not to be missed.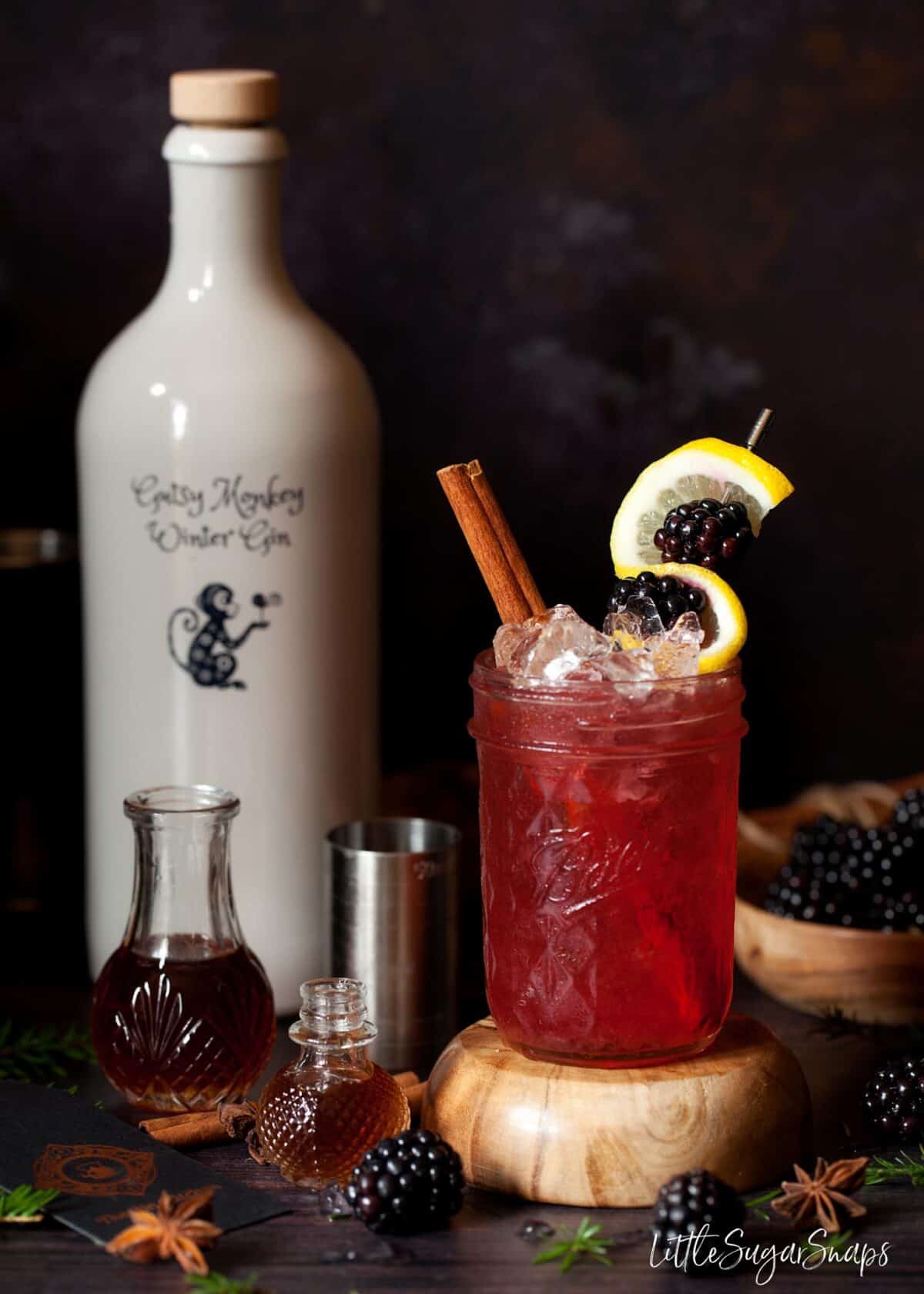 What is A Bramble Cocktail?
The Bramble cocktail is a British invention, created in 1984 at Fred's Club, London. It's rather like a gin sour with a drizzle of blackberry liqueur on the top.
Ingredients for this classic drink are simple:
gin
lemon juice
sugar syrup
Crème de mûre
The first 3 ingredients are stirred together with ice then strained into a glass brimming with crushed ice. The blackberry liqueur is slowly poured over the top, creating a striking appearance and adding a sweet contrast to the gin sour below when sipped.
Why This Winter Bramble Variation is Worth Making
Overall this blackberry bramble is a very chirpy cocktail. It is vibrant & bold and it retains that lip-smacking level of tartness associated with the classic mix
I decided to break with tradition and blend the Crème de mûre directly into the drink, rather than float it on top. I also muddled fresh blackberry into the drink. This double hit of blackberry creates a brightly coloured and zesty base to build upon
The addition of spice adds an extra layer of intrigue and helps rev-up the bramble cocktail recipe for winter palates
Ingredients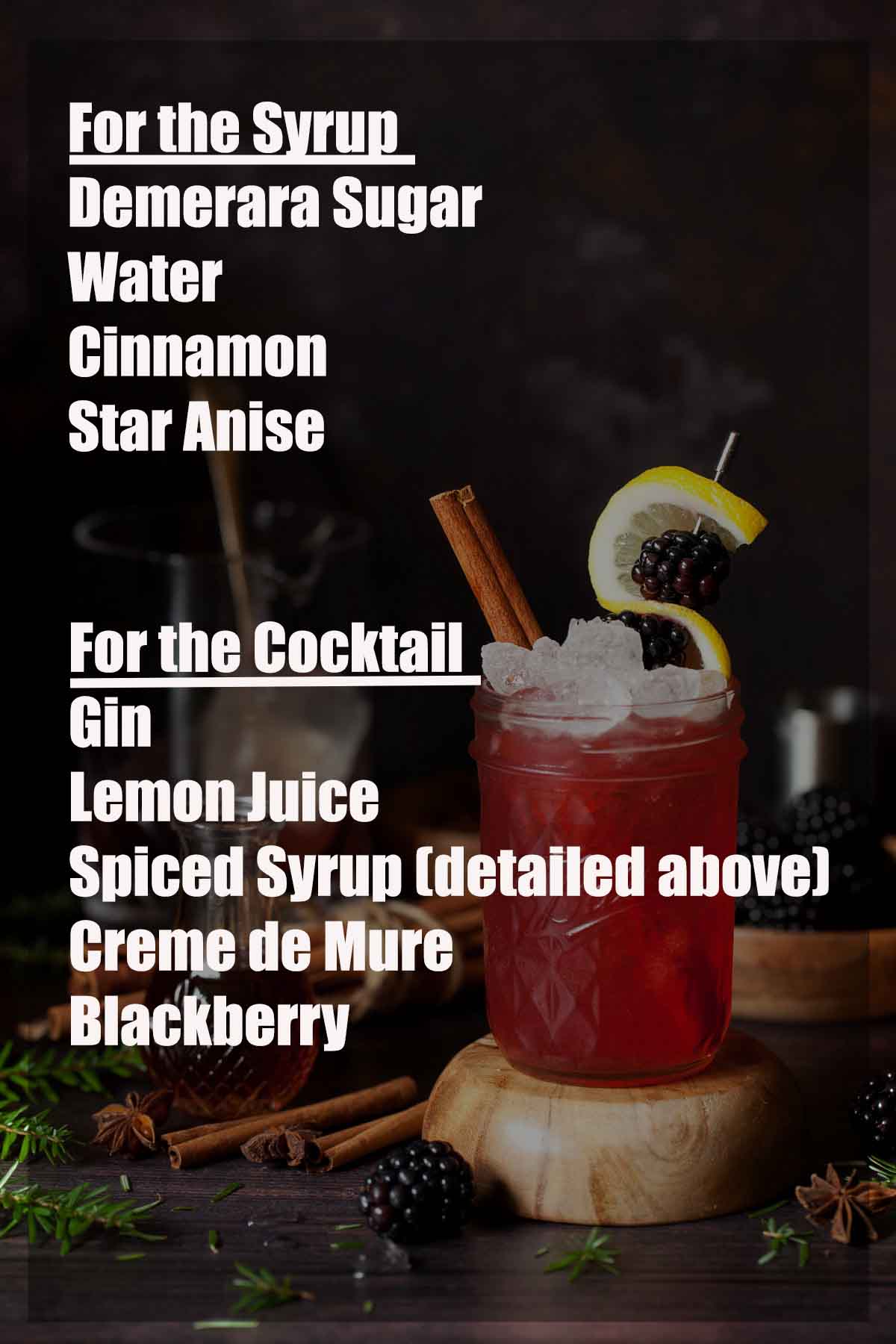 My gin of choice for this cocktail – Gutsy Monkey – is a premium gin, created with the cooler months of the year in mind, by the ingenious folks at The Gin Kitchen. Think gentle spices mingled with smooth, luxurious gin and you'll be on the right track. Really, it is the perfect candidate for this cinnamon and star anise spiced blackberry bramble cocktail recipe.
I make the spiced syrup using demerara sugar, cinnamon and star anise. The sugar adds complexity to the syrup and the two spices add just the right amount of sweet, aromatic spice to the overall taste of the syrup. It's not overpowering, so is ideal for subtle use in cocktails such as this blackberry bramble.
Step-by-Step Instructions
There are two stages to making this blackberry bramble since a syrup must be cooked and allowed to infuse with spices before the cocktail itself can be made.
Make the Syrup
Break up the cinnamon using a pestle and mortar (rough pieces are fine – don't grind it)
Put the sugar, water and cinnamon into a small saucepan and heat gently until the sugar dissolves
Bring up to simmering point, then take off the heat. Add the star anise and set aside for 2 hours to cool and infuse
Strain through muslin and decant into a screwtop bottle
Keep in the fridge for up to 1 month
Make the Winter Bramble Cocktail
In the base of a glass jug muddle 1 blackberry with the gin, Crème de mûre, lemon juice and syrup until broken down
Add ice cubes and stir for 30-40 seconds then double strain the drink into a glass filled with crushed ice
Garnish with a lemon twist, fresh blackberry and a cinnamon stick
Serve immediately
Expert Tips
The spiced syrup can be made in advance and kept in the fridge
If you don't have the gin I suggest then opt for one that has an underlying profile of spice rather than a citrussy, floral or herbaceous edge to it
Avoid using flavoured gins (e.g. blackberry gin). Such gins can often be on the sweeter side and they will definitely upskittle the balance of flavours in this drink
Use plenty of ice when making this winter bramble cocktail. It's necessary both when stirring the ingredients together (use ice cubes) and when serving (use crushed ice)
If possible chill your serving glass for 15 minutes to ensure the drink is chilled to the bone (so to speak) and to slow down the rate at which the crushed ice melts in the glass
If you do not own a glass jug use a glass jar instead
Adjust the level of syrup used in this blackberry bramble to suit your own taste – it's sweet enough for me, but if you prefer it a little sweeter that's fine
Frequently Asked Questions
I can't find Crème de mûre, what else could I use?
Any blackberry liqueur can be used in the place of Crème de Mûre. Alternatively, try using raspberry liqueur. Avoid Crème de cassis as the blackcurrant flavour can be a little over-powering.
Can I use vodka instead of gin?
The creator of the classic bramble is clear that he does not recommend this substitution on the basis that vodka is a much less delicate spirit than gin. Since I'm urging you to use a gin with subtle spice undertones to make this winter bramble, I have to agree with him. Vodka is not quite right in this recipe.
Three Additional Gin & Tonic Ideas
It's no secret that I enjoy my gin, so it was with pleasure that I devised 3 gin and tonic recipes using 3 different gins from the Gin kitchen. here's a little about each one:
Autumn/ Winter G&T: Playing up those spice notes in the Gutsy Monkey Winter Gin with honey roast plums and toasted cinnamon, star anise & allspice works a treat. Pull up a comfy chair by the fireside and cosy-up for the night
Spring/ Early Summer G&T: This is when I want my drinks to be bright, vivacious and playful. All in anticipation of the summer that still lies ahead. A blast of gorgeousness is easily created by pairing Blushing Monkey Pink Gin with raspberries, fresh mint and toasted hazelnuts. It's pleasing on the eye and delivers plenty of intoxicating aromas
Summer G&T: There's nothing like lingering over a refreshing libation on a lazy summer day. I've paired Dancing Dragontail Gin with fresh grapefruit & bold basil and added a little heat to slow the pace of drinking down with a touch of black pepper. It's a great summer sipper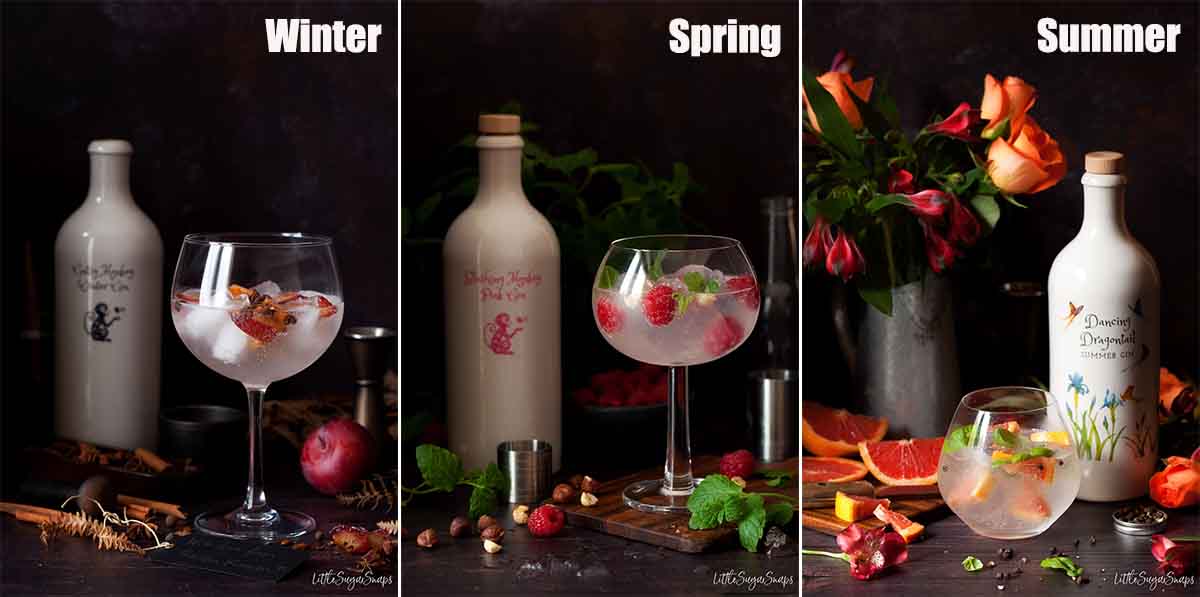 Find the recipes for all of these gin and tonic ideas in the recipe card for the blackberry bramble below.
More About The Gin Kitchen
I first came across the friendly crew of The Gin Kitchen deep in Surrey on an unusually chilly and wet day in September 2018, when I attended their gin festival with a few friends. Of course, I instantly fell in love with their bottles (who wouldn't). And then I fell in love with their gins:
The Gutsy Monkey Winter Gin – a full-bodied, rich and smooth spiced gin based on juniper, fresh lime zest, fresh ginger, fresh thyme, allspice, coriander seed, black pepper and a touch of cumin
The Blushing Monkey Pink Gin – a juniper-led but gorgeously floral gin developed using sweet black grapes. It has a magnificent fruity twist and although it is sweet, it is not overpoweringly so
The Dancing Dragontail Summer Gin – a base of light fresh juniper is kicked up a notch with aromatic cardamom and zesty pink grapefruit
The bottles are beyond gorgeous – once empty you may want to convert them to candle holders, flower vases or use them as fancy table water bottles. Alternatively, locals can have their bottles refilled at The Gin Kitchen.
More Spiced Cocktails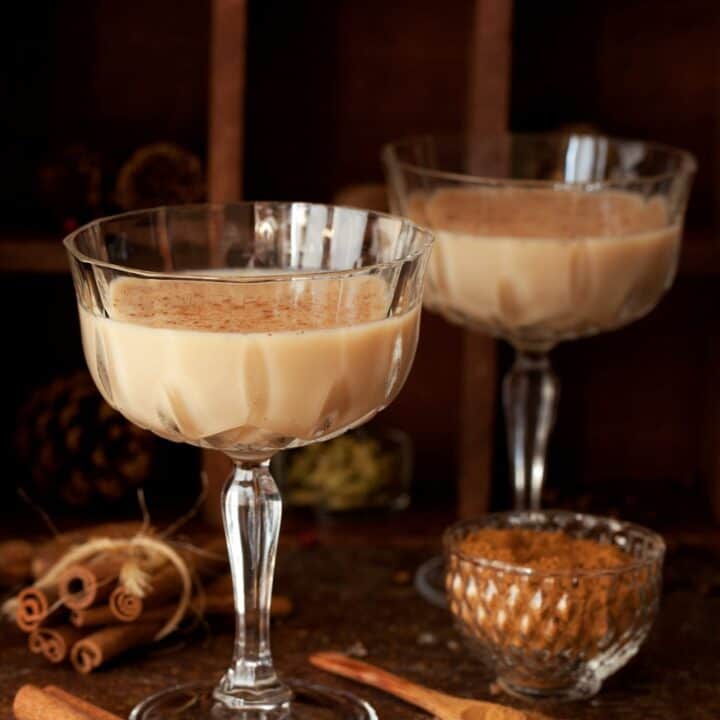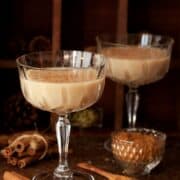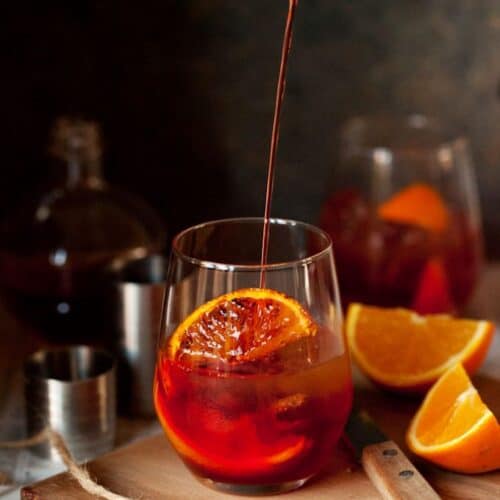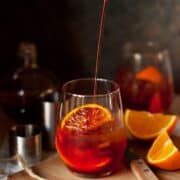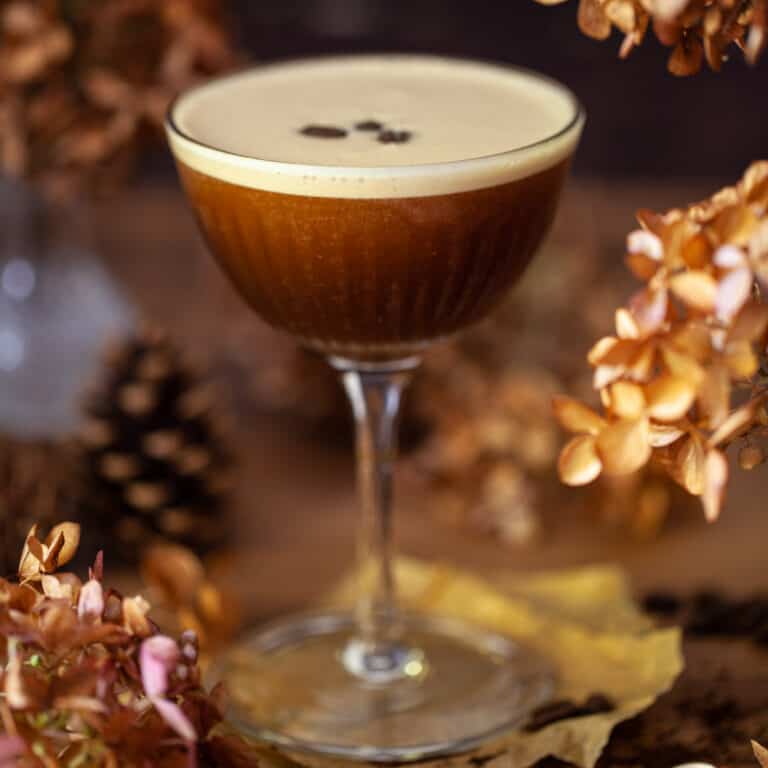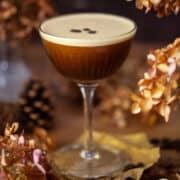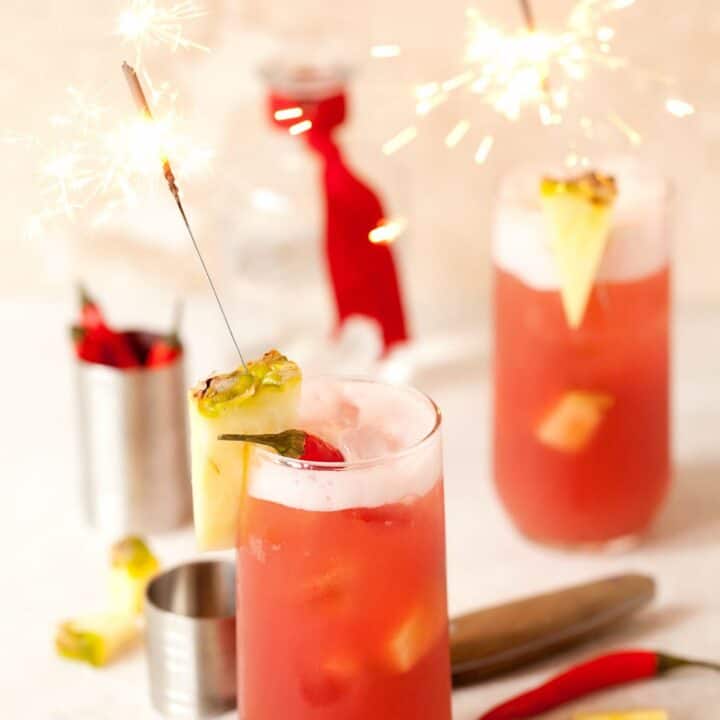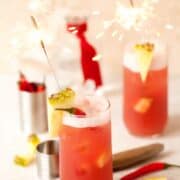 If you have tried this blackberry bramble cocktail please give it a rating or leave a comment – I love to hear how you get along with my creations.
Why not sign up to receive LittleSugarSnaps newsletters to hear when new recipes are published? You'll get a free welcome e-book with my top baking tips and 5 favourite cake recipes. Or stay in touch on Facebook, Instagram or Pinterest.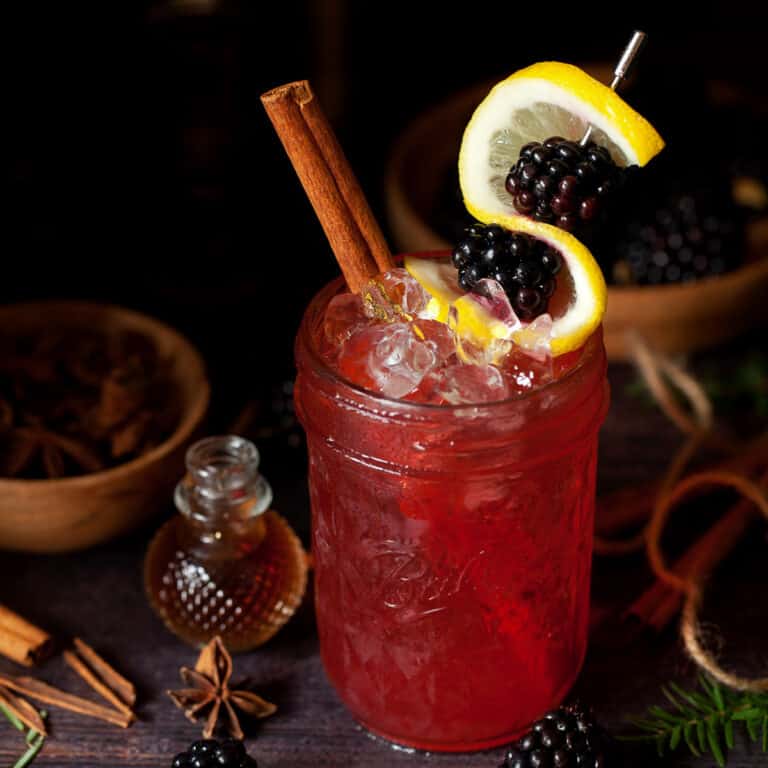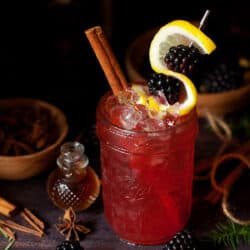 Blackberry Bramble Cocktail
This spiced blackberry bramble cocktail recipe is a simple yet stylish twist on the classic for the cooler months. Teeming with tart fruit and cinnamon spice this winter bramble is one revamp you don't want to miss out on.
Print
Pin
Rate
Ingredients
For the Cinnamon & Star Anise Syrup (makes enough for 10-12 drinks)
15

cm

Cinnamon Stick

75

g/ 3 oz

Demerara sugar

75

ml/ 5 tbsp

Water

1

Star Anise
For the Winter Bramble Cocktail
30

ml/ 1 fl oz

Gin

(I used Gutsy Monkey)

5

ml/ 1 tsp

Crème de mûre

7 ½

ml/ 1 ½ tsp

Spiced Syrup (see above)

10

ml/ 2 tsp

Lemon juice

1

Blackberry
To garnish: Lemon twist, fresh blackberries & a Cinnamon stick
For the Cinnamon Spiced Roast Plum Gin and Tonic
1

Plum

1

teaspoon

Honey

2

teaspoon

Hot water

Pinch ground cinnamon

30

ml/ 1 fl oz

Gin

(Gutsy Monkey is a great choice)

90

ml/ 3 fl oz

Indian Tonic water

1

Cinnamon stick (approx 4 cm)

1

Star anise

5

Allspice berries
Raspberry Mint & Hazelnut Pink Gin & Tonic
30

ml/ 1 fl oz

Pink Gin

(Blushing Monkey is ideal)

90

ml/ 3 fl oz

Indian Tonic water

5

Blanched hazelnuts

5

Fresh raspberries

2

Fresh mint sprigs
Grapefruit, Basil & Black Pepper Gin & Tonic
30

ml/ 1 fl oz

Gin

(Dancing Dragontail is a wonderful option here)

90

ml/ 3 fl oz

Indian Tonic water

Pink/ Red grapefruit

5-6

Basil leaves

6

Black peppercorns

Ground black pepper (optional)
Instructions
Make the Syrup
Snap the cinnamon stick in half and then break up into rough pieces using a pestle and mortar

Put the sugar, water and cinnamon into a small saucepan and heat gently until the sugar dissolves. Bring up to simmering point, then take off the heat

Add the star anise and set aside for 2 hours to cool and infuse

Strain through muslin and decant into a screwtop bottle. Keep in the fridge for up to 1 month
Make the Winter Bramble Cocktail
In a glass jug muddle 1 blackberry with the gin, Crème de mûre, lemon juice and syrup until broken down

Add ice and stir for 30-40 seconds then double strain the drink into a glass filled with crushed ice

Garnish with a lemon twist, fresh blackberry and a cinnamon stick
For the Cinnamon Spiced Roast Plum Gin and Tonic
Cut the plum in half, remove the stone and slice each half into 4 wedges. Lay on a small roasting tin lined with parchment. Mix the honey and water together and pour over the plums. Toss to coat then sprinkle the ground cinnamon over the plums, cover with foil and roast for 20 minutes in a preheated oven (150C/ 300F/ GM2)

After 20 minutes, remove the foil and gently turn the plums. Roast for a further 20 minutes (uncovered), then set aside to cool

When ready to serve, put the cinnamon stick, allspice and star anise into a dry frying pan and heat until the spices begin to release their aroma. Remove from the pan to prevent them from burning

Fill a glass with ice, pour the gin over and top with tonic water

Garnish with 4-6 pieces of roasted plum (lift carefully off the parchment with a blunt knife) and the toasted spices and serve immediately
Raspberry Mint & Hazelnut Pink Gin & Tonic
Begin by toasting the hazelnuts in a dry pan. Remove from the pan once coloured, to prevent them from burning

Put a handful of ice into a Copa glass and pour the gin over it. Add the tonic water and garnish with the toasted hazelnuts, raspberries and a few sprigs fresh mint, then serve immediately
Grapefruit, Basil & Black Pepper Gin & Tonic
Cut a slice of grapefruit ½ cm thick and then cut in half. Chop one of these halves into 5-6 wedges and drop a couple of these wedges into the bottom of a glass, then top with ice

Pour the gin & tonic into the glass, then garnish with the remaining grapefruit wedges, the basil leaves and the peppercorns

To boost the black pepper notes, grind a little extra over the top of the drink if desired and serve straight away
Notes
Expert Tips
The spiced syrup can be made in advance and kept in the fridge
If you don't have the gin I suggest then opt for one that has an underlying profile of spice rather than a citrussy, floral or herbaceous edge to it
Avoid using flavoured gins (e.g. blackberry gin). Such gins can often be on the sweeter side and they will upskittle the balance of flavours in this drink
Use plenty of ice when making this winter bramble cocktail. It's necessary both when stirring the ingredients together (use ice cubes) and when serving (use crushed ice)
If possible chill your serving glass for 15 minutes to ensure the drink is chilled to the bone (so to speak) and to slow down the rate at which the crushed ice melts in the glass
If you do not own a glass jug use a glass jar instead
Adjust the level of syrup used in this drink to suit your own taste – it's sweet enough for me, but if you prefer it a little sweeter that's fine
Any blackberry liqueur can be used in the place of Crème de Mûre. If you struggle to find any, try using raspberry liqueur. Just avoid Crème de cassis as the blackcurrant flavour can be a little over-powering in this drink
Nutritional information is provided for the blackberry bramble only
Nutrition Per Serving (Approximate)
Calories:
108
kcal
|
Carbohydrates:
8
g
|
Protein:
1
g
|
Fat:
1
g
|
Saturated Fat:
1
g
|
Polyunsaturated Fat:
1
g
|
Sodium:
5
mg
|
Potassium:
20
mg
|
Fiber:
1
g
|
Sugar:
7
g
|
Vitamin A:
5
IU
|
Vitamin C:
4
mg
|
Calcium:
2
mg
|
Iron:
1
mg
(Visited 2,736 times, 12 visits today)