This Winter Bramble Cocktail recipe is a simple yet stylish twist on the classic. Teeming with tart fruit and cinnamon spice this is one revamp you don't want to miss out on.
THIS POST IS SPONSORED BY THE GIN KITCHEN. ALL OPINIONS AND TEXT ARE MY OWN.
It's just as well I like to tinker in the kitchen since I've been rather busy recently mixing up a new cocktail along with several gin & tonic recipes. I've partnered with The Gin Kitchen to bring you 4 fantastic gin recipes.
Regular readers might be pleased to hear that today's G&Ts are all in addition to the Christmas Gin & Tonic I was musing over a few weeks back.
I have a lot to talk about today. So I'm going to go straight to the headline act, my Winter Bramble Cocktail recipe, to whet your gin appetite. This libation is a very simple variation on the classic Bramble. In fact, the Winter Bramble Cocktail has all the ingredients commonly associated with the classic - gin, lemon and Crème de mûre - plus a hit of juicy spiced syrup to pump up the comfort level.
I decided to break with tradition and blend the Crème de mûre directly into the drink, rather than float it on top, to pair with the fresh blackberry that is muddled in. This double hit of blackberry creates a brightly coloured and zesty base to build upon.
The overall drink is very chirpy. It is vibrant & bold and it retains that lip-smacking level of tartness associated with the classic mix. The addition of spice adds an extra layer of intrigue and helps rev-up The Bramble Cocktail recipe for winter palates.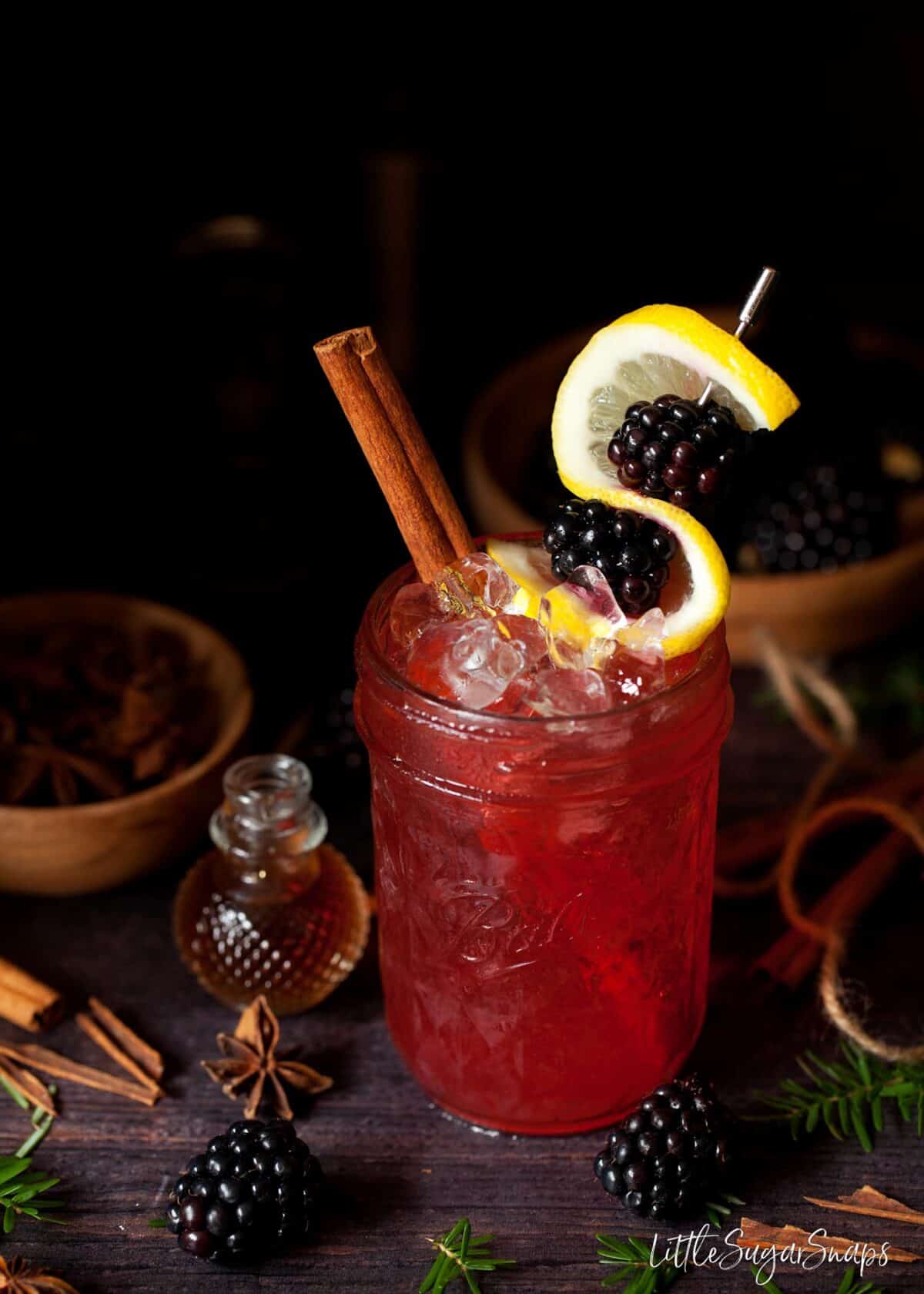 My gin of choice for this cocktail - Gutsy Monkey - is a premium gin created with the cooler months of the year in mind by the ingenious folks at The Gin Kitchen. Think gentle spices mingled with smooth, luxurious gin and you'll be on the right track. Really, it is the perfect candidate for this cinnamon and star anise spiced Bramble Cocktail recipe.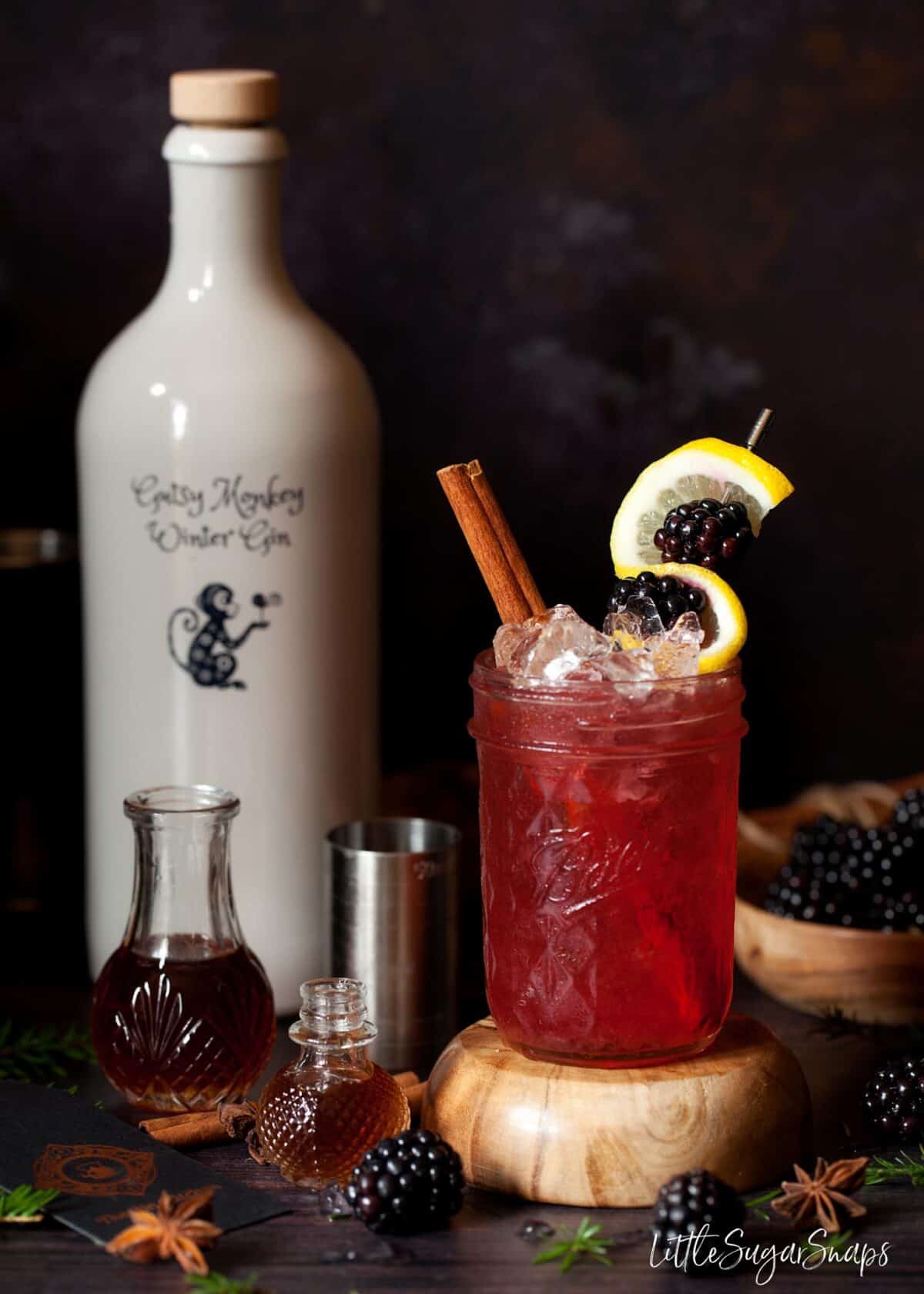 I first came across The Gin Kitchen on an un-usually chilly and wet day in September, when I attended their gin festival with a few friends. Of course, I instantly fell in love with their bottles (who wouldn't). And then I fell in love with their gins.
I'm not afraid to try gin neat. In fact, a quick sip whenever a new bottle enters the house has become something of an acid-test for me. One small sip will tell me plenty about a gin. And the beauty of The Gin Kitchen is that they produce 3 very different gins. All are worthy of sipping neat, yet all have great potential for creating interesting stand-alone G&Ts. Here they are:
The Gutsy Monkey Winter Gin - a full-bodied, rich and smooth spiced gin based on juniper, fresh lime zest, fresh ginger, fresh thyme, allspice, coriander seed, black pepper and a touch of cumin
The Blushing Monkey Pink Gin - a juniper-led but gorgeously floral gin developed using sweet black grapes. It has a magnificent fruity twist and although it is sweet, it is not overpoweringly so
The Dancing Dragontail Summer Gin - a base of light fresh juniper is kicked up a notch with aromatic cardamom and zesty pink grapefruit
Before I divulge my perfect serve G&Ts for these 3 premium gins, I just want to tell you a little more about The Gin Kitchen and why I think they are particularly awesome.
First of all, they are a friendly bunch. The team are based in the heart of Surrey, just outside of Dorking, in a hidden away 170-year-old barn. They welcome visitors so feel free to pop in - they even have a cocktail bar. And they are keen to socialise - watch out for them at food and drink festivals. They even offer a range of distillery experiences, including gin sampling and distilling your own gin. Really, they have all the needs of a gin enthusiast covered.
Aside from the excellent gin and the friendly crew at The Gin Kitchen, there is another reason I'm happy to partner with them today. It's the packaging. You see, I get very disheartened by the waste we humans produce. I won't drone on, but essentially, I do my best not to purchase excessively packaged goods. And I always try to re-use items whenever I can. Well ta-da. Not only have these guys come up with a bottle that can be converted once empty (think candle holders, flower vases, fancy table water bottles...) but they are also willing to refill empty bottles with more of their fabulous gin. Granted, this only works for locals, but it's stepping out in the right direction and that's good enough for me.
Okay, I won't keep you too much longer. I'm quickly going to introduce you to my favourite ways to drink the 3 gins I've been talking about G&T style. Then I urge you to enter the competition to win yourself a snazzy bottle of Gutsy Monkey. Ready?
Three Takes on Gin & Tonic
First up is an ideal G&T for autumn and winter. Playing up those spice notes in the Gutsy Monkey Winter Gin with honey roast plums and toasted cinnamon, star anise & allspice works a treat. Pull up a comfy chair by the fireside and cosy-up for the night.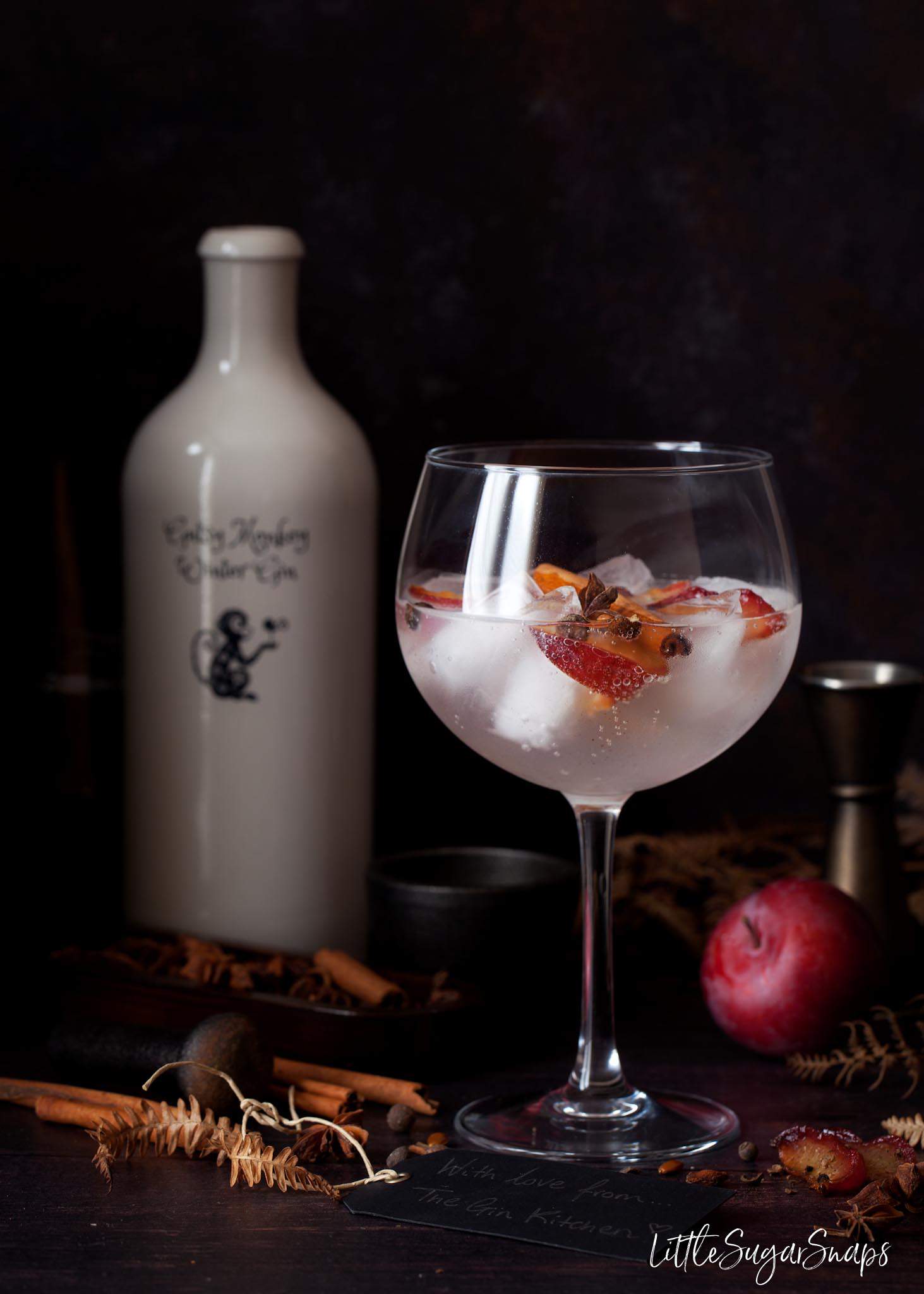 Looking ahead to spring and early summer, this is when I want my drinks to be bright, vivacious and playful. All in anticipation of the summer that still lies ahead. A blast of gorgeousness is easily created by pairing Blushing Monkey Pink Gin with raspberries, fresh mint and toasted hazelnuts. It's pleasing on the eye and delivers plenty of intoxicating aromas.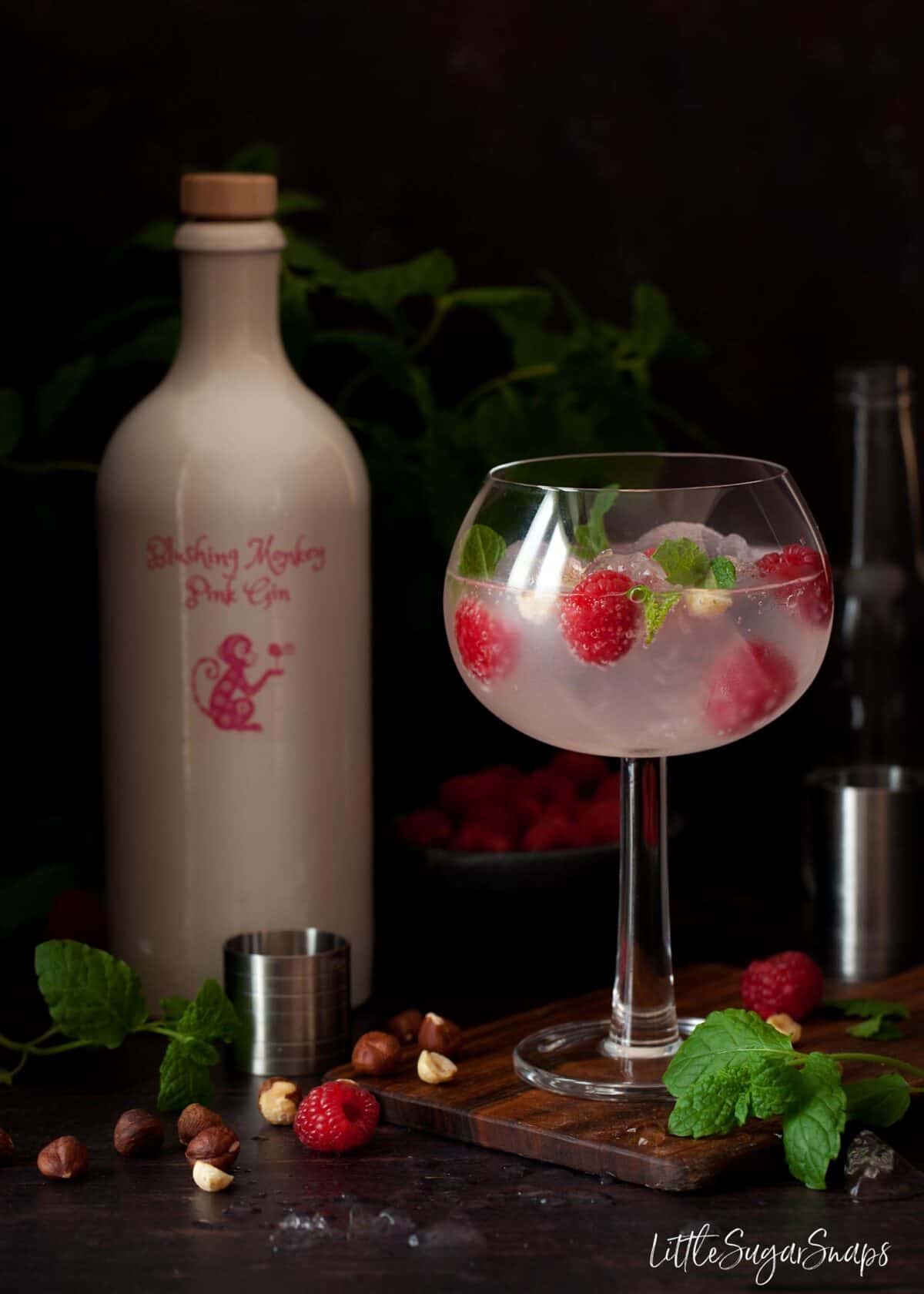 Finally, if summer 2019 is anything like the summer we have just had, we are going to need a refreshing libation to help us through. I've paired Dancing Dragontail Gin with fresh grapefruit & bold basil and added a little heat to slow the pace of drinking down with a touch of black pepper. It's a great summer sipper.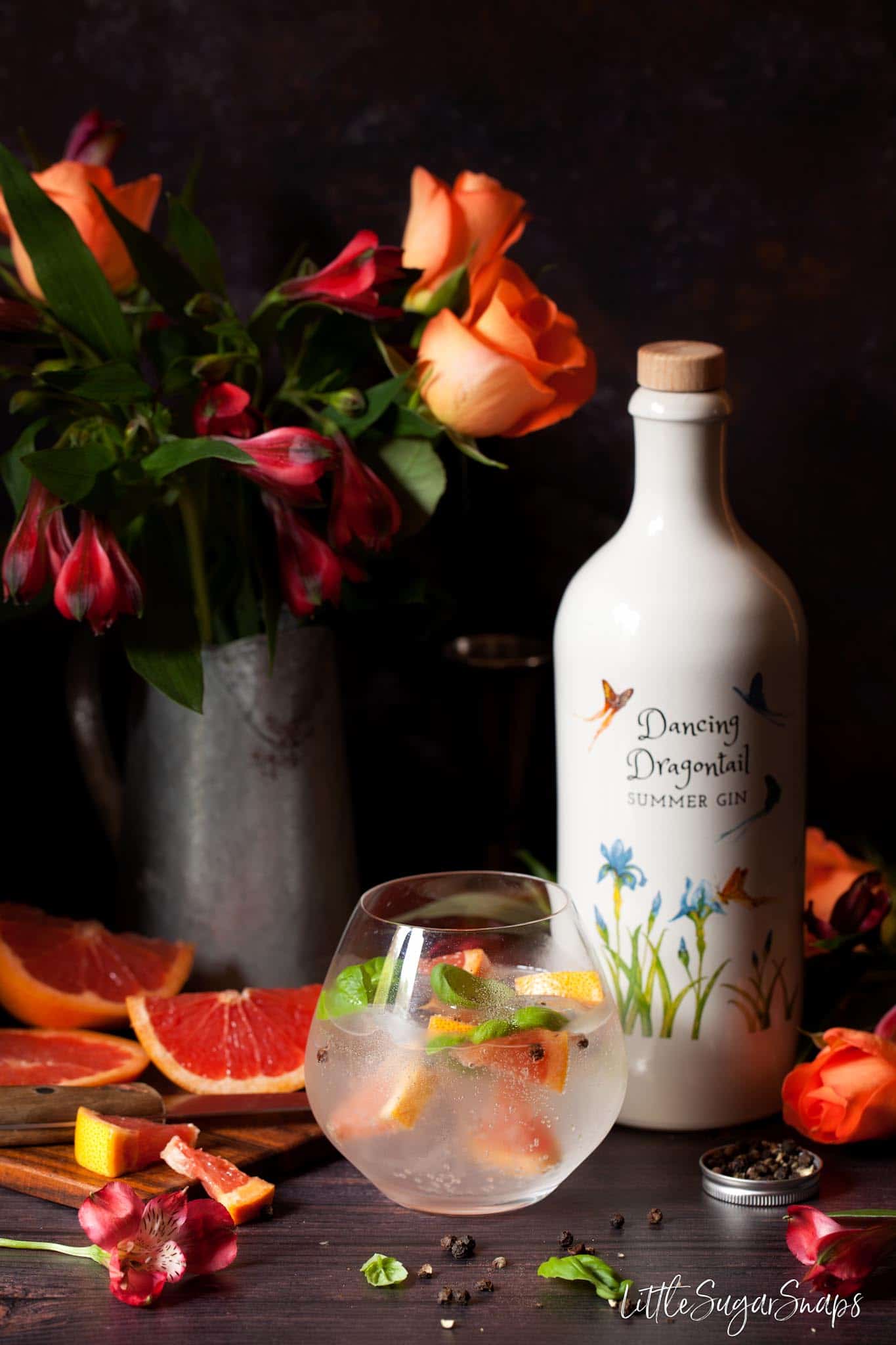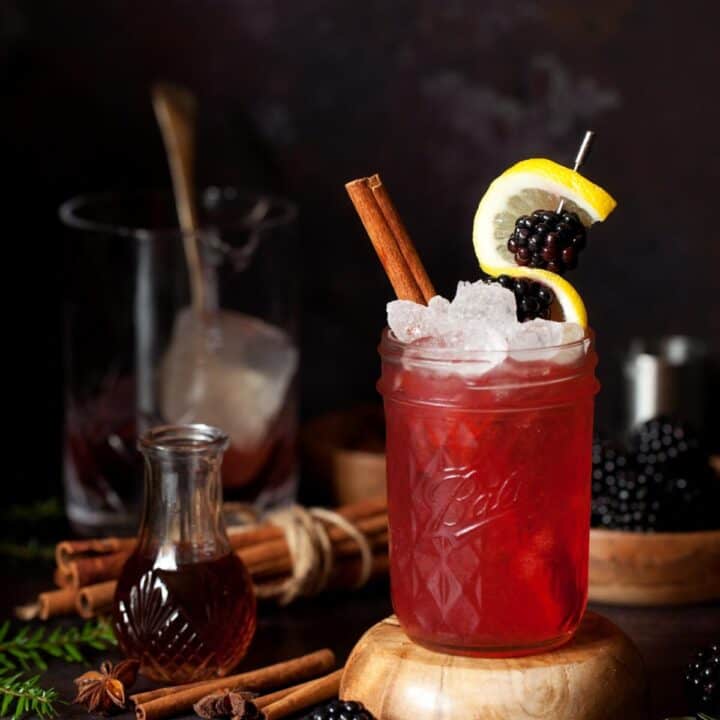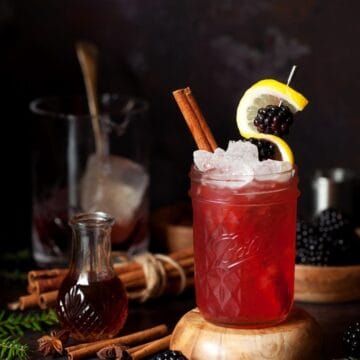 The Winter Bramble Cocktail
The Winter Bramble Cocktail is a simple yet stylish twist on the classic. Teeming with tart fruit and warming spices this is one revamp you don't want to miss out on.
Print
Pin
Rate
Ingredients
For the Cinnamon & Star Anise Syrup (makes enough for 10-12 drinks)
15

cm

Cinnamon Stick

75

g/ 3 oz

Demerara sugar

75

ml/ 5 tbsp

Water

1

Star Anise
For the Winter Bramble Cocktail
30

ml/ 1 fl oz

Gin

(I used Gutsy Monkey)

5

ml/ 1 tsp

Crème de mûre

7 ½

ml/ 1 ½ tsp

Spiced Syrup (see above)

10

ml/ 2 tsp

Lemon juice

1

Blackberry
To garnish: Lemon twist, fresh blackberries & a Cinnamon stick
For the Cinnamon Spiced Roast Plum Gin and Tonic
1

Plum

1

tsp

Honey

2

tsp

Hot water

Pinch ground cinnamon

30

ml/ 1 fl oz

Gin

(Gutsy Monkey is a great choice)

90

ml/ 3 fl oz

Indian Tonic water

1

Cinnamon stick (approx 4 cm)

1

Star anise

5

Allspice berries
Raspberry Mint & Hazelnut Pink Gin & Tonic
30

ml/ 1 fl oz

Pink Gin

(Blushing Monkey is ideal)

90

ml/ 3 fl oz

Indian Tonic water

5

Blanched hazelnuts

5

Fresh raspberries

2

Fresh mint sprigs
Grapefruit, Basil & Black Pepper Gin & Tonic
30

ml/ 1 fl oz

Gin

(Dancing Dragontail is a wonderful option here)

90

ml/ 3 fl oz

Indian Tonic water

Pink/ Red grapefruit

5-6

Basil leaves

6

Black peppercorns

Ground black pepper (optional)
Instructions
Make the Syrup
Snap the cinnamon stick in half and then break up into rough pieces using a pestle and mortar

Put the sugar, water and cinnamon into a small saucepan and heat gently until the sugar dissolves. Bring up to simmering point, then take off the heat. Add the star anise and set aside for 2 hours to cool and infuse

Strain through muslin and decant into a screwtop bottle. Keep in the fridge for up to 1 month
Make the Winter Bramble Cocktail
Muddle 1 blackberry with the gin, Crème de mûre, lemon juice and syrup until broken down

Add ice and stir for 20 seconds then double strain the drink into a glass filled with crushed ice

Garnish with a lemon twist, fresh blackberry and a cinnamon stick
For the Cinnamon Spiced Roast Plum Gin and Tonic
Cut the plum in half, remove the stone and slice each half into 4 wedges. Lay on a small roasting tin lined with parchment. Mix the honey and water together and pour over the plums. Toss to coat then sprinkle the ground cinnamon over the plums, cover with foil and roast for 20 minutes in a preheated oven (150C/ 300F/ GM2)

After 20 minutes, remove the foil and gently turn the plums. Roast for a further 20 minutes (uncovered), then set aside to cool

When ready to serve, put the cinnamon stick, allspice and star anise into a dry frying pan and heat until the spices begin to release their aroma. Remove from the pan to prevent them from burning

Fill a glass with ice, pour the gin over and top with tonic water

Garnish with 4-6 pieces of roasted plum (lift carefully off the parchment with a blunt knife) and the toasted spices and serve immediately
Raspberry Mint & Hazelnut Pink Gin & Tonic
Begin by toasting the hazelnuts in a dry pan. Remove from the pan once coloured, to prevent them from burning

Put a handful of ice into a Copa glass and pour the gin over it. Add the tonic water and garnish with the toasted hazelnuts, raspberries and a few sprigs fresh mint, then serve immediately
Grapefruit, Basil & Black Pepper Gin & Tonic
Cut a slice of grapefruit ½ cm thick and then cut in half. Chop one of these halves into 5-6 wedges and drop a couple of these wedges into the bottom of a glass, then top with ice

Pour the gin & tonic into the glass, then garnish with the remaining grapefruit wedges, the basil leaves and the peppercorns

To boost the black pepper notes, grind a little extra over the top of the drink if desired and serve straight away
(Visited 1,123 times, 1 visits today)