The Tonka Bean Manhattan is a smooth, delightful twist on the classic Rye Whiskey cocktail. Tonka beans add notes of vanilla, caramel and almonds to the mix, creating a sublime & mellow drink.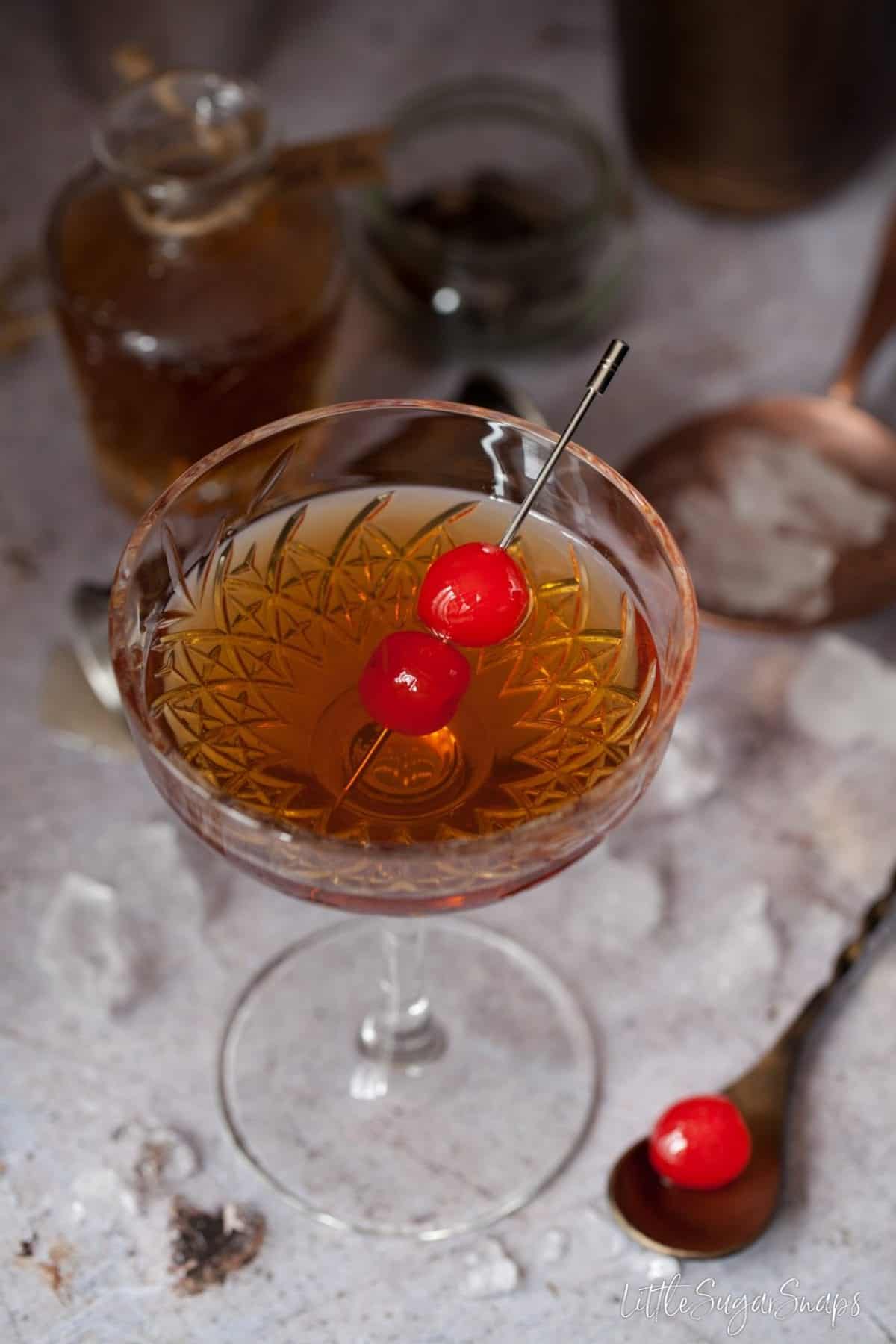 This post contains affiliate links. As an Amazon Associate, I earn from qualifying purchases.
Two simple words: Tonka Beans. It's my new wheeze on the cocktail and hot chocolate front & I know this exotic ingredient is going to find its way into various desserts over the next few months too. But I have a bit of ground to cover today before I get to my star recipe: the Tonka Bean Manhattan. Can you handle a speedy diversion?
Ever since I went to the London Cocktail Week last autumn, I've been wanting to recreate the Tonka Bean Negroni I had there. So, picture me eagerly unwrapping my delivery of tonka beans several weeks ago and seeking out a recipe online for Tonka Bean Syrup. Now picture my frustrated face when I couldn't find a reliable recipe out there for that Syrup. I found just two. The first recipe said to use 1 tonka bean, the other said to use 40 beans. That's some difference.
Unsure how to proceed, I got talking to my American blogger friend (and avid cocktail maker) Tarama – she's the creative force behind Beyond Mere Sustenance. But Tamara had never even heard of tonka beans.
Oh…. mysterious.
A little online research revealed why there is a distinct lack of recipes out there for Tonka Bean Syrup and why my cocktail appreciating friend had not come across the tonka bean. Are you ready? It's a good one….
Tonka beans are a banned product in America.
Yes, really. Despite its popularity in French cuisine, the tonka bean has been condemned as an illegal substance in America since 1954 because the seeds contain coumarin, which can be toxic in large doses. And when I say large doses, I mean you would have to chew your way through a lot (at least 20) tonka beans to approach dangerous levels.
And that is why there are so few recipes out there for Tonka Bean Syrup.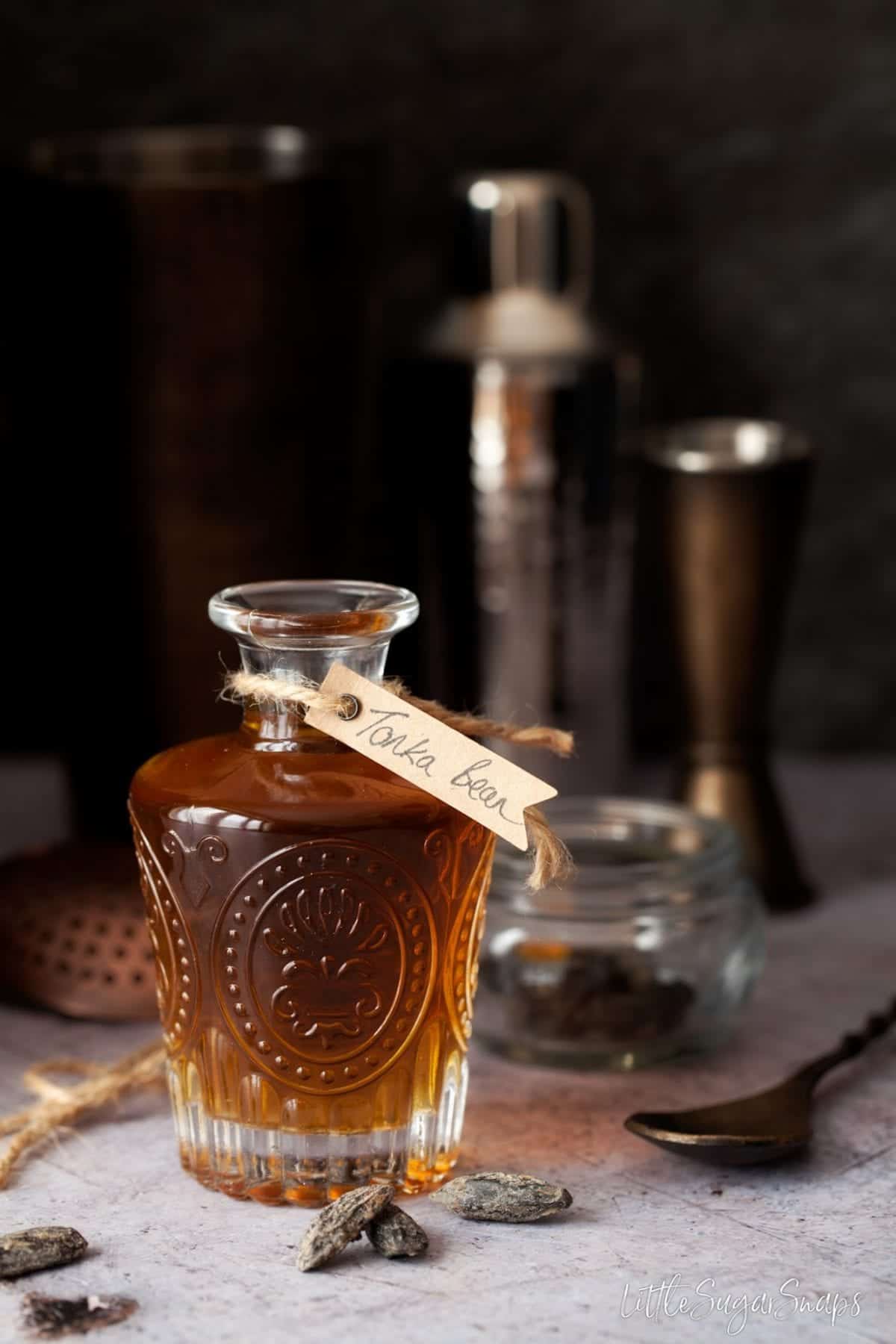 But I was undeterred. Tonka beans are not illegal to buy or consume in the UK and there is talk of the ban being lifted in the US.
To put this concern into perspective, it's worth remembering that nutmeg is also toxic if consumed in sufficient quantities and, when I legally ordered my tiny 20g pot of tonka beans from a reputable UK supplier, I received no warning about potential toxic consequences whatsoever.
And the clincher – I also really wanted my Tonka Bean Negroni the next evening. I did, however, decide against going with the syrup recipe advocating 40 tonka beans and instead decided to play around – my preferred recipe requires just 2 tonka beans (phew).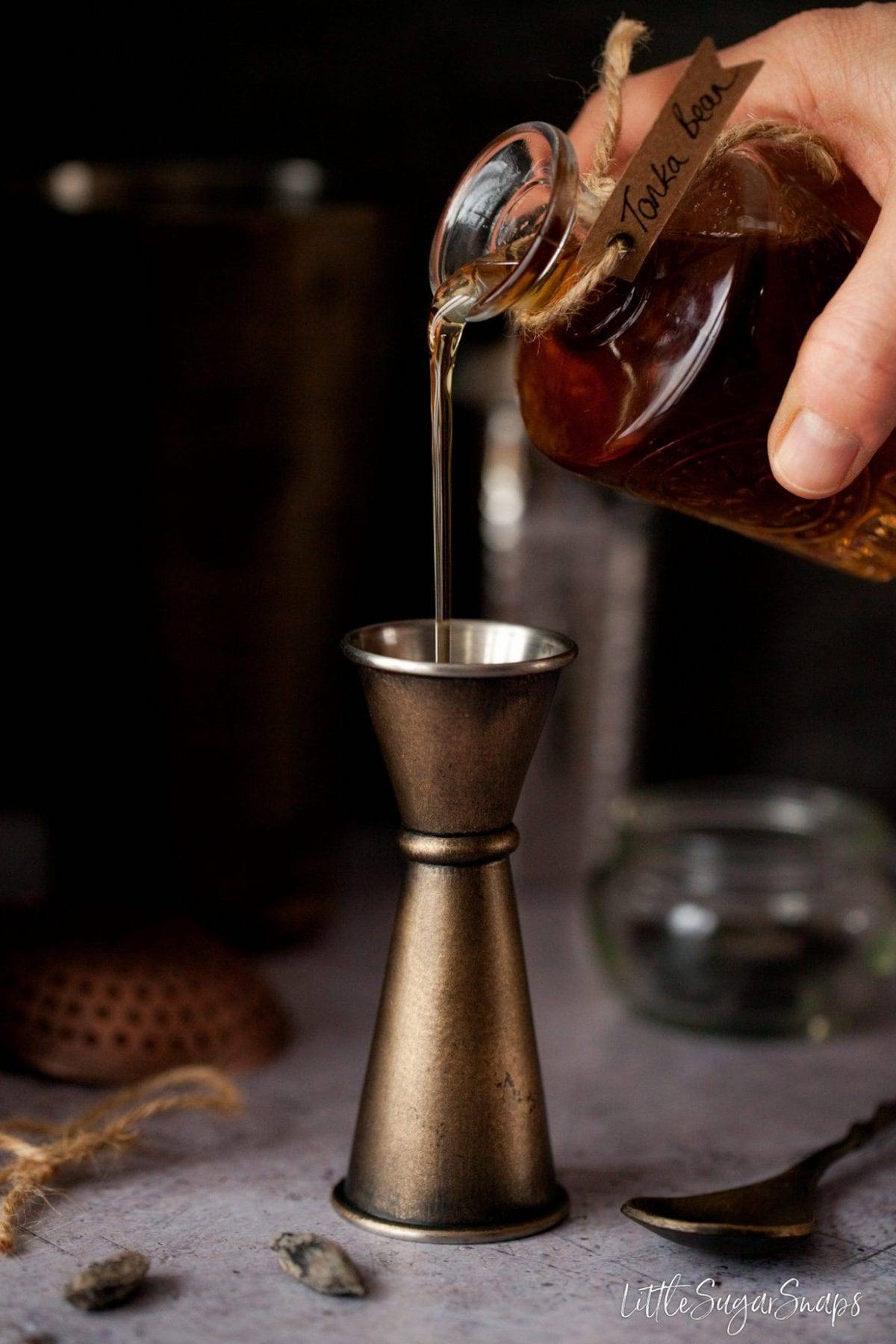 Syrup made, my next hurdle in my quest for a Tonka Bean Negroni was discovering that I'd run out of Campari on Friday evening. Um… how? Anyway, I finally had to put my Negroni making on hold for a week. But I just couldn't wait to try out the Tonka Bean Syrup. Patience in food matters is not my strongest characteristic.
Tonka beans are re-known for nuances of vanilla, caramel, nuts, cherries and spice, so it didn't take my disappointed mind long to work out that whiskey would be a good contender to pair with my syrup. So, I stirred up a Tonka Bean Manhattan, took a deep breath and waited for Chris' reaction (his favourite cocktail at the moment is a Manhattan)…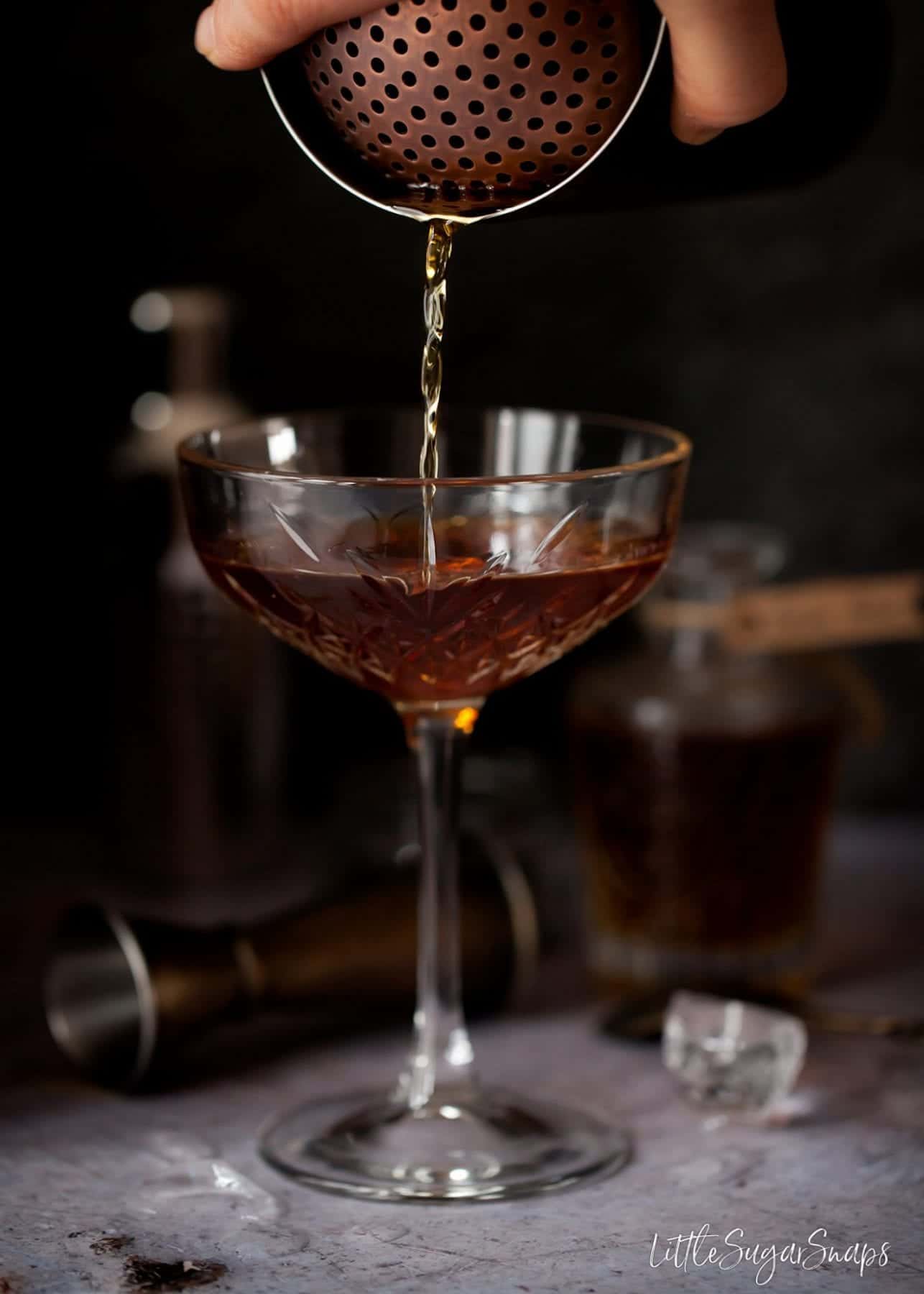 … Success. Oh yes.
The addition of Tonka Bean Syrup added an exciting twist to the already well rounded and much loved classic Manhattan. Those desirably flavours that the tonka bean imparts, notably: vanilla; caramel and almonds did stand up well in this classic whiskey cocktail.
It's worth mentioning fleetingly, that the following week, when supplies of Campari had been replenished, neither Chris or myself rated the Tonka Bean Negroni half as much as the Tonka Bean Manhattan of the previous week. It turns out some things are not worth the wait after all.
Are you bored yet? It's probably time for me to summarise.
With deep apologies to my audience resident in America, who cannot currently make my Tonka Bean Manhattan, I decided to go ahead and publish the recipes for both the syrup and the Manhattan. I just hope that US food laws relax soon, so that you too can experience the mellow bliss that is sipping on a Manhattan laced with Tonka Bean Syrup. Stash these recipes away safely until that glorious day arrives and then enjoy. In moderation.
And no chewing tonka beans neat. Ever. Thankyou.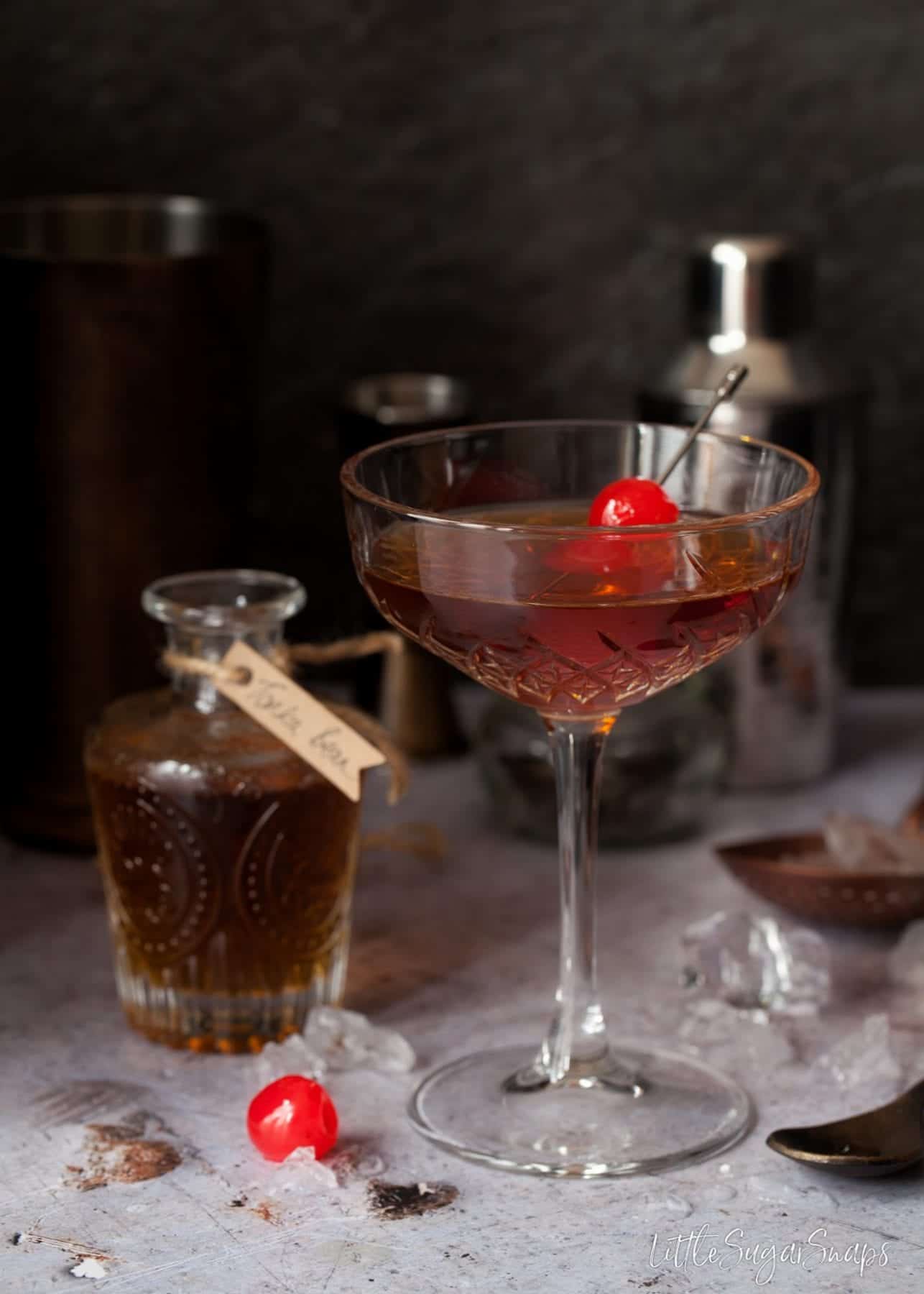 PS. If you're not into alcohol, add a dash of the syrup to a steaming mug of milk or use it to sweeten a hot chocolate made with high content cocoa.
Shutting up right… now.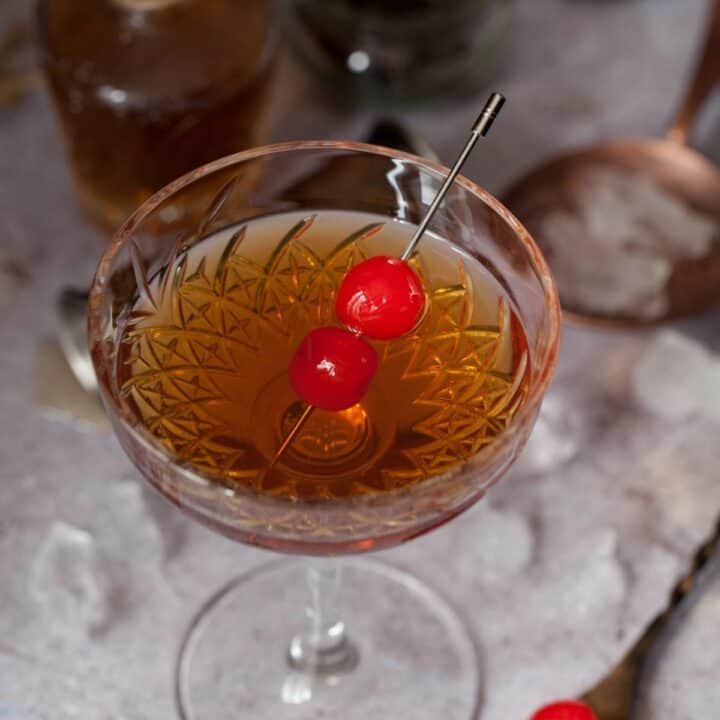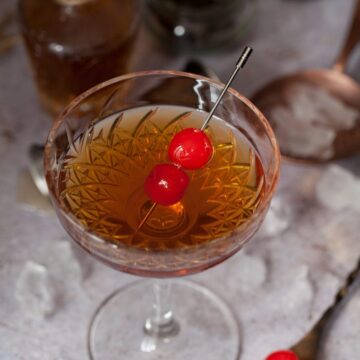 Tonka Bean Manhattan
The Tonka Bean Manhattan is a smooth, delightful twist on the classic Rye Whiskey cocktail. Tonka beans add notes of vanilla, caramel and almonds to the mix, creating a sublime & mellow drink.
Print
Pin
Rate
Ingredients
Tonka Bean Syrup
2

Tonka beans

125

ml/ ½ cup

Water

125

g/ ⅝ cup/ 4 ½ oz

White caster sugar
Tonka Bean Manhattan
45

ml/ 3 tbsp

Rye Whiskey

15

ml/ 1 tbsp

Red Vermouth

15

ml/ 1 tbsp

Tonka bean syrup
Instructions
Make the Syrup
Put the sugar and water into a small, heavy based pan and heat on moderate until the sugar has dissolved then bring to the boil and take off the heat

Give the tonka beans a few firm taps with the end of a rolling pin to split them into pieces and add to the syrup. Let infuse for 24 hours

Strain the liquid through a fine meshed sieve or a piece of muslin and decant the syrup into a screw-top bottle

Store in the fridge for up to 6 weeks
Make the Tonka Bean Manhattan
Put a handful of ice cubes into the bottom of a cocktail shaker (or jug)

Pour in the whiskey, vermouth and the syrup

Stir for 20 seconds then strain into a cocktail glass

Garnish with cocktail cherries and serve straight away
(Visited 279 times, 10 visits today)