This Blackberry Cocktail with blackberry and bourbon is sublime. The bourbon and blackberries downplay the inherent sweetness of chocolate to create a well rounded and mellow libation. Enjoy it right through winter.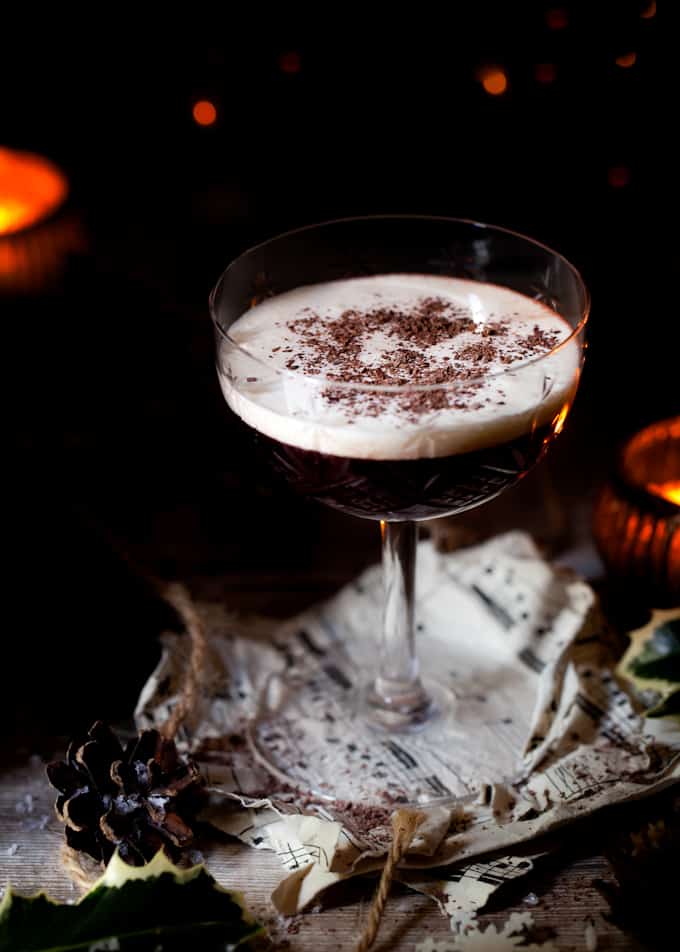 Disclaimer – I was gifted some of these products for inclusion in this guide. All opinions are my own. This post also contains affiliate links, for which, as an associate, I earn a small fee from qualifying purchases.
I've got plenty in store for you today. Aside from this fantastic blackberry cocktail featuring chocolate liqueur and bourbon, I've got my 2019 Christmas Gift Guide to talk about.
Find beautiful dining table items, useful kitchen gadgets and an exciting assortment of food and drink products.
But let's dive straight in and talk about that beautiful blackberry cocktail first.
It's fair to say that this cocktail is a divine adventure. It combines homemade blackberry syrup, chocolate liqueur and bourbon. This drink manages to be smooth yet fruity with a long lingering finish.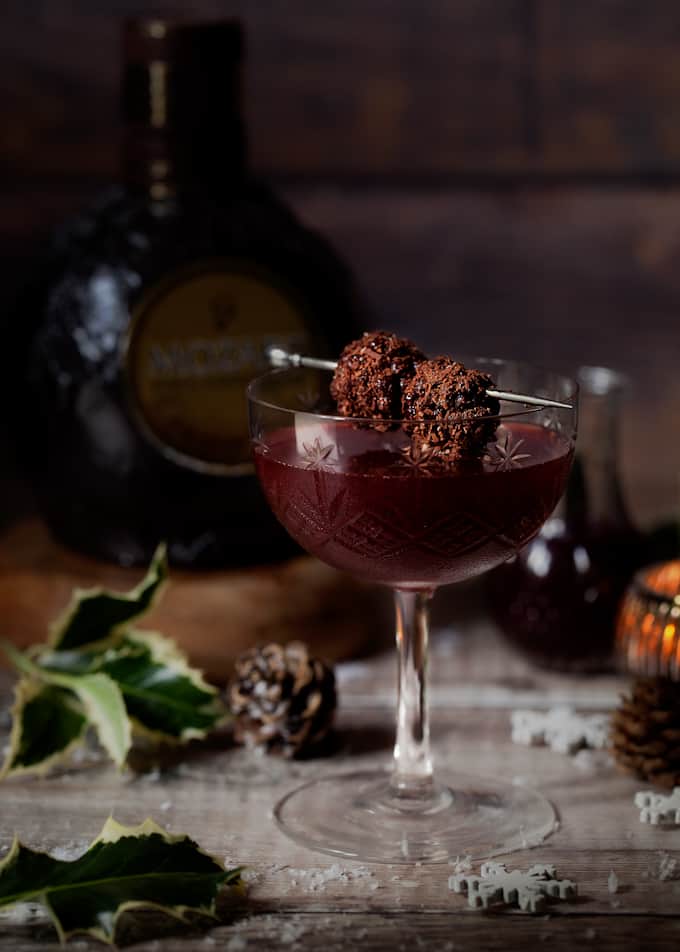 Cocktails that contain chocolate can have a tendency to be sweet. This blackberry cocktail is different. Thanks to the bourbon and tart fruit flavour, there's just a hint of sweetness about this drink, but not too much.
Included in the blackberry syrup is some cinnamon. It is really there to add a subtle depth of flavour to the drink rather than a powerful hit of spice in the flavour. It can be left out entirely, or if a spice craving hits, double up the cinnamon to intensify the flavour.
There are really two ways to serve this blackberry cocktail – with a float of cream or without. Try it both ways to match the decadence of your mood. Garnish with fresh blackberries if not using the cream.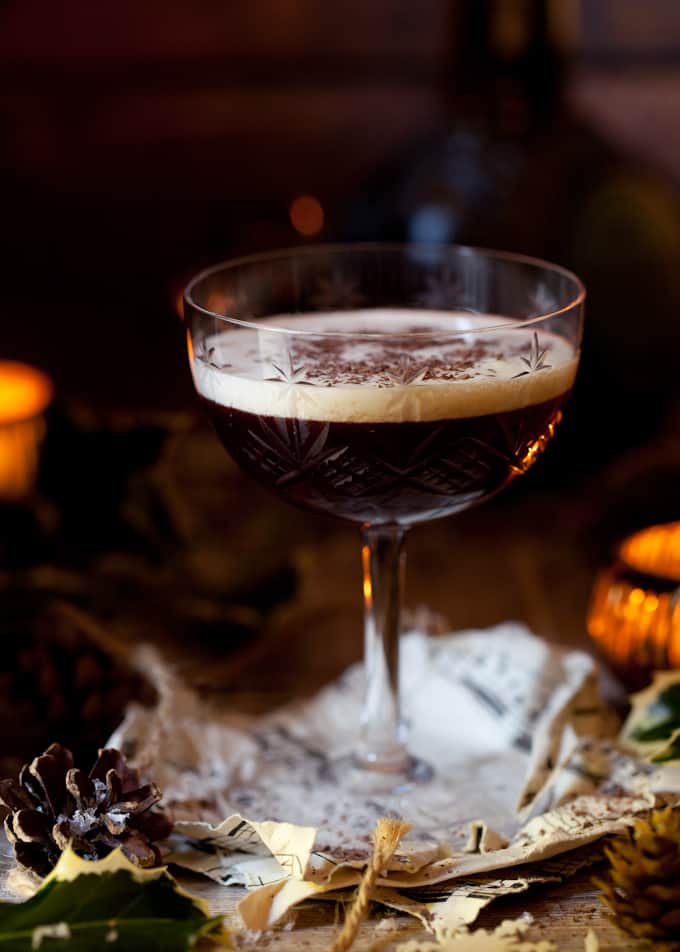 If you like this drink try my Bourbon Black Forest Cocktail too.
Now the seasonal drink is sorted out, are you ready to delve into Christmas shopping mode? Don't go without finding my giveaway at the end of this list and making your entry.
Christmas Gift Guide for Foodies 2019
My mind is beginning to churn over Christmas gift ideas for certain special people now. Truthfully, I love shopping for other people, but just occasionally I'll hit a brick wall and return empty-handed. In this situation, I take to the internet and start manically searching all sorts of weird and wonderful options.
The good news for you is that this year I've compiled a list to help you find inspiration for the foodie in your life before you hit the shops/ online stores. Here goes…
Chocolate
I have to be totally honest. One of my favourite gifts to receive at Christmas is a box of beautiful chocolates. It's what comes of receiving selection boxes from Santa as a child. So I'm thrilled to be talking about one of my favourite chocolatiers – Chococo – today.
I stumbled across Chococo in Swanage, Dorset about 10 years ago. As it was our anniversary, my husband thoughtfully bought me a selection box. It's now become a tradition that whilst visiting family in Dorset we take a day out to walk from Corfe Castle to Swanage and then catch the steam train back. Whilst in Swanage we always feast on Fish and Chips and then visit Chococo to pick up a hot chocolate in their cafe and some chocolates to take away. Bliss.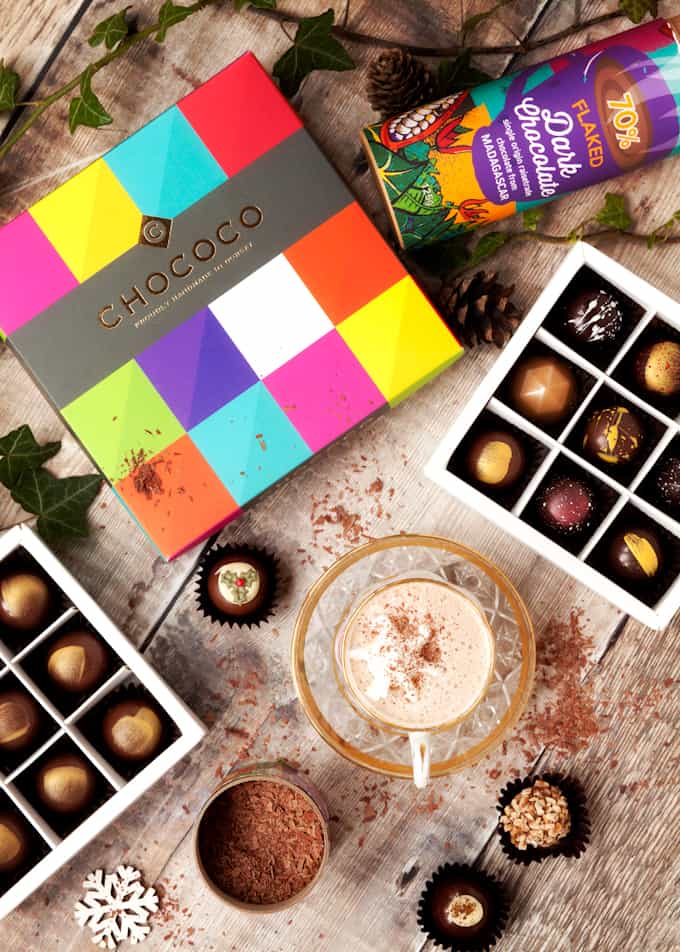 Chococo was founded in 2002 and the team pride themselves on making incredibly fresh chocolates and truffles with local ingredients and no preservatives or additives.
I'm also delighted to report that Chococo make every effort to limit their use of plastic and always have done. They use cardboard dividers in their selection boxes rather than plastic trays, paper bags and they use compostable woodpulp bags & cornstarch cello instead of cellophane. Oh, they also offer a 10% discount to anybody who brings in an empty selection box for refilling. Their efforts are so refreshing and pleasing to hear.
As for gifts, choose from hand-crafted fresh chocolates, including a special Christmas selection and gingerbread caramels, filled hampers and a wide variety of smaller treats including Turkish delight, flavourful studded slabs and hot chocolate flakes. Whether you are in the market for a big present or a smaller stocking filler, I'm sure you will find a suitable treat at Chococo.
There's also an extensive selection of vegan-friendly chocolates to choose from and children will delight in festive treats such as Reg the milk chocolate reindeer and the chocolate snowmen tubes.
I think a few of their goodies would partner very well with my. blackberry cocktail given the chocolate undertones in its flavour profile
Beautiful Crockery
If the foodie in your life is anything like me, there will always be room for a few more pretty plates and glasses in their cupboards to help dress their table. Portmeirion have a fantastic range of stunning pottery and tableware, including a growing collection of festive crockery and glassware.
I love the Sara Miller Celestial range of tableware because it is understated and stylish. Though it does have a distinctive Christmas charm to it, this set could be brought out to help celebrate other special occasions throughout the year. My 12-piece set will be gracing my table on Christmas Eve, along with the beautiful & sparkly champagne flutes from the Chelsea glassware collection.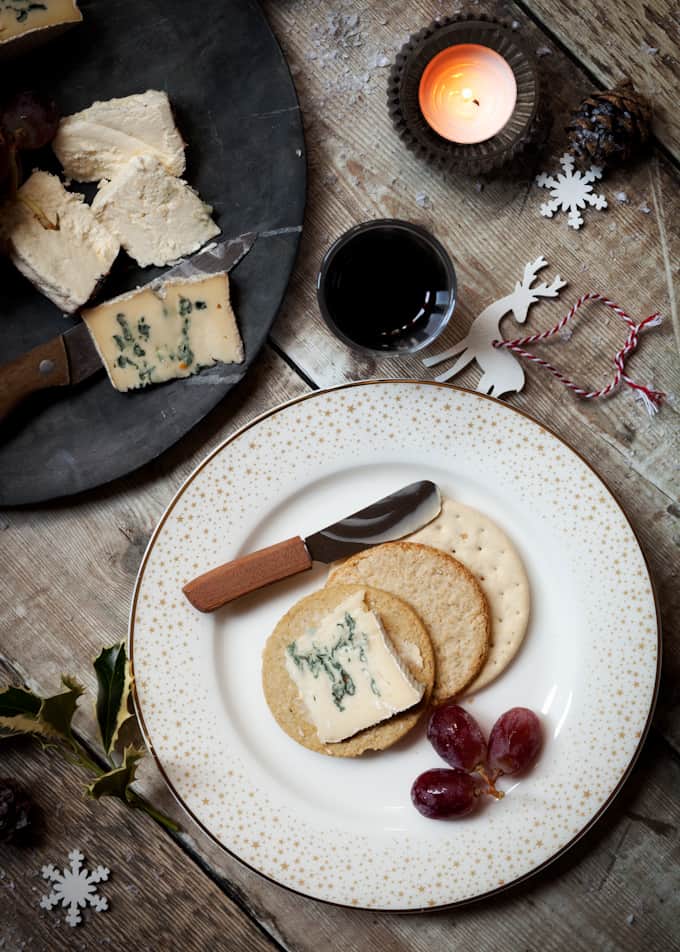 If you are after a truly Christmas themed gift, take to look at Portmeirion's other festive collections: The Holly & The Ivy, Penguins and Geese. They also have some gorgeous china baubles available this year too.
Must-Have Kitchen Gadget
Regular readers will confirm that it's no secret that my Thermapen digital food thermometer is my favourite and most used kitchen gadget. I use it for so many things in the kitchen – from checking my bread is properly baked to making endless batches of caramel. If I'm on Christmas dinner duty, you can guarantee I whip it out and give the turkey a quick prod to ensure it's cooked through before serving.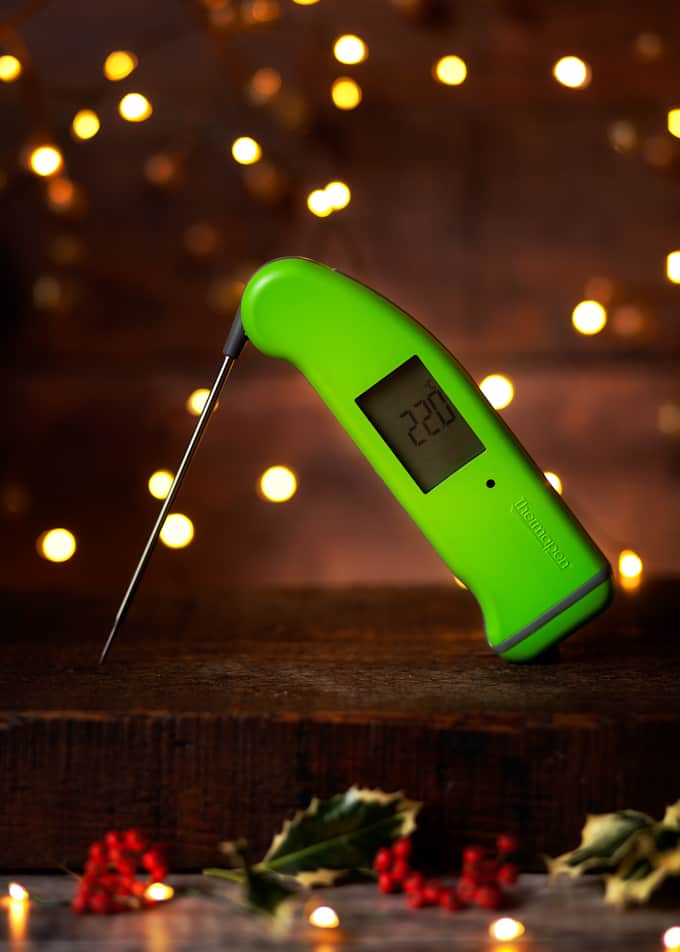 Alcohol
When it comes to alcohol, with such a plethora of libations to choose from, it's often hard to know what to pick as a gift. My advice is to think outside of the box. Regardless of whether you're opting for a classic spirit – gin, vodka, whiskey and the likes – or a creamy liqueur, pick a harder to come by version. Anybody can pick up a run of the mill bottle at the supermarket. But a carefully sought out bottle that the recipient has never tried before is a surefire way to get your gift remembered. Be that friend that goes the extra distance.
Liqueurs
The other obvious bottle to buy somebody at Christmas is a liqueur. The trouble is that so many boozy bottles are available on offer in the supermarkets in the lead up to Christmas, that the chances are your recipient may well have indulged themselves in all the easily attainable liqueurs already. The only way forward is to find something a little different.
I've been very impressed with the range of chocolate liqueurs from Mozart Spirits over the last few years. They cover quite a few bases – dark chocolate liqueur, chocolate cream liqueur and white chocolate liqueur.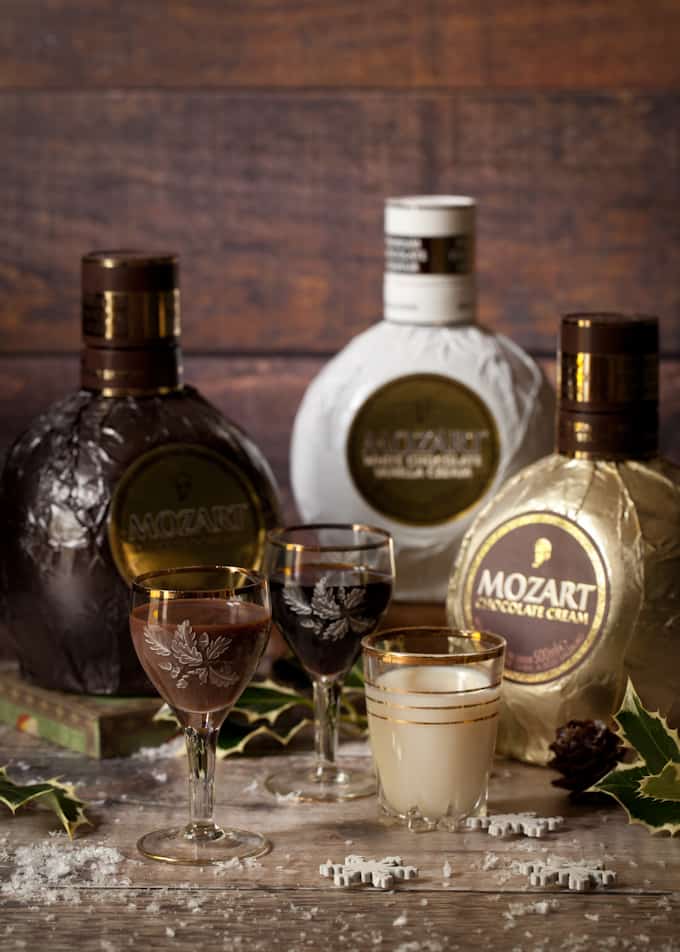 All of them make beautiful tipples in their own right but they are also wonderful additions to cocktails. In fact, I used the dark chocolate liqueur – which has a consistency similar to creme de cacao rather than being creamy – in the chocolate, bourbon and blackberry cocktail included in this blog post.
Find all of the varieties on Amazon or from specialist drinks stores.
Spirits
One of my favourite spirits is Dorset Dry Gin from Conker Spirit. Made in my husband's home county of Dorset, this gin is a knockout. It is well-balanced and juniper-led, but with the bright and refreshing Dorset notes of elderberries, samphire and handpicked gorse flowers. Essentially, it's a refreshing take on the classic London Dry and it is utterly gorgeous.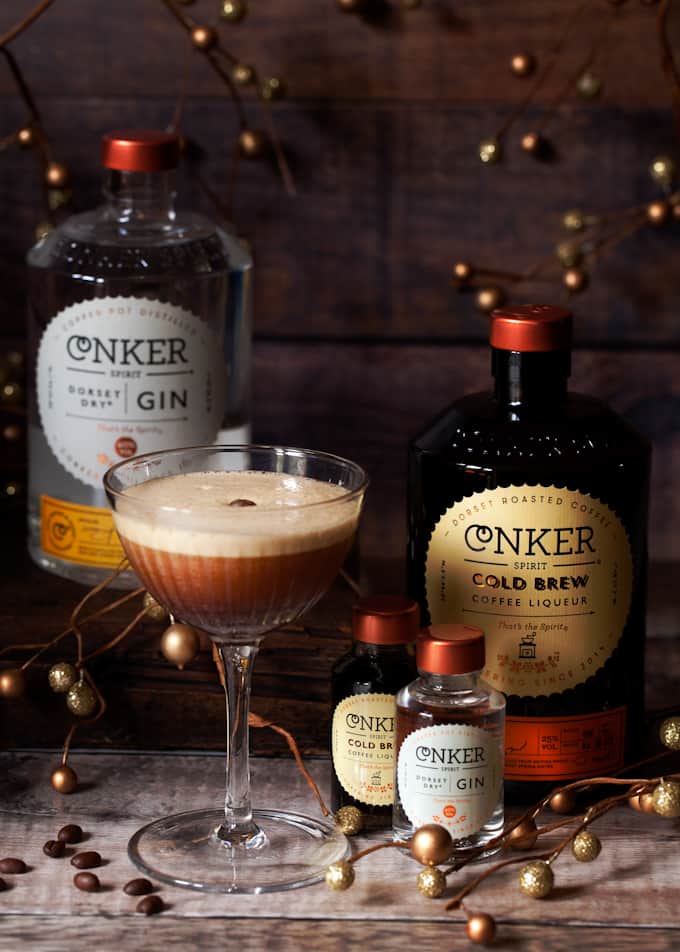 Conker Spirit opened Dorset's first gin distillery in 2014 and alongside their dry gin, they have gone on to develop a Navy Strength gin, a Port Barrel gin and a Cold Brew Coffee Liqueur. This liqueur is perilously good. Combine it with a handful of ice and a splash of water for an espresso martini made in 60 seconds flat without any fuss. Seriously, it's that easy.
Whilst any of the Conker Spirit gins or Cold Brew Coffee Liqueur would make fitting bottle gifts for cocktail enthusiasts, you might also consider booking your loved one onto a distillery tour for the ultimate gin experience.
I'd also like to mention that the miniature bottles make a charming change from the traditional Christmas cracker on your place settings. If the choice is between a paper hat & a silly joke or a bottle of booze just for me, I know which way I'm leaning.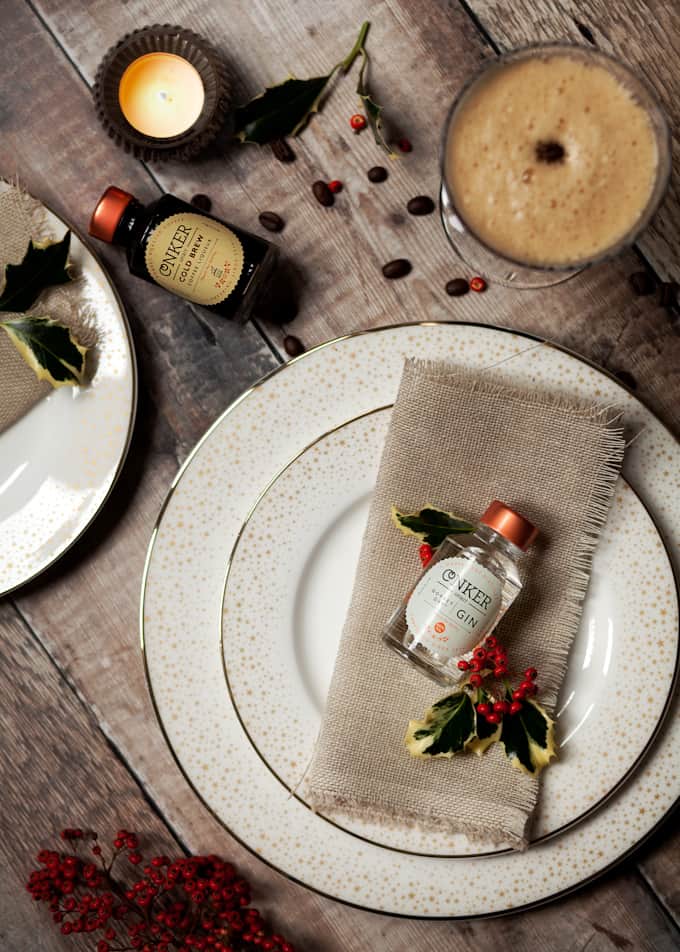 Boozy Advent Calenders
Ok, so technically, this one is a pre-Christmas gift but if you really want to impress on the advent calendar front, may I suggest a boozy venture from Drinks by the Dram?
They have quite a range to choose from including gin, vodka, whiskey, rum, tequila, cognac and bourbon. They also have some specialist calendars, including an impressively titled Very Old & Rare Whiskey Advent Calendar. Since this one contains drams from whiskey that is worth over £13,000 per bottle, the drinker really needs to know their stuff to appreciate this calendar.
I selected the more moderately priced bourbon advent calendar, and it's a pleasure to have. I've peeped into quite a few of the doors and discovered well-respected names such as Maker's Mark and Buffalo Trace plus a wide array of other quality American brands I've heard of but not had the pleasure of sampling before.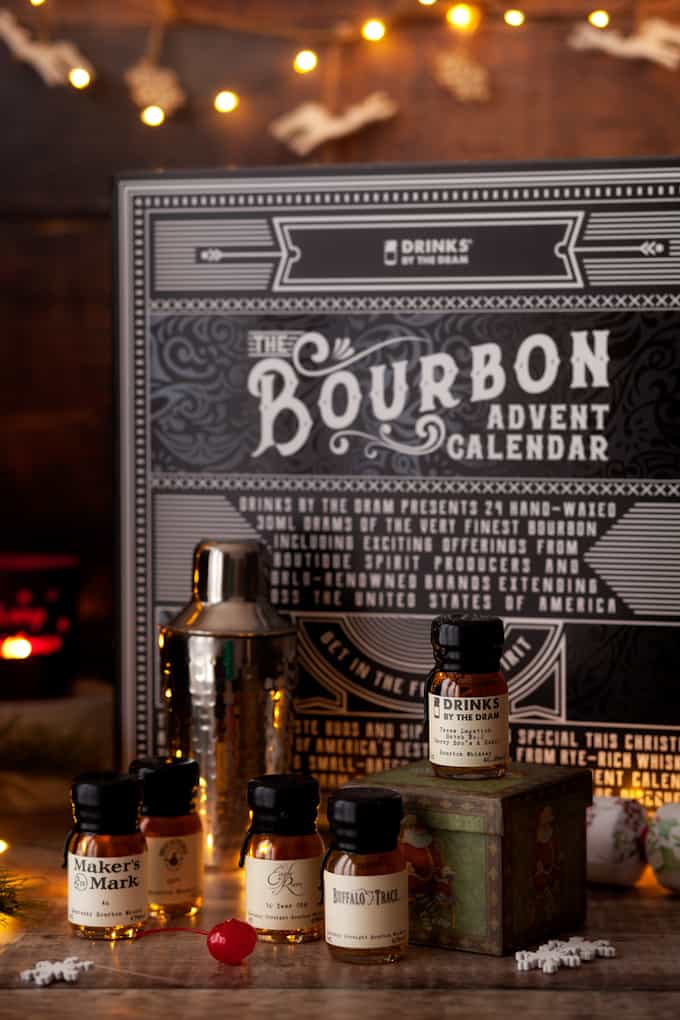 Each dram contains 30ml of bourbon, the packaging is stylish and I look forward to this box reappearing in my lounge on Dec 1st.
Cheese
It wouldn't be Christmas without a platter of cheese.
In my house, we have taken to delving into our cheese supplies ahead of Christmas Day. Why? Quite simply, we are usually too stuffed following a turkey dinner to really do justice to the cheeseboard.
Instead, a few days before the big day, we sit down to dinner and treat the cheese as the centrepiece, with breads & crackers, chutneys, fruit & nuts and a couple of veggie laden side dishes all served alongside. It's simple to prepare and we get to really tuck into and savour the cheese this way.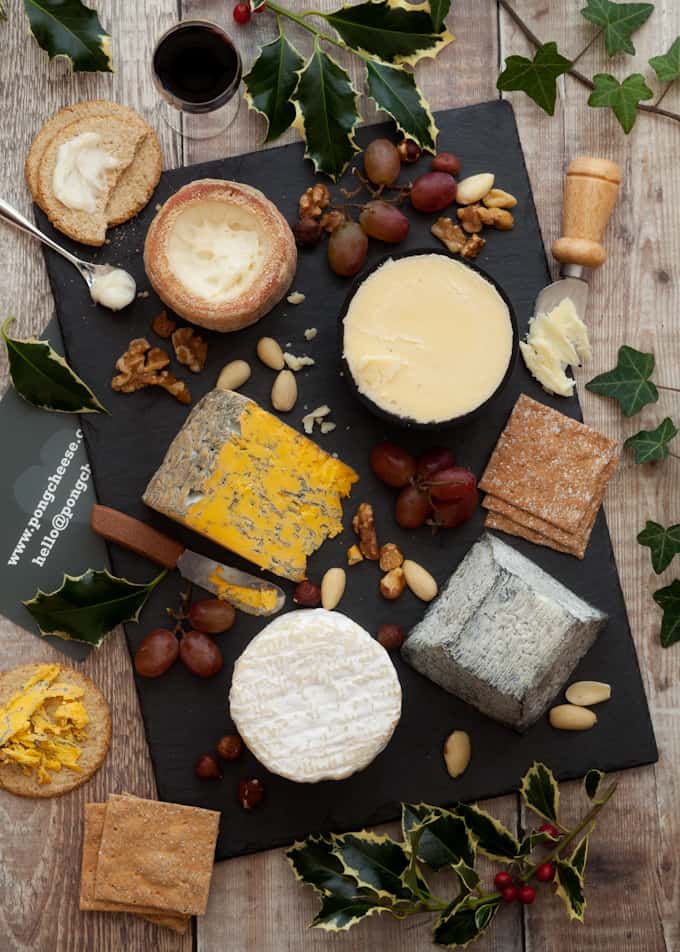 To help you easily source the perfect combination of cheeses for your cheeseboard I highly recommend PONG CHEESE. Their aim is to bring you some of the very best cheeses made by the leading independent and artisan producers in the UK, complemented with some classics from Europe. And they deliver directly to your door – it couldn't get much better than that.
Pong have a wide range of cheese boxes to choose from year-round, plus some seasonal specials – including the Christmas Extravaganza Box pictured here. Pong also offers a cheese club delivering mouthwatering parcels of cheese to the doorstep each month. This subscription service and the Pong gift boxes all make fantastically original presents. Prepare to be enticed by their selection.
Food Hamper
A hamper done well is a truly wonderful gift. Cartwright and Butler have the right idea. They manage to combine stylish packaging with an exciting array of products inside of theirs.
I've been tucking into their Pocklington Picnic Hamper recently. It features a selection of their products inside a beautiful duck-egg blue tin. The goodies include nostalgic sweets and biscuits, pickles and preserves, savoury crackers and tea & coffee. Their best-selling Pocklington Christmas Picnic Hamper is now available to order – it's been voted Best Christmas hamper for several years running by The Telegraph.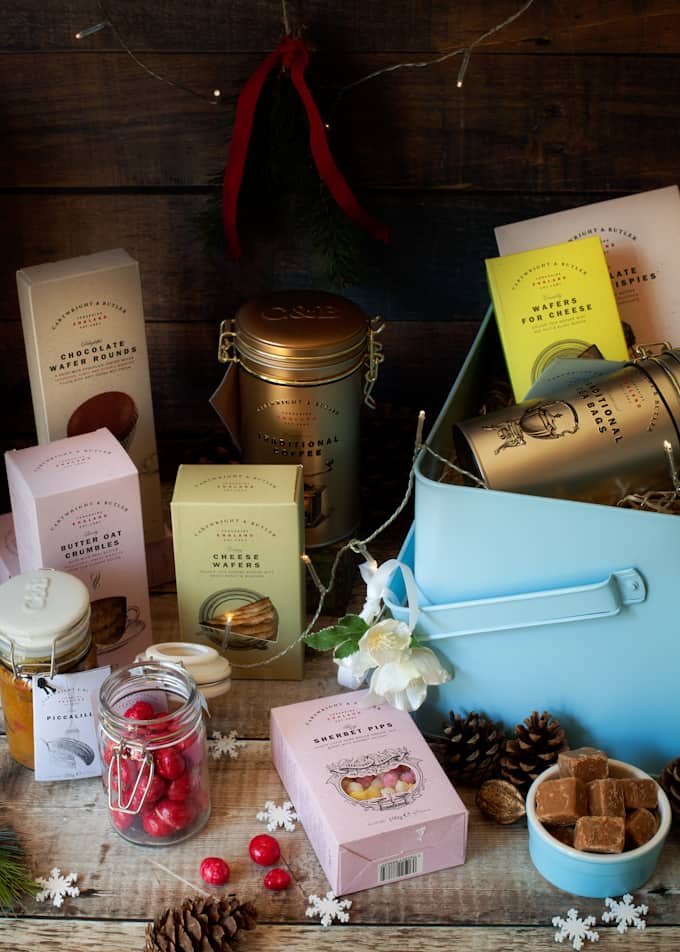 Take a look at the wider Christmas hamper collection, from Cartwright & Butler – they have plenty to choose from. Or compile your own – they also have a range of containers to choose from and you can pick your items to match the personal tastes of your lucky recipient.
Homemade Hampers
Nothing says I love you more than a homemade gift. Be it a box of homemade chocolates, a bottle of homemade liqueur or a homemade hamper. With foodies anything goes, so pick a theme and run with it. Here I've compiled a hamper of enticing flavour extracts to help a baker make a creation to be proud of.
Nielson-Massey is highly regarded for their vanilla extract (of which there are no less than 9 varieties available) but they are also home to a fantastic range of baking extracts and flavours, pastes, powders and sugars.
Pictured here in my flavour hamper for bakers are peppermint extract, coffee extract, rose water, orange blossom water, almond extract and lemon extract.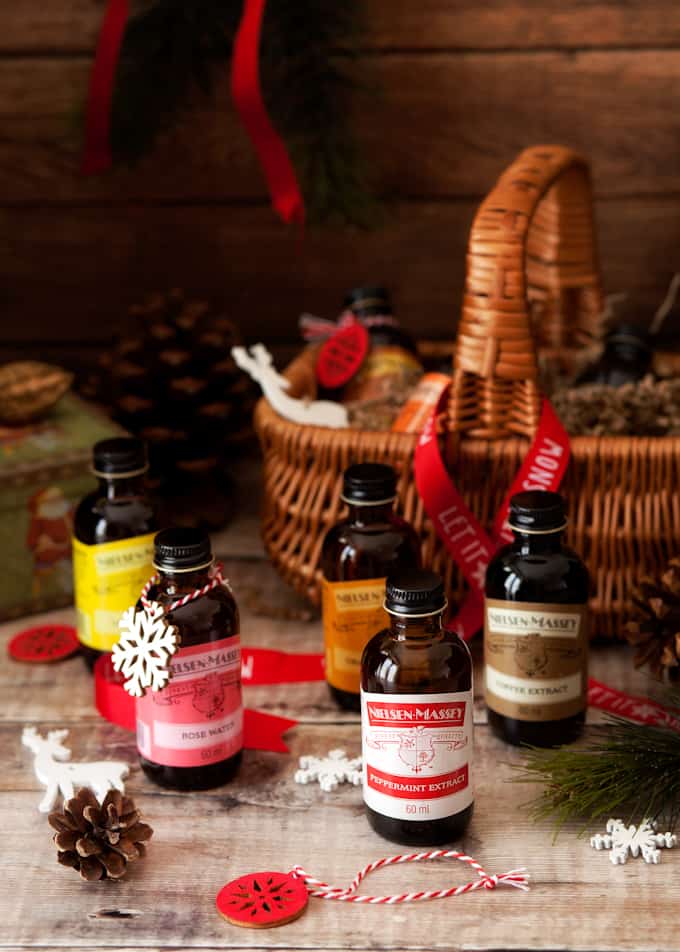 Phew, that's it. I hope I've given you a few ideas. Have you seen my guides for 2020 – part 1 covers drinks and part 2 covers food. And if you are after more Christmassy food and drink idea take a look through my collection of Christmas recipes.
Have you tried this blackberry cocktail? I'd love to hear what you thought of it – leave a comment and/ or rating below.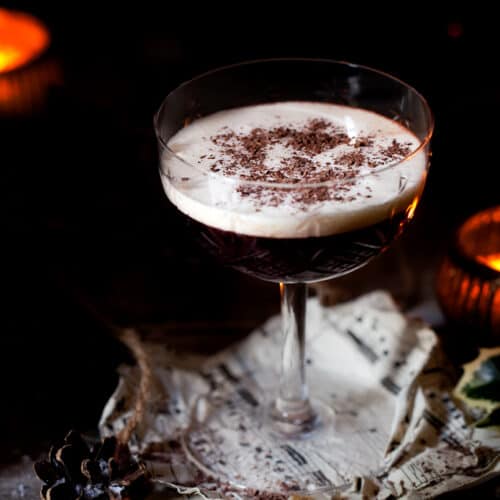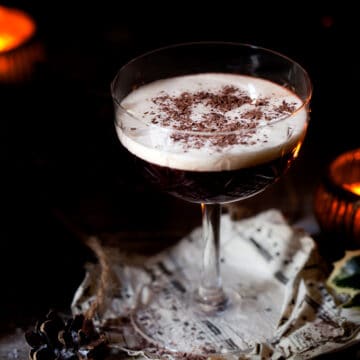 Blackberry Cocktail with Chocolate Liqueur and Bourbon
This Chocolate and bourbon Blackberry Cocktail is sublime. The bourbon and blackberries downplay the inherent sweetness of chocolate to create a well rounded and mellow libation. Enjoy it right through winter.The recipe for the blackberry syrup makes approx 125 ml – enough for around 8 drinks
Print
Pin
Rate
Ingredients
For the Blackberry Syrup
200

g

Blackberries

fresh or frozen

1

Cinnamon stick

2 inch

3

tablespoon

Water

3

tablespoon

Caster sugar
For the Chocolate and Blackberry Bourbon Cocktail
30

ml

Bourbon

15

ml

Dark chocolate liqueur (e.g Mozart)

or Creme de Cacao

15

ml

Blackberry syrup
Optional Garnish
30

ml

Double cream

¼

teaspoon

Flaked chocolate

Fresh blackberries
Instructions
Make the Blackberry Syrup
Put all ingredients into a saucepan and cook over a moderate heat until the sugar has dissolved and the fruit turns soft

Take off the heat and leave to infuse for 30 minutes

Remove the cinnamon stick & discard, then break the fruit down using the back of a wooden spoon

Strain the liquid and fruit through a fine-meshed sieve, pushing down using the back of a spoon. Discard the pulp

Store in a sealable jar in the fridge until required
Make the Cocktail
Put the bourbon, syrup and chocolate liqueur into a cocktail mixing glass (or a jug) with a handful of ice. Stir with a bar spoon or blunt knife for 45 seconds to ensure everything is well mixed and chilled

Strain into a cocktail glass

Serve either with a few fresh blackberries on a cocktail pick or add a float of cream (see notes) and scatter the grated chocolate on top
Notes
How to float cream: Give the cream a quick beat with a mini hand held whick – 20-30 seconds should add a few bubbles to the cream without it thickening. Hold a dessert spoon over the top of the drink (almost touching it) with the rounded side facing upwards *Slowly pour the cream onto the upturned spoon. It will spread out over the top of the drink *Stop pouring when the entire drink is covered and the cream is approx 3mm deep
Nutrition Per Serving (Approximate)
Calories:
274
kcal
|
Carbohydrates:
20
g
|
Protein:
1
g
|
Fat:
12
g
|
Saturated Fat:
7
g
|
Cholesterol:
41
mg
|
Sodium:
16
mg
|
Sugar:
12
g
|
Vitamin A:
441
IU
|
Vitamin C:
1
mg
|
Calcium:
20
mg
(Visited 605 times, 1 visits today)