Zucchini Basil Salad is bright, flavourful, quick & simple to make and incredibly versatile. With flavours reminiscent of pesto it is good enough to serve alongside steak, chicken or fish, but equally good on a table of mixed small plates.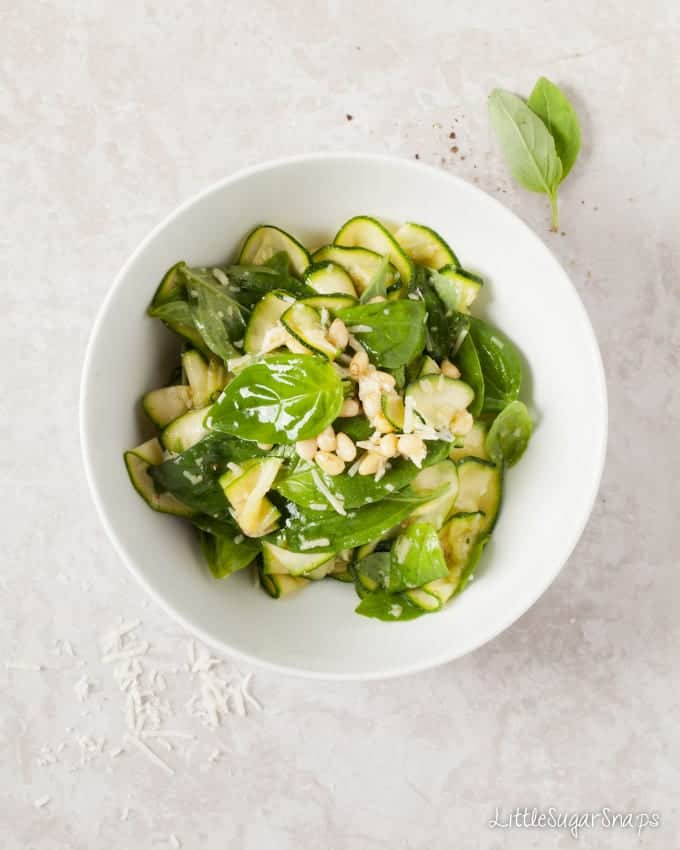 If you think that salad is just for summer, think again. Back in December I was dining with my family at one of our favourite restaurants when I got to try one of the loveliest, simplest but also surprisingly addictive side dishes I've tasted for a long time.
Today I'm giving you my recreation of that dish: Zucchini Basil Salad.
The ingredients are simple but they blend together in such a way that you feel as if you're munching on something extra special. Packed into this side salad are ribbon thin slices of zucchini, pine nuts, heaps of fresh basil leaves and extra virgin olive oil. It's a little reminiscent of pesto… only not chopped up and with plenty of zucchini thrown into the mix.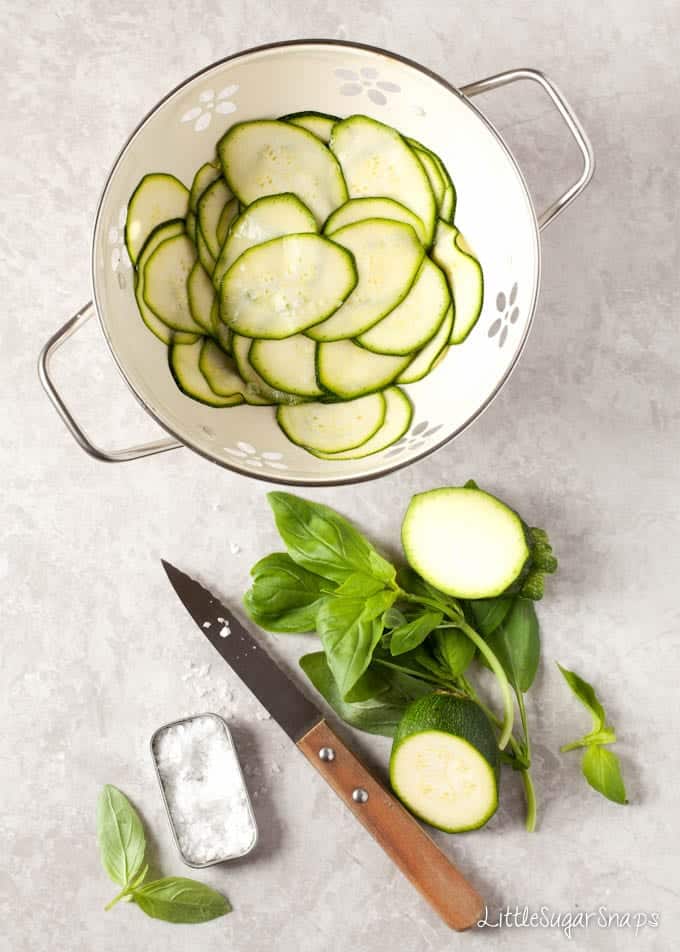 It's a dream to eat but also quick & easy to prepare. Apart from slicing the zucchini (which can be done in a heartbeat if you have a mandolin cutter) all there is to do is tenderly toss the ingredients together with your hands right before serving.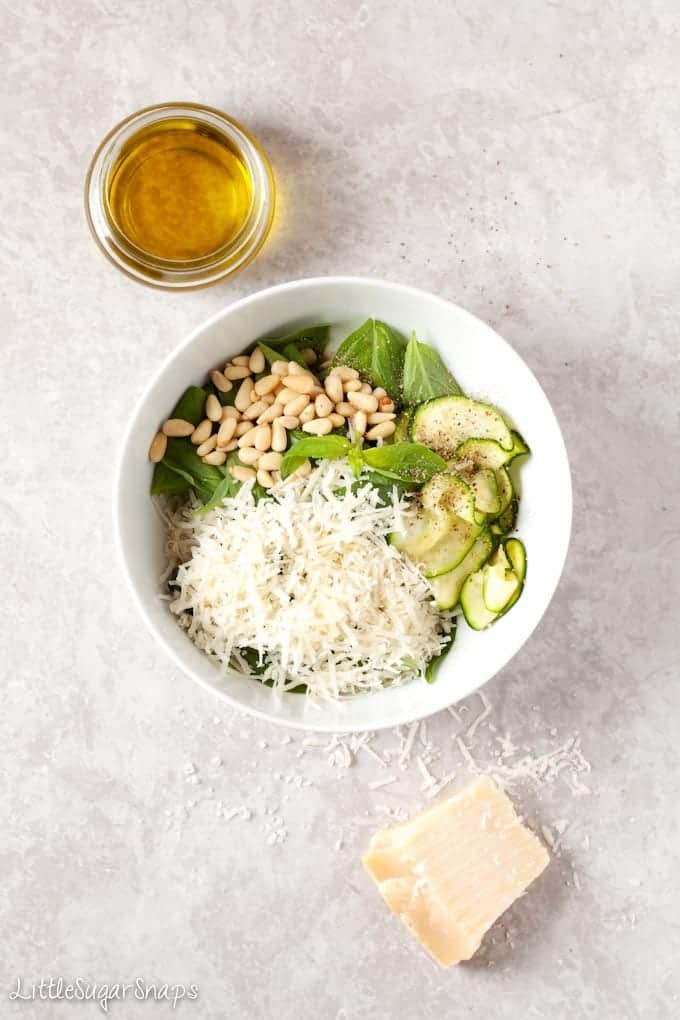 We had this salad as part of a selection of small plates at Polpo (Covent Garden, London). The menu for this restaurant has a few classics, but numerous variations as the seasons change. We have been back time after time since it opened in 2009. First as a couple. Later as a family. Staff are always especially kind to children. Go if you get the chance.
Though great as part of a mix of plates, Zucchini Basil Salad is not out of place as a side serving to chicken, fish or a hearty steak.
Alternatively, turn it into a lunchbowl by adding some (or all) of the following:
Cooked chicken
Crispy bacon
Sliced new potatoes
Crunchy croutons
However you choose to serve it, you're in for a treat. Zucchini Basil Salad impressively packs in flavour and can be assembled in a flash. And of course, being so very green, it just looks so healthy, cheerful and utterly inviting.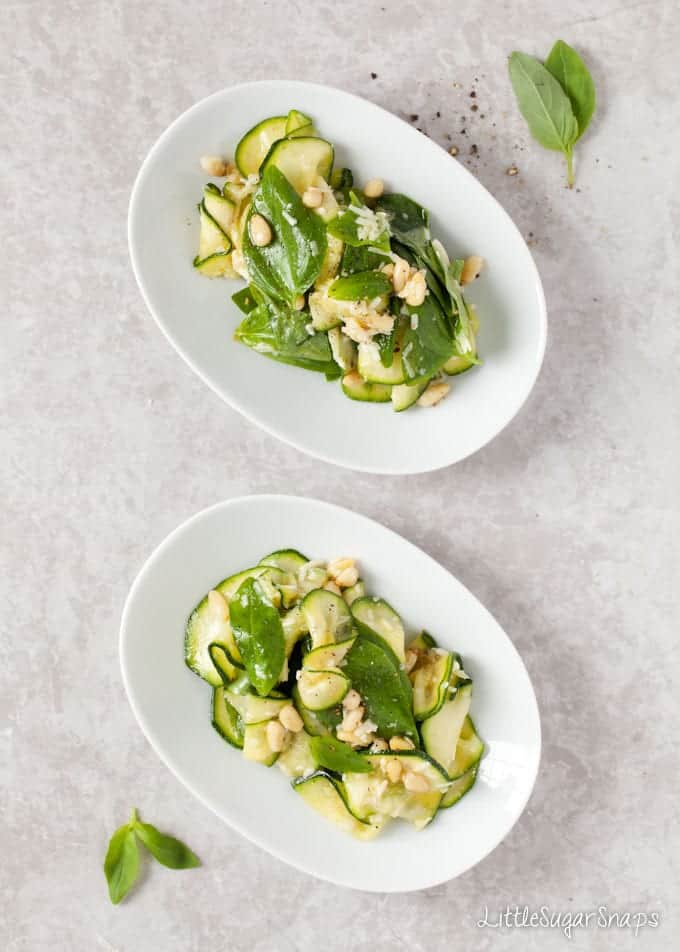 Have you tried my other salad recipes? One of my favourites is my roasted chickpea salad – it's great as a main or side dish.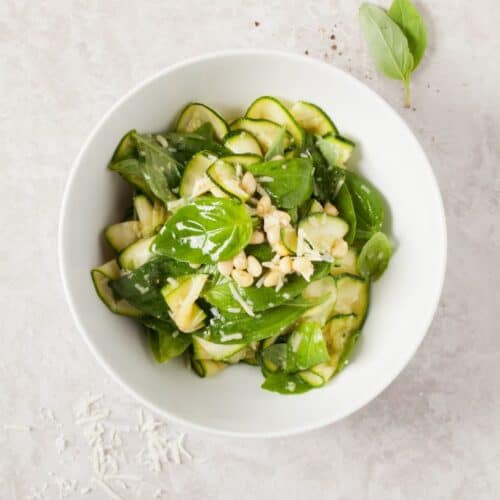 Zucchini Basil Salad
Zucchini Basil Salad is bright, flavourful, quick & simple to make and incredibly versatile. With flavours reminiscent of pesto it is good enough to serve alongside steak, chicken or fish, but equally good on a table of mixed small plates. Inspired by the menu at Polpo (www.polpo.co.uk)
Print
Pin
Rate
Ingredients
1

Large zucchini

(courgette)

½

teaspoon

Sea salt

2

tablespoon

Pine nuts

3

tablespoon

Grated Parmesan cheese

1

Bunch (approx 20-30g) fresh basil leaves

2

tablespoon

Extra virgin olive oil

Seasoning
Instructions
Begin by chopping the end of the zucchini at a steep angle. Now finely slice the zucchini widthways on this diagonal. If you have a mandolin this will enable you to achieve lovely even slices. Aim for around 1-1.5mm thick

Put the zucchini slices into a colander and sprinkle with the salt. Toss lightly and leave to sit for 15 minutes

After this time the zucchini should be slightly limp. Rinse thoroughly in fresh, cold water and drain well

Put the zucchini into a mixing bowl. Add the basil leaves, pine nuts, grated cheese and olive oil and mix gently (use your hands).

Season to taste and serve immediately
(Visited 2,080 times, 1 visits today)