These Chai Spiced Candied Nuts are easy to make, bursting with sweet spice and deliciously crisp. They also take on a new dimension when dipped in chocolate and dusted with salted cocoa powder or spiced icing sugar. Serve all three varieties and put on a nut spread to impress.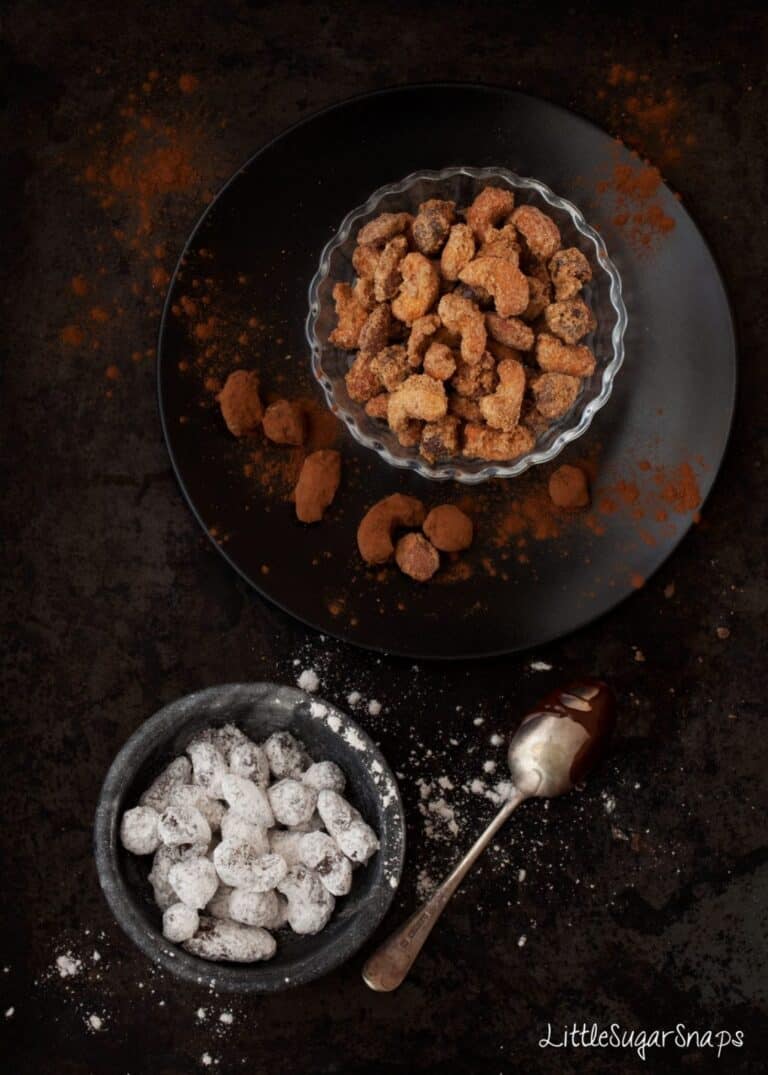 There's a new obsession in my house – nuts. This craze began last autumn, when I got the chance to photograph, and taste, some exceptionally good nuts from Cracking Nuts.
Before this time my kids could take or leave nuts. They could handle a few in baking, but nuts were not something they got excited about.
Fast-forward to the present day and it's a different matter:
If there's a little late night sharing snack to be had at the weekend, nuts are just as welcome as crisps
When I made these Chai Spiced Candied Nuts, two little heads kept on popping through to the kitchen to see if they could scrounge some
There has even been disappointment when I've explained that I cannot put nuts in their lunch-boxes as a Friday treat since some kids have nut allergies
My kids are now totally sold on nuts. All thanks to Cracking Nuts.
This is great news for the adults in my house, because we get to snack on nuts more often too. And it's welcome news for me, chief cook, because I no longer have to swerve around those nut-based recipes I've been avoiding since the kids came along.
Confession: a personal obsession of mine is Chai Spice. If you visit here often, you have probably noticed. I'll add this flavour hit to just about anything I can get away with.
So it's really little wonder that my first venture into homemade candied nuts happens to include Chai Spice.
If all you do is make these Chai Spiced Candied Nuts and leave them just as they are when they come out of the oven you will already be happy. These nuts are coated with a candied shell that is sweetly spiced and has a wonderful crunch.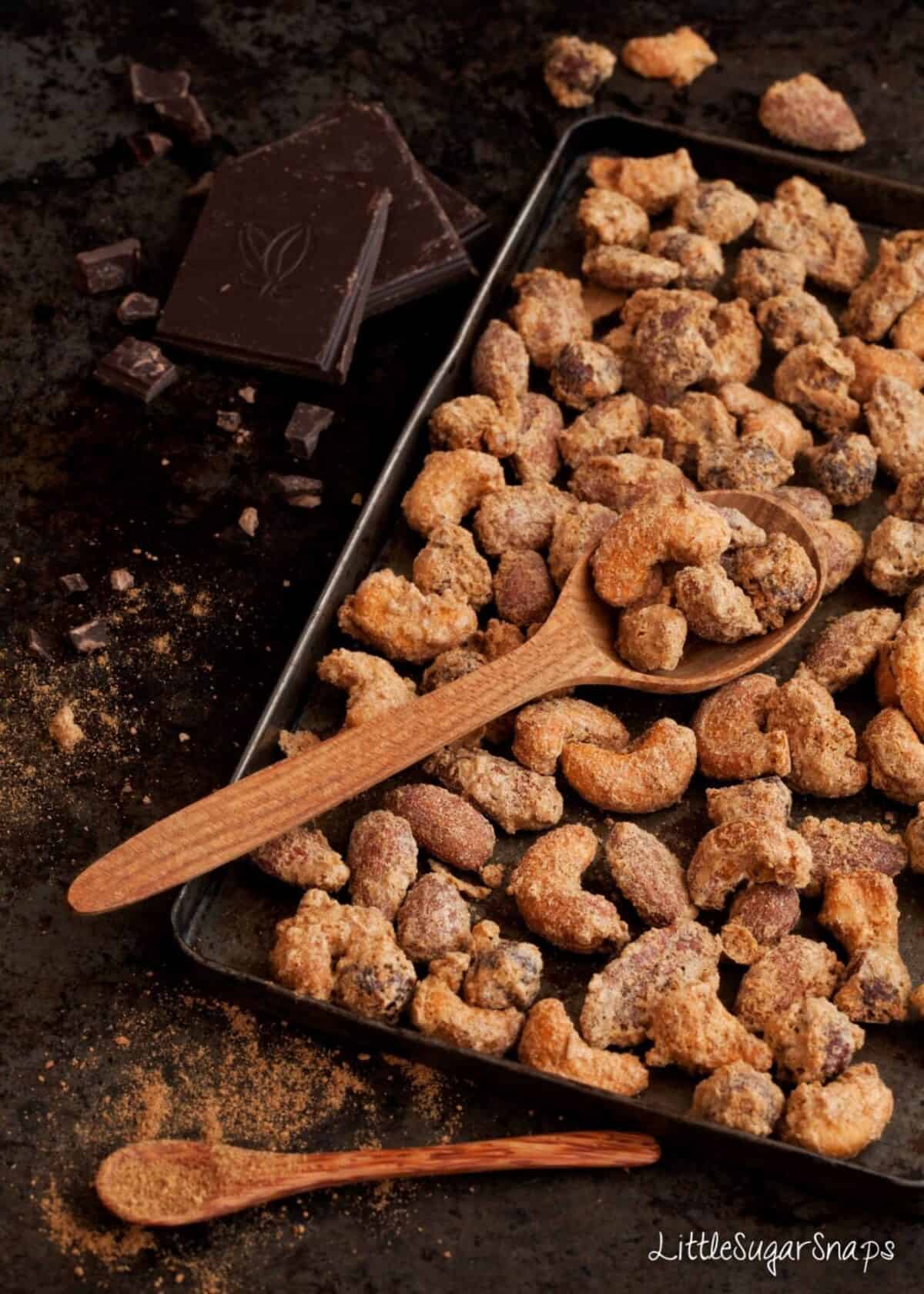 But if you want to get fancy and look smart in front of your friends, go an extra step. You'll end up with a trio of Chai Spiced Candied nuts from just one batch.
First up try double dipping some of the Chai Spiced Candied Nuts in chocolate and dust in salted cocoa powder. That cocoa hit, along with the salt, spice and crispy shell is devilishly good.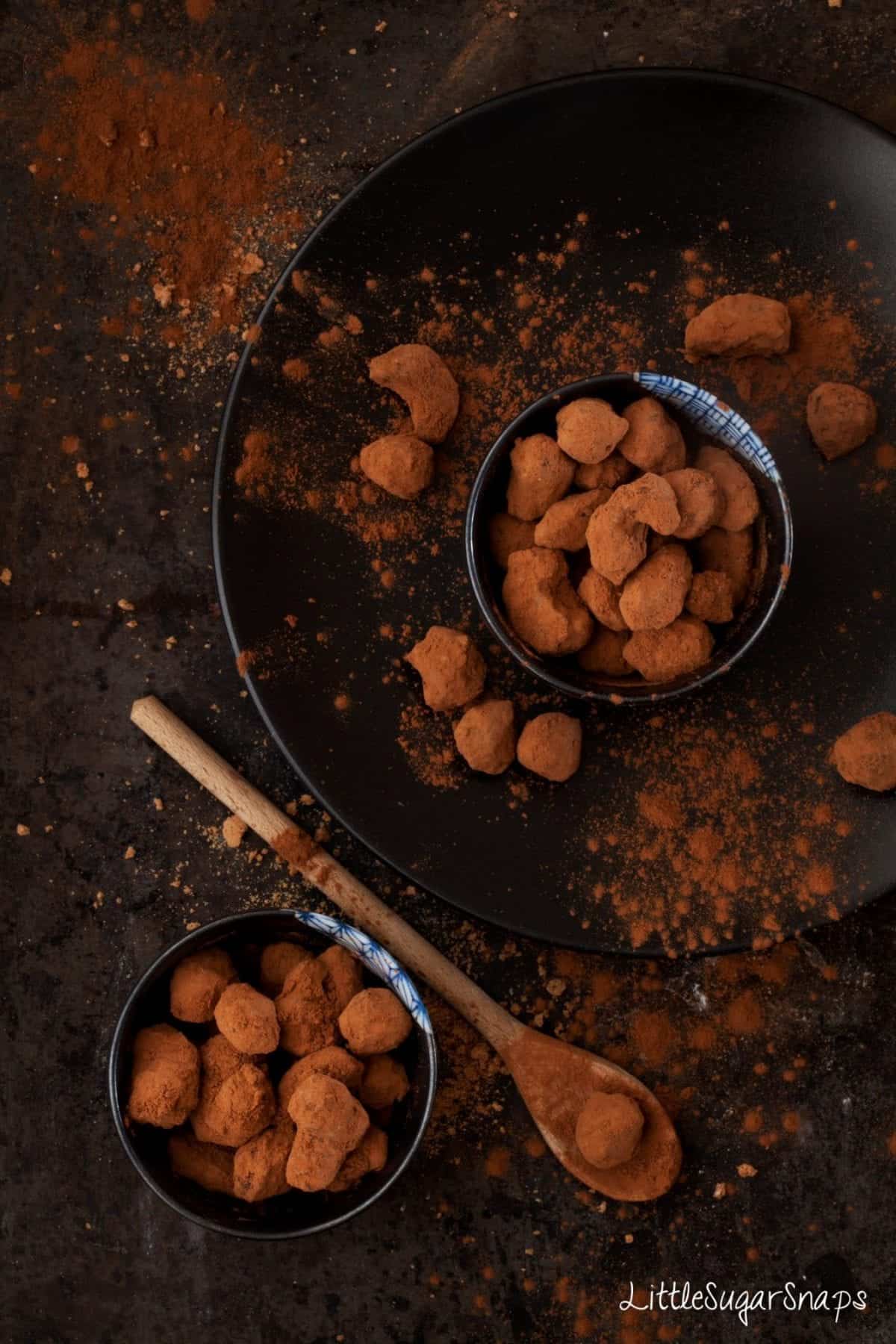 To complete the trio, double dip a few more candied nuts in chocolate then dust with icing sugar laced with more chai spice. The result is crisp, chocolately nuts that are bursting with sweet spicy flavours. Nut heaven.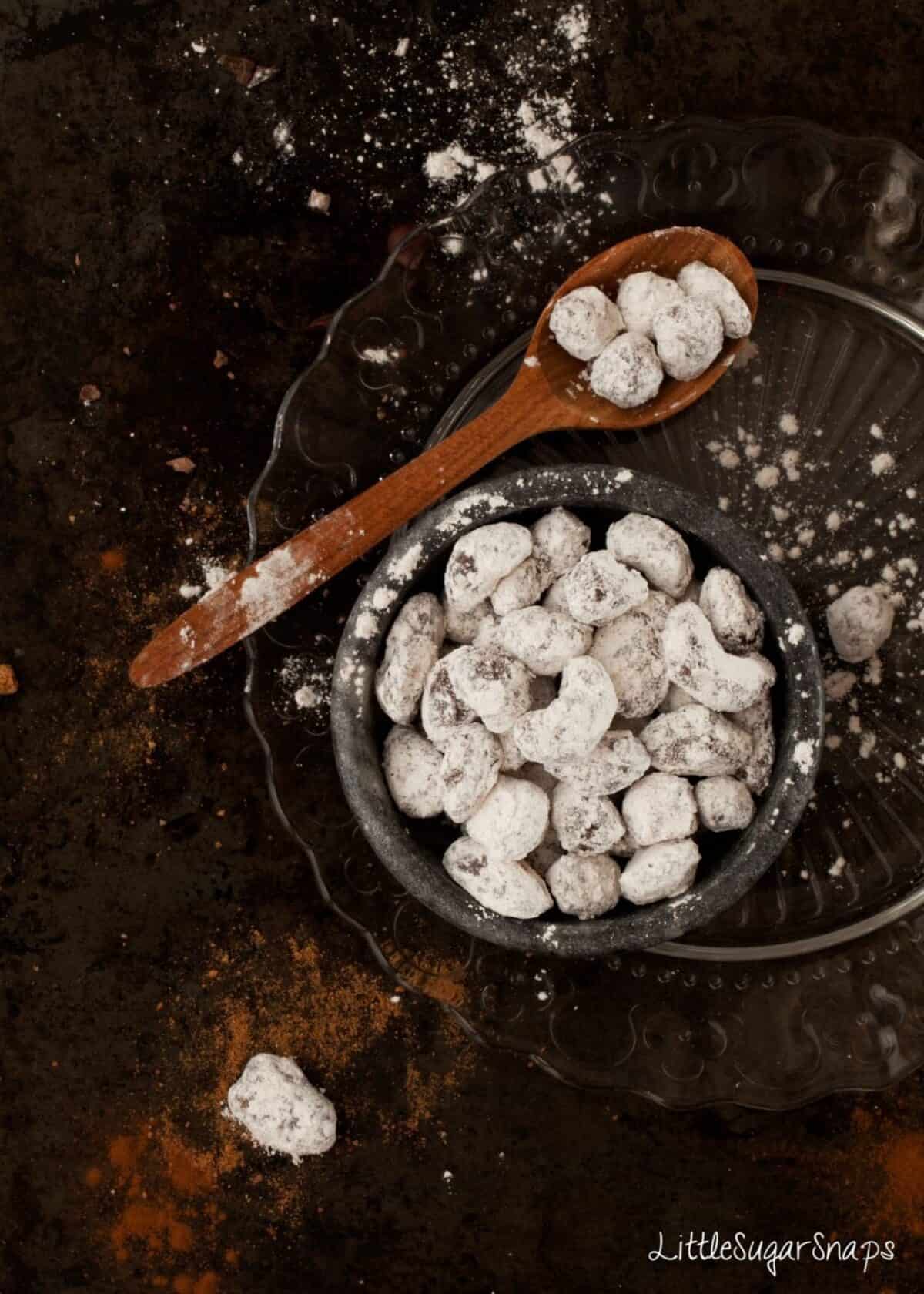 Serve all three varieties in pretty individual bowls to scoff with friends. Or, if you're feeling generous, pack them into gift jars to give away.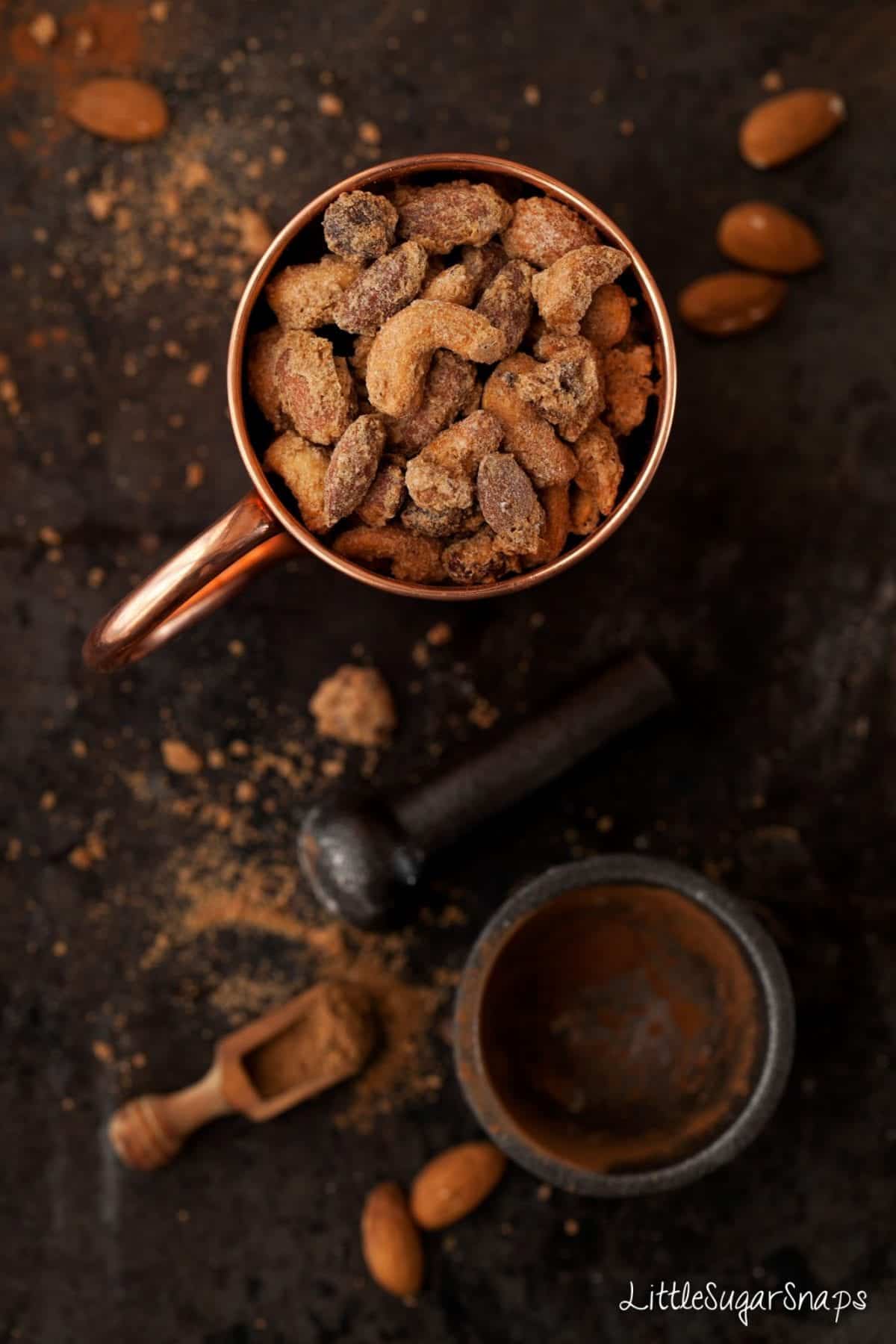 If you don't fancy making your own nuts but want something special to munch on then take a look at Cracking Nuts. This growing family business, based in Devon, produces the finest nuts I've ever tasted. And the great news is that UK customers can buy from their online store.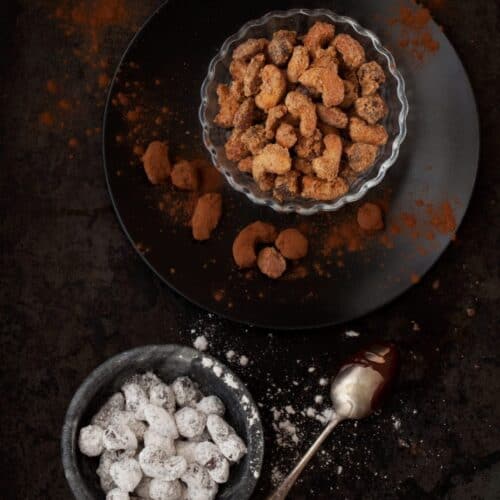 Chai Spiced Candied Nuts – 3 Ways
These Chai Spiced Candied Nuts are easy to make, bursting with sweet spice and deliciously crisp.
Print
Pin
Rate
Total Time:
1
hour
10
minutes
Ingredients
For the Chai Spice
1

tsp

Ground cinnamon

1/2

tsp

Ground ginger

1/4

tsp

Ground nutmeg

1/4

tsp

Ground allspice

1/8

tsp

Ground cloves

Large pinch salt

Seeds from 6 cardamom pods
For the Nuts
1

Egg white

1/2

tsp

Vanilla extract

100

g/ 1/2 cup

Soft brown sugar

(light)

60

g/ 1/2 cup

Almonds

60

g/ 1/2 cup

Pecan nuts

60

g/ 3/8 cup

Cashew nuts

60

g/ 3/8 cup

Hazelnuts
To Cover the Nuts
75

g/ 1/2 cup

Milk chocolate

75

g/ 1/2 cup

Dark chocolate

20

g/ 1/4 cup

Cocoa powder

1/4

tsp

Sea salt

20

g/ 1/4 cup

Icing (confectionary) sugar
Instructions
Prepare the Chai Spice
Put the spices into a bowl along with the salt and mix. Remove 1 tsp (level) of the mixed spice and set aside for the decorating stage
Make the Candied Nuts
Preheat the oven to 180C/ 350F/ GM4 and line a baking sheet with baking parchment

Put the nuts into a small bowl with the sugar and the remaining spice blend. Toss together

Whisk the egg white and the vanilla extract together in another bowl until very frothy but not stiff

Scrape the frothy egg white onto the nuts and stir to cover well

Spread the nuts out onto the baking sheet

Bake for 30-40 minutes, stirring every 10 minutes. It will look a little un-appetising in the beginning. Don't worry, this is normal. When the mix is no longer wet, the nuts are baked

Take out of the oven and let cool completely
Covering the Nuts
Chop the chocolate finely and mix together, divide between 2 heatproof bowls and set 1 bowl over a bain marie to melt (see notes)

Pick the nuts off the baking sheet, leaving behind any crumbs. Put 1/3 of the candied nuts into a bowl and set aside

Prepare a large baking sheet with baking parchment

When the chocolate has melted tip in the remaining nuts. Toss until all of the nuts are coated and then transfer to the baking parchment. Working quickly, use a couple of forks to separate the nuts, transfer to the fridge to set (approx 10 minutes)

Meanwhile grind the sea salt in a pestle and mortar until fine.

Take approximately 1/4 of this salt and add to the icing sugar along with the remaining 1 tsp spice - sieve into a shallow bowl

Add the remaining salt to the cocoa powder and sieve into another shallow bowl

Prepare a fresh sheet of baking parchment

When the first layer of chocolate has set, melt the remaining chocolate. Meanwhile loosen the chocolate covered nuts from the baking parchment. Tip the nuts into the chocolate and stir thoroughly, then transfer to the fresh parchment, separate and allow to set briefly but not completely (just a moment or two).

Take half of the nuts and toss in the icing sugar

Take the remaining nuts and toss in the cocoa powder

Leave to set

Store in airtight containers for up to 1 month
Notes
To melt chocolate using a Bain Marie: Set a heatproof bowl over a saucepan filled with a small amount of water - ensure the water is not touching the bottom of the bowl. Heat the water to almost boiling. Put your chocolate into the heatproof bowl and let the heat from the water melt the chocolate. The chocolate must not come into contact with the water
This is not a sponsored post. I am not being paid to mention Cracking Nuts. Quite simply, they produce an amazing product and have inspired me to create these Chai Spiced Candied Nuts. So here's to the Cracking Nuts team.
More evidence of my Chai Spice Obsession:
(Visited 354 times, 2 visits today)