Chocolate caramel rice krispie treats are a no-bake twist on classic Millionaire's Shortbread: layers of marshmallow rice krispie squares, thick caramel and milk chocolate. Stacked up, that's a real feast.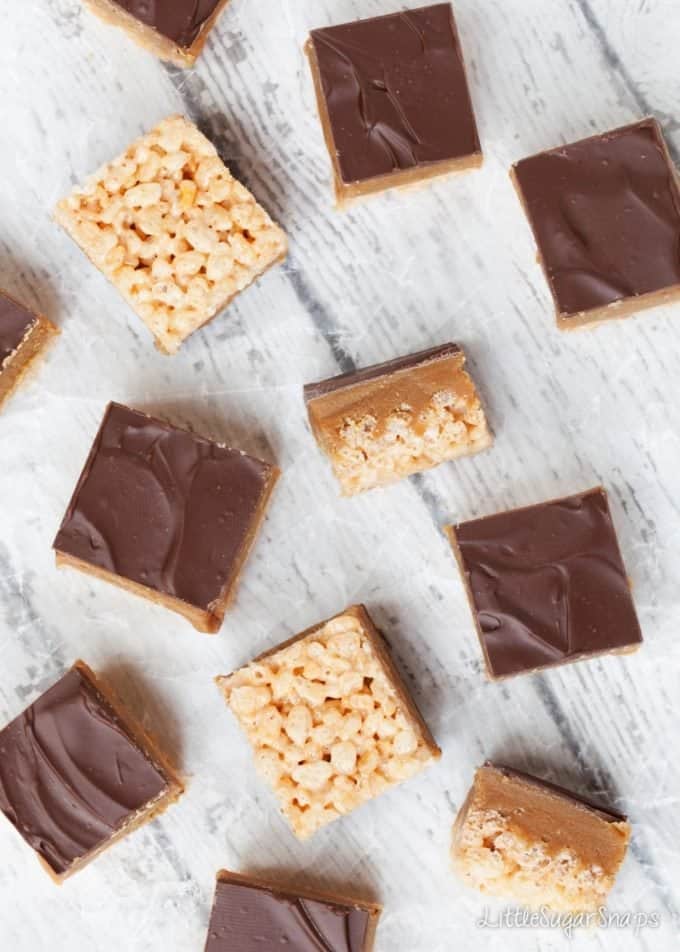 THIS POST CONTAINS AFFILIATE LINKS. AS A THERMAPEN ASSOCIATE I EARN FROM QUALIFYING PURCHASES.
This week I have a child-teen-adult-everybody friendly treat to share with you. Chocolate. Caramel. Marshmallow. I've paired all of these goodies with some Rice Krispies to give you a twist on Millionaire's shortbread.
And yes, these millionaire's chocolate caramel rice krispie treats are as sweet and indulgent as the name suggest.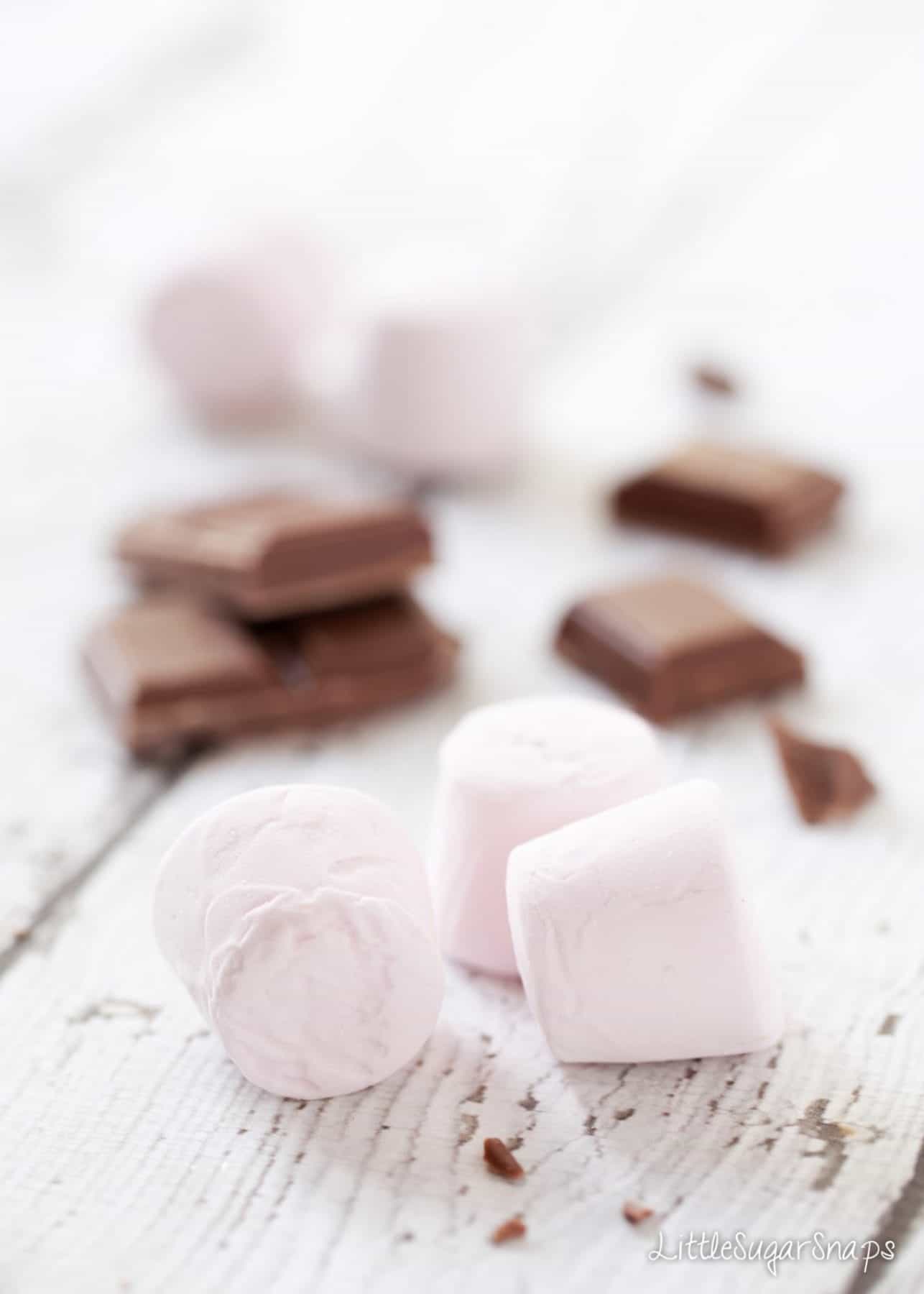 I'll happily confess that there's nothing mind-blowing about each individual layer of these caramel rice krispie treats. It's fairly obvious really:
marshmallow rice krispie base
caramel centre
milk chocolate
Um… exactly how good are all of those individual components sounding right now though?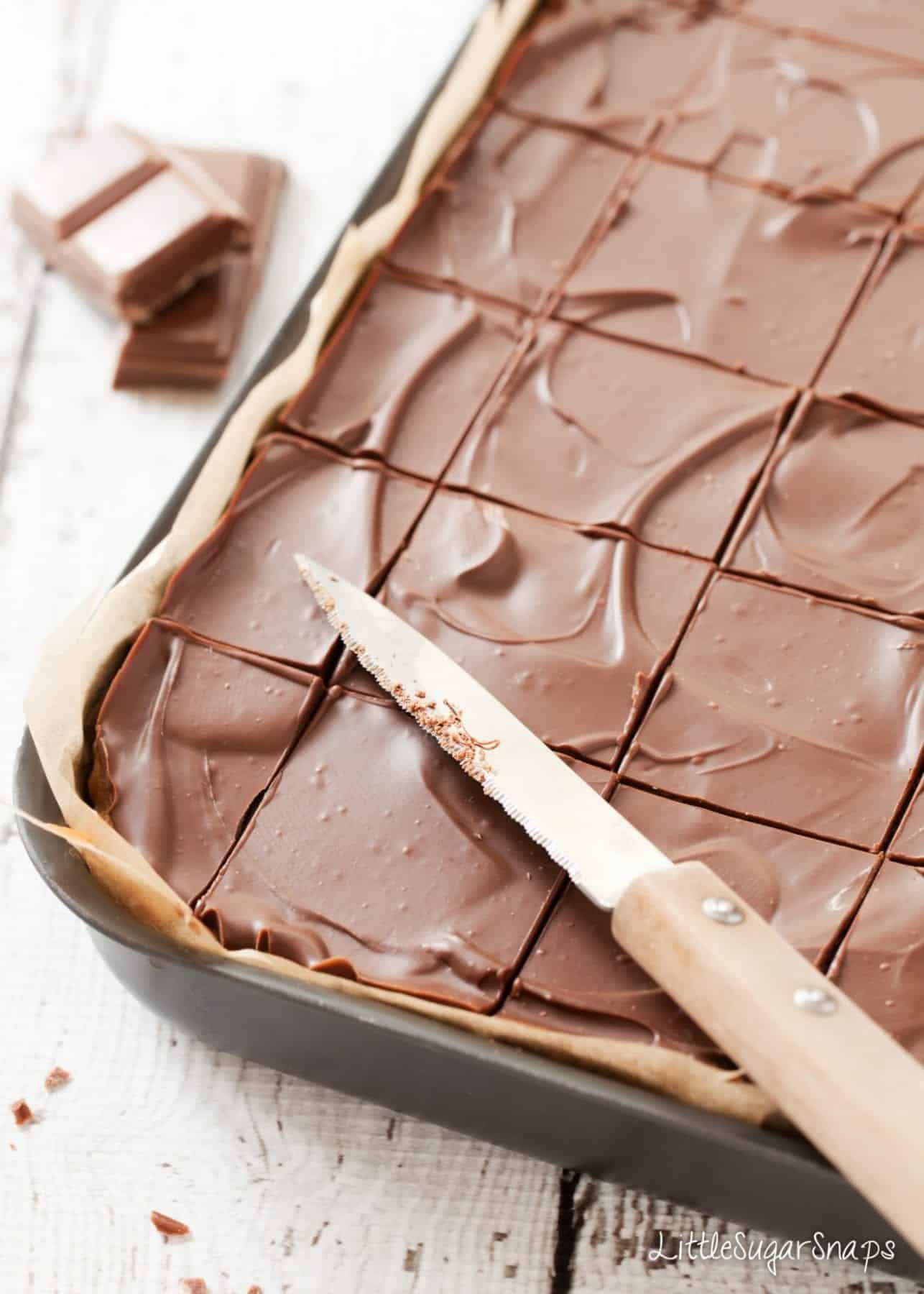 However, once you have stacked them all up and cut into not so dainty squares, they are even better – an absolute winner in-fact.
I love the thick layer of caramel, which is a prized flavour in our house. I also adore the switch from crumbly biscuit to the chewy textured cereal layer.
And – bonus – no crumbs!
How to Make Millionaire's Chocolate Caramel Rice Krispie Squares
These caramel rice krispie treats are a fun and easy no-bake snack to pull together. It's a case of stacking up 3 separate layers, allowing the preceding layer to set before moving onto the next.
Step 1: Make the Rice Krispie Treats
For this step you will need: marshmallows, butter & rice krispies.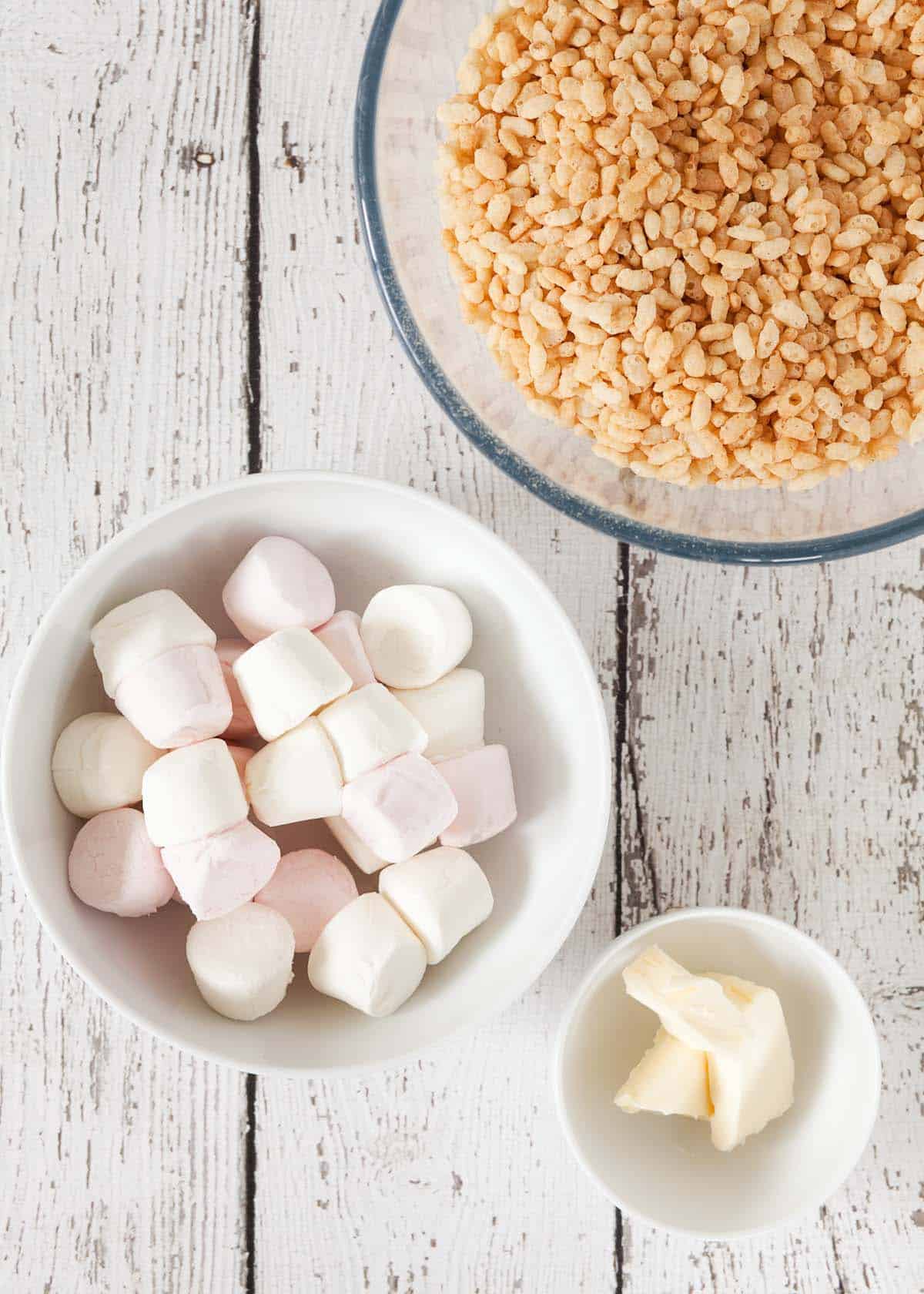 Begin by greasing the baking tin with butter and lining it with baking parchment
Next, melt the butter and marshmallows together in a pan
Mix in the rice krispies
Working quickly, as the mixture does set rapidly, tip the mixture into the baking tin and press it firmly down, so that it spreads into all of the corners and you get a compact, level surface
I like to use either greaseproof paper or a piece of cellophane (from the marshmallow bag, depending on the type) to help negotiate the sticky mixture evenly into the tin.
Step 2: Make the Caramel Layer
The bottom layer does not take long to set – give it 20 minutes. Once set, the caramel layer can be prepared.
Ingredients needed are: condensed milk, brown sugar, butter, golden syrup (corn syrup) and a pinch of salt.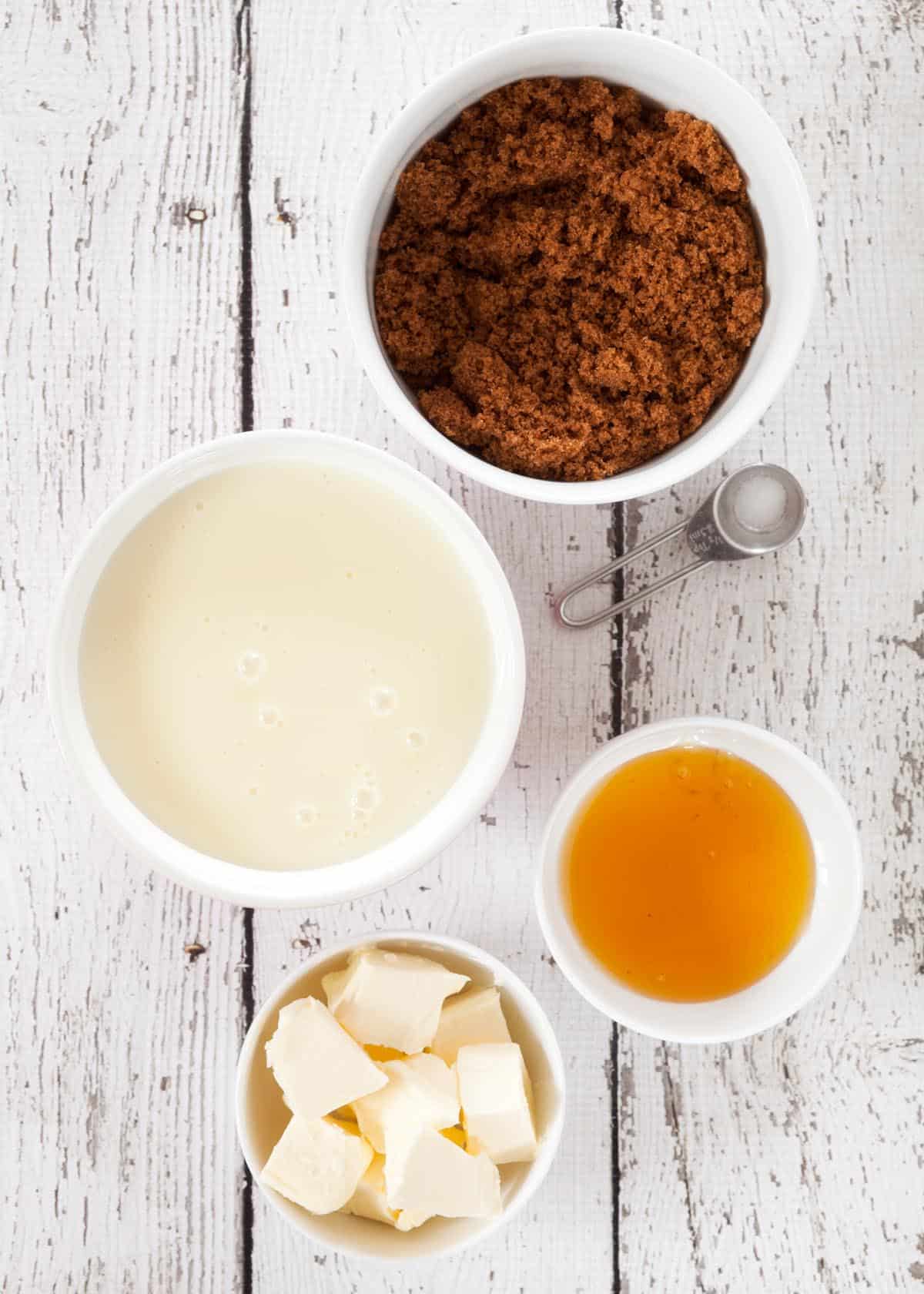 Tip all ingredients into a medium, heavy-based pan and cook gently until the sugar dissolves
Turn up the heat and bring the caramel to 115C/ 240F (the soft-ball stage). I use a Thermapen digital food thermometer to ensure the right temperature is reached
Plunge the base of the pan into cold water to stop the cooking process, then set aside to allow the caramel to cool for 5-10 minutes
Spread the caramel over the krispie base and leave to set
Step 3: Add the Chocolate Top
This stage is as easy as melting chocolate and pouring it over the top:
Put the chocolate into a heatproof bowl and melt gently, using either a microwave or a bain-marie
When fully melted, pour the chocolate over the caramel
Tip the tin gently to get the chocolate to run to the corners or use a palette knife to spread it out
Leave it to set
Some people may prefer to temper their chocolate to produce a wonderful shine on their caramel rice krispie squares. I didn't, but feel free to do so.
I've used milk chocolate, but dark chocolate can be used instead if preferred. White chocolate, however, may just prove a little too sweet alongside the other layers.
And of course, it's possible to marble or feather the top using 2 contrasting types of chocolate:
try semi-sweet dark chocolate with feathering of white chocolate
or go for milk chocolate with a little dark chocolate marbled through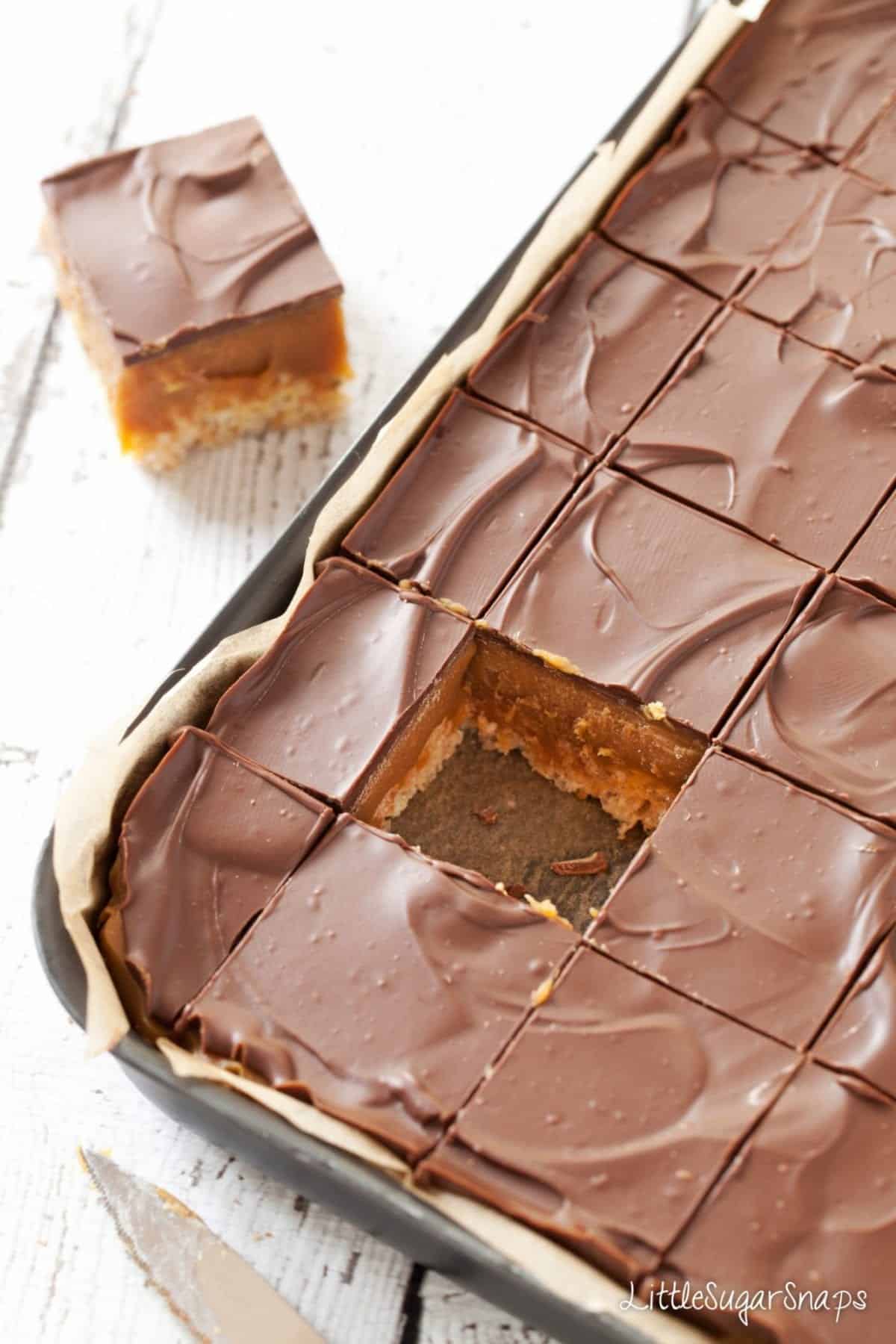 Can I Make a Gluten Free Version?
These chocolate caramel rice krispie treats can easily be made gluten-free. Simply, swap regular rice krispies for a gluten-free variety.
How to Cut These Bars
When it comes to slicing, I find that using a warmed knife helps cut through the chocolate without causing it to splinter. Just run the knife under a hot tap and dry on a tea towel before cutting.
Be patient – it may seem a little fiddly, but the resulting squares of chocolate caramel rice krispie treats will be worth the extra 5 minutes of effort.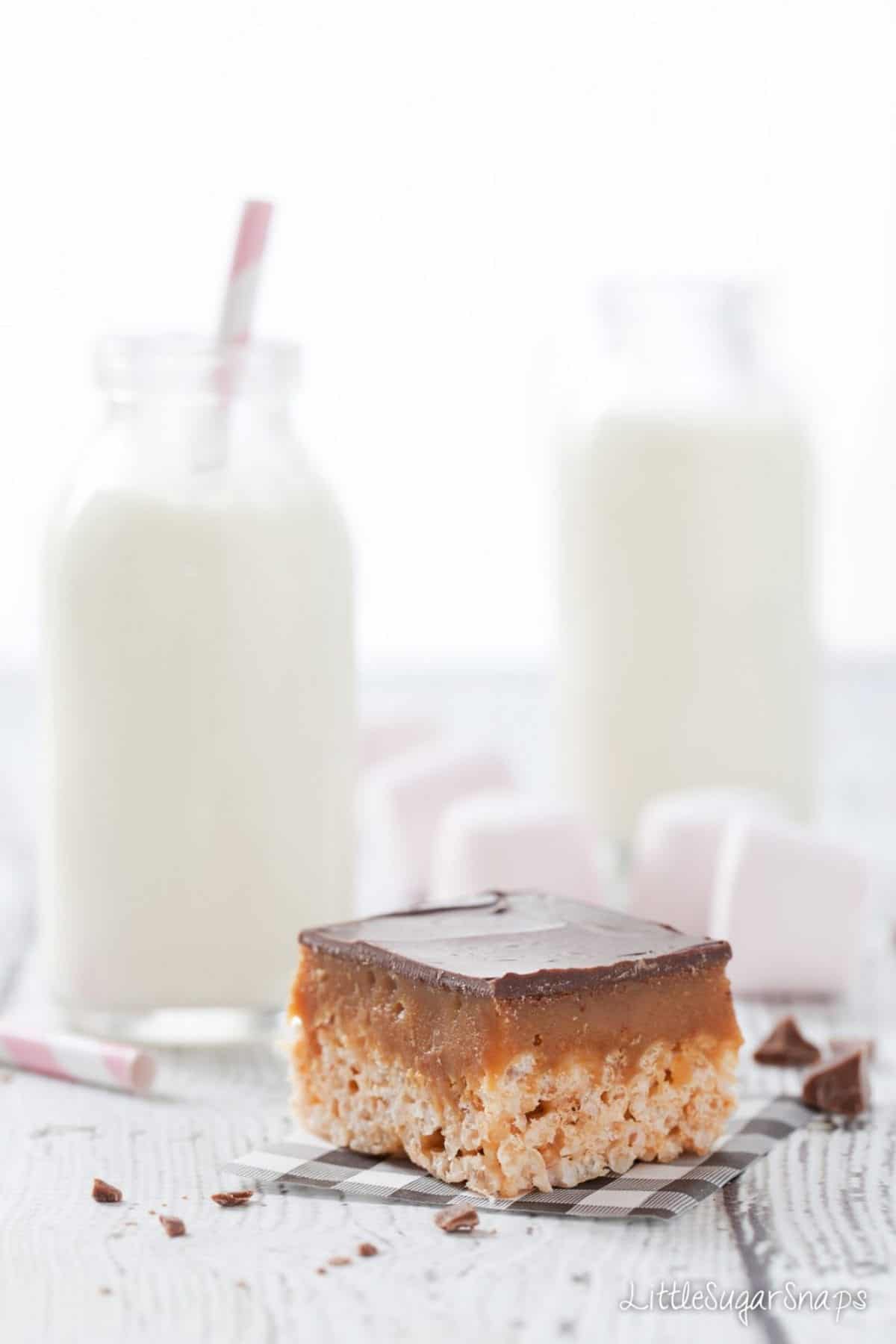 More Rice Krispie Treats to Try:
Or for other crowd-pleasing squares and bars take a flick through my easy traybake recipe collection.
If you've enjoyed this post, please share it – you would make me very happy. Better still, why not show me a photo – post it on Instagram and tag #littlesugarsnaps so I can see it too.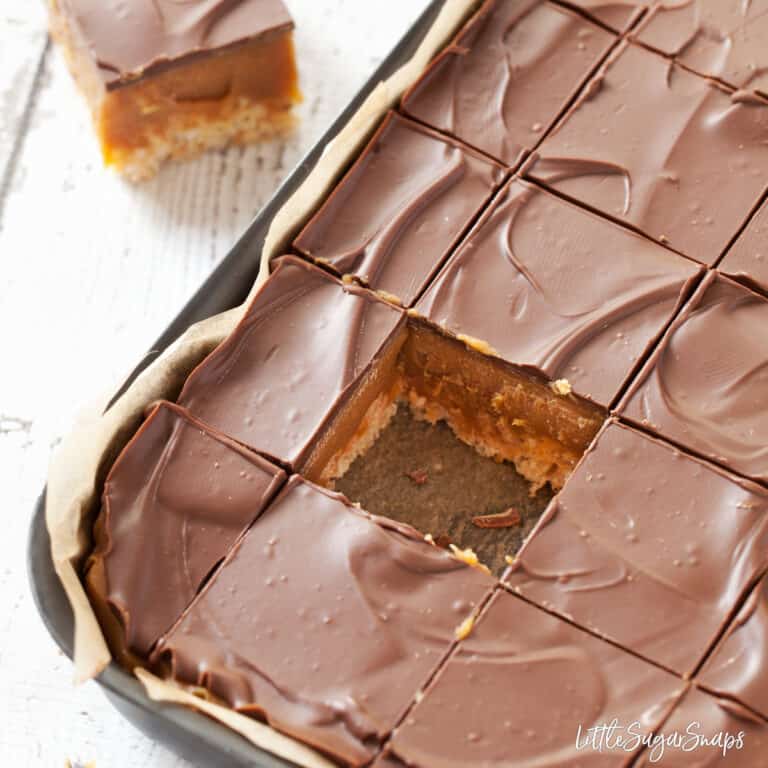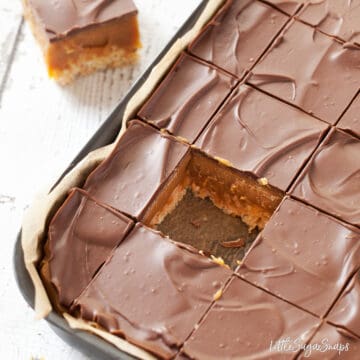 MILLIONAIRE'S CHOCOLATE CARAMEL RICE KRISPIE TREATS
Millionaire's Caramel Krispie Squares are a no-bake twist on classic Millionaire's Shortbread: layers of marshmallow rice krispie treats, thick caramel and milk chocolate. Stacked up, that's a real treat.
Print
Pin
Rate
Equipment
20x30cm baking tin with deep sides
Ingredients
For the base:
25g/ 1oz

unsalted butter

150g/ 5oz

marshmallows

90g/ 3oz

rice krispies
For the Caramel
1 x 397g/ 14oz

tin condensed milk

110g/ 4oz

dark brown sugar

85g/ 3oz

unsalted butter

2 tbsp

golden syrup

Pinch

of salt
For the topping:
150-200g

milk chocolate

(depending how thick you like that top layer)
Instructions
Grease and line the baking tin with baking parchment

Cube the butter and put it, along with the marshmallows, into a heavy based pan set over a medium heat. Stir frequently until everything has melted

Add the cereal and mix until thoroughly coated

Working quickly, tip the mixture into the baking tin and, using a piece of baking parchment, press it firmly down, so that it spreads into all of the corners and you get a compact, level surface. Set aside to cool completely (about 30 minutes)

Put all of the caramel ingredients into a heavy based pan set over a medium heat. Stir frequently until the sugar has dissolved

Turn up the heat slightly, and allow to boil gently until the temperature reaches 112°C – 115°C (234°F – 240°F). This is the soft ball stage. If you do not have a sugar thermometre, you can test for readiness by dropping a small amount of the caramel into some chilled water – it should form a firm ball that does not flatten when removed from the water, but squishes when squeezed

Once the caramel is ready, take the pan off the heat and plunge the bottom of it into cold water to stop the cooking process. Set aside and allow to cool for 10 minutes

Stir well, then pour over the cooled base. Set aside for at least 2-3 hours to firm up and cool completely

Finally, melt the chocolate and spread over the caramel layer. Allow to cool and set before cutting into squares (tip: if you can be patient, using a warm knife to score through the chocolate helps to stop the chocolate cracking in all directions and gives you neater squares).

Keep in an airtight container for up to 3 days
Nutrition Per Serving (Approximate)
Calories:
263
kcal
|
Carbohydrates:
40
g
|
Protein:
3
g
|
Fat:
11
g
|
Saturated Fat:
7
g
|
Cholesterol:
23
mg
|
Sodium:
73
mg
|
Potassium:
135
mg
|
Fiber:
1
g
|
Sugar:
33
g
|
Vitamin A:
612
IU
|
Vitamin C:
4
mg
|
Calcium:
80
mg
|
Iron:
2
mg
(Visited 600 times, 21 visits today)