This simple Beetroot and Caper Salad is great served either as a light lunch, an appetiser or a side dish. It's pretty, versatile and packs a punchy hit of flavour.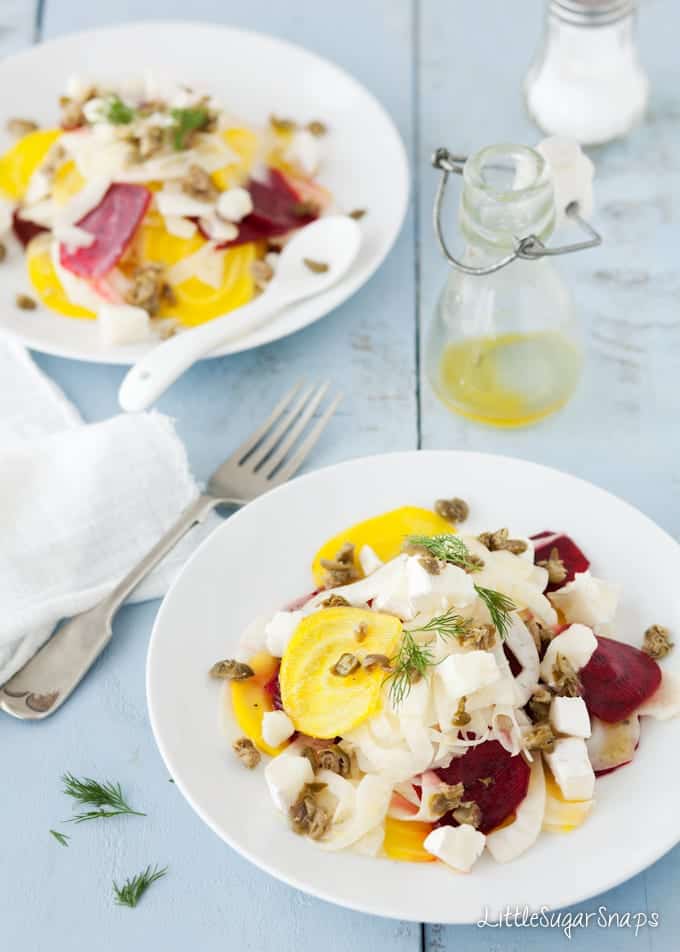 I think that beetroot gets an uncalled for hard time. It's seriously under-rated. Often described as boring, earthy or even unpleasant. It's also renowned for being a bit of a devil to prepare since it takes a very long time to boil or roast. On particularly bad days it gets completely doused in strong vinegar and pickled for eternity.
Poor beetroot.
In reality, it can be so pretty. It has great colour. There are numerous varieties and it's a very flexible vegetable since it can be eaten raw, boiled or roasted. Hot or cold. Even pickled….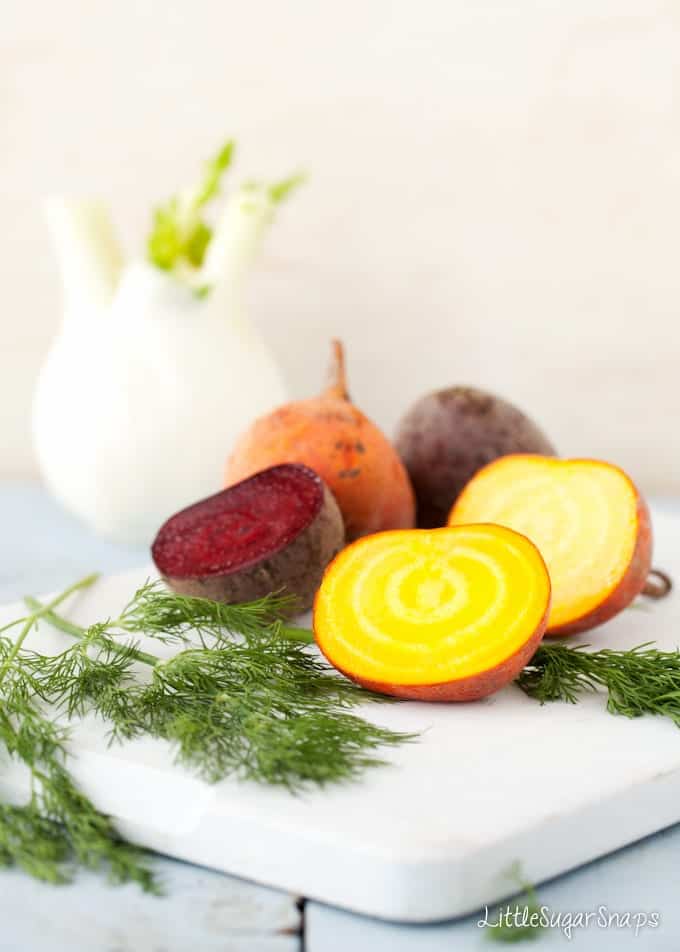 My recipe for Beetroot and Caper Salad should dispel all notions that beetroot is the pest of the vegetable world. This colourful salad capitalises on what beetroot was born to do – it pitches those sweet, yet earthy beetroot flavours against salty & sour capers & goats cheese. It's fresh, crunchy and full of tangy flavour. It's a salad lover's dream.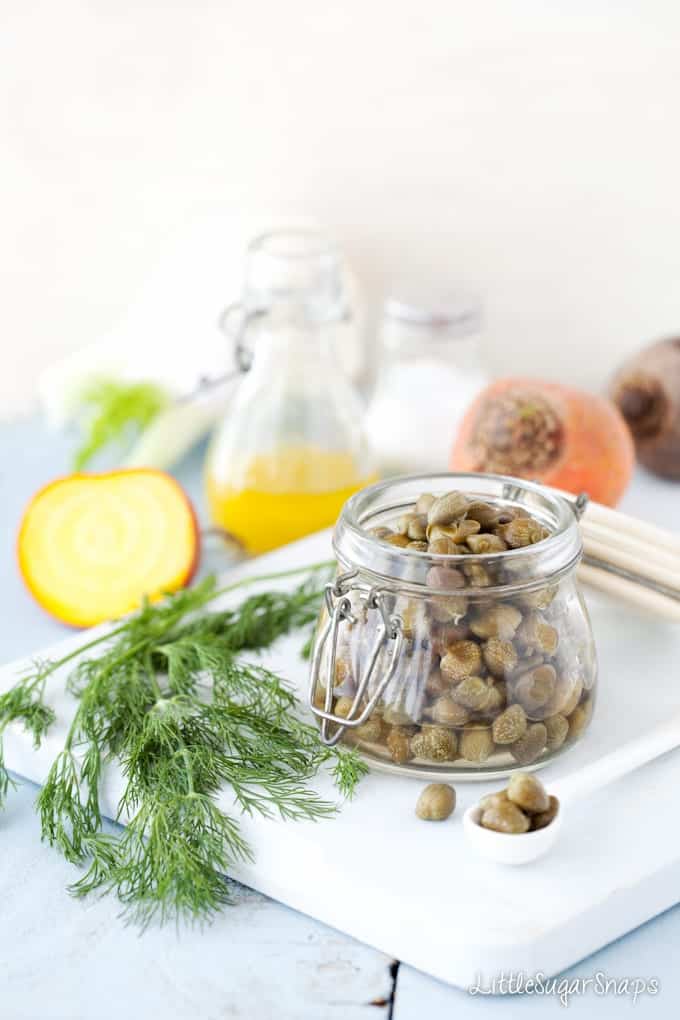 Confession. Whenever I cook, I munch any and all raw veg I happen to be preparing. It's usually a good thing and tells me what is or is not at it's best in the shops right now.
As I was preparing this salad for the first time I threw a slice of the raw beetroot into my mouth and immediately began to wonder why I thought this salad was such a good idea. Being honest, that earthy taste was more than adequately prominent. However, once paired with the other salad ingredients, the transformation was quite spectacular. I was genuinely surprised.
Each bite contains fantastic crunch from the raw beetroot & fennel combined with sharp, tangy hits from the capers & dressing. In contrast, the little chunks of goats cheese offer a soft, velvety texture. It's a salad that impresses visually and yet is a taste sensation as well.
If you have any doubts about your love for beetroot, give this Beetroot and Caper Salad a try – you'll be swayed. And if I can't convince you to try raw beetroot then have a go at my cooked beetroot salad with feta instead. There's no need to miss out on the beets.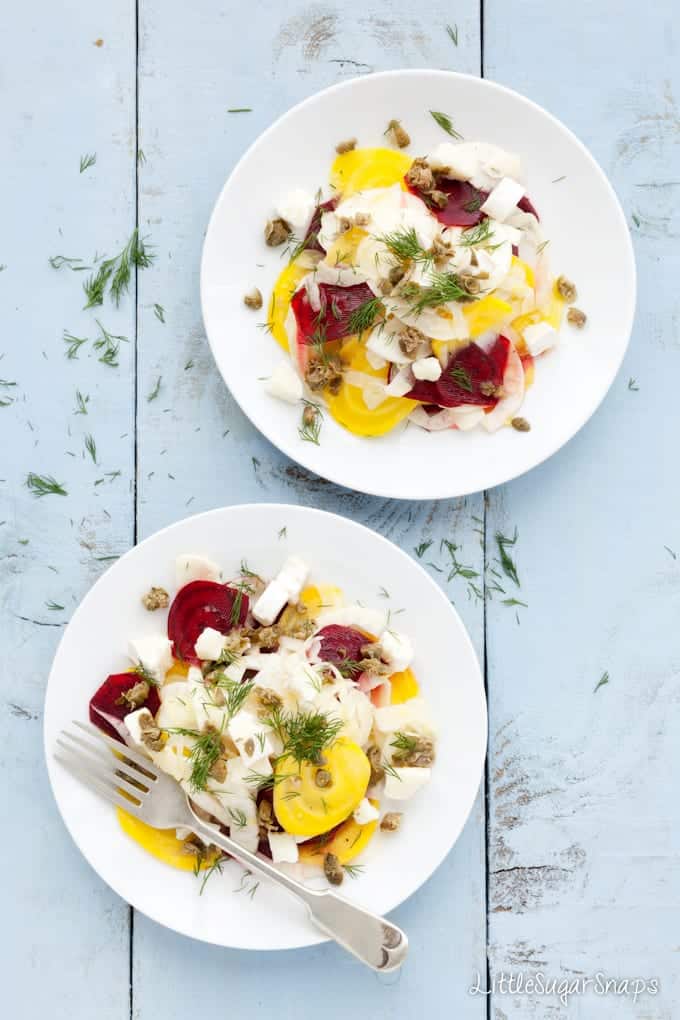 But there's more. Can you guess?
Oh yes. I've been delving into the health benefits of beetroot and discovered that:
Beetroot is a good source of iron and naturally occurring folic acid (great for pregnant ladies)
It also contains nitrates, betaine, magnesium and other antioxidants (great for heart health)
Recent health claims suggest beetroot can help lower blood pressure, boost exercise performance, reduce the risk of osteoporosis and may help slow the onset of dementia
I found all of this out on www.lovebeetroot.co.uk which is a site dedicate to beetroot (you don't say). It's fun. It's beautiful. It has more beetroot recipes.
My advice? Bomb to the kitchen, knock up this Beetroot and Caper Salad and treat yourself to a leisurely lunch reading up on plenty more clever & amusing beetroot facts.
More Great Salad Recipes: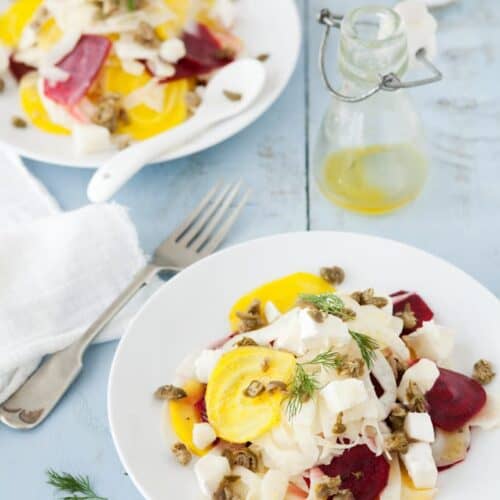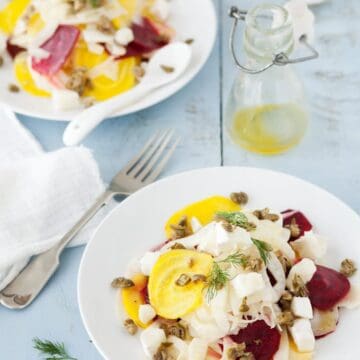 Raw Beetroot Caper Salad
This simple Beetroot and Caper Salad is great served either as a light lunch, an appetiser or a side dish. It's pretty, versatile and packs a punchy hit of flavour.
Print
Pin
Rate
Ingredients
1

Fennel bulb

3

Small bulbs of red/ golden/ candy striped uncooked beetroot

(about 60g/ 2 ½oz each – the size of golf balls) – include at least 1 bulb of red beetroot

1

tablespoon

Capers

(drained from the brine)

50

g/ 2 oz

Goats cheese

Dill – to garnish
For the dressing
2

tablespoon

Olive Oil

2

teaspoon

White wine vinegar

Pepper
Instructions
Begin by shredding the fennel as finely as you can – if you have a mandolin, use it

Peel the beetroot and slice into 1mm thick circles (again, a mandolin helps)

Keep the red beetroot separate from the fennel (as the colour will bleed). If using golden or candy striped beetroot, add to the fennel

To make the dressing whisk the oil, vinegar and a grind of black pepper together until well combined

Take 3tsp of dressing and toss with the fennel

Take 1tsp dressing and toss with the red beetroot

Roughly dice the goats cheese and mince the drained capers

Plate up the salad by alternating layers of fennel & golden/ striped beetroot with the red beetroot

Top with capers and goats cheese and drizzle the remaining dressing over the salad

Garnish with fresh dill & serve immediately
Notes
I used a mix of regular red beetroot and golden beetroot. It is more colourful if you can get a mix – but works perfectly well with just one kind.
(Visited 352 times, 1 visits today)