If you fancy a selection of nibbles but don't want too much work try this nifty trio of Taleggio Crostini. Each has a different topping piled onto the taleggio to ring the changes. Simple, clever, tasty and sassy – all on one tray.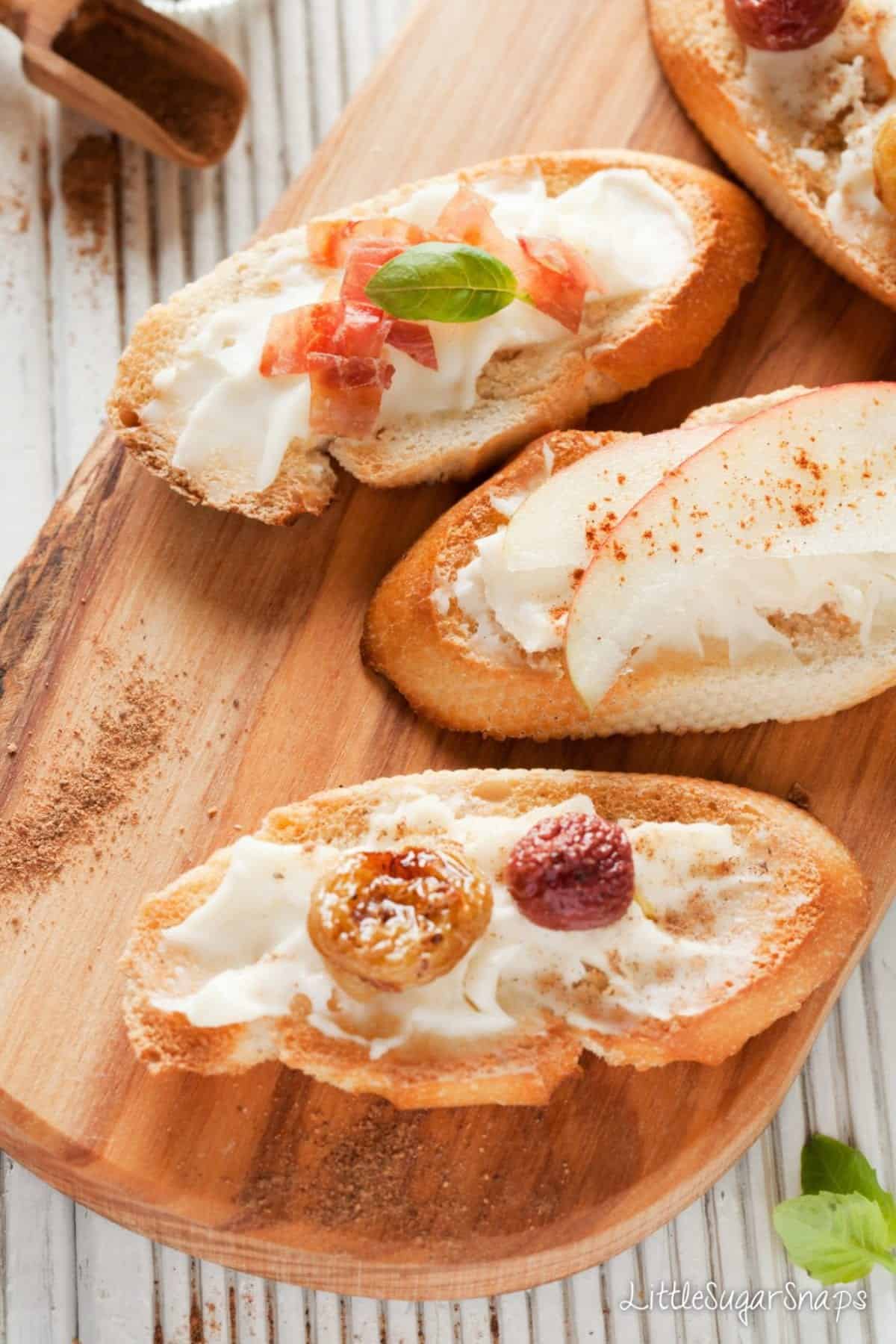 It's been a tough week. The cold temperatures have lead to a surprise case of asthma related issues for me and aggravated my niggling back. I am trying hard not to be one big grouch to my family, especially as the forecast is for worse later this week. What I need is a good dose of TLC, involving warm baths, woolly scarves, nourishing food and some comfort dishes. Top of the list for comfort eating with me are cheese and hot chocolate. Preferably both, but not together, that would just be dis-respectful to both food groups and um, leave a weird taste in my mouth. Today I'm going with the cheese.
I like Taleggio. It's the semi-soft texture. It's the gentle, but fruity flavour. And the rind – with just a hint of chalkiness to it. If I'm being completely honest, I should get a t-shirt that reads: I ♥ Taleggio.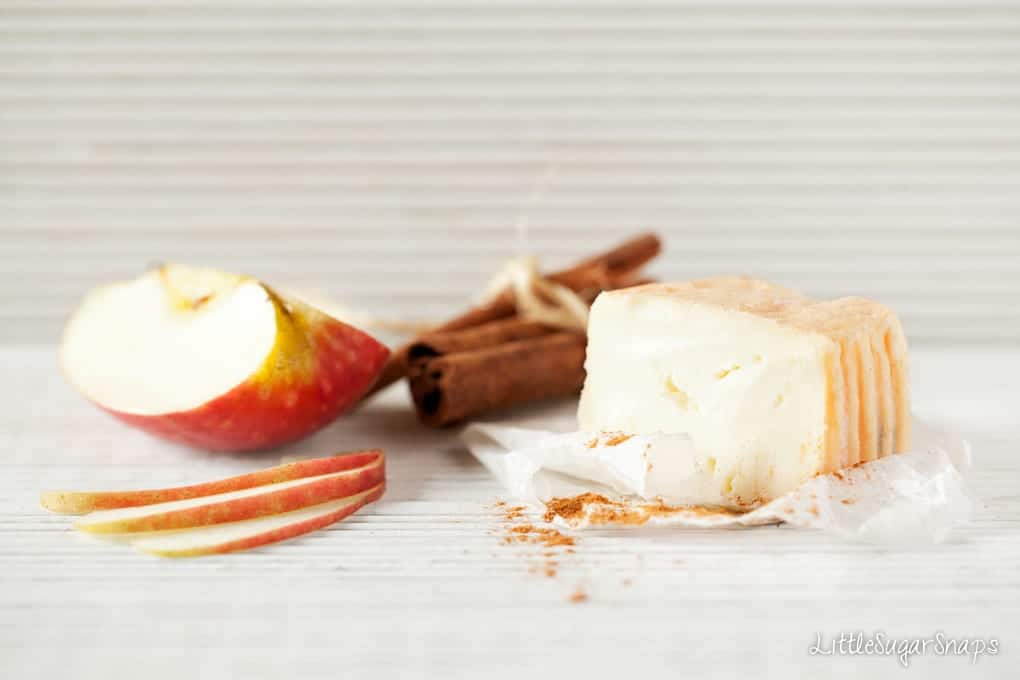 Since my family like variety, I decided to get creative and make a selection of Taleggio Crostini:
Taleggio Crostini with crispy prosciutto and basil. Great.
Taleggio Crostini with apple slices and a sprinkle of cinnamon. Fantastic.
Taleggio Crostini with roasted grapes and a grating of nutmeg. TLC my way.
I made these last weekend when we were all a bit hungry, having just come in from some place chilly. The kids kept popping through to check when I would be done… 'How much longer Mummy, I'm staaarrrvvving?' In the end they helped out in the photography stage holding reflectors in place to speed me up and look, they even got a cameo hand role in the pictures at the end when I let them just take their pick of the Taleggio Crostini straight off the set.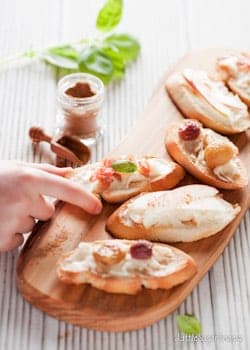 Off topic, I've just passed my third month of blogging, so wanted to share with you what I think so far and confess something – you know by now I like my confessions. Ready?
The very first post to appear on here, Ricotta & Almond Pancakes, was just me contemplating blogging. It was a new idea that had occurred to me the week before and I was having a huge debate with myself about whether I could manage to create, write and photograph recipes regularly, in a fun way, that people would enjoy. Confidence has never been my strong point. It was just an idea. An idea that was a little scary. So I thought I'd prepare some posts between October and January, see what I thought and then decide if blogging was for me. So that first post was just me playing about, I didn't expect anybody to see it. I hit 'publish' just to see what it would look like 'live'. I'd told nobody about it. I'd expected it to be seen by my eyes only. Five minutes later…
I got a follower.
I couldn't believe it. I actually had a follower. I was shocked. I also realised that I couldn't disappoint that 1 follower and not post anything else. I didn't know much, but I knew that would have been bad blogger manners. That was the encouragement I needed, I had become a signed-up blogger.
Fortunately, as I was testing myself, I wanted to do things properly – I had approached the recipe, the photo-shoot and the writing like it was for real – the recipe is a good one and I still wish I'd tried the grits.
Three months worth of blogging later, I have realised that I can create plenty of recipes – you should see my list of things I have in the queue. I've surprised friends who knew I liked to photograph food and create recipes but hadn't realised I was remotely interested in writing about food. I've also learned a lot whilst preparing my posts to try to make them informative, fun and occasionally educational.
I've also realised that I have a way to go on my blog – there are a lot of skills for me to get to grips with and a lot of them are scary if you don't understand the technology too well. I feel behind the times, having not done anything serious on a computer since the day I went on maternity leave nearly a decade ago. But I am working on not being:
scared
disheartened
crazy with rage at my own techie inabilities at times
I think I might just get there.
Anyhow, enough about what I've learned, one of the best parts of blogging is joining a community of like-minded food enthusiasts – readers and fellow bloggers alike. Blogging is sociable. It has put me in touch with some lovely people, from all over the world, generous enough to share their time & thoughts on my posts. Many of these people run their own blogs and I have to say, I'm enjoying keeping up with the multitude of talents they are writing about too.
Three months in? I've been surprised, delighted, motivated, educated, scared, and sociable. I like blogging so far. Thank you, my first follower, for making me commit.
P.S. I have jabbered on for twice as long as normal. I'll be shorter again next time. Try the crostini – they take less time to prepare and eat than the time needed to read this post.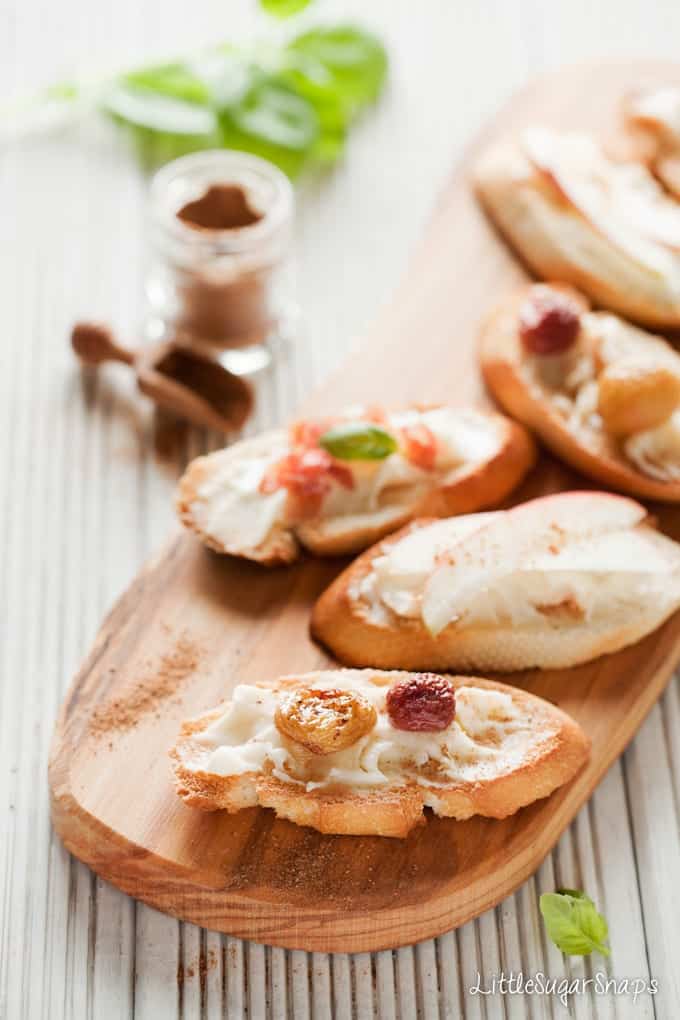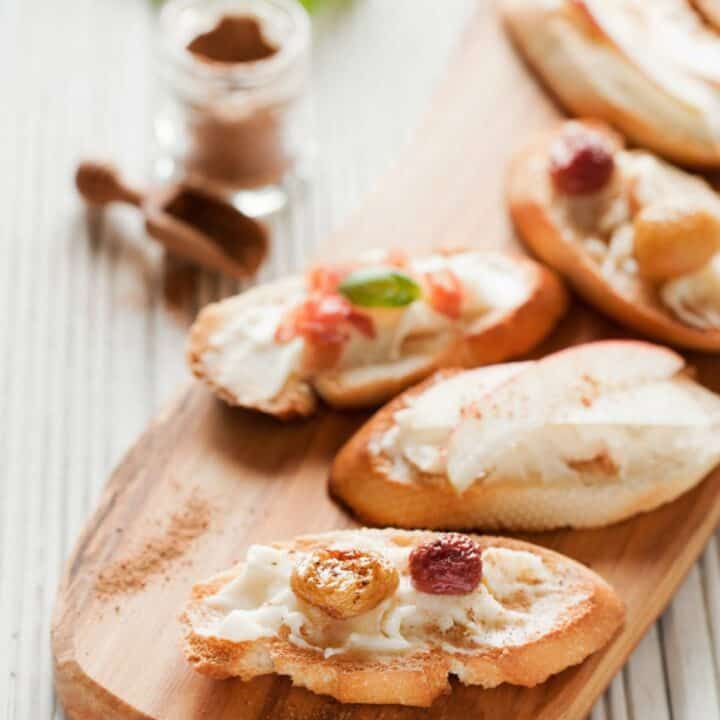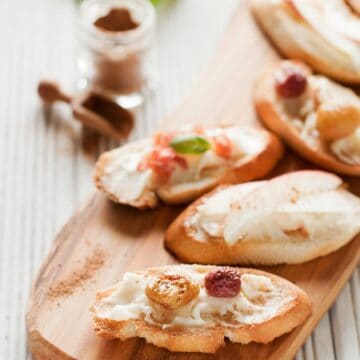 Taleggio Crostini 3 Ways
If you fancy a selection of nibbles but don't want too much work try this nifty trio of Taleggio Crostini. Each has a different topping piled onto the taleggio to ring the changes. Simple, clever, tasty and sassy – all on one tray.
These crostini can be served on a large platter for people to help themselves or presented as an appetiser, perhaps with a small pile of dressed salad leaves to accompany them.
Print
Pin
Rate
Ingredients
1

tablespoon

Olive oil

12

Seedless grapes

(red/ white/ mixed)

12

Thin slices taken from a French Stick/ baguette

150

g/ 5 ½oz

Taleggio cheese

4

Basil leaves

1

slice

Prosciutto

1

Crisp apple

(I used pink lady)

Freshly grated nutmeg

Ground cinnamon

Medium bowl of cold water with a squeeze of lemon juice added
Instructions
Start by tossing the grapes in the olive oil and roast for 40 minutes in a preheated oven 150°C/ 300°F/ GM2, turning the grapes midway through. Take out and set aside to cool completely

Heat a frying pan and, without adding oil, fry the prosciutto until crisp. Remove from the pan, allow to cool, then crumble, cut or tear into small pieces

Take a quarter of the apple, remove the core and slice into thin wedges (you will need 8). Keep the slices fresh in the lemon water until ready to use.

Toast the slices of bread on both sides then divide the Taleggio across all 12 slices. Use a blunt knife to gently spread the cheese out.

Top 4 of the slices with the prosciutto pieces and lay a fresh basil leaf across the top. Top another 4 toasts with 2 of the grapes and sprinkle the nutmeg over the top. Finally, drain the apple slices and dry on kitchen paper, then lay 2 slices across the remaining slices and sprinkle with the ground cinnamon
(Visited 156 times, 1 visits today)