Fruit & Nut Caramel Truffles are a decadent blend of caramel & chocolate, studded with raisins & pistachio nuts to create a deliciously different truffle. They are a real crowd pleaser and great to give as a gift.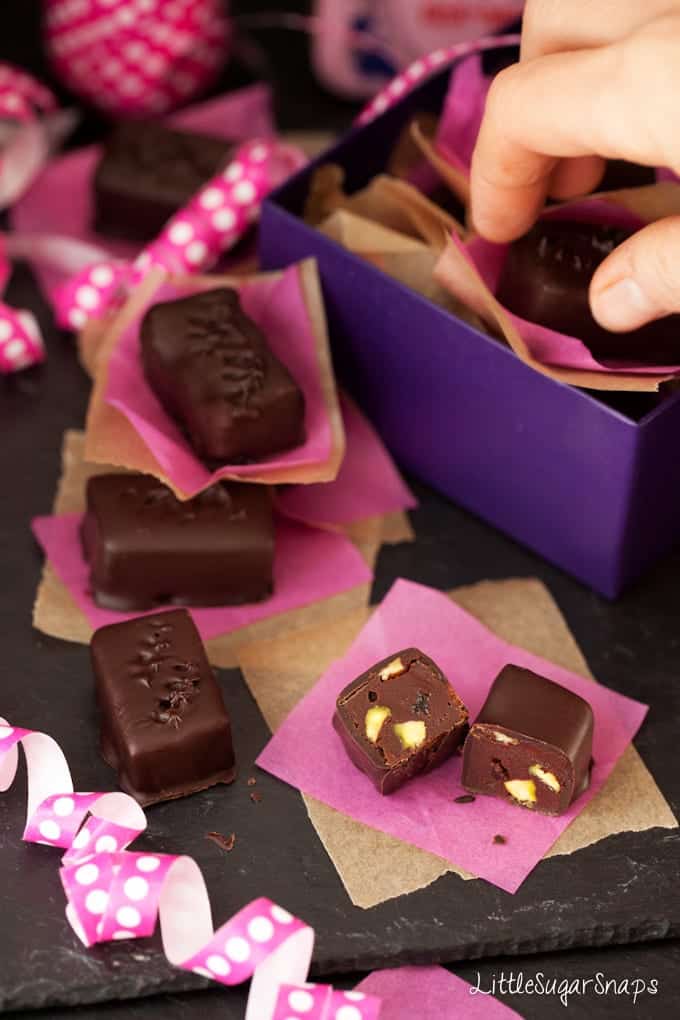 It's here. Today. The final chapter of my caramel trilogy:
Fruit & Nut Caramel Truffles.
And boy, are these a delight. Hidden within an alluring outer shell of dark chocolate is a blend of creamy, buttery caramel and more luscious chocolate. Oh and I just happen to have thrown in a handful of plump, juicy raisins and sweet, bright pistachios. Shame on me.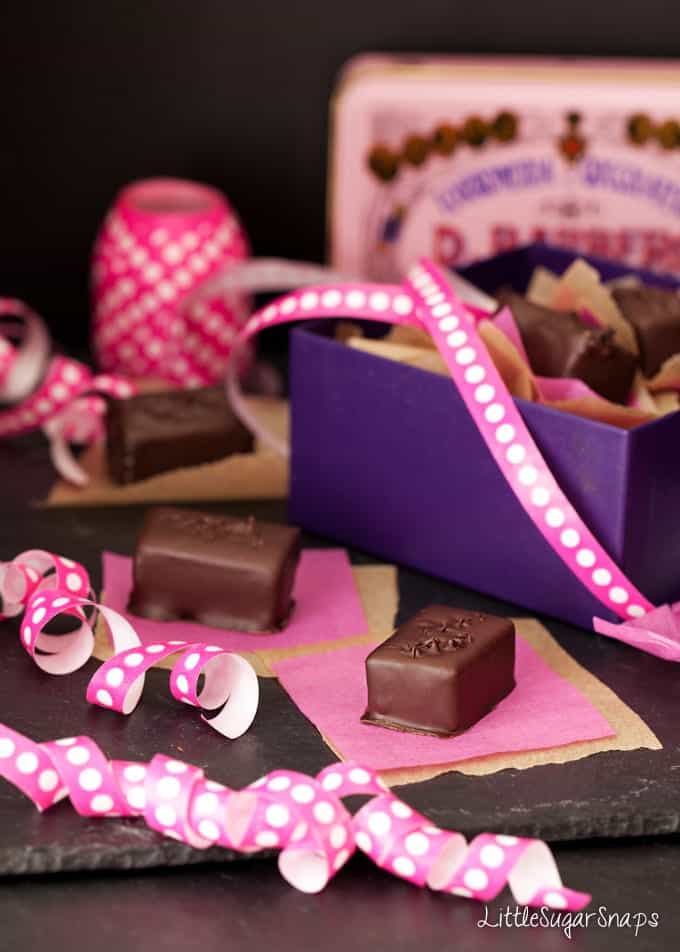 To me these truffles end all debate about what to have for a little treat, especially if you're torn between:
Caramel
Chocolate
Fruit
Nuts
Push the boat out. Indulge. Have the lot – all neatly wrapped together in these caramel truffles.
As you can tell, I'm a little bit in love with these wickedly indulgent morsels. I like to think of them as the best item you could ever hope to find in a sweetie shop.
If you've been following my recent exploits with caramel, you'll know that making these little gems will be a breeze. It's literally a case of:
making the caramel (see my Cinnamon Caramel Tarts for some caramel making tips)
mixing the caramel and chocolate together (… I know, that bit sounds sooo good)
chilling and slicing
smothering in chocolate
I have to own up; I'm not great when it comes to covering anything in chocolate. Usually whatever I'm dipping ends up swimming about in the melted chocolate for far too long whilst I try countless times to fish it out before it melts completely.
Confession: I'm often found eating numerous messed up truffles in a vain bid to hide the true scale of my disastrous chocolate decorating efforts.
However, since I like to learn and improve, I hunted around and found a great chocolate dipping tutorial from SeriousEats. I gave their technique a go on these Fruit & Nut Caramel Truffles and, for once, I was majorly pleased with my efforts.
These Fruit & Nut Caramel Truffles do make a fantastic gift that any foodie friend would be pleased to receive. That's if you can bear to part with them. My advice is to ensure that you pick a gift box that is a smidge too small to take all of your truffles. What to do with those spares…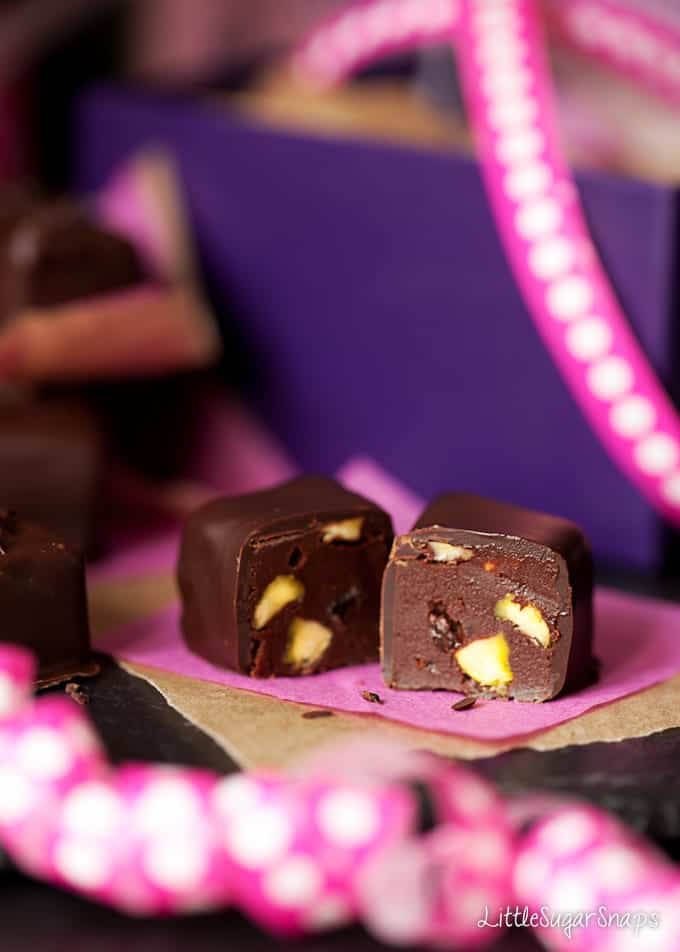 Looking for something a little easier? Try my cake truffles and my custard cream truffles. Both are alcohol-free, a breeze to make and will be enjoyed by people of all ages.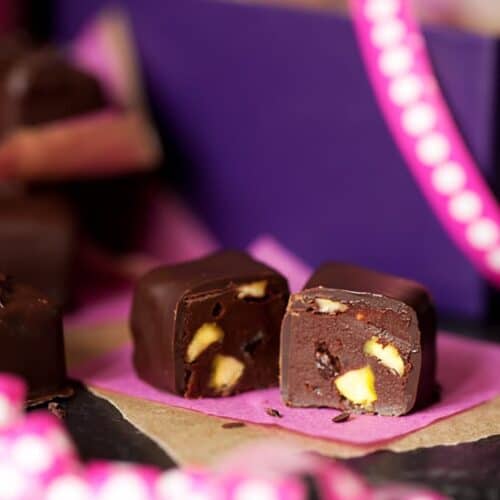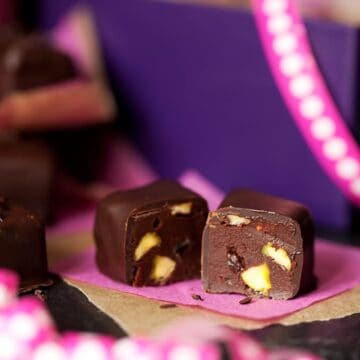 Fruit & Nut Caramel Truffles
Fruit & Nut Caramel Truffles are a decadent blend of caramel & chocolate, studded with raisins & pistachio nuts to create a deliciously different truffle. They are a real crowd pleaser and great to give as a gift.
Print
Pin
Rate
Ingredients
150

g/ 6oz

Dark chocolate

100

g/ 4oz

Caster sugar

125

ml

Double (heavy) cream

50

g/ 2oz

Light muscovado sugar

25

g/ 1oz

Butter

½

teaspoon

Vanilla extract

Large pinch sea salt

75

g/ 3oz

Raisins

50

g/ 2oz

Pistachio nuts
To cover the caramels
200

g/ 8oz

Dark chocolate
Instructions
Begin by chopped the 150g dark chocolate finely and place in a medium heatproof bowl

Roughly chop the pistachio nuts and set aside

Line the baking tin with clingfilm

Make the caramel by putting the caster sugar (in an even layer) in a heavy based saucepan and let cook over a moderate heat, swirling around the pan a couple of times to cook evenly. The sugar should first melt, then turn a lovely amber colour

Once the sugar has dissolved and the colour is deep amber, carefully add the muscovado sugar, butter and cream. Take care as the mixture may bubble up. Don't worry if the caramel solidifies in places. Put the pan back on a gentle heat and cook for around 5 minutes more, stirring frequently until it is smooth. Do not let the caramel boil

Stir in the vanilla, sea salt, pistachio nuts and raisins. Pour the mixture over the chopped chocolate. Stir quickly to combine, then allow to sit for 2 minutes whilst the chocolate melts. Stir again and keep on mixing until the caramel and chocolate is fully combined. Pour into the prepared baking tin, level the surface and allow to cool to room temperature. Once cool, cover with clingfilm and transfer to the fridge to set for 4 more hours (or overnight)
Covering in Dark Chocolate
Remove the caramel from the tin and clingfilm. Chop into 25 pieces

Chop the chocolate finely. Place ⅔ of it into a small heatproof bowl and melt in the microwave. I do this by heating in 30 second bursts on full power, stirring occasionally. Once the chocolate has almost melted I add the remaining ⅓ chocolate and stir until it is all completely melted

Using a dipping fork (or household fork) dip chunks of caramel into the chocolate until fully coated. Tap gently to remove any excess chocolate and leave to set on greaseproof paper

Keeps in the fridge for up to 1 week. Bring to room temperature before serving
Notes
You'll need a tin giving an area (width x length) of approximately 31.5 inches/ 170cm. I used a loaf tin measuring 3 ½ x 9 inches (9cm x 23cm) to pour the caramel into. You could alternatively use a circular tin with a diameter of around 6 inches/ 15cm but that would leave you with offcuts when cutting the caramel truffles (oh, what to do with those offcuts…) . Just ensure the tin is about 2 cm deep.
(Visited 239 times, 1 visits today)