Coffee & coconut combine is this exotic Coconut Liqueur Coffee. Fill your kitchen with intoxicating coffee aromas and snuggle up with a glass on any winters night. It is quick and easy to prepare and perfect for rounding off Valentine's Day.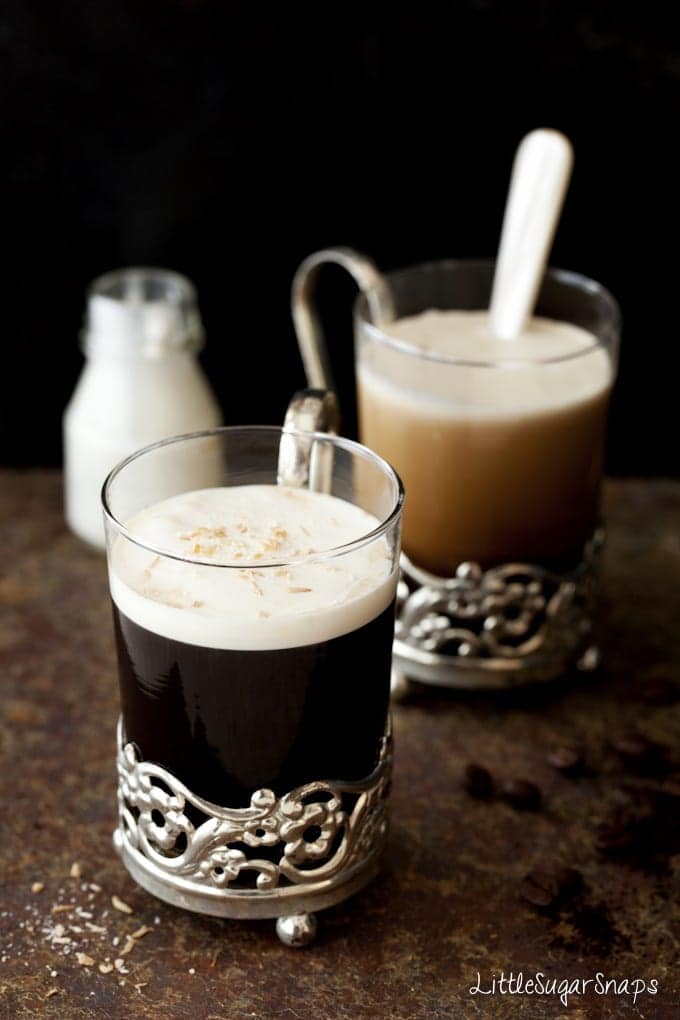 One of my favourite luxuries in winter has to be liqueur-spiked coffee. So cosy. So comforting. There's nothing quite like a tipple-laced coffee with light as air cream floating on top to round off a long dark evening in a dreamy way.
This coconut liqueur coffee is my current late night love. It is most definitely serious. In this drink, coffee and coconut rum prove to be mature partners in crime.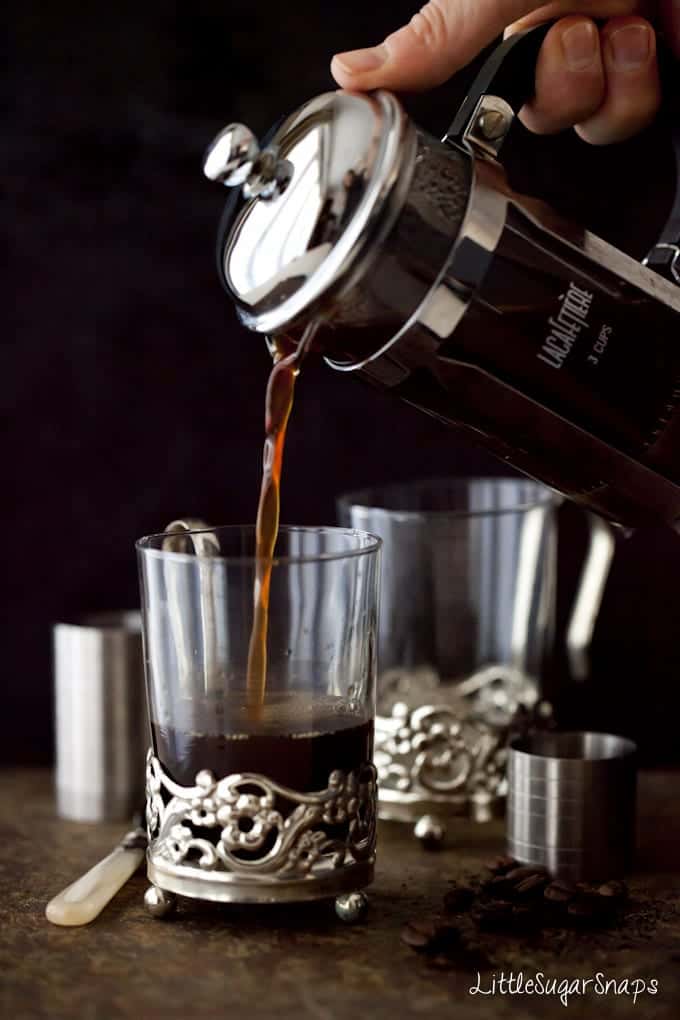 And did I mention there's also Kahlúa in there? Sweet, heavenly coffee based Kahlúa.
That's right – two liqueurs in your coffee.
Excessive? Not a bit. Let me explain:
I wanted to ensure that the coconut did not overpower the coffee
But I wanted a full measure of alcohol (I can't help it)
Mixing equal measures of Malibu and Kahlúa achieves this balance
See? Perfectly sensible and not remotely greedy.
It's this subtle addition of coconut and the sweetness from the liqueurs, along with the float of lightly whipped, bubbly cream that turns this nightcap into a real winner. Each sip equates to creaminess, coffee, a hint of coconut and a pleasant hit of sweet alcohol. A true delight.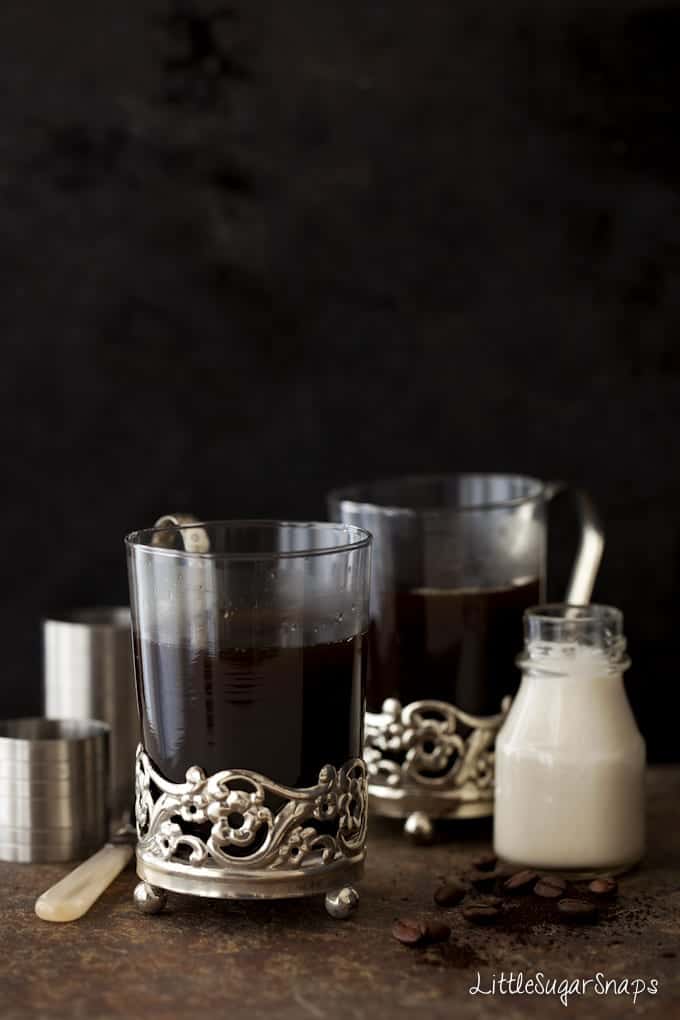 Confession. I do not like straight coffee. I do, however have a major soft spot all of the following :
coffee cake
coffee infused chocolates
coffee ice-cream (big time)
coffee macarons
creamy coffee desserts (all of them)
iced coffee
coffee milkshake
coffee martini
liqueur coffee
But a mug of pure, unadulterated coffee? I can't handle it. Too bitter.
I find this hugely disappointing since I adore the smell of coffee. I used to grind up coffee beans in the late 80's whilst working at my Dad's supermarket. The intoxicating aromas filled the store and dazzled my teenage senses. I've been hooked on the smell ever since.
I regard straight, unsweetened black coffee as one of the most grown-up flavours out there to relish. But when I look at my list of coffee flavoured items that I do enjoy, two additional ingredients seem common-place: sugar and cream. Well, that's very immature of me.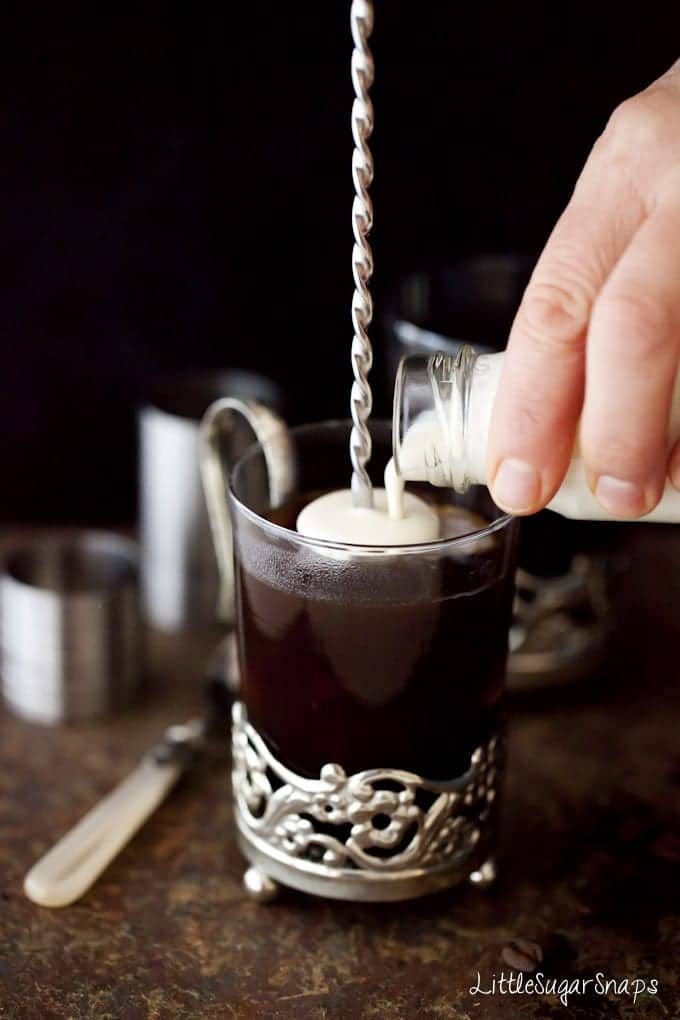 I've heard that you can train yourself to like a flavour if you try just a little of it every day for 30 days. I'd love to commit to this challenge and see if I can get myself to like coffee in its purest form.
But that requires time commitment from myself and not being forgetful. Hmm.
Perhaps one day I will do it. Never say never. But for now I'll just continue to console myself with nightcaps like this Coconut Liqueur Coffee, sucking up those delectable coffee aromas as I make and savour each perfect mugful.
Find More Boozy Hot Drinks to Linger Over: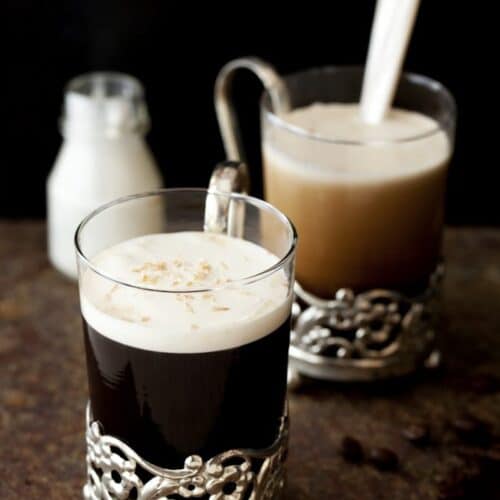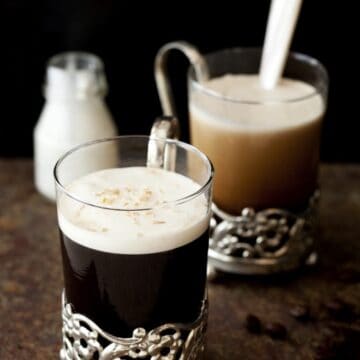 Coconut Liqueur Coffee
Coffee and coconut combine in this exotic hot drink. Fill your kitchen with intoxicating coffee aromas and snuggle up with a glass on any winters night. Quick and easy to prepare. Perfect for rounding off Valentine's Day.
Print
Pin
Rate
Ingredients
400

ml

Freshly brewed coffee

40

ml

Coconut rum liqueur

(I used Malibu)

40

ml

Kahlúa

Brown sugar

(optional, to taste)

5

tablespoon

Heavy cream

1

teaspoon

Coconut flakes
Instructions
Begin by lightly toasting the coconut in a preheated oven for 5 minutes until turning golden brown (180°C/ 350°F). Set aside

Meanwhile warm two glass mugs

Divide the Kahlúa and coconut liqueur between the mugs

Pour the freshly brewed coffee over the liqueurs. Stir in the sugar if using

Gently whip the cream until it just begins to thicken and has a few bubbles. Create the cream float by gently pouring the cream on the top of the coffee over the back of a spoon

Top with the toasted coconut & serve immediately
(Visited 1,531 times, 1 visits today)